Chicago White Sox:

2012 MLB draft
June, 13, 2012
6/13/12
10:19
AM CT

By Jon Greenberg
ESPNChicago.com
Archive
Orlando Hudson
has been on the
Chicago White Sox
for only two weeks, but he knows he holds a singular distinction.
"Now I'm the only one," the 34-year-old Hudson said. "I'm the long-lost brother of Chicago."
Hudson laughed, but he really didn't want to get into the issue, the dwindling percentage of African-Americans in his sport. Each of the past three times he had talked race and baseball, he said with a laugh, he got himself in trouble.
"I get too in-depth with it," he said. "It is a touchy subject for some people."
Read the entire story
.
June, 12, 2012
6/12/12
4:31
PM CT

By Scott Powers
ESPNChicago.com
Archive
The
Chicago White Sox
announced Tuesday they have signed 24 of their 41 selections in the 2012 first-year player draft.
The White Sox have signed five of their top six draft picks. The signees include high school first baseman Keon Barnum (1A round), Georgia Southern right-handed pitcher Chris Beck (second round), Arizona State second baseman Joey DeMichele (third round), Orange Coast College right-handed pitcher Brandon Brennan (fourth round) and high school shortstop Nick Basto (fifth round).
The White Sox have yet to agree to terms with their first-round selection Courtney Hawkins, a high school outfielder from Texas who was selected No. 13 overall. Hawkins' high school team was eliminated in the Texas Class 5A state semifinals on Friday.
The White Sox also signed: Cincinnati right-handed pitcher Zach Isler (eight round), Indiana second baseman Micah Johnson (ninth round), Delta State right-handed pitcher Brandon Hardin (10th round), Michigan State right-handed pitcher Anthony Bucciferro (14th round), Arizona State first baseman Abe Ruiz (16th round), Kentucky third baseman Thomas McCarthy (18th round), Louisiana Tech first baseman Alex Williams (19th round), New Mexico State shortstop Zachary Voight (20th round), VMI right-handed pitcher Adam Lopez (21st round), Auburn-Montgomery right-handed pitcher Cory McGinnis (22nd round), Nebraska outfielder Kale Kiser (23rd round), Tampa second baseman Eric Grabe (24th round), Morningside College right-handed pitcher Storm Throne (25th round), Austin Peay left-handed pitcher Zachary Toney (26th round), New Mexico State catcher Zachary Fisher (27th round), Delta State right-handed pitcher James Hudelson (28th round), Kansas State shortstop Jake Brown (30th round), East Carolina third baseman Corey Thompson (31st round) and Temple third baseman Steve Nikorak (32nd round).
June, 5, 2012
6/05/12
1:13
PM CT

By Scott Powers
ESPNChicago.com
Archive
CHICAGO -- The
Chicago White Sox
returned to the college ranks to draft their first two players Tuesday after selecting two high school players on the opening day.
The White Sox drafted Georgia Southern junior right-handed pitcher Chris Beck in the second round with the 76th overall pick and Arizona State junior second baseman Joey DeMichele in the third round with the 108th pick on Tuesday.
The White Sox drafted high school outfielder Courtney Hawkins with the No. 13 pick and high school first baseman Keon Barnum at No. 48 on Monday.
The 6-foot-3, 235-pound Beck was 6-7 with a 3.91 ERA in 17 games, which included 16 starts, this season. He had four complete games, allowed 117 hits, 45 earned runs, 29 walks and struck out 115 batters in 103 2/3 innings. He was previously drafted by the
Cleveland Indians
.
"I'm excited about a couple of guys," White Sox amateur scouting director Doug Laumann said on Tuesday night. "Our first pick today, which was our second-round pick, Chris Beck, we had projected as potentially as a first-round and possible pick at 13 for us this year. He did not have a good year. He had a great Cape (Cod League) last summer.
"We put video up from him last year and this year, and he gained 35 pounds from last July to this March, lifting, weight room. His coaches told him, 'You need to get big, you need to get strong. The bigger you get, the stronger you get, the better you're going to be.' He just got so big and so strong and so bulky it inhibited his delivery. His athleticism kind of went backwards a little bit. … We felt like we got a chance maybe here to get a guy that's a potential first-round talent here with our pick at 76 in the second round."
June, 4, 2012
6/04/12
10:41
PM CT

By Bruce Levine
ESPNChicago.com
Archive
The Chicago White Sox's choice of high school outfielder Courtney Hawkins is a departure from their most recent drafting policy of taking the best college player available. That philosophy was a part of an overall approach that put need at the major league level above player development in the most conventional of ways.
It is not a coincidence that general manager Kenny Williams' first year as the top baseball executive and the college-player draft mentality came hand-in-hand. That thought process has served the team really well in recent drafts with former No. 1 picks
Gordon Beckham
and
Chris Sale
now important pieces of the major league team after short minor-league tenures.
The Sox have not drafted a high school player since 2001 when they picked left-handed pitcher Kris Honel out of Providence Catholic High School (Illinois). Honel never made it to the major leagues -- in fact of all the White Sox's No. 1 picks that came out of high school the only impact players have been
Harold Baines
(1977), Steve Trout (1976), Carlos May (1966) and Ron Karkovice (1982).
That list includes two outfielders, one catcher and one pitcher. This gives you an idea why many major league clubs do not want to roll the dice on developing a player out of high school, due to the four- to six-year process .
One driving force for the White Sox's change of philosophy is the new draft language in the CBA. The new rules put limits on how much money the clubs can spend for the first time since the draft was instituted in 1965. If teams go over their slotted allotments they are subject to tariffs up to 100 percent on a dollar and loss of future high draft picks.
For a team like the White Sox, who have spent the least amount of money in the draft over the last three years, (under 10 million total), this was the right time to build through their farm system rather than trying to retool every season with new players.
Hawkins' makeup and raw power remind some of
Frank Thomas
, the greatest hitter in franchise history. One can only hope that Hawkins' maturation is as quick as the Big Hurt, who was drafted in June of 1989 and was in the major leagues by July of 1990.
June, 4, 2012
6/04/12
10:14
AM CT
By Chris Silva
ESPNChicago.com
Archive
CHICAGO -- This time 24 years ago, Robin Ventura had no clue what was coming.
[+] Enlarge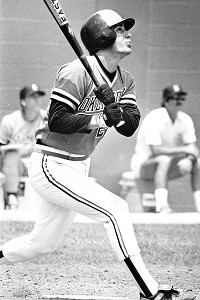 Getty ImagesRobin Ventura, who was one of the best collegiate hitters in the country, was selected with the 10th overall pick by the White Sox in 1988.
Ventura had just wrapped up his third season at Oklahoma State when the amateur draft came around. There was no cell phone for the White Sox to reach him with, and no agent to deliver the news or negotiate a contract.
"That was 'wait till they call you and tell you what's going on,'" the White Sox manager recalled on Sunday. "It's not like today. I don't even know how they got a hold of us. I think they called one of our coaches (at Oklahoma State). Our coach called me and said, 'Hey, you were drafted by the White Sox.'"
The White Sox drafted him 10th overall in the 1988 draft and the third baseman cracked the big leagues a year later. As the White Sox get set for Monday's MLB draft, in which they own the Nos. 13 and 48 picks, Ventura admittedly cannot relate to much of what this year's crop of players are experiencing because so much has changed since Ventura went through the process himself.
"You're aware that you're probably going to get drafted but you don't know by who," Ventura said. "Today, everything's pretty much out there with everything going on. Back then you didn't even know who was watching you. You know they were there to watch games but it's not like now."