Chicago White Sox:

2013 season preview
May, 26, 2013
5/26/13
12:17
PM CT
CHICAGO -- The
Chicago White Sox
are currently dealing with two back issues as
Adam Dunn
will continue to play through one, while Tyler Fowers will miss a third day in the lineup with his own.
Dunn had just started to turn things around on the most recent road trip, hitting three home runs in a three-game series at Minnesota before adding another against the
Los Angeles Angels
out in California.
Since that final game of the Angels series, though, Dunn has just one hit, and his current 1-for-21 stretch with 11 strikeouts resembles some of his worst struggles this season.
Despite those results, manager Robin Ventura said Dunn was still good enough to be in the lineup for Sunday's series finale against the
Miami Marlins
.
"He's doing something (different)," Ventura said, referring to how Dunn looks now compared to how he looked last week. "You don't necessarily know what it is unless you're the guy at the plate. But it is a little different and eventually he's going to get healthy and get back to kind of that run he went on back on the road trip."
Flowers, whose offensive struggles have been similar to Dunn's this season, hasn't played since Wednesday's finale of the
Boston Red Sox
series. He is just 3-for-19 (.158) over the past six games he played.
"Flowers should be better by (Monday)," Ventura said. "He can play if we needed him to today, but just holding him out as a precaution. If something happened to Hector (Gimenez) he'd be in there."
Gimenez went 4-for-5 with a home run in a May 18 start against the Angels, but has gone just 1-for-6 with an RBI in starts Friday and Saturday.
Sunday's complete White Sox lineup against Miami Marlins right-hander
Alex Sanabia
:
Alejandro De Aza
, CF
Alexei Ramirez
, SS
Alex Rios
, RF
Adam Dunn
, DH
Paul Konerko
, 1B
Dayan Viciedo
, LF
Conor Gillaspie
, 3B
Jeff Keppinger
, 2B
Hector Gimenez
, C
Dylan Axelrod
is the starting pitcher.
April, 7, 2013
4/07/13
5:41
PM CT
CHICAGO -- The
Chicago White Sox
are not concerned with how it looks, only that the desired result is achieved.
If that sounds a lot like the "Winning Ugly" season of 1983, well that's only fitting since the White Sox wore those old red, white and blue jerseys to honor the former American League West champs for the first of 13 home Sunday games this season.
It's not lost on the current club that despite winning their first two home series, there are plenty of areas for improvement. The pessimist can call it unfulfilled potential. The optimists look at it as a good sign moving forward.
"I think we have a chance to be a pretty good ballclub, especially if we clean up some things," catcher
Tyler Flowers
said. "I think the offense will get going a little more than it has and our pitching has been quality so far."
March, 31, 2013
3/31/13
5:47
PM CT

By Bruce Levine
ESPNChicago.com
Archive
CHICAGO -- The element of human connectivity on every ball club is something baseball prognosticators forget to apply when they make their predications for a new season.
The
Chicago White Sox
were picked by one sports magazine to win just 69 games and finish third this season, but chemistry could be the X Factor for Robin Ventura's club.
"Every season is different," said Ventura as his team prepared for Monday's home opener against the
Kansas City Royals
. "You are going to figure it out during the season. That will tell you if everything works or doesn't. I would be disappointed if all the guys didn't think that they were going to have a good year and play well together."
March, 31, 2013
3/31/13
1:00
PM CT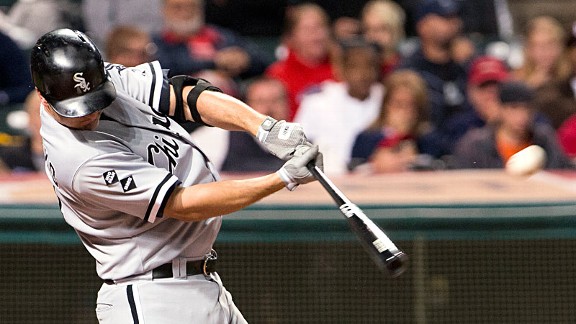 Jason Miller/Getty Images Paul Konerko has high hopes for what could be his final season with the White Sox.
CHICAGO -- Heading into what could be his final season on the South Side,
Paul Konerko
is thinking more about team success than the end of a personal era.
Guys like
A.J. Pierzynski
and
Kevin Youkilis
are gone, but Konerko doesn't expect a drop off for the
Chicago White Sox
in the slightest.
"I feel (the team) is very similar to last year," Konerko said. "There are a lot of the same faces, and a couple guys we added fit in. Last year was very good. We fit well as a team. We jelled very well last year and kept that going so I know that will continue. It's a matter of executing on the field along with that."
March, 30, 2013
3/30/13
10:00
AM CT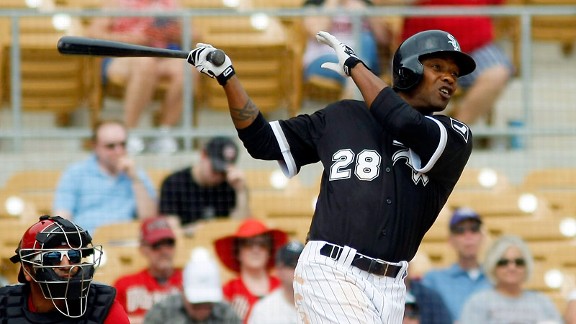 Rick Scuteri/USA TODAY SportsDewayne Wise is the only experienced player on the White Sox bench.
The "savvy-veteran" tag won't exactly qualify when talking about the
Chicago White Sox
bench this season.
Dewayne Wise
, who will serve as the fourth outfielder and main left-handed bat off the bench, actually fits that bill, but it doesn't really apply anywhere else.
Also in reserve roles this season will be Rule 5 pickup
Angel Sanchez
as the utility man, recently acquired
Conor Gillaspie
as the backup at third base and
Hector Gimenez
as a 30-year-old backup catcher with practically no major league experience.
With just two left-handed hitters in the starting lineup, Wise could see a decent amount of playing time as the fourth outfielder, but not if the starters are producing. At first glance, his best chance to play could come in place of left fielder
Dayan Viciedo
, who struggled against right-handed pitching last season.
Even though Sanchez can play multiple positions it's actually Gillaspie that could see more playing time. The lefty-swinging Gillaspie could be used to give third baseman
Jeff Keppinger
a day off or when Keppinger slides over to second base to give
Gordon Beckham
a breather.
Sanchez is expected to primarily be used when
Alexei Ramirez
gets a day off. He better get used to sitting because Ramirez played in 158 games each of the past two seasons.
As a switch hitter Gimenez also gives manager Robin Ventura the potential to get a left-handed bat into the mix every once in a while. He doesn't figure to play more than once a week, though.
KEYS TO SUCCESS
The challenge with having young players on the bench is getting them the consistent at-bats to keep them fresh and their swings in sync. Since Gillaspie is primarily a third baseman, with the ability to play some first base, getting him some playing time will be challenging for Ventura.


To be frank, not going to the bench much at all means things are going right with the starting lineup. Since Wise is the only true outfielder on the roster outside of the three starters, he becomes extremely important. His challenge will be to seamlessly transition into the outfield if and when the first injury arrives.


That player who can come off the bench and crush a late-inning home run isn't available. That means the subs will have to contribute in other areas. The offense will be hit and miss, which is understandable, but the defense the bench guys give will have no margin for error. Gimenez figures to have the most defensive weight on his shoulders with the expectation that he gets on the same page with the starting pitcher on the infrequent days he is behind the plate.
March, 29, 2013
3/29/13
9:55
AM CT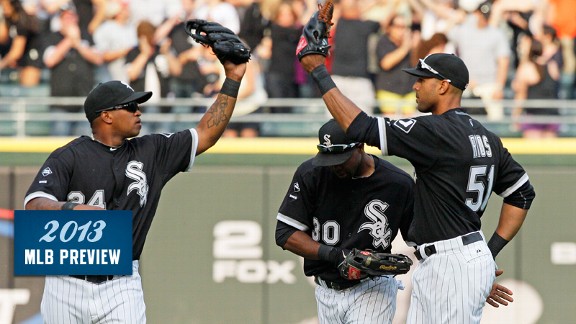 AP Photo/Nam Y. HuhComing off a productive season, the Sox's outfield returns intact but might look a lot different by the end of the year.
Take a look around the
Chicago White Sox
outfield because it probably won't be the same after this season.
Fanned out from left to right will be
Dayan Viciedo
,
Alejandro De Aza
and
Alex Rios
, back to take the field together on Opening Day for the second consecutive season.
But the winds of change already have started to blow. Jared Mitchell will start the season at Triple-A Charlotte but will be banging on the door soon enough with a major league debut that is expected to happen at some point this season.
Next on the way in the years to come are Keenyn Walker and Trayce Thompson, followed after that by what could be the most talented outfielder of them all. Courtney Hawkins is just 19, but oozes with talent.
Viciedo is primed to have that breakthrough season everybody has been waiting for and it could come in what figures to be his last season in left field. If
Paul Konerko
departs when his contract expires at the end of the season, Viciedo could end up moving to first base in 2014. It's at least an option for the White Sox.
De Aza could be in position to deliver more as well after finishing his first full season in the major leagues last year. His run with the World Baseball Classic champion Dominican Republic wasn't Earth-shattering by any stretch, but he already has been through high-pressure at-bats and the season hasn't even started yet.
March, 28, 2013
3/28/13
2:28
PM CT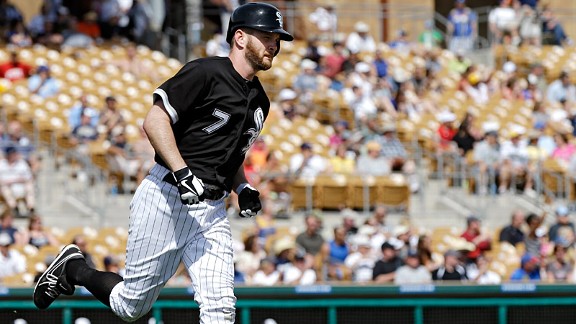 AP Photo/Mark DuncanJeff Keppinger gives the Sox a proven contact hitter in the No. 2 spot in the lineup.
With their vacancy on the infield this winter, the
Chicago White Sox
went out to fill multiple needs with a single player.
Enter new third baseman
Jeff Keppinger
, who not only takes the open infield corner position, but his ability to make contact at the plate gives the White Sox the type of No. 2 hitter they have been looking for.
Keppinger has actually been more of a utility infielder by trade and has been understandably ecstatic over the chance to have a position to call his own, not to mention the consistent at-bats that come with it.
Paul Konerko
will once again man first base in what could be his last season in a White Sox uniform. It's a familiar situation for Konerko, who ended up re-signing with the club after both the 2005 and 2010 seasons when his contract expired.
But at 37 now, Konerko's return is more difficult to predict. The White Sox could go with
Adam Dunn
at first base next season or even move
Dayan Viciedo
there to open a spot in the outfield for a number of emerging prospects.
Up the middle of the infield, the White Sox have a pair of infielders that should be able to enter the Gold Glove discussion. It remains to be seen what shortstop
Alexei Ramirez
and second baseman
Gordon Beckham
do on the offensive side.
March, 27, 2013
3/27/13
6:54
PM CT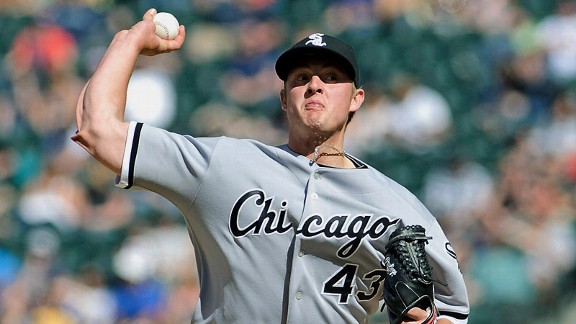 Steven Bisig/US PresswireAddison Reed had 29 saves for the White Sox last season.
The
Chicago White Sox
's 1-2 punch at the top of the starting rotation will be complemented this season by the 1-2 punch at the back end of the bullpen.
Where
Chris Sale
and
Jake Peavy
are being looked upon to give the White Sox a chance to win each and every night they take the mound, a different pair will be entrusted to make sure late leads aren't squandered.
That's the initial thought, anyway, as closer
Addison Reed
figures to have a fellow flame-throwing co-conspirator in
Nate Jones
, who is primed to become a full-time setup man. Manager Robin Ventura tried to suggest over the winter that the closer spot is up for grabs, but the job clearly belongs to Reed for now.
Add that Reed-Jones combination to veteran relievers
Matt Thornton
and
Jesse Crain
, not to mention newcomer
Matt Lindstrom
, and the White Sox have a group to envy.
Complementing that well-rounded collection of arms will be the versatile
Hector Santiago
, who can not only pitch late in games if needed, he can also be used in long relief. Add the fact that he is left-handed and Santiago could find himself in any of a number of roles this season, including spot starter if needed.
Depth has also shown itself this spring.
Brian Omogrosso
has pitched well and could land a roster spot if Crain isn't able to start the season on time because of a muscle strain in his right leg. Newcomer
Ramon Troncoso
appears to have recaptured some of the form that helped him to become a mainstay in the
Los Angeles Dodgers
bullpen for a few seasons.
Add to that the performances in Arizona of
Daniel Moskos
and
Jhan Marinez
, and the White Sox feel they have replacement pieces that could come in handy as the season progresses.
THREE KEYS TO SUCCESS
[+] Enlarge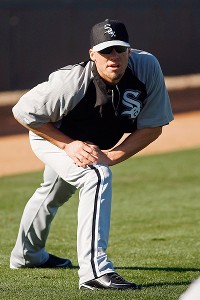 Rick Scuteri/USA TODAY SportsNewcomer Matt Lindstrom gives the White Sox another veteran arm to add to the bullpen mix.
• If Reed hears Jones' footsteps behind him, that could end up being a good thing. For some, the idea that a teammate might be gaining on you and about to take your job could prove uneasy. More solid work from Jones could create that scenario, but Reed has shown that he can use pressure situations to his advantage. After all, last season he posted a 3.56 ERA over 30 1/3 innings of save situations and a 6.20 ERA over 24 2/3 innings in non-save situations.
• As the veterans of the bullpen, Thornton and Crain will need to be steadying influences. For Thornton that means overcoming inconsistencies that have cropped up over the past few seasons and be the left-handed reliever the White Sox can rely on. Including this spring, Crain is starting to show he is susceptible to nagging injuries at age 31. When healthy, Crain has shown he is more than good enough to get the job done so avoiding the injury bug will be huge.
• Lindstrom brings another live arm to go along with Reed and Jones and if he can get into a groove, the White Sox can be brutal to contend with after the sixth inning. Lindstrom has spent most of his big-league time in the National League, but in 34 games with the
Baltimore Orioles
last season he delivered a 2.72 ERA and had 30 strikeouts to 12 walks, while opponents hit .254 against him.
March, 26, 2013
3/26/13
2:27
PM CT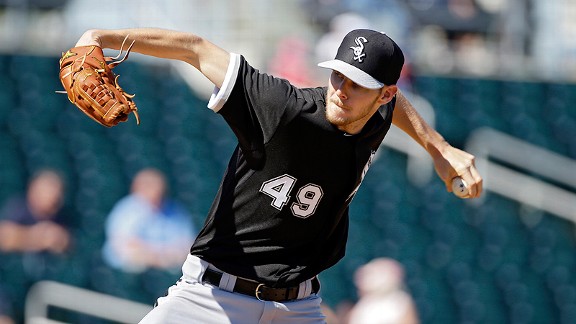 AP Photo/Mark DuncanChris Sale will make his first Opening Day start, but he will hold up all season?
The
Chicago White Sox
planned on hitching their trailer to the starting staff, but already questions have emerged with the members of the rotation.
The biggest worry surrounds
John Danks
, who is returning from shoulder surgery last summer. From the outset, the White Sox have been prepared for the likelihood that Danks wouldn't start the season on time, but that doesn't make his deliberate recovery pace any easier to take.
[+] Enlarge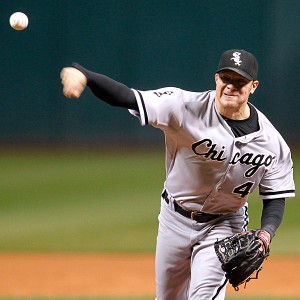 AP Photo/Tony DejakJake Peavy is looking to prove he can stay healthy after a strong season last year.
Danks will start the season on the disabled list and that isn't necessarily a big deal. What could be a huge deal is how long it takes the left-hander to return to his old form. He's not being asked to anchor the top of the rotation but if he can be a key contributor to the bottom half, the club could be in good shape.
Until he is ready to go,
Dylan Axelrod
is expected to absorb Danks' early season starts.
The positive news is that
Chris Sale
and
Jake Peavy
showed this spring they are ready to lead the starting staff and have the goods to form a formidable 1-2 punch. Sale will get his first Opening Day assignment, followed by the veteran workhorse in Peavy.
Sale made a huge leap in innings from 2011, when he was a reliever, to 2012, when he made an impressive debut as a starter, even getting into the Cy Young Award talk before fading late. Will a heavy workload for a second consecutive year take its toll, or will the youngster thrive with his experience from last year?
If
Jose Quintana
merely gives the White Sox the same results he did in his rookie season of 2012, everybody will be pleased. If he shows growth, though, the White Sox could end up with the kind of rotation they were hoping for.
Gavin Floyd
will be an interesting case. His yearly numbers aren't eye popping, but they are steady. Those numbers, though, make more sense from a guy pitching somewhere in the neighborhood of 200 innings, not the underwhelming 168 innings he pitched last season.
Three keys to success