Chicago White Sox:

2013 spring training preview
May, 3, 2013
May 3
12:15
AM CT
By
Randy Jennings
| Special to ESPNChicago.com
ARLINGTON, Texas --
Hector Santiago
saw the White Sox's 3-1 victory over the Rangers on Thursday as sort of a Tale of Two Catchers.
The one the White Sox used to have,
A.J. Pierzynski
, went 0-for-4 in his first start against his old team.
The one the White Sox have now,
Tyler Flowers
, delivered the winning blow, a three-run home run in the sixth inning.
"It felt like we made a good decision," said Santiago. "Everybody knew it would be tough to replace A.J. But tonight, A.J. went 0-for-4 and Flo got the home run that won it for us. A.J. was here a long time, but a lot of us came up with Flo. It was a great night for him."
[+] Enlarge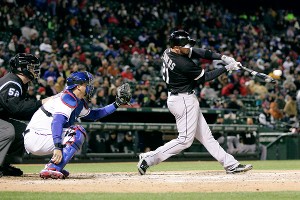 Tim Heitman/USA TODAY SportsTyler Flowers connected on a Justin Grimm curveball in the sixth inning for a three-run homer.
Flowers, 27, said he never gave a thought to any underlying one-on-one competition with the 36-year-old Pierzynski.
"It seemed a little awkward to see him catching for them [the Rangers], just like it did when he was in the batter's box the night before," Flowers said. "I'm glad that part of it is over and we can put that behind us now."
Pierzynski was hit by an
Addison Reed
pitch as a pinch hitter in the ninth inning on Wednesday. Both camps agreed it was unintentional.
Flowers said as he walked to the plate in the sixth with two out and two on, he was thinking fastball middle away. But then it flashed in his mind that Rangers starter
Justin Grimm
just might go to a curveball. When he got the curve on Grimm's first pitch, Flowers connected. His towering shot into the left-field seats traveled an estimated 397 feet.
Flowers is off to a slow start, batting .186 compared to a .280 mark for Pierzynski.
"It's been a battle," said the 6-foot-4, 245-pounder from Georgia. "I'm trying to grind it out each at-bat."
But even if he's not getting a lot of hits, Flowers continues to get big ones. Thursday's home run was his fourth of the season, and each one has given the Sox a lead.
"I like that trend," said Sox manager Robin Ventura.
February, 8, 2013
Feb 8
12:27
PM CT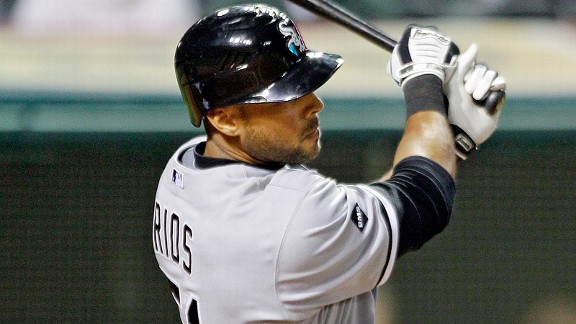 AP Photo/Mark DuncanAlex Rios had a resurgent season in 2012, batting .304 with 25 home runs.
Doug Padilla previews the White Sox by position in the days leading up to pitchers and catchers reporting for spring training on Tuesday.
Those loud footsteps you can hear are coming from a whole new generation of young outfielders ready to break through for the
Chicago White Sox
.
While the White Sox are set with an outfield of
Dayan Viciedo
,
Alejandro De Aza
and
Alex Rios
in 2012, a number of talented options could give the club a whole new look as early as the 2014 season, although 2015 seems more realistic.
Jared Mitchell
, the first-round pick from 2009 could be the first to break through, but it's Courtney Hawkins and Trayce Thompson who actually rank first and second, respectively in Baseball America's list of the club's top prospects. Then there is Keenyn Walker, the club's first overall selection in the 2011 draft. Hawkins, Thompson and Walker are all a few years away from getting to Chicago.
The White Sox's outfield in 2012 was solid, not spectacular, with plenty of room for improvement. Viciedo is expected to deliver more with the hope that De Aza knows what it takes to avoid inconsistencies now that he has his first full season under his belt.
LEFT FIELD:
After originally moving to right field for the 2011 season, there is a good chance this year will mark Viciedo's last in the outfield. The White Sox will need to clear room for their emerging youngsters and Viciedo could wind up being the long-term replacement for
Paul Konerko
at first base. Konerko will be in the last year of his current contract. Viciedo was 36th in the American League in slugging percentage last season at .444, a number that is expected to improve. The departed
A.J. Pierzynski
posted a .501 slugging percentage so somebody will have to pick up the slack in that area.
CENTER FIELD:
De Aza was solid in his first full season, making things click from the leadoff spot. Of players with at least 200 plate appearances at the top of the order, De Aza had the 12th-best on-base percentage at .349. And among that group, his 26 steals were sixth best. Most glaring, though, was his July swoon when he batted .242 with a .294 on-base percentage. His 80 runs scored from the leadoff spot don't sound terribly impressive, but only six other leadoff men had more. By replacing Alex Rios in center field, De Aza helped the White Sox defense make considerable improvement. De Aza is one of only two left-handed bats in the starting lineup, along with
Adam Dunn
.
RIGHT FIELD:
Moving to a corner outfield spot seemed to simplify things on defense for Rios. Most notably, though, was the return of his offensive production. Rios not only delivered a .304 batting average, his .850 OPS was his best since his 2007 season as a member of the
Toronto Blue Jays
. The key this season will be avoiding the Bad Rios-Good Rios cycle that has followed him in recent years. With another productive season at the plate this year, he can break the pattern.
IN THE MIX:
Dewayne Wise
and
Jordan Danks
are in line to be the fourth and fifth outfielders, respectively. The left-handed hitters will give manager Robin Ventura some lineup versatility when they give Viciedo or Rios a rest. Mitchell is expected to start the season at Triple-A Charlotte, but it wouldn't be surprising to see him in a White Sox uniform at some point in the second half.
February, 7, 2013
Feb 7
7:03
PM CT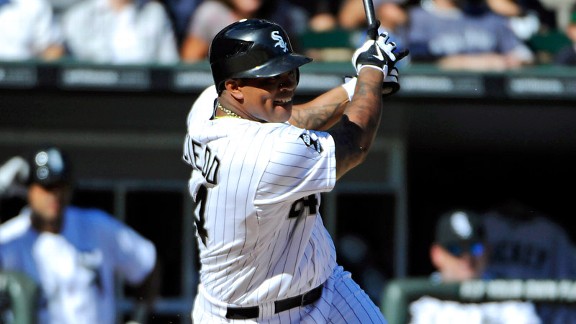 David Banks/Getty ImagesDayan Viciedo hit 25 home runs in his first full major league season in 2012.
CHICAGO -- Forget the late-season slump and the struggles against right-handed pitching, the
Chicago White Sox
remain supremely confident that
Dayan Viciedo
will emerge as a powerful force in the American League.
The latest to pick up the cause for the right-handed power hitter was hitting coach Jeff Manto, whose handiwork will be evident from the moment spring training begins.
"We're going to ask him to add a little leg kick for a timing mechanism," Manto said Thursday about the slugger who won't even turn 24 until next month. "That's not going to be a big deal."
Actually, it could be a very big deal if Viciedo uses the leg kick to trigger the kind of explosive season the White Sox are counting on seeing at regular intervals.
February, 7, 2013
Feb 7
11:14
AM CT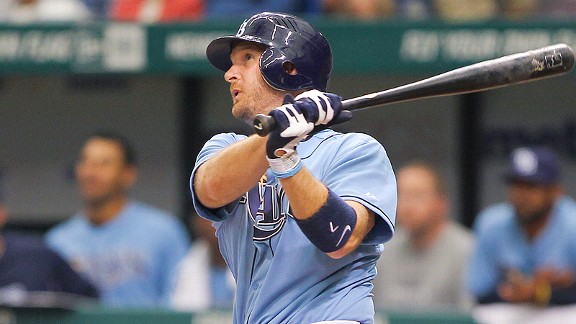 Tom O'Neill/Icon SMINew addition Jeff Keppinger gives the White Sox some flexibility throughout the infield.
Doug Padilla previews the White Sox by position in the days leading up to pitchers and catchers reporting for spring training on Tuesday.
The addition of free agent
Jeff Keppinger
, who figures to get most of his action at third base, will end up sending reverberations all around the
Chicago White Sox
's infield.
Short on cash to spend on the free-agent market, the White Sox opted for a three-year, $12 million deal with Keppinger, who is actually a utility man supreme. In fact, Keppinger has played twice as many games at second base (307) as he has at third (152). He even has more games at shortstop (178) than third base.
What it could mean is that while playing plenty of third base in the upcoming season, he could also loom as a second base option if
Gordon Beckham
goes through some prolonged struggles.
[+] Enlarge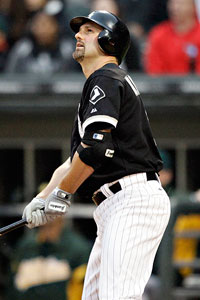 AP Photo/Nam Y. HuhPaul Konerko should see more time at DH in what could be his final season with the Sox.
FIRST BASE:
This time, it could actually be
Paul Konerko
's last season in a White Sox uniform. The chances of Konerko re-signing, like he did after the 2005 and 2010 seasons, don't seem as strong this time. For starters, the White Sox could bid farewell to their longtime captain and hand over first base to
Adam Dunn
, who is signed through 2014. An eventual long-term option could end up being
Dayan Viciedo
. As for this season, Dunn is expected to get more playing time at first base in order to get Konerko more designated-hitter days. That plan is all in the name of getting as much offense as possible from the soon-to-be 37-year-old Konerko by keeping him as fresh as possible.
Lars Anderson
, claimed off waivers from the
Boston Red Sox
, figures to be destined for Triple-A Charlotte.
SECOND BASE:
Welcome to another season when Beckham must prove to the White Sox that he can reach the potential that has been expected of him. Going back to 2011, though, scouts have noted that the Georgia product doesn't look as if he will ever reach the level that was projected after an impressive rookie season in 2009. The end of the 2012 season was impressive, as Beckham used a 2 ½-week stretch in September to deliver four home runs, 11 RBIs, a .340 batting average and a 1.116 OPS. But if he continues to post monthly batting averages under .190 like he did twice last season, the White Sox could be ready to make some changes. He's turned himself into a Gold Glove-caliber defender, but he needs to show a more all-around package.
SHORTSTOP:
Alexei Ramirez
has failed to continue that breakout-star buzz since signing a four-year contract extension just before spring training in 2011. He hasn't been terrible, but that dominating season that has been expected still hasn't emerged. Besides that, the Gold Glove talk he was garnering early in his career has subsided. Ramirez admitted last month that his play hasn't met his standards, calling Beckham far better on defense and saying he needs to deliver more with the bat. He's now fully healed from wrist discomfort that nagged him toward the end of last season. When Ramirez needs a day off, Keppinger is expected to slide over from third base to shortstop.
THIRD BASE:
The White Sox's plan seems to be that Keppinger plays somewhere between 110 and 120 games at third. That would leave a decent amount of playing time for whoever ends up being the backup.
Brent Morel
is on his way from back issues and could end up getting some starts at third base with some pinch-hit assignments mixed in for good measure. But his health remains uncertain, which is why
Josh Bell
and
Steve Tolleson
will be in camp on minor-league deals. Both have played third base in the major leagues.
UTILITY ROLE:
Carlos Sanchez is one of the top prospects in the organization, and is a middle infielder of the future, but it figures to be too early for his arrival at the big-league level.
Angel Sanchez
figures to be a better bet for that spot. He batted .320 at Triple-A last season and was expected to compete for a utility role with the
Los Angeles Angels
before the White Sox pried him away in the Rule 5 draft. Sanchez played 110 games for the Astros in 2011. Keppinger's ability to play multiple positions essentially makes him a full-time utility guy.
February, 6, 2013
Feb 6
11:05
AM CT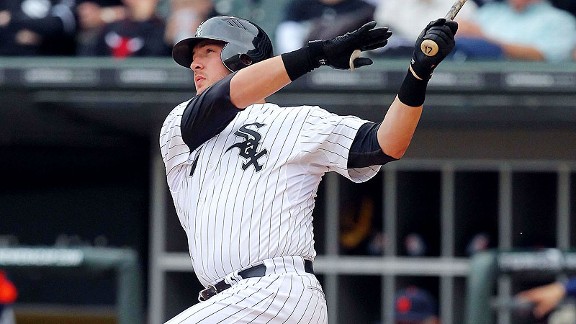 Dennis Wierzbicki/US PresswireThe White Sox are counting on Tyler Flowers being ready to be an everyday catcher.
Doug Padilla previews the White Sox by position in the days leading up to pitchers and catchers reporting for spring training on Tuesday.
The
A.J. Pierzynski
departure has become somewhat of a hot button issue around the
Chicago White Sox
front offices so much so that his name is even mentioned even when nobody is asking.
[+] Enlarge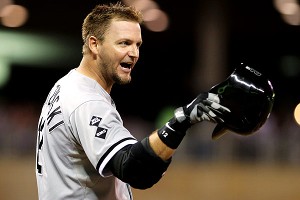 Brace Hemmelgarn/Getty ImagesThe money the White Sox saved by letting A.J. Pierzynski go helped them upgrade other key areas of the roster.
Take a packed seminar at SoxFest last month when a fan approached the microphone to ask a question of a panel that included manager Robin Ventura and general manager Rick Hahn. Before the fan even asked his question he apologized just in case it wouldn't be received well.
Without hesitation, Hahn asked if the question might have something to do with a certain veteran catcher who is now property of the
Texas Rangers
.
The beauty of the situation is that the question had nothing to do with Pierzynski at all. But that is how it has been for the White Sox, whose fan base has wondered aloud why a fan favorite, in-your-face, gritty leader was seemingly sent on his way so easily.
All winter long the White Sox have been explaining the move. Even before Pierzynski signed elsewhere the White Sox were saying they continued to respect the effort he gave and were grateful of his time in a White Sox uniform.
Also, the move to part ways was done in part to help other areas of the roster. One way to evaluate Pierzynski's one-year, $7.5 million deal with the Rangers is to look at how the White Sox spread that savings around.
In the upcoming season, the White Sox will pay
Jeff Keppinger
$3.5 million to play third base and hard-throwing reliever
Matt Lindstrom
$2.3 million to provide support in the late innings. Add in the salary of club-controlled
Tyler Flowers
and the trio will still make less than the 36-year-old Pierzynski will take home.
Tyler Flowers:
The difficulty of replacing Pierzynski is not lost on Flowers, who still might be a little naïve in thinking all fans will simply judge him on his own merits. Flowers has already pointed out that his batting average and strikeout totals won't match Pierzynski's but that doesn't mean he won't be pulling his weight. The White Sox are completely confident in Flowers' ability to call a game and his ability to handle the running game will no doubt be better than what his predecessor showed. The idea is that with a full season of at-bats, Flowers can also show the kind of offensive production that was expected of him when he was acquired from the
Atlanta Braves
after the 2008 season.
Hector Gimenez:
Despite playing in just 11 career major league games with three different teams, the White Sox are ready to give the backup catching job to Gimenez. The team is comfortable with the 30-year-old's ability to call a game and like that his ability to switch hit gives Ventura a left-handed bat when Flowers needs a rest. Giminez has shown offensive prowess, delivering a .305 batting average and a .916 OPS at the Double-A level in 2010, but producing in a part-time role will be an entirely new challenge.
Josh Phegley:
After getting past a condition that caused excessive bruising and the potential for an increased risk of severe bleeding, the former 38th overall pick in the 2009 draft appears to be back on track. It seems, though, that the White Sox would rather have him continue his development with another full season of playing time at Triple-A Charlotte, unless an injury at the big-league level changes those plans.
February, 5, 2013
Feb 5
1:59
PM CT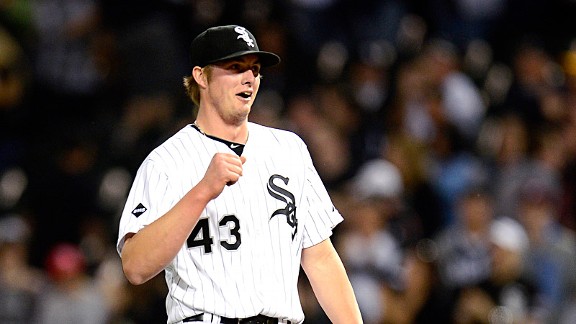 Mike DiNovo/US PresswireThe White Sox hope to get a more consistent Addison Reed in his second season.
Doug Padilla previews the White Sox by position in the days leading up to pitchers and catchers reporting for spring training on Feb. 12.
Nothing beats a cost-effective young closer like
Addison Reed
, especially since his low price tag gives the
Chicago White Sox
the opportunity to spend on other areas of the bullpen.
Jesse Crain
and
Matt Thornton
, the bullpen veterans, will split $10 million between them with there still a little left over to bring in a hard-throwing newcomer in
Matt Lindstrom
, who will pocket $2.3 million this season. The rest of the relief help falls into the "affordable" category.
The back end of the bullpen appears to be solid, but the White Sox still can't ignore other areas. Finding a quality long man (or two) will be vital, especially with starter
John Danks
returning from injury and any efforts the club might undertake to maintain
Chris Sale
's innings.
So far, the only thing the White Sox are saying in regard to Sale is that he will get a later start than others in spring training and no mention has been made on a targeted inning count for 2013. Sale threw 192 innings in 2012.
Addison Reed, RHP:
The young talent was far from the only one who dealt with a late-season swoon. It's easy to see that Reed trailed off last season with an 8.00 ERA in September and an opponents' batting average of .351 in the month. Reed's most ardent supporters, though, will point a handful of outings, especially the six runs he allowed May 13, as the reason for his untidy 4.75 ERA. The bottom line is that consistency will be Reed's aim this season and his first full season of experience should help him get there. He plans on using a new cardio program to help with stamina throughout the summer.
[+] Enlarge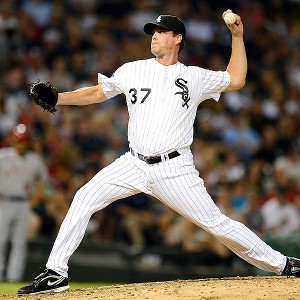 Mike DiNovo/US PresswireMatt Thornton posted 10 losses last season but still managed a 3.46 ERA.
Matt Thornton, LHP:
Once again, there will be a lot expected from one of the veteran anchors of the White Sox's bullpen. It's perhaps a tall order considering that Thornton's 10 losses were easily the most of all left-handers last year and were tied for the most among all relievers in baseball. Add to that four blown saves as the carnage mounted. Through it all, Thornton did manage seven saves and an ERA under 3.50. His veteran presence will be leaned on heavily.
Jesse Crain, RHP:
A strained left oblique and a strained right shoulder disrupted a 2012 season but the year still wasn't a lost cause. Crain managed to make 51 appearances (48 innings) while posting a 2.44 ERA to go along with four saves and two victories. His 1.08 WHIP was his best since posting a 1.07 mark in his rookie season of 2004 with the
Minnesota Twins
. He is expected to pitch for Canada in the WBC.
Nate Jones, RHP:
In the epitome of a surprise breakout season, Jones managed to skip the Triple-A level entirely by earning a roster spot with a solid 2012 spring training. His 2.39 ERA and 8-0 rookie marks signal that the sky's the limit for the hard thrower from Kentucky. At SoxFest manager Robin Ventura told the crowd that Jones would be able to challenge Reed for the closer spot. Ventura's wink afterward suggested Reed will keep his job, but there is still no mistaking the White Sox like what they have in Jones.
Matt Lindstrom, RHP:
If Reed and Jones represent the hard-throwing youngsters, Lindstrom is the older equivalent. He will turn 33 on Monday but still relies on the velocity of his youth. Despite pitching in both leagues last season (with Arizona and Baltimore), he still posted a 2.68 ERA over 48 outings. Finally getting a chance to pick his own club via free agency, Lindstrom says he delayed the process this winter in order to hear from the White Sox. He's right where he wants to be now.
Hector Santiago, LHP:
If Danks isn't ready to start the season on time, Santiago could end up getting some early starts. Either way, he should be a key member of the bullpen as a long man, and his ability to rack up innings would help ease the early innings count on the recovering Danks. If
Gavin Floyd
can't work his way back toward 200 innings, Santiago could be in for a long, grueling season.
Dylan Axelrod, RHP:
Also in the competition for any early Danks starts, Axelrod could also help in the long man department. It isn't likely the White Sox carry two long men, but if either Axelrod or Santiago is starting at any point then a bullpen spot would be available for the other.
Donnie Veal, LHP:
With Santiago and Thornton in the bullpen, the White Sox have coverage from the left side. But Veal could end up being a lefty specialist like the White Sox tried to do with
Will Ohman
in recent years.
Other bullpen options include
Deunte Heath
,
Brian Omogrosso
and
Leyson Septimo
, who all saw some action with the White Sox last season. Non-roster invitees to camp with major-league experience include
Jeff Gray
, who pitched 52 innings for the Twins last season, and
Ramon Troncoso
, who was a key member of the
Los Angeles Dodgers
' bullpen that made back-to-back NLCS appearances in 2008 and 2009.
February, 4, 2013
Feb 4
2:33
PM CT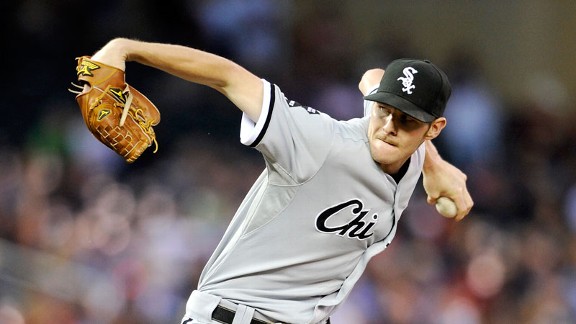 Hannah Foslien/Getty Images Chris Sale went 17-8 in his first major league season as a starter.
Doug Padilla previews the White Sox by position in the days leading up to pitchers and catchers reporting for spring training on Feb. 12.
If the
Chicago White Sox
's pitching staff is supposed to drive the team to success in 2013, consider the starting rotation the engine. There is a Cy Young Award winner in the mix and another potential winner to head the list. There is a veteran who has shown stretches of dominance and a young up-and-comer with youth and savvy on his side. Add to that a former Opening Day starter who is returning from injury and that could make this one of the better groups in the game, as long as he reaches peak performance quickly.
1. Chris Sale, LHP:
The lean lefty has star potential written all over him thanks to a blazing fastball and a wicked slider. Not a lock to be the Opening Day starter, but picking him would make sense. The only change in his offseason regimen to combat a late-season fade in 2012 is to increase his cardio work. The chief concern will be how his young arm bounces back after a huge bump in innings from 71 in 2011 to 192 last season.
[+] Enlarge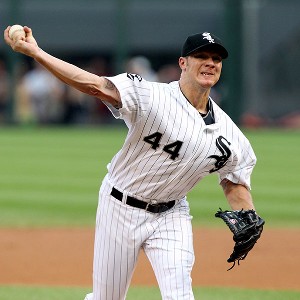 Chris Sweda/Chicago Tribune/MCT via Getty ImagesWill Jake Peavy get the nod to start on Opening Day?
2. Jake Peavy, RHP:
All heart and guts, Peavy's mental side is everything you want from a starting pitcher. Common sense says that he will be even better another year away from surgery, but he actually continues into uncharted waters with his unique latissimus dorsi reattachment procedure in 2010. His new two-year deal, that will pay him $14.5 million each of the next two seasons, looks to be a smart White Sox buy and is comparable to what free agents
Ryan Dempster
,
Dan Haren
and
Hiroki Kuroda
will make in 2013.
3. Gavin Floyd, RHP:
Everybody has witnessed a dominating Floyd before, the trick is to get it out of him again. The right-hander's 12-start stretch in 2010 where he posted a 1.19 ERA and a .203 opponents' batting average will forever be mentioned as his maximum potential. What's to make of his 12-11 record and 4.29 ERA in 2012 that was strikingly similar to his 12-13 mark and 4.37 ERA in 2011? He threw 25 2/3 less innings last season and his WHIP went from 1.16 in 2011 to 1.36 last year.
4. Jose Quintana, LHP:
Hard to knock the biggest revelation of 2012 for his fade down the stretch. His 4.20 ERA in August was followed by a 6.75 mark in September while he allowed a tick under two walks/hits per inning in that final month. Overall, though, his 3.76 ERA over 25 outings (22 starts) was far better than could have been expected from somebody with just nine games of experience above the Single-A level before he was called up last May.
5. John Danks, LHP:
The White Sox won't put a timetable for Danks' return from shoulder surgery, although it seems clear that if he isn't back by May 1 a setback will have occurred. To the lefty's credit, he fully intends to take his first turn in the rotation when the season begins. Shorter outings are expected immediately after he returns, which has the potential to put a strain on the bullpen. If he rounds into top form by the All-Star break, the club could be in business.
With Danks' uncertain status, there will be a mad dash in spring training for what could be one or two available starts in April.
Dylan Axelrod
and
Hector Santiago
will be out to impress, with even
Zach Stewart
getting a shot after he recently returned to the organization via a waiver claim.
The most interesting battle of the spring, though, could be Sale vs. Peavy for the Opening Day assignment on April 1 against the
Kansas City Royals
. Based on his career track record and his new White Sox contract, Peavy could get the nod. But Sale not only had the numbers last season to earn the role, he represents a young talent that could be in the front of the club's rotation for a long time.
OUTLOOK:
With a young guy at the front of the rotation and a pitcher returning from injury at the back of it, Floyd could play a big role in the staff's success. He doesn't have to turn into a 20-game winner all of a sudden, but he had better give more than 168 innings. The expectation on Peavy isn't to return to a Cy Young winner again, except maybe from Peavy. But his 2.85 ERA and 0.99 WHIP in the first half of 2012 shows he has plenty left in the tank. Not to say that the White Sox have a shaky offense, but neutralizing opposing teams' run production, especially Detroit's, will be the club's best chance of success in a division they won't be favored to win. This team was built on pitching. The starters are on the spot.