Chicago White Sox:

2014 Countdown to Camp
February, 14, 2014
Feb 14
11:59
AM CT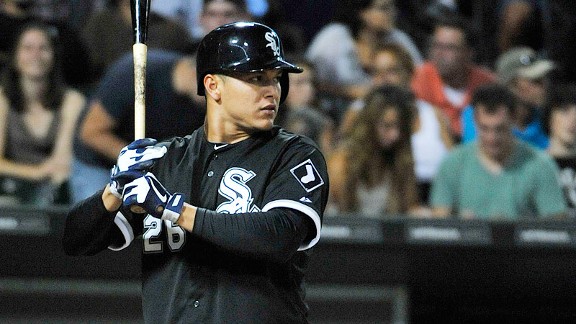 David Banks/Getty ImagesAvisail Garcia has the talent, but will he realize his tremendous potential this season?
With Chicago White Sox spring training set to begin Saturday when pitchers and catchers report in Glendale, Ariz., we're taking an early look around the diamond.
Nobody should question whether the Chicago White Sox should have started a youth movement last year. The question that remains is whether the team's main decision-makers were able to bring aboard the right pieces.
On the surface, the White Sox no doubt have addressed needs. At just 22 years of age,
Avisail Garcia
has all the tools at his disposal to make him a force for many years to come. The reported hitting ability of
Jose Abreu
to use all fields and hit with power from foul pole to foul pole has the potential to lock up the first-base position for the next six seasons.
Then there were the two moves made with the
Arizona Diamondbacks
, the first of which brought aboard an on-base type in center fielder
Adam Eaton
, who is also a grinder. Both of those aspects have been missing in recent seasons.

The second move to acquire
Matt Davidson
for closer
Addison Reed
appears riskier on the surface, but if the right-handed power hitter can cut down on his strikeouts, while also refining his defense, he can be yet another answer to the team's recent run-producing woes.
While it isn't fair to nitpick the small major-league sample sizes from guys such as Garcia, Eaton and Davidson, there are areas of concern with each. And then there is the fact that Abreu has no professional experience outside of Cuba and will likely be asked to jump to the major leagues without an inning of minor-league play.
Garcia was a prized pickup since he can hit for power, average and has above-average foot speed. One missing characteristic to his game, though, is an ability to be selective at the plate. Garcia played 42 games after coming over from the
Detroit Tigers
in a three-team deal and walked just five times.
The right-handed hitter did post a .304 batting average in 161 trips to the plate in a White Sox uniform, but his .775 OPS suggests plenty of room for improvement.
The quicker Abreu adjusts to major league life, the better, but handling American League pitching is hardly his only obstacle. The 26-year-old is also in the midst of adjusting to life in a new country, without family. There are also the trappings that could come from having a bank account that is bursting at the seams. In essence, 2014 will be a gigantic adjustment year for the team's new first baseman.
As for Eaton, there is no questioning the determination of somebody who stands at just 5-foot-8, but there figures to be some worry about a sprained elbow ligament that cropped up just about one year ago and ended up costing the leadoff man three months of the season. Eaton joined the Diamondbacks midway through last season and never did seem to get his feet under him, delivering a .314 on-base percentage that was well under what his tools suggest he can do.
As for Davidson, he is not only going to have to cut down on strikeouts, the lament of the majority of power hitters, but he also needs to show some refined defense at third base. He was primarily a pitcher before he was drafted 35th overall in 2009, so his third-base defense still needs to be polished.
Yet for all the holes that could deflate the White Sox's youth movement, there remains upside aplenty. When it comes to the pitching staff,
Nate Jones
could end up as the team's next closer, while
Erik Johnson
is considered a favorite for a spot in the Opening Day rotation.
There are no guarantees that youth movements strike gold, but it was a route the White Sox needed to go if they wanted to not only be competitive one day soon, but also able to battle for a playoff spot year after year.
Also new is the White Sox's commitment to player development, something that didn't always get the financial backing that it needed in recent years. The White Sox will commit more to both the draft and to international signings in the upcoming season.
So while there is plenty at stake for each individual young player to reach his maximum potential, the pressure is just as high for the front office to find the players who have the makeup to completely tap into their natural ability.
OUTLOOK:
Garcia, Abreu, Eaton and Davidson are getting the most attention at this part of the youth movement, but there are plenty of others who could play a key role.
Leury Garcia
could be the rare young player asked to deliver with sporadic playing time, not only as a utility player, but also to deliver speed off the bench. After an impressive minor league season, right-hander
Daniel Webb
could find himself with a key bullpen role.
If the big-league rotation needs any help, young pitchers such as
Andre Rienzo
,
Eric Surkamp
and
Charlie Leesman
could be the next in line. Players at the minor league level who are expected to take a big leap in their development are shortstop Tim Anderson, second baseman Micah Johnson, outfielder Courtney Hawkins and right-hander Chris Beck.
February, 13, 2014
Feb 13
11:10
AM CT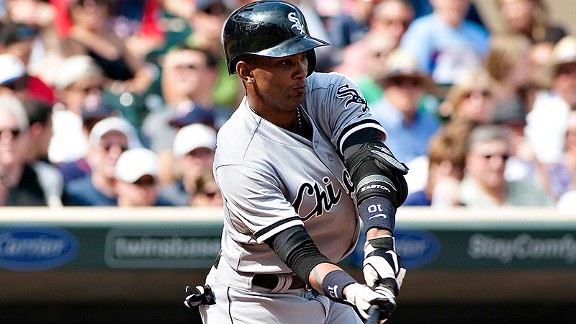 AP Photo/Paul BattagliaAlexei Ramirez averaged 17 home runs a season between 2008-11 but has hit just 15 combined the past two years.
With Chicago White Sox spring training set to begin Saturday when pitchers and catchers report in Glendale, Ariz., we're taking an early look around the diamond.
While a much-needed rebuild has begun, the Chicago White Sox still have too many question marks to start printing playoff tickets, so this year's player to count on has a nod to the future.
We'll hit
Alexei Ramirez
with the tag of player who needs to have the big season. Count
Dayan Viciedo
as a close second in the voting.
There really is justification for anybody to carry the burden of the tag, from
Jose Abreu
and the pressure of living up to a $68 million contract, to
Chris Sale
and the need for him to keep establishing himself as a staff ace. There's the need for
Nate Jones
to seamlessly embrace the closer's role and
Adam Dunn
to finally give the White Sox something special for their original $56 million investment.

Yet the focus falls on Ramirez because he was the player the White Sox believed would lock down the shortstop position for the long term after he was given a contract that could extend until 2016 if a team option was utilized.
Ramirez, who will be 33 by the end of this season, was projected to grow each year when he was given his current four-year, $32.5 million deal with the possibility that it can become a five-year, $41.5 million pact.
Instead, Ramirez seems to have regressed in each season since finishing second in the rookie of the year voting in 2008. He did win a Silver Slugger award in 2010 after collecting 18 home runs with 70 RBIs while posting a .744 OPS, but those numbers were all lower than they were in his first season.
To make matters most pressing for the White Sox is that shortstop and catcher are the only two positions where a top prospect isn't closing in on a major league job. At first base Jose Abreu is set to take over, second base has guys such as
Carlos Sanchez
,
Marcus Semien
and Micah Johnson coming soon, and third base could end up being
Matt Davidson
's for the long haul.
The current outfield is already young, and then there are prospects such as Trayce Thompson, Keenyn Walker, Courtney Hawkins and Jacob May on their way.
Erik Johnson
,
Charlie Leesman
, Chris Beck and
Andre Rienzo
represent a wave of pitchers ready to come to the forefront.
The White Sox do have a top shortstop prospect in the system in last year's top pick, Tim Anderson, but he is just 20 years old and has only played at the low Class A level thus far, putting him three years away from Chicago minimum, and that's if he gets on the fast track.
When looking at Ramirez's inability to gain any traction in recent seasons, it only made sense that Anderson was gobbled up as the third overall shortstop selected in the first round.
Ramirez was dealing with a family tragedy in 2013 so any lack of focus last year was understandable. If the White Sox can provide him with a comfortable atmosphere this year, it stands to reason that his numbers could creep upward again.
Perhaps adding to his comfort level this season is the arrival of Abreu from his native Cuba. It would form a trio of starters who hail from Cuba, along with Viciedo.
One sign of a Ramirez turnaround could come in the opening month. Early production could mean that good things are on the way from the notoriously slow starter. Ramirez's March/April batting average (.231), OPS (.587), home runs (7) and RBIs (39) make it the least productive month of his career, and by bucking that trend, it could provide him with the foothold he needs in 2014.
OUTLOOK:
While the offense gets the most attention, the defensive side of Ramirez's game hasn't been as sharp, either, as his career has progressed. Once thought to be able to join the Gold Glove conversation if he could combine his range, arm strength and fielding ability into one solid package, that aspect of his game has never fully come to fruition. Reports on the fielding ability of Abreu at first base suggest an average defender, something the White Sox have already disputed. If his ability to dig balls out of the dirt is refined, that could go a long way toward helping the defense not only of Ramirez, but of the rest of the infield, as well.
February, 12, 2014
Feb 12
10:47
AM CT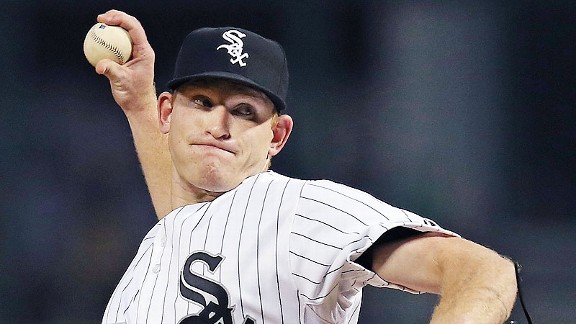 Jonathan Daniel/Getty ImagesErik Johnson figures to earn one of the two spots in the rotation this spring.
With Chicago White Sox spring training set to begin Feb. 15 when pitchers and catchers report in Glendale, Ariz., we're taking an early look around the diamond.
Look no further than the White Sox's outfield prospects when trying to understand how fickle the process of developing players can be.
Largely believed to be the strength of the organization just one year ago, a slew of White Sox outfield prospects stalled out enough on their road to the major leagues that the team traded for a new right fielder and new center fielder in the past seven months.
Fast forward to 2014, and the White Sox no longer are being looked at as the organization of rising outfielders. They have hardly given up on those players, but now they are bunched in with a number of prospects from other positions to actually give the system its most overall upside in years.

Outfielder
Jared Mitchell
, 25, has long been viewed as the outfielder who would make the first impact, but his struggles now have him off the radar. He is being passed in the depth chart by guys such as Courtney Hawkins, 20,
Trayce Thompson
23, and Keenyn Walker, 23.
Hawkins is the furthest away but could end up being the most talented. He struggled last season, but much of that is being written off to playing against more experienced players as a 19-year-old at the high Class A level (Carolina League).
It still might be too soon to see any of the outfield prospects in the major leagues this year, although Mitchell, Thompson and Walker will get a chance to show what they can do in big league camp this spring.
In Baseball America's latest ranking of top 10 White Sox prospects, none of the top six are outfielders. At the top of the list, three of the first four listed figure to get an opportunity in the major leagues.
Top prospect
Jose Abreu
, 26, who was signed in the offseason for $68 million as the heir apparent at first base, is expected to make the roster. No. 2 prospect, 24-year-old pitcher
Erik Johnson
, appears to be a lead candidate to take over two available rotation spots.
No. 4 prospect
Matt Davidson
, a third baseman obtained from the
Arizona Diamondbacks
for closer
Addison Reed
, will get a chance at some point this season, but his prospects of making the Opening Day roster will be challenging.
The White Sox will not hesitate to start the 23-year-old Davidson at Triple-A Charlotte if he struggles at the plate this spring or his defense looks raw. Davidson is prone to striking out, and by spending most of his time as a pitcher before he was drafted by Arizona in 2009, his defense continues to be a work in progress.
Two infielder prospects held in high regard are
Marcus Semien
and Micah Johnson. Semien, who made his major league debut as a September call-up last season, is further ahead in his development and even has an outside chance at winning the third base spot in spring training.
It's more likely that the 23-year-old Semien heads to Triple-A Charlotte to get at-bats every day and sit poised for a promotion.
Micah Johnson isn't in the major league plans this season, but the 23-year-old is coming fast. He not only was the Southern League playoffs MVP after leading Double-A Birmingham to the title in 2013, he led all minor league players with 84 steals. In 77 games to start the season at Class A Kannapolis, he had a .422 on-base percentage and nearly scored a run a game.
Another of the organization's fastest risers is 23-year-old right-hander Chris Beck, who had his own breakthrough season in 2013. The second-round pick in 2012 advanced as high as Double-A last season, posting 3.07 ERA over 26 starts at two separate levels.
OUTLOOK:
Barring an unexpected spring collapse, Abreu will be the starting first baseman on Opening Day. The same scenario is likely for Erik Johnson, who would have to struggle mightily during Cactus League games to not earn the No. 5 spot in the rotation. Just how high are the White Sox on Micah Johnson? He was invited to participate in SoxFest last month even though he still figures to be another two years away from making the major leagues.
February, 11, 2014
Feb 11
10:35
AM CT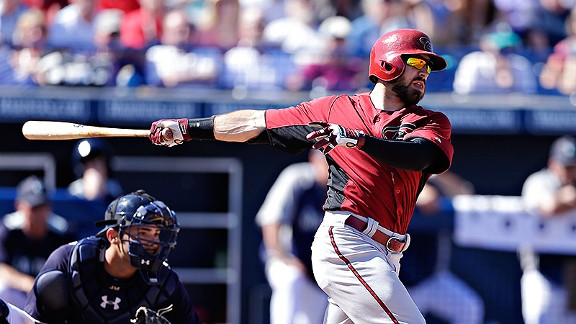 AP Photo/Gregory BullThe White Sox are counting on Adam Eaton to elevate their on-base percentage this season.
With Chicago White Sox spring training set to begin Feb. 15 when pitchers and catchers report in Glendale, Ariz., we're taking an early look around the diamond.
Depending on how "breakout player" is defined, the White Sox could have candidates all over the roster.
If it means returning to past production levels then maybe
Adam Dunn
or
Alexei Ramirez
are the answer. Heck, even
Paul Konerko
can fit into that category.
If it's somebody reaching the peak potential that has been expected of them, then
Tyler Flowers
,
Dayan Viciedo
or even
Gordon Beckham
could be the winners in that area.

As for a more traditional definition of bursting onto the major league scene, there are still a number of young players who could fit the bill such as
Adam Eaton
,
Avisail Garcia
,
Jose Abreu
and
Matt Davidson
.
Garcia has already shown that he can make an impact at the major league level, while the recent success of Cuban players suggests that Abreu can perform at a high level. Davidson figures to get his chances this season, but a true breakthrough might be a bit too much to ask at this point.
Eaton appears to be the player best poised to have that breakthrough season since he is capable of wreaking havoc on multiple fronts.
If Eaton can set the tone for getting the White Sox's on-base percentage to respectable levels, then he would have served his purpose right there. But he can also give the White Sox a running element with his blazing speed, and he should only help with outfield defense a year after
Alejandro De Aza
struggled badly in that area.
Yet another of Eaton's defining characteristics is his all-out attitude, something missing on veteran White Sox teams with its station-to-station personnel. Eaton seems to recognize that at 5-foot-8, 185 pounds, he is going to have to get everything out of his ability in order to be a success.
"The people with the mentality like mine, it's always: 'If I'm on first base I'm going to score for my guy because I want him to get an RBI,'" Eaton said in January. "If there is a ball in foul ground down the left-field line, I want to tag up from third and score. I feel that you should pick up your teammate, that's what you need to do.
"I don't see playing the game any other way. I may be out of this game in five years because I'm playing so hard, but that's the only way I can play and the only demeanor I can bring to this team."
That mentality is why many thought he would be a serious National League Rookie of the Year candidate in 2013. Taking a big dent out of his rookie year, though, was a ligament sprain in his left elbow that ended up costing him the first three months of the season.
Eaton finished is abbreviated season with a .252 batting average, a .314 on-base percentage and just five stolen bases. His most impressive season came in 2012 at Triple-A Reno when he batted .381 with a .458 on-base percentage and 38 steals.
If Eaton ends up being more like the player in Reno rather than the one getting his feet wet in the major leagues last season, then he makes the White Sox less one dimensional and gives the team a player with true breakout potential.
OUTLOOK:
Nobody expects Eaton to all of a sudden post minor league numbers in the major leagues, but if he can deliver an on-base percentage more in the mid-.300 range, the White Sox would be elated. In 2013, the White Sox had a team on-base percentage of.302 and a .321 OBP from their leadoff hitters. The
Boston Red Sox
led the American League in OBP last season at .349 and that tone was set at the top of the order as their leadoff hitters delivered an AL-best .348 OBP.
Individually, just 23 AL players had an OBP of .350 or better and none of them played for the White Sox. For a player with blazing speed, Eaton's five steals last season seem low, but indications are that it was more a product of the style of
Arizona Diamondbacks
manager Kirk Gibson, who is loathe to give up outs on the bases. Expect the White Sox to tap into Eaton's speed more than Arizona did.
February, 10, 2014
Feb 10
11:30
AM CT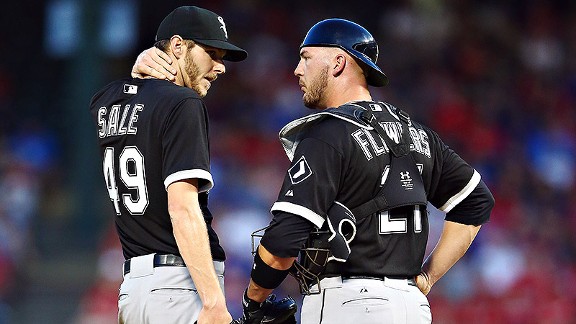 Ronald Martinez/Getty ImagesTyler Flowers (right) helped Chris Sale and the Sox pitchers post a combined sub-4.00 ERA last season.
With Chicago White Sox spring training set to begin Feb. 15 when pitchers and catchers report in Glendale, Ariz., we're taking an early look around the diamond.
Tyler Flowers
and
Josh Phegley
have one more chance to prove themselves this season, otherwise the next phase of the White Sox's restructuring will take place behind the plate.
And for those still disgruntled about the end of the
A.J. Pierzynski
era, it really is time to move past it. The White Sox weren't going to bring back an aging Pierzynski for $7.5 million last season, and they weren't even in a youth movement back then.

Now that they are going young, spending over $8 million on a 37-year-old catcher for this season was never going to happen.
Flowers knew he was in the unenviable position of being the guy who had to replace "the guy." Adding to the challenge of replacing a fan favorite was a shoulder injury that eventually led to an early end to the season and surgery in September.
This season, White Sox fans might not be able to completely forget Pierzynski, but they should see some better offensive production from their catchers. That prediction is an easy one after the catching group combined to rank last in the American League in runs (47) and OPS (.564), second to last in hits (108) and third from the bottom in batting average (.196).
Not only does a healthy Flowers suggest better results in 2014, but a more experienced Phegley should help as well. Phegley batted just .205 last season with a .522 OPS, but key for him moving forward are the 204 at-bats of experience he received in 2013.
While both also have room for improvement behind the plate, there are some positives in that department. The White Sox starters were one of eight AL staffs with a combined ERA under 4.00, and the only one with a losing record in that group. When you add in the relievers, the entire pitching staff was one of nine AL clubs with a combined ERA under 4.00 and they again were the only team in that group that finished the season under .500.
Conversations with Flowers this offseason have revealed an edgier player who has completely poured himself into his offseason routine.
An interesting development in the catching scenario for 2014 is the arrival of Rule 5 Draft selection
Adrian Nieto
from the
Washington Nationals
. If Nieto doesn't make the Opening Day roster, the White Sox are required to offer him back to his former team at half of his $50,000 selection price. It's possible the Nationals would decline to pay $25,000 to get Nieto back, although then the White Sox would have to get him through waivers.
There aren't any likely scenarios where Nieto breaks camp with the team, though. Even if he played well in the Cactus League, the White Sox probably won't be willing to play him every day in the major leagues. Using him as a backup would stunt any development the 24-year old could make.
Even if Flowers won the job hands down in spring training, proving he was capable of catching six days a week, the White Sox might still go with non-roster invitee
Hector Gimenez
as the backup with Phegley returning to Triple-A Charlotte to get consistent playing time.
The White Sox figure to explore a deal with the Nationals where they could keep Nieto and send him to the minor leagues. But given a report in December that showed Nieto had a connection to performance-enhancing substances, there is no telling how much patience the White Sox might have with him if he struggles.
OUTLOOK:
Flowers is expected to be 100 percent healthy by the start of camp and the additional dedication to his craft makes him the favorite for the Opening Day catching spot. Phegley struggled badly after he burst upon the scene last year. One thing about the Indiana native, though, is that after a short adjustment at each new level he reached, he began to settle in nicely. If Flowers and Phegley start to grade out evenly this season, Phegley is the better long-term fit because he comes at half the price and isn't into his arbitration years yet like Flowers is.
February, 7, 2014
Feb 7
12:00
PM CT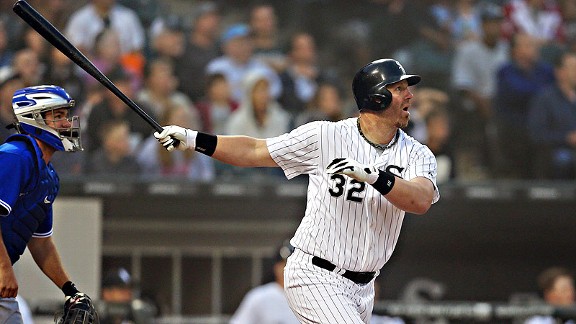 Scott Strazzante/Chicago Tribune/Getty ImagesWith Adam Dunn set to be in a part-time role, the White Sox bench will be an expensive one.
With Chicago White Sox spring training set to begin Feb. 15 when pitchers and catchers report in Glendale, Ariz., we're taking an early look around the diamond.
One effect of having three first basemen on the roster is that the
Chicago White Sox
are going to have to put together a versatile bench.
Between
Jeff Keppinger
and
Leury Garcia
, the White Sox figure to be covered with a backup at second base, third base and shortstop. If
Marcus Semien
doesn't win the starting third base spot in spring training his best bet wouldn't be a bench role but rather to get regular at-bats at Triple-A Charlotte.

The backup catcher figures to come from the loser of the battle between
Tyler Flowers
and
Josh Phegley
for the starting spot. One exception is the possibility that Flowers runs away with the job and the White Sox elect to go with last year's Opening Day backup,
Hector Gimenez
. Phegley would return to Charlotte in that scenario to get regular playing time. The chances that Rule 5 selection
Adrian Nieto
makes the roster are extremely slim.
If Keppinger and Garcia were the two utility men, the White Sox could actually carry five outfielders meaning that
Jordan Danks
could land a job as a late-inning defensive replacement for
Dayan Viciedo
in left field, as well as a left-handed bat off the bench.
But if
Matt Davidson
wins the starting third-base job, the final roster spot could come down to a decision between
Conor Gillaspie
and Danks.
The power potential from the White Sox's bench will be as good as it has been in a long time. Assuming
Jose Abreu
starts at first base every day, the bench will either have
Adam Dunn
or
Paul Konerko
ready to deliver in the late innings.
Alejandro De Aza
also has a little power off the bench, but his true value is that he gives manager Robin Ventura the option of another left-handed bat to use either in the starting lineup at times, or as a pinch hitter.
Ventura's ability to mix and match his bench with his starters has never been greater. The unique position the White Sox are in is that while they do have so many young starters spread around the field, they also have experienced players ready to back them up at a moment's notice.
If Abreu is having a tough go of it at first base, Konerko or Dunn can give him a breather. If
Adam Eaton
is in a funk in center field, De Aza can step in. And if Davidson is scuffling, Gillaspie or Keppinger is there to fill the void at least temporarily.
The flip side of that scenario is how well guys like Dunn, Konerko and De Aza can adapt to the nuances of a bench role when they have been used to getting the bulk of the at-bats during the season. Konerko has always said that he is best when seeing pitches every day, while Dunn showed when he became a designated hitter that change doesn't always happen smoothly.
OUTLOOK:
With Dunn in a part-time role now, this makes for a very expensive bench and the White Sox will no doubt have trouble getting value out of it, especially in the early going. Expect struggles from those players moving from starting to backup roles. No matter how the bench is constructed, Garcia figures to play a role in it since he not only is the only option for a backup shortstop, but he also adds a speed element. Look for the White Sox to explore a side deal with the Nationals to keep Nieto and send him to the minor leagues rather than return him per Rule 5 Draft requirements. De Aza figures to be the fourth outfielder unless Dayan Viciedo struggles and a platoon in left is developed.
February, 6, 2014
Feb 6
12:00
PM CT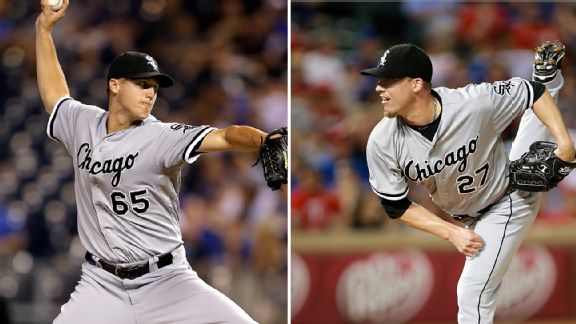 Getty ImagesEntering spring training, Nate Jones and Matt Lindstrom are the favorites to be the Sox's closer.
With Chicago White Sox spring training set to begin Feb. 15 when pitchers and catchers report in Glendale, Ariz., we're taking an early look around the diamond.
From the moment pitchers and catchers report to Glendale, Ariz., on Feb. 15 the most intriguing battle will revolve around the vacant closer role.
Addison Reed
is now a member of the
Arizona Diamondbacks
after a December trade, leaving
Nate Jones
and
Matt Lindstrom
as the favorites to win the job. Recent precedent suggests, though, that the favorite doesn't always end up with the role.

Pitching coach Don Cooper has added
Daniel Webb
to the list of candidates, although he admits that including the blossoming right-hander will raise a few eyebrows.
"He throws the ball well too but hell, if I said 'Daniel Webb,' everybody would say 'Who?'" Cooper said at SoxFest last month. "Nobody would know who he was."
Webb has just nine games of major league experience, all after rosters expanded this past September. While landing the closer role is a long shot, his chance of making the bullpen in any capacity is a good one.
Could Webb end up being the
Hector Santiago
of 2012? Reed was the young closer candidate that season while
Matt Thornton
was the veteran choice. Santiago grabbed the job out of spring training but ended up only keeping the seat warm until Reed ultimately snatched it away.
After signing a guaranteed one-year, $4-million deal at the start of the New Year,
Scott Downs
will be the late-inning left-handed option out of the bullpen. He essentially takes over the role Matt Thornton held since 2006.
February, 5, 2014
Feb 5
10:14
AM CT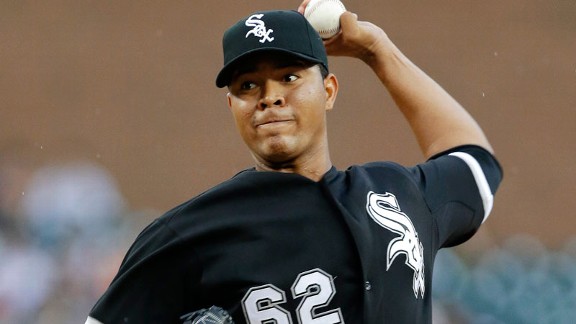 AP Photo/Carlos OsorioJose Quintana posted a 3.51 ERA in 200 innings last season but had just nine wins to show for it.
With Chicago White Sox spring training set to begin Feb. 15 when pitchers and catchers report in Glendale, Ariz., we're taking an early look around the diamond.
The reason the Chicago White Sox felt they could remodel the roster quickly was that the top of the rotation was strong. That doesn't mean easy decisions are on the horizon when it comes to the starting staff.
Chris Sale
is the unquestioned ace and would have remained the guy at the front of the rotation even if the White Sox were able to land
Masahiro Tanaka
for more than $100 million on the free-agent market. Instead, the No. 2 slot goes to
Jose Quintana
, who will get a slight raise on the $500,000 he made last year.

John Danks
, now a year and a half removed from shoulder surgery, will round out the list of definite starters in 2014. The trade of
Hector Santiago
to the
Los Angeles Angels
, in the three-way deal that landed the White Sox center fielder
Adam Eaton
, means a number of pitchers will be battling for two starting spots.
Erik Johnson
,
Andre Rienzo
,
Felipe Paulino
,
Eric Surkamp
,
Dylan Axelrod
and
Charlie Leesman
will all be competing to fill out the rotation.
Paulino and Johnson would appear to have the inside track for the final two rotation spots, although, Paulino has a lot to prove since he is coming off not only Tommy John surgery in 2012, but a 2013 procedure to clean out his rotator cuff and labrum.
Since the White Sox are essentially committing $2 million on Paulino for 2014, expect to see him on the mound at some point. The White Sox will push to get everything they can from their investment. Paulino's inspiration for getting back on the mound and showing he can be a success is a $4 million team option in 2015.
Assuming Sale and Quintana will continue to deliver solid results, a lot is riding on Danks if the White Sox want to avoid getting off track for a second consecutive season. While Danks' 2013 numbers might not show it, the left-hander was showing at times last season that he had an understanding of pitching without his typical velocity.
If Danks' velocity creeps further back to normal this season, the hope is that he can combine what made him successful in the past with things he learned last year, such as the ability to change speeds and the art of hitting his spots.
After finishing sixth in the Cy Young Award voting in 2012, Sale moved to fifth last season despite his losing record (11-14). The real story was told in his four complete games, a 3.07 ERA, and career bests in innings (214 1/3) and strikeouts (226), not to mention a slew of internal numbers that were career bests. There is no reason to think Sale won't creep up the Cy Young board even further this year.
OUTLOOK:
As much as all the talk is about the strength atop the rotation, 2014 is shaping up to be all about the bottom. Of the rotation contenders, the White Sox need to see which one is the most viable long-term asset. That pitcher can then be added with Sale, Quintana and Danks for 2015, while the team then spends big on another starter. Just how much might they dish out for a rotation piece? Well, adding up the expiring contracts of
Adam Dunn
,
Matt Lindstrom
and
Paul Konerko
, that frees up $21.5 million from the 2014 payroll right there.
February, 4, 2014
Feb 4
2:22
PM CT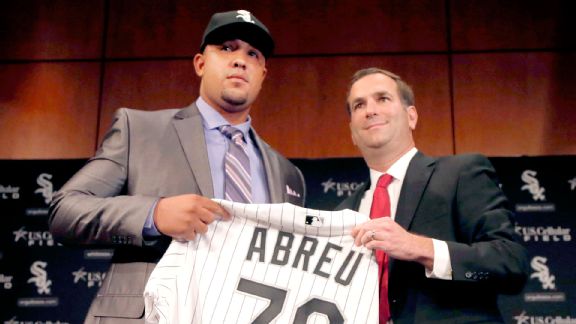 AP Photo/Charles Rex ArbogastThe addition of Jose Abreu makes filling out the lineup at first base and DH a bit more complicated for Robin Ventura.
With Chicago White Sox spring training set to begin Feb. 15 when pitchers and catchers report in Glendale, Ariz., we're taking an early look around the diamond.
Anybody who asks will get the same response: The White Sox do not believe their logjam of lumbering power-hitting first baseman will be an issue for anybody involved.
Perhaps everybody involved will go in with the right idea on how to deal with the situation, but plenty of questions remain when it comes to how the situation will work. How will
Paul Konerko
adjust to far less at-bats this season? How will
Adam Dunn
ever get into any kind of groove when his plate appearances are sporadic?

At this point, everybody is impressed with the raw talent shown by new first baseman
Jose Abreu
. The reality, though, is the early glimpse at Abreu's ability came in a couple of batting-practice sessions in Arizona. Much more will be known once he faces live pitching, although his ability compares favorably to that of fellow Cubans
Yoenis Cespedes
and
Yasiel Puig
, both of whom have fared well on the big-league level.
In the final year of his contract, Dunn can't be pleased with a situation where he can't prove himself before heading into free agency. And the White Sox will probably miss out on the best season Dunn could have delivered them. The facts are that Dunn's failure to meet expectations forced the White Sox to look to the future and when Abreu was available this offseason they elected to pounce.
Gordon Beckham
continues his effort to live up to expectations. His latest setback was a slew of injuries last season from a broken bone in his hand to leg issues late in the year. With free agency on the horizon in 2016, Beckham has a lot to prove.
There is no way to sugar-coat it,
Alexei Ramirez
was a major disappointment last season. His goal was to improve his run-producing numbers but his home run and RBI numbers were the lowest of his six seasons. And instead of developing into a Gold Glove-caliber defender, Ramirez has been far off that lofty status. He seems more than capable of improvement in that department.
The battle at third base should be the most spirited in camp this spring. Newcomer
Matt Davidson
will get every chance to prove himself, but
Marcus Semien
and
Conor Gillaspie
won't make it easy on the former highly-rated prospect in the
Arizona Diamondbacks
system. The White Sox will not hesitate to send Davidson down for more seasoning if his strikeout totals are high and his defense looks less-than polished.
OUTLOOK:
Changes always brings about a bit of the unknown, especially on defense. It has the potential to work out just fine up the middle if Beckham and Ramirez can play to their capabilities. Abreu's defense is reportedly middle-of-the pack when compared to others in the major leagues, but the White Sox quickly disputed that assessment. If Dunn is at DH against right-handers and Konerko hits against lefties, that could bode well for Dunn's playing time. While all indications are that manager Robin Ventura goes with his hottest hand, the guess here is that Konerko sees more time in his farewell season.
February, 3, 2014
Feb 3
12:00
PM CT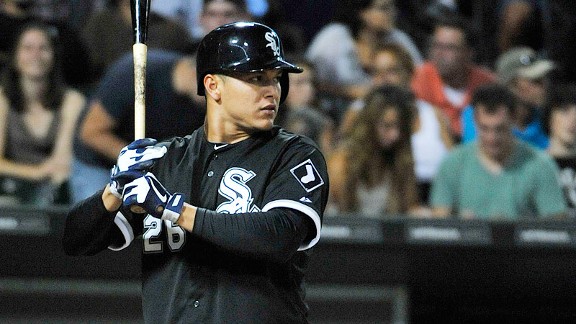 David Banks/Getty ImagesAvisail Garcia is set to play his first full season with the White Sox.
With Chicago White Sox spring training set to begin Feb. 15 when pitchers and catchers report in Glendale, Ariz., we're taking an early look around the diamond.
The best place to look to get a proper understanding of the White Sox's roster reshaping is in the outfield, where guys like
Avisail Garcia
and
Adam Eaton
now reside.
The White Sox not only got younger in the outfield, they got faster too, and by all accounts they also got better defensively. In terms of power, Garcia has plenty of that, but that doesn't mean that more home runs will come from this group than what the 2013 outfield contributed.

When it comes to upside, though, the current group eventually has the chance to be far better than what the White Sox fielded in 2013, although there could be an adjustment period before that actually starts to show itself.
Garcia not only was the first move the White Sox made when they started to reshape the roster, he essentially is what the rest of the offense is being built around. The 6-foot-4, 240-poound Venezuela native can run, he can hit for power and, after almost 100 major league games, his .289 batting average is solid but his .725 OPS could use a little work. Best of all is that Garcia is extremely affordable right now and won't be eligible for free agency until he plays another five seasons.
If Garcia represents the power side of the remodel, then Eaton is now in the fold to help with a disappointing team on-base percentage. The White Sox finished 14th in the 15-team American League in that department last year with a .302 mark. What also appeals to the White Sox is Eaton's all-out effort in his attempt to maximize his ability. That the White Sox are giddy about this aspect of Eaton's game tells you exactly what they thought was lacking in recent seasons.