Chicago White Sox:

2014 season
June, 26, 2014
Jun 26
10:41
AM CT
By Staff
ESPNChicago.com

The
Chicago White Sox
designated veteran reliever
Scott Downs
for assignment on Thursday.
The 38-year-old left-hander has a 6.08 ERA in 38 games this season. He allowed two runs without recording an out in his last two appearances against the
Baltimore Orioles
. In January the Sox signed Downs to a one-year contract for $3.75 million with a team option for 2015.
Left-hander
Eric Surkamp
was recalled from Triple-A Charlotte to take Downs' spot. Surkamp has a 4.54 ERA in 14 games, including 11 starts, with Charlotte.
June, 2, 2014
Jun 2
12:30
PM CT
Sunny Southern California could be in store for a thaw of sorts this week.
When the
Chicago White Sox
's
Jose Abreu
and the
Los Angeles Dodgers
'
Yasiel Puig
meet on a Major League Baseball field for the first time in a regular-season game, a relationship gone icy could finally start to warm.
Don't call this a feud, but the former stars and teammates in their native Cuba, who have continued their success in the United States, haven't been on the same page despite so many shared interests.
[+] Enlarge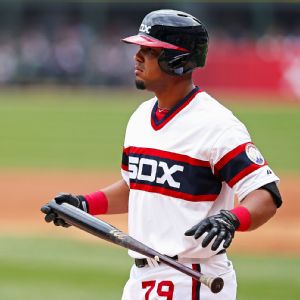 Jonathan Daniel/Getty ImagesJose Abreu returns to the White Sox on Monday after missing two weeks with left ankle tendinitis.
The first clue to a rift came this spring when the former rookie sensation Puig and the freshly signed Abreu met just once in the Arizona desert. Abreu described it as merely saying hello.
For those who might think spring training is a time for hard work and little socializing, consider that no player works out eight hours a day for 45 consecutive days. That would be physically reckless. An ample amount of spring days are done before noon, giving plenty of time to meet up with an old friend.
In fact, getting together in Arizona couldn't have been easier because Puig's Dodgers and Abreu's White Sox train at the same Glendale complex. The two clubhouses sit just a 9-iron apart, or perhaps a sand wedge apart for these two power swingers.
Asked about their relationship in recent days, both players have been cordial.
"In Cuba we had a very nice relationship, we were friends, brothers, but here in the United States, I've only had the opportunity to say hello one time in spring training," Abreu said for a piece reporter Pedro Gomez put together on "SportsCenter."
Said Puig in the same piece: "It's incredible what [Abreu] has done so far. I know him, he is a great hitter, a great baseball player, very disciplined in the box and very disciplined in everything he does. Everyone on [the White Sox] is going pretty well, and I wish that God will help them and that [Abreu] can continue to hit home runs, because that's what he does well. I think he might hit over 30 this year."
That's a lot of well-wishing for guys who didn't have much time to renew old acquaintances.
In a recent USA Today story, Abreu suggested that he would have been interested in renewing the friendship this year, but that Puig didn't seem to have the time for it.
"He hasn't communicated again with me, and I'm not going to try either," Abreu told the newspaper's Jorge L. Ortiz last month. "I don't have his phone number. I don't know, people in this system are strange. If you don't have time to talk, you don't have time to call me, then I don't either. I don't want to bother anybody. We were friends there [in Cuba]. I don't understand."
What is clear is that personality-wise Abreu and Puig are polar opposites. Puig has been dubbed by Dodgers manager Don Mattingly as a "wild horse." Abreu has been called "
oso
" ("bear" in Spanish) or Yogi (same concept), but he is neither menacing in person nor cartoonish.
Abreu never gets criticized for how he carries himself or for what he does on the field. Puig is a lightning rod for criticism whether it be arriving late on Opening Day, missing the cutoff man on throws from the outfield or forgetting situations while on the basepaths.
Then there are the mannerisms. When Abreu hits home runs, he simply lays the bat behind him and heads to first base. His rare moment of emotion on a home run came in late April, when he pounded his fist rounding first base. But that level of excitement came only because he had just hit a game-ending grand slam.
[+] Enlarge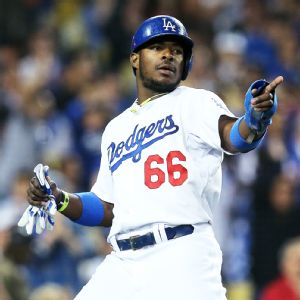 Stephen Dunn/Getty ImagesYasiel Puig said he got along well with Jose Abreu when they played together in Cuba.
Staying true to his nature, Puig punctuates his home runs with bat flips high in the air. He skips out of the batter's box before beginning his jog around the bases. Criticism has come easily.
Abreu was asked if the criticism of Puig is unfair and the bear noted that there is plenty of room for the wild horse's style.
"That's actually part of the game," Abreu said, shortly before the White Sox left on their West Coast trip. "That's part of the spectacle. That's what people come to see. He's just got to control it a little bit his play. He means well. He plays hard."
Maybe a matchup of their new teams is what the baseball's two newest stars need to renew their friendship. Like a teenager who would rather spend time with his friends than family on graduation night, perhaps Puig meant nothing personal by his brush off of Abreu, he was just absorbed in his inner circle.
Personalities are known to clash. More important, though, for three games starting Monday night at Dodger Stadium, their talents will clash. That is really what everybody wants to see anyway.
"Well, we used to get along very well when we played in Cuba," said Puig, who is second in the NL with a .347 batting average. "He is a very good person and always tries to give you advice, the same way I assume others like [White Sox shortstop] Alexei [Ramirez], that has more time in the majors than him, are giving him advice.
"He always listens to everything you tell him, and that's why he always does well everywhere he goes, like when he played for Cuba at international events, and that why he is doing so well here in the major leagues."
It sure sounds as though their differences can be resolved. Maybe the resolution to it all can start with a group photo. The White Sox's Cuban-born players -- Abreu, Ramirez,
Dayan Viciedo
and
Adrian Nieto
-- can get together with the Dodgers' Cuban exports in Puig and
Erisbel Arruebarrena
.
"We're going to take it like a normal day in the past," Abreu said. "It's good to play against friends. [Puig] is a friend of mine. There's another guy there that is an infielder, Erisbel Arruebarrena, who played on the same team in Cuba. I'm looking forward to really saying hello to them."
May, 28, 2014
May 28
4:12
PM CT
CHICAGO -- The newest member of the
Chicago White Sox
's clubhouse has his own uniform, but has to share a locker with
Adam Dunn
.
"Phil," as he is being called until a better name is unearthed, is a
3-foot tall, 5-pound lifelike monkey statue cast in "designer resin,"
according to its maker Design Toscano, and seems to have no real point exactly other than to break up the monotony of a 162-game season.
Its outstretched right arm with a curved hand allows it to hang from a screw in the wood between Dunn's locker and the empty locker next to him. It is dressed in a youth-size White Sox jersey, a knit White Sox hat and is wearing sunglasses.
Why the name Phil? Dunn noticed that the item was manufactured in the Philippines.
Dunn was perusing the SkyMall Catalog during a recent flight and was struck by the absurdity of such an item. Who would be odd enough to purchase such a thing?
"I just thought it was cool," Dunn said.
Things like this are made for guys like Dunn, who preferred the $149 price tag to the
$4,449 Giant Male Silverback Gorilla Statue
he really wanted from the catalog. It wasn't so much the price of that one that scared Dunn away as it was the gorilla's height of 8 feet and weight of 264 pounds.
Phil arrived this week and the White Sox are already 2-0, which won't go unnoticed by a bunch of major league players. If the winning continues, Phil most definitely will find himself on upcoming road trips and be something to rally around. It's just how baseball players are wired.
Whatever you do, though, don't refer to Phil as a "Rally Monkey," the name of the unofficial mascot that the
Los Angeles Angels
have embraced for the past decade.
"No, no, no, it's not that," Dunn said.
May, 7, 2014
May 7
11:46
AM CT
CHICAGO -- While the rebuilding of rosters on both sides of town was a necessity, a major impact of the dueling construction zones has been on the crosstown rivalry.
[+] Enlarge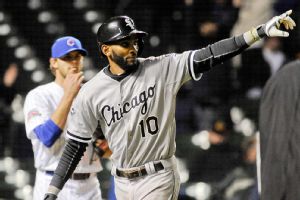 Matt Marton/USA TODAY SportsThe Cubs-White Sox rivalry is lacking intensity -- and fans in the seats -- these days.
It wasn't that long ago when all of Chicago stood still -- albeit with clenched fists -- when the Cubs and White Sox would meet. On those six days in the summer when the teams got after each other, out-of-towners had their run of any restaurant without a television and tourists could actually pick a cab with their exact specifications instead of just taking the first one that arrived.
It wasn't that long ago when the rivalry was at its peak. Cubs vs. White Sox was about pride, self-esteem, dignity and the ability to ride the train with your favorite team's cap perched atop your head, knowing that if anybody said something, the scores of the most recent crosstown games were right at your fingertips.
But with the Cubs overhauling the house from the basement up, and the White Sox in the midst of their own transition to youth, Sox pride and Cubs pride is fought best on social media these days. The first two games at Wrigley Field this week weren't even sold out and the same could happen at U.S. Cellular Field on Wednesday and Thursday nights.
Last year, the Cubs won all four games (down from six games in 2012), but without either team headed toward playoff berths the only effect was that South Siders probably avoided a few North Side backyard barbecues late in the summer.
Now that the White Sox have a 2-0 lead in this season's series, it isn't like the fans in the black hats can legitimately claim any kind of dominance.
It's hard to know who you just beat when your opponent doesn't have an identity. Even worse, it's hard to talk trash when you aren't yet sure of the identity of your own club.
This "rivalry" is about as far from 2008 as it gets. That year, both teams entered the series in first place, with the Cubs sweeping at Wrigley Field and the White Sox pulling off their own sweep at home.
And it's nowhere near 2006 when the White Sox's
A.J. Pierzynski
and Cubs'
Michael Barrett
tangled at home plate, with Barrett slugging Pierzynski in the jaw/neck area. It's a moment that the retiring
Paul Konerko
has always remembered fondly, but more with a smirk and a raised eyebrow.
In fact, when the Cubs recognized Konerko's pending retirement on Tuesday night and
gave him a No. 14 from the famed scoreboard
, the joke in the press box was that he probably would have preferred a framed photo of the Pierzynski-Barrett fight instead. If both players could have signed it, even better.
So far, Konerko has seemed unaffected emotionally about his last season in the major leagues, but his final series at Wrigley Field this week had him a bit melancholy.
"Definitely this place holds a little more weight than going to Seattle or Texas or a place that I enjoy going to, love the stadium, love the city, but there's no doubt because this is in Chicago," Konerko said. "There's been a lot of games between these two teams."
For Konerko there will be only two more. He won't take part in the series' return to its glory days, whenever it finally happens.
But from the Theo Epstein-Jed Hoyer regime on the North Side, to the Rick Hahn-Kenny Williams regime on the South Side, both front offices are working on a better brand of baseball that will, in turn, make traffic stop again when these teams meet.
"I hope we get to the point where these games matter 11 times a year instead of just four," Hahn said, adding the seven games of the World Series to the total. "I think it's nice for the fans; it's always a little heightened level of intensity over your normal regular-season game. But the two we played last week with Detroit, the three we've got coming up with Kansas City are more relevant to our year than these four games are against the Cubs.
"But like I said, I think it would be a wonderful thing for the city. I don't know if my stomach could handle it, but it would be a wonderful thing for this city and baseball in this town if these games could matter 11 times a year instead of just four."
April, 3, 2014
Apr 3
11:55
AM CT
CHICAGO -- Despite overnight and morning rain, the
Chicago White Sox
and
Minnesota Twins
remain optimistic they will be able to play Thursday's series finale at U.S. Cellular Field.
The last game of the brief season-opening homestand is scheduled for a 1:10 p.m. start with White Sox pitcher
Jose Quintana
, prepared to face off against Twins starter
Phil Hughes
. The White Sox are aiming for their first 3-0 start since 1992.
Head groundskeeper Roger Bossard informed manager Robin Ventura that a weather window could be available right around game time, with another round of precipitation due later in the evening.
After the game, the White Sox depart for Kansas City to play three games over the weekend against the Royals and three more next week at Colorado before returning home for a seven-game homestand that begins April 10 against the
Cleveland Indians
and
Boston Red Sox
.
April, 1, 2014
Apr 1
4:03
PM CT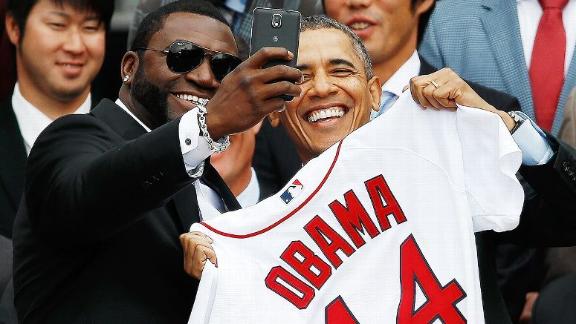 CHICAGO -- It could be a rough rebuilding season ahead for the
Chicago White Sox
, but President Barack Obama never fails to recognize his favorite baseball team.
While celebrating the
Boston Red Sox
's 2013 championship at the White House on Tuesday, Obama waited a mere five minutes into a 10-minute program to get the White Sox into the mix.
After introducing
David Ortiz
, Obama remarked, "Big Papi. That's what I'm talking about. I love this guy. Even a White Sox fan can appreciate these guys."
Obama continually complimented the Red Sox for being a driving force in Boston's physical and emotional recovery from the Boston Marathon bombings in April.
The Red Sox actually went from last place in 2012 to the World Series a year later. Perhaps Obama thinks the White Sox could make the same kind of leap this year.
"Congratulations to the Boston Red Sox and Red Sox Nation," Obama said at the program's conclusion, just before taking a selfie with Ortiz. "Good luck this season and may the best Sox win."
March, 31, 2014
Mar 31
10:56
AM CT

By Jon Greenberg
ESPNChicago.com
Archive
CHICAGO -- After a combined 195 losses and cratering attendance in 2013, there wasn't any reason for Chicago's baseball teams to raise its prices in 2014.
In one of many smart offseason moves for both clubs, neither one did.
The
White Sox
held prices flat across the board, while the
Cubs
slightly lowered ticket prices, according to the 2014 Team Marketing Report Fan Cost Index, which was released Monday.
The Cubs remain baseball's third most-expensive ticket at $44.16, which is down 0.9 percent from last season. The Cubs haven't raised season-ticket prices since 2010, the Ricketts family's first as owners.
The Cubs have lost 197 games in the past two seasons, and the 100th season at Wrigley Field doesn't look too promising to reverse the trend.
After a miserable 99-loss season, the White Sox's average ticket price of $26.05 remains unchanged. With declining attendance, the Sox cut season ticket prices by a combined 39 percent in the previous two seasons.
The average Major League Baseball ticket is $27.93, a 2 percent increase from last season. The average "premium" ticket, which includes club seats, is $93.41.