Chicago White Sox:

Melissa Isaacson
August, 14, 2012
8/14/12
5:08
PM CT
Asking Kenny Williams if he's pleased is a little like asking your average neurotic comedian the same question.
Pleased? Are you kidding? The next step would be happy. The man still can't watch a
Chicago White Sox
baseball game in its entirety because it's too painful (think Brad Pitt working out in "Moneyball.") So watching his team defy most sensible predictions and remain in the thick of the playoff hunt in mid-August has to be pure torture. And even if it wasn't, he wouldn't tell you.
The White Sox general manager does reveal that he has been significantly inspired by Colin Powell's latest book, a memoir titled "It Worked for Me: In Life and Leadership," but is instantly sorry.
"I probably shouldn't have shared that," Williams says with a forced laugh.
Read the entire story
.
April, 4, 2012
4/04/12
7:15
PM CT
CHICAGO -- Chicago's respective baseball seasons don't have to be dreary. Fascinating might be a stretch but interesting is a definite possibility.
April promises to be compelling merely for curiosity sake. Can the Cubs or White Sox stay competitive enough to give rise to actual optimism, false or otherwise? Or do they sink so quickly and so profoundly as to fulfill all of our worst expectations?
By the end of May, early June, Cubs fans can stay engaged as they begin clamoring for
Anthony Rizzo
and Brett Jackson, while Sox fans can officially give up on
Adam Dunn
and
Alex Rios
comebacks and start debating whether
Paul Konerko
's first mini-slump means he's over the hill.
July and August will bring trade deadlines and that annual fantasy known as hoping someone is dumb enough to take on
Alfonso Soriano
's contract. And by September, there are sure to be at least a handful of Sox fans who long for Ozzie Guillen's "fire."
See? It might even be fun.
Read the entire story
.
July, 7, 2011
7/07/11
11:22
PM CT
CHICAGO -- If there is any tension in the
Minnesota Twins
clubhouse Thursday as they head into a four-game series at U.S. Cellular Field eight games behind Cleveland for fourth place in the AL Central, you wouldn't know it as manager Ron Gardenhire summons his trainer for the latest injury report.
"Since we have so many people on the DL, we decided to let the trainers do it," says Gardy with a playful smirk. "It's just a lot easier that way. If I call it a sprain, they call it a supernatural twist and then somebody gets mad."
Read the entire column
.
July, 1, 2011
7/01/11
10:15
PM CT
CHICAGO -- I'm not sure what they're doing for fun this weekend in New York and Ohio during the
New York Yankees
–
New York Mets
and
Cleveland Indians
–
Cincinnati Reds
series. My guess is that playing meaningful baseball games passes adequately for entertainment.
Here in Chicago, where the weathermen had about as solid a performance on Friday as
Randy Wells
, White Sox manager Ozzie Guillen chided the local media for being "boring"; Cubs manager Mike Quade actually bristled temporarily; and
Carlos Zambrano
and
Juan Pierre
demonstrated firsthand that playing in Chicago is the equivalent of suiting up against the lions in ancient Rome.
Read the entire column.
June, 29, 2011
6/29/11
3:40
PM CT
CHICAGO -- So distraught was the late Lyman Bostock about the batting slump that began his 1978 season and career with the California Angels, that he approached team owner Gene Autry and offered to forfeit his salary, at the time one of the richest contracts in all of sports at $2.25 million over five years.
Read the entire column.
June, 3, 2011
6/03/11
11:33
PM CT
CHICAGO -- The pregame announcement that
Paul Konerko
had undergone a "procedure" to dislodge a loose bone fragment in his left wrist late Friday afternoon put sort of a damper on the positive vibe suddenly emanating from the South Side.
The news wasn't quite as scary as it sounded, as Konerko returned to the ballpark and was even said to be available, if needed, to play late in the game against the
Detroit Tigers
on the first night of a 10-game White Sox homestand. The fragment was not removed, but shifted to a less-painful spot in the wrist.
Read the entire column.
March, 30, 2011
3/30/11
11:04
AM CT
By ESPNChicago.com
ESPNChicago.com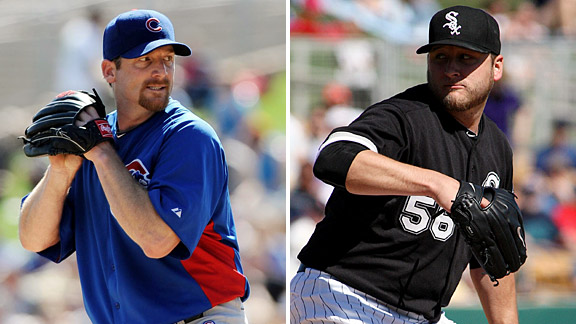 US PresswireRyan Dempster and Mark Buehrle are ready to open the season for the Cubs and White Sox.
As lines are being chalked and kegs wheeled into place for Opening Day, ESPNChicago.com breaks out its predictions for the 2011 season.
Read the entire story.