Chicago White Sox:

Sahadev Sharma
August, 18, 2014
Aug 18
11:25
PM CT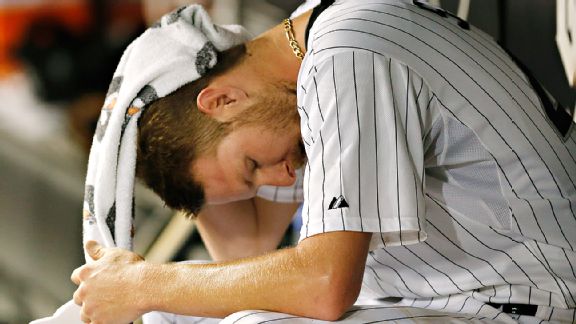 AP Photo/Charles Rex ArbogastChris Sale gave up two home runs in a game for the first time this season Monday.
CHICAGO -- While teams such as the
Oakland Athletics
and
Detroit Tigers
get all the attention in the American League, the
Baltimore Orioles
, now 19 games over .500 and sitting with a comfortable 7½-game lead in the AL East, go overlooked.
Cy Young candidate and
Chicago White Sox
ace
Chris Sale
, however, hasn't failed to take notice.
"They're one of the best in the league and they play in a pretty tough division, too," Sale said after his team fell 8-2 to the Orioles on Monday night. "They're pretty much the whole package. They're just a well-put-together team and you've got to be sharp and on your A-game when they come into town and obviously I wasn't tonight. Just wasn't able to hold it together."
Despite not having his "A-game," Sale still managed to put forth a quality start, tossing six innings and allowing three runs on eight hits, while striking out eight and walking two. Sale actually saw his career ERA drop to 5.14 in 21⅓ innings against Baltimore.
"This is a team that no question I've struggled against from the first pitch I ever threw," Sale said. "It's something that's just frustrating. You have a plan you want to execute. Sometimes teams come in and they do what they did tonight against me. Obviously you want to extricate this from our minds and come in fresh and ready to go."
Sale allowed two home runs -- both solo shots, to
J.J. Hardy
and
Nelson Cruz
-- for the first time this season.
After the left-hander walked
Caleb Joseph
to put runners at the corners with two down in the sixth, it appeared that manager Robin Ventura was going to remove Sale, who was at 115 pitches at the time. However, Sale remained in the game and struck out
Jonathan Schoop
on six pitches.
"I just made sure he wasn't trying to overthrow," Ventura said of the mound visit. "I knew it was going to be his last guy, just making sure he felt good before he was going to go after the guy. I didn't want him overthrowing and overextending himself."
Despite the rough night, Sale still had a moment of levity in the postgame session, giving a slightly different version of Ventura's trip to the hill.
"Very calm," Sale said of his chat with Ventura. "I asked how his day was going and he commented on my shoes and he liked them. It went very well."
Matt Lindstrom
wasn't nearly as upbeat. After the Sox cut the Orioles' lead to one in the seventh, Lindstrom came in with two men on and two out in the top of the eighth. Not only did Lindstrom allow both inherited runners to score, but he also gave up three runs of his own and failed to record an out. Since returning from the disabled list last week, Lindstrom has allowed six runs in his two-plus innings of work.
"It's a little frustrating right now," Lindstrom said. "I can get guys strike one, strike two, it's just a matter of putting them away. That's been kind of elusive for me the last couple outings. That's been kind of a tough pill to swallow, especially since the game is so close right there."

August, 18, 2014
Aug 18
10:15
PM CT
CHICAGO -- The
Baltimore Orioles
pulled away for an 8-2 victory over the
Chicago White Sox
on Monday night in the opener of a three-game series at U.S. Cellular Field. A quick look:


How it happened:
J.J. Hardy
opened the scoring with a solo home run to lead off the second inning off Sox ace
Chris Sale
. Sale allowed another run in the fifth when
Steve Pearce
lined a double just out of the reach of a diving
Jordan Danks
, allowing
Nick Markakis
to come around to score from first.
Nelson Cruz
extended Baltimore's lead with a solo shot in the sixth.
Avisail Garcia
came up with a big two-out, two-run single to cut the deficit to just a run, at 3-2, in the seventh.
Conor Gillaspie
followed with a deep drive to right field that appeared to be heading over the fence, but Markakis made a leaping catch at the wall to end the White Sox threat.
The Orioles pounced on the White Sox's bullpen in the eighth after making two quick outs, loading the bases for
Jonathan Schoop
, who doubled in three. Markakis followed a two-run shot, extending the lead to 8-2.
What it means:
Sale gave up three or more runs for just the sixth time in 20 starts this season and allowed multiple home runs in a game for the first time since Sept. 15, 2013. Despite not looking his best, Sale still delivered a quality start and gave his team a chance for the victory. And though the offense did make some noise, the bullpen once again struggled, giving up five runs, all with two outs, in the eighth as the Orioles put the game out of reach.
Outside the box:
Adam Eaton
, who has been on the disabled list since Aug. 9 with a right oblique strain, hopes to return Sunday when he's eligible. Eaton took swings and played catch Monday. Sox manager Robin Ventura expects that the outfielder will make a rehab stint, possibly a short one, before returning to the team.
Up next:
Jose Quintana
(6-9, 3.14 ERA) takes the mound against the Orioles in Game 2 of the three-game set.
Chris Tillman
(9-5, 3.68) is scheduled for Baltimore in the 7:10 CT start Tuesday night.
August, 3, 2014
Aug 3
7:38
PM CT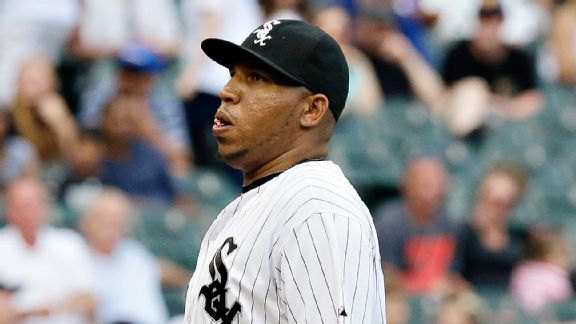 AP Photo/Nam Y. HuhRight-hander Ronald Belisario gave up four runs without getting an out Sunday.
CHICAGO – The
Chicago White Sox
's bullpen has struggled for much of the season. Despite numerous tweaks, things only seem to just be getting worse, and might have hit rock bottom Sunday afternoon.
After his team's 16-3 loss to the
Minnesota Twins
, manager Robin Ventura didn't seem to have many answers for the pen other than going with what he has.
"They're the ones that are out there so we're going to have to come back in with these guys and find the confidence and the stuff to be able to do it," Ventura said. "We have to be able to execute. They're the guys in there, so we're going to have to make it work somehow, just make it better."
The bullpen tossed four innings Sunday, allowing 15 runs on 18 hits and five walks. The unit worked nine innings and gave up 22 runs in the entire three-game set, in which Chicago lost two.
After giving up three runs and taking the loss in a third of an inning Saturday,
Ronald Belisario
wasn't much better Sunday, giving up four runs on four hits while failing to record an out.
"I don't know what to say," a confounded Belisario confessed. "They got us. I have nothing to say."
Sunday marked the sixth time Belisario had given up three runs or more in a single outing. One of four pitchers with multiple saves on the team, Belisario has posted a 6.23 ERA in 52 innings for the Sox this season.
The White Sox had been playing better of late, but a balky bullpen has hindered their ability to put a hot streak together and try to get into the American League wild-card race. But Ventura expressed optimism after the game that two big pieces were nearing return.
Zach Putnam
(shoulder) -- who sports a 2.35 ERA in 38⅓ innings and had been thriving in high-leverage situations of late -- is expected to be back with the team Friday. And erstwhile closer
Matt Lindstrom
, on his way back from ankle surgery, made his second rehab appearance Sunday with Triple-A Charlotte and was hopeful of a return in the near future.
The White Sox also made a roster move after the game, optioning righty
Taylor Thompson
to Triple-A, with a corresponding addition to come prior to Monday's game against the
Texas Rangers
.
Whoever that arm might be, he had better be ready to pitch, because the White Sox can use all the relief they can get.
August, 2, 2014
Aug 2
12:15
AM CT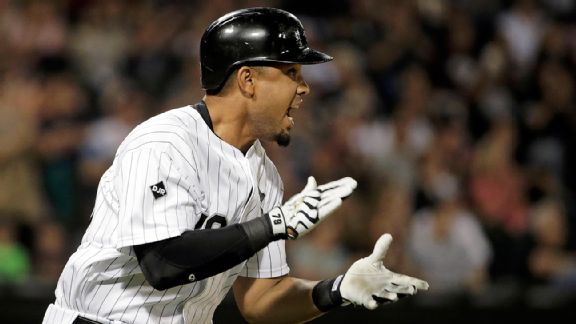 Jon Durr/USA TODAY SportsJose Abreu ran his hitting streak to 21 games with a 3-for-3 effort Friday.
CHICAGO – It's rare that
Chris Sale
has a bad outing, but Friday night was one of those times.
The
Chicago White Sox
left-hander gave up five runs (four earned), all in the third inning, but still managed to last six innings, striking out seven and walking one. Despite the bumpy stretch, Sale emerged with a solid stat line, and his offense came through for him as the Sox defeated the
Minnesota Twins
10-8.
"Just how we drew it up," Sale said with a smile. "It was a little bit of everybody. Everybody in the lineup got a hit today, which is awesome. Scoring runs early, scoring runs late and in between. This team never quit fighting, especially when I put us in a pretty good hole right there. We never quit battling and put some good at-bats together and some runs on the board and it's always nice to see."
The White Sox came back from two separate deficits, and seven players had multihit games, including
Jose Abreu
, who went 3-for-3 with a walk and a hit-by-pitch. The rookie MVP candidate has reached in his past 10 plate appearances and has hit safely in 21 consecutive games and 39 of his past 40.
"Hit it hard and you expect something to happen because he's in a zone right now," manager Robin Ventura said of Abreu. "Anything you throw up there I think he's going to hit hard. It's unfair that you feel that way of a guy going up there, and if he doesn't get a hit you feel like it's a bit unlucky. He's as hot as anybody in the league."
Abreu and Sale -- who despite a rough outing is still in the hunt for a Cy Young with a 2.09 ERA, 129 strikeouts and only 20 walks in 116 innings pitched -- are the two clear stars of these White Sox. However, it's the never-quit attitude of the team that continues to impress.
Before the game, pitching coach Don Cooper -- who missed the previous 11 games because of vertigo -- mentioned how he could see the team's fight when watching games from home. Ventura had similar feelings after another hard-fought victory gave his team six wins in their past eight contests.
"They've been fighting like this for a while," Ventura said. "I think offensively just grinding out at-bats and being able to put it together. I think even if you get down they're still feeling like they have a shot, and I think as soon as a guy gets on they feel like stuff's going to happen. That's the good stuff. It becomes a bit contagious and guys that have scuffled for a while ... this is fun to actually be able to do it."
Though Chicago still sits two games below .500 and 5½ games out of the final wild-card spot with five teams ahead of them, no one in the clubhouse seems to be losing faith in their ability to make a run.
"I don't have the prescience to tell you where this season is going to take us," Sale said. "But as long as we come in every day and we work hard and play like we played tonight and string some stuff together, I don't see why we couldn't be there with anybody else."

August, 1, 2014
Aug 1
11:09
PM CT
CHICAGO -- The
Chicago White Sox
rallied for four runs in the eighth inning Friday night, then held on for a 10-8 victory over the
Minnesota Twins
in the opener of a three-game series.
Here's a quick look at the game.


How it happened:
The White Sox scored early when
Moises Sierra
sent a second-inning triple into the right-field corner to score
Alejandro De Aza
. Sierra then came around to score when
Adam Eaton
put down a bunt single. However, the lead didn't last long as
Chris Sale
appeared a little off his game. Sale gave up five runs in the top of the fourth, including a two-run double to rookie
Kennys Vargas
, his first major-league hit in only his second at-bat.
The Sox slowly chipped away, with a run in both the third and the fourth -- the latter of which came on a
Jose Abreu
single -- before
Tyler Flowers
tied the score in the fifth with a solo home run. The Sox took the lead in the very next inning when
Alexei Ramirez
doubled in Abreu.
Kurt Suzuki
, who doubled and scored in the third, tied the score with an RBI single in the seventh. The Twins jumped back in front in the top of the eighth, and the back-and-forth contest continued, with the Sox regaining the lead in the bottom half of the inning on RBI singles from
Paul Konerko
, Ramirez, Flowers and De Aza.
Jake Petricka
gave up a run in the ninth but came away with his seventh save.
What it means:
Sale didn't have his best stuff, and this start won't be a résumé highlight as he makes a run at the Cy Young Award, but outside of a rough third, he limited the Twins offense and kept his team in the game. That third inning saw Minnesota cross home five times, with four earned runs. In 31⅔ July innings, Sale gave up only three earned runs.
Abreu went 3-for-3 with a walk and a hit by pitch, giving him 10 consecutive plate appearances in which he has reached safely. The win for the Sox pulls them one step closer to .500, and while they're still not ready to be called playoff contenders, on days when Sale is pitching and with a lineup built around Abreu, they're an interesting team going forward.
Outside the box:
Rehabbing reliever
Matt Lindstrom
threw one inning in the first game of a doubleheader for Triple-A Charlotte on Friday night, giving up one hit, one run and one walk. Lindstrom has been out since suffering an ankle injury May 19, an injury that eventually required surgery. Avisail Garcia, who suffered a shoulder injury April 9, was the designated hitter in Game 2. Garcia went 2-for-4 with two strikeouts and a run scored on the evening.
Up next:
Chicago's
Scott Carroll
(4-6, 4.29 ERA) takes on
Yohan Pino
(1-3, 4.38) in Saturday night's middle game of the series, scheduled for 6:10 CT at U.S. Cellular Field.
August, 1, 2014
Aug 1
7:37
PM CT
CHICAGO –
Chicago White Sox
general manager Rick Hahn characterized his feelings on the team's lack of movement at Thursday's trade deadline as "mildly disappointed."
"We've shown a desire to make trades and we would've loved the opportunity to continue the process we started a year ago of adding key pieces in this sort of restructuring or retooling or whatever you want to call it, going forward," Hahn said Friday. "Unfortunately the right opportunity just did not present itself."
[+] Enlarge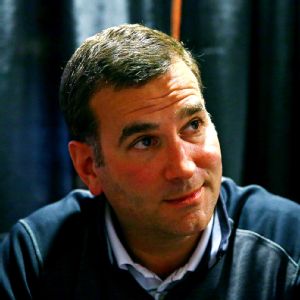 Mark J. Rebilas/USA TODAY Sports"Unfortunately the right opportunity just did not present itself," White Sox general manager Rick Hahn said of deadline trades.
Despite losing 99 games last season, Hahn and the White Sox have avoided a complete rebuild, instead opting to acquire young players who can make an immediate impact at the major league level. Before last season's trade deadline, the White Sox acquired Avisail Garcia from the
Detroit Tigers
in a three-team trade. Despite Garcia getting hurt in the season's first week and not playing since, the White Sox expect him to be a part of their future core, along with other recent acquisitions
Adam Eaton
and
Jose Abreu
.
Though he refused to go into much detail, Hahn said the team was close to a move Thursday that would have gotten them the type of player they've been eager to add of late.
"It was a three-way deal that would've wound up netting us such a piece, a guy who'd been a target for a while," Hahn said. "But for whatever reason it fell apart about 1 o'clock yesterday and then it was fairly quiet after that till the 3 o'clock deadline passed."
According to Hahn, the work the White Sox did leading up to the deadline certainly wasn't all for naught.
"At the bare minimum, I think we at least got a feel for some of the value of our players going forward and hopefully laid the groundwork for some future deals," Hahn said. "Again, would've loved to have done something and sit here today to tell you we're continuing the process. It didn't happen, but hopefully within the coming weeks or months I'll be able to remind you of this conversation and say, 'This is what we were talking about and the groundwork started around the trade deadline.' "
Despite the inactivity, there were plenty of rumors floating around regarding the White Sox on a very busy deadline day. But Hahn said not to trust everything that comes across.
"Every year it's inaccurate, it's the nature of the beast," Hahn said. "There's a small circle of people who probably know exactly what's going on and as a result, a lot of the information gets passed around as third- or fourth-hand, and as a result inaccurate. I will say I felt that the rumors related to the Chicago White Sox, at least, were in my 14 years, probably the all-time low in terms of accuracy, in terms of specific players being talked about with specific clubs. I don't even know where it started. It had no connection to the reality of the conversations."
Hahn admitted that with the deadline passing, some players who had heard their names running through the rumor mill might feel a sense of relief.
"It won't shock me if you see a few guys in that clubhouse exhale now, knowing that their name obviously has been bandied about publicly at least for a while," Hahn said. "Now they're here and we're on the other side of it and they're able to just go and play baseball, not worry about moving families or restarting careers or changing schools or whatever was on their mind. I think if some guys were carrying around a little extra baggage, they can let some of that go and just play baseball."
Hahn went on to compliment the players for not letting the rumors affect on-field matters, with the team returning home after a 5-2 trip. Even with all that in mind, Hahn wouldn't rule out moves being made during August.
"We're going to be diligent on the waiver wire," Hahn said. "We've been able to do some August waiver deals in recent memory and we have some nice groundwork laid on some certain fronts. How our club or other clubs perform over the coming weeks could change some matches. We're certainly going to stay diligent on it. We don't have a specific time for when certain things have to happen on most of the players that are out there. So it may well go into the offseason, into the winter, but if the opportunity to get better is presented, we'll jump on it."
August, 1, 2014
Aug 1
7:27
PM CT
CHICAGO -- Before discussing his team's lack of movement ahead of Thursday's trade deadline,
Chicago White Sox
general manager Rick Hahn had to first explain burn marks on his face and his singed eyebrows.
"A fire-pit accident at my house on Monday night," Hahn said Friday. "Today's actually the worst-looking day since it happened. We had neighbors coming over, we got a new fire pit and my wife tells me to fire it up. So, I turn on the gas, stick the little lighter in and it goes up in a cloud and gets my whole side of my face."
Despite thinking he'd done serious damage, Hahn said his wife didn't initially notice anything wrong.
"Anyway, so, fire safety's important, people. This is your lesson today from Smokey the GM. I was trying to do a deal, but I got disconnected due to the flames. Dedication," Hahn joked.
And what exactly was for dinner?
"We were making s'mores, so it was the kids' fault," Hahn said with a smile.
August, 1, 2014
Aug 1
7:12
PM CT
CHICAGO --
Chicago White Sox
pitching coach Don Cooper returned to the bench Friday after 11 games away because of vertigo.
"I'm feeling better than I did, that's for sure," Cooper said. "I'm not right, but I feel up to being here. I never had this before, vertigo, it's no fun. Given the choice, I think I might go for the diverticulitis over the vertigo, especially with the first three days of the symptoms. You feel seasick, carsick, and you are not moving anywhere. I'm just sitting."
Cooper suffered a bout of diverticulitis last season that caused him to miss three games. While Cooper said he was texting advice to coaches while out last season, this time he just enjoyed the games on TV, saying watching them was the highlight of his day. Cooper said bullpen coach Bobby Thigpen, who took over for Cooper in his absence, did a great job as the team had a nice 5-2 road trip.
"You might accuse us of a lot of things, but it's not for a lack of effort, fight, competing," Cooper said. "I see that happening. You get a little different perspective on TV. So there's a lot to be happy about with our team and players."
Cooper said he started feeling off after the July 19 home game against the
Houston Astros
, continually veering to the left when walking. When he woke up the next morning, a Sunday, he said his whole world started spinning and he had no idea what was wrong.
"All I knew is I felt horrible," Cooper said. "I felt sick. Throwing up violently and spinning for three days. What I thought then was I think, I said man, I would rather have diverticulitis than this. I could go with a bad stomach. This stuff, I can't function. It's unmanageable. Then your mind starts to go to other places a little bit. Is it something else?"
Cooper said he knows health and family are the most important things in life, but he also started to feel guilty that he wasn't able to do his job. Regardless, Cooper was happy to be back and glad he has people around him who could help him in his time of need.
"We went and checked everything out, it's not life-threatening," Cooper said. "It's something you got to deal with. Right now, I'm dealing with what I got. I'm dealing with the best I got right now and hopefully that's going to head to better and better."
June, 14, 2014
Jun 14
6:05
PM CT
CHICAGO – When veteran
Paul Konerko
was brought back in the offseason, many wondered why. The White Sox had spent big money on
Jose Abreu
to play first base and
Adam Dunn
was still under contract and filling the designated hitter's spot.
While the White Sox have been waiting all season for the extended win streak, they've avoided having their season sunk by a long stretch of losing. On Saturday, they dropped their third straight, falling 9-1 to the Royals.
[+] Enlarge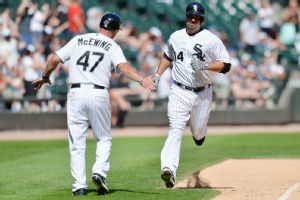 Brian Kersey/Getty ImagesPaul Konerko was the lone bright spot in a 9-1 loss to the Royals.
It's rough patches like this when Konerko believes he can have the most impact.
"I think the big thing is even as many years as I've played, the season is always a little bit longer than you think," Konerko said after going 3-for-4 with a home run Saturday. "The more you play, you get a handle on that. Even being an older guy you still forget how long the season is. The easy thing to do right around now is to panic, and if you are not swinging the bat well somehow your season is kind of stamped for what it is. It's going to go that way. There's so much time left for a team and individuals."
The even-keeled, veteran presence that Konerko provides is likely something that goes under the radar. His manager, Robin Ventura, is happy that Konerko is filling the role of hitting southpaws while also providing a strong clubhouse presence.
"If there's a highlight (Saturday), Paul had it," Ventura said of Konerko's ninth-inning blast. "He's swinging it against lefties. We knew that coming in that that was going to be his role, to come in and do that, and he's been doing that. It's not an easy thing to do. For him, all the accolades and everything else, this is one of those tough things he's doing and he's doing it very well."
After delivering two singles against Royals starter
Danny Duffy
, Konerko is posting a respectable .776 OPS against lefties this season. It certainly is a far cry from the All-Star level that Konerko had previously performed at and many had grown accustomed to, but it's clear the veteran has accepted and embraced his new role in his final season.
"It's all about the timing, it takes such a little miss to make an out," Konerko said. "I'll stand in when guy are throwing bullpens. Anything where I can see more than just batting practice, just to try to make my eyes feel like they've seen some velocity. Because even though I've had thousands of at-bats, thousands of hits, you go five, six days without playing, sometimes it feels like two months. I think everybody knows when they're in that role they expect there to be some misses and some outs. There is more room for error when you're not playing all the time. But I think if you can try to focus, there are still some pitches, that if you're dialed in and mentally present, you can do some things."
It appeared Saturday that Konerko was one of the few White Sox who were actually dialed in. For the second straight day, an opponent put up a five-spot in an inning. This time the defense failed Chicago, as three of the runs scored in the fourth inning were unearned.
Starter
Hector Noesi
cruised through the first three innings but then loaded the bases with no out in the fourth. It appeared that Noesi may have been able to get out of the inning with minimal damage, but
Leury Garcia
booted
Lorenzo Cain
's hard-hit ground ball, allowing two runs to score.
Mike Moustakas
then knocked in another run when he blooped a single into left field that
Dayan Viciedo
appeared to get a bad jump on.
"If we're not helping him on defense it makes a difference," Ventura said. "It's just going to extend that inning and every time you extend that inning you give them a chance to put some runs on the board. It just kept snowballing to where you couldn't get out of that inning."
All in all, it was another disastrous inning that a suddenly listless White Sox offense – which has scored a combined three runs during their three game losing streak – couldn't come back from.
The Sox have faced some solid pitching over the past three days, with Cy Young winner
Max Scherzer
going on Thursday and the Royals getting strong efforts from
Jeremy Guthrie
and Danny Duffy. Duffy tossed seven shutout innings on Saturday, striking out nine while walking just one.
But Konerko will do his best to make sure no one puts their head down, regardless of how the team or individuals are performing.
"You have to keep grinding and working," Konerko said. "There's nobody that's doomed to having a bad year. There's just that much left. So you just got to keep trucking along."

June, 14, 2014
Jun 14
4:23
PM CT
CHICAGO -- The
Chicago White Sox
fell to the
Kansas City Royals
, 9-1, on Saturday for their second straight defeat to their division rivals as their losing streak reached three games overall. Here's a quick look at how it happened:


How it happened:
For the second game in a row the Royals posted a five-run inning against the White Sox. This time it happened in the fourth inning after
Hector Noesi
appeared to be going strong through the first three innings. Noesi allowed the first six batters of the inning to reach, on a walk, four singles and an error by third baseman
Leury Garcia
. Garcia's error was quite costly, coming with the bases loaded and no outs. Instead of turning two on the grounder, the ball kicked off Garcia's glove and rolled into the outfield, allowing the first two runs of the innings to score and leading to a total of three unearned runs in the inning. Noesi failed to get out of the inning, while his counterpart,
Danny Duffy
, shut down the White Sox offense and squashed any hopes of a comeback. Duffy tossed seven shutout innings, giving up just five hits, equaling a career-high nine strikeouts and walking just one.
Paul Konerko
hit a solo home run in the ninth, the 438th of his career, to keep the Sox from being shut out.
What it means:
The up-and-down season continues for the White Sox. After taking two of three from the first-place
Detroit Tigers
, the Sox have dropped two in a row to the red-hot Royals. In a division where all five teams are bunched together, the Royals have won six in a row and are trying to establish themselves as the main contender to dethrone the Tigers in the Central. Meanwhile, the Sox fall to three games below .500 and are searching from some consistency in all facets of the game.
Outside the box:
The White Sox made a minor trade Saturday, acquiring Triple-A outfielder
Michael Taylor
from the Oakland A's for low-A pitcher Jake Sanchez. Taylor, who has played in 26 MLB games from 2011 to 2013, will report to Triple-A Charlotte.
Up next:
The White Sox wrap up the series and look to avoid against the Royals on Sunday with
Andre Rienzo
taking on Royals ace
James Shields
.
June, 5, 2012
6/05/12
12:57
PM CT
By Sahadev Sharma
ESPNChicago.com
Archive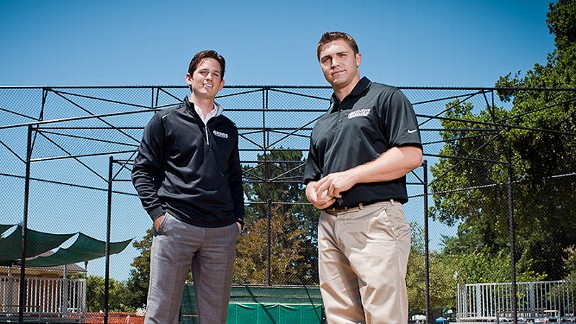 Courtesy of Canepa/PezetMatt Canepa, left, a former Cubs farmhand, and Pat Pezet have given baseball players a safer alternative to chewing tobacco.
When former
Chicago Cubs
farmhand Matt Canepa and his college teammate Pat Pezet were wrapping up their finance degrees at California Polytechnic State University, they were struggling with the reality that they would no longer be a part of the baseball world.
Little did they know they were about to come upon an idea that would bring them right back to the game they loved.
While up late one night working on an economics project, the two -- acting like a couple of "college idiots" as Pezet said -- put some coffee grinds in their mouths to get a quick caffeine rush.
"We immediately thought to ourselves, 'I wonder if we could actually make this?'" said Pezet, who spent five years at Cal-Poly, the first four as a second baseman for the baseball team.
[+] Enlarge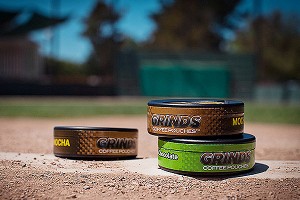 Courtesy of Canepa/PezetGrinds was in 20 major league clubhouses with all 30 organizations using it at some level at the start of the 2012 season.
A few years later, that idea has become a growing business. By the start of the 2012 season, Grinds, marketed as "coffee in your pocket" and a safe alternative to chewing tobacco, is in 20 major league clubhouses with all 30 organizations using it at some level, and it has even started popping up in some NFL locker rooms.
"I always knew [Canepa could be a good businessman]," said Cubs second baseman
Darwin Barney
, who roomed with Canepa in the minors. "He's a guy who always had things sorted out. He was the guy that took care of all the bills and everything so he had a good handle on life and the business aspect of things. Lucky for him they came up with this idea and they had the resources to start a company. I think it's pretty awesome you play with somebody and see them being successful outside of baseball but still being involved with the game you love. It's a lot of fun to watch."