Chicago White Sox:

Scoop Jackson
June, 13, 2013
6/13/13
5:29
PM CT
Back in early May, when the season was just getting ripe and the White Sox were in the very early stages of finding their new selves, stories surfaced about whether we were about to witness the decline of Paul Konerko.
Read the entire column.
September, 4, 2012
9/04/12
3:05
PM CT
In a letter published in the Chicago Tribune on Sunday, Mark S. wrote: "As a Sox fan, I really get tired of them failing to win the important games. Losing to the Tigers again just shows what a joke this team is."
When asked how words such as those resonate with him, Chicago White Sox GM Kenny Williams said, "I really don't give a damn. It was just last week where we swept the Yankees. Now you're telling me those games weren't big? People -- including [probably] that same person that wrote that comment -- said those games were big before we played 'em."
[+] Enlarge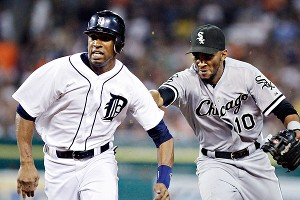 AP Photo/Duane BurlesonWho's chasing whom? Alexei Ramirez reaches to tag Austin Jackson.
Point taken.
Still, the White Sox entered what many were calling their "first" most important series of the season three games up on the Detroit Tigers with each game of the three-game series carrying meaning. Everything we wanted to know about the White Sox would be discovered and exposed over the weekend against the team that was threatening them like Yohan Blake was threatening Usain Bolt … before the Olympics.
This was when baseball was going to see who they were, find out what they were about and discover what they were made of and why fans were either going to ride … or write lack-of-faith-based letters to newspapers about them for the rest of the 162.
Read the entire story
.
July, 11, 2012
7/11/12
10:21
AM CT
Five years ago almost to the day, Ryan Howard said something to Alex Rios that would become prophecy and eventually change his baseball life.
"He told me to take it easy," Rios said in an interview back then. "Slow it down and swing at good pitches. I think I did. I took his advice and it worked pretty good."
Read the entire column.