Chicago White Sox:

Streaking and Slumping
August, 13, 2012
8/13/12
11:38
AM CT
By ESPNChicago.com
ESPNChicago.com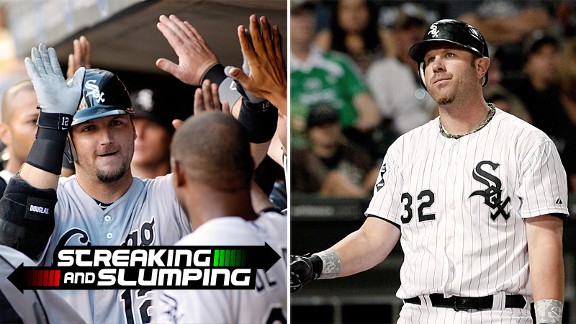 AP PhotoA.J. Pierzynski continued on his career-season pace while Adam Dunn suffered a power outage.
STREAKING


1. A.J. Pierzynski, C:
He added to his career season by batting .435 with 2 home runs and 6 RBIs over the past seven days. He hit his 23rd home run on Sunday, matching Carlton Fisk (1987) for the third-most homers in a season by a White Sox catcher. Batting .299 with 67 RBIs heading into Monday's game, Pierzynski already has surpassed his career high in homers (18 in 2005) and should easily eclipse his best RBI season of 77 in 2004. He even stood out on the basepaths Sunday when he scored from first on a groundout to shortstop. If nothing else, the soon-to-be free agent Pierzynski has driven up his price this winter.


2. Chris Sale, P:
He continued to boost his Cy Young stock over the past week, posting two wins and a 2.45 ERA in two starts. Sale struck out 18 in 14 2/3 innings over that span and earned his 14th win of the season on Sunday. Any concerns about his velocity have been calmed after his past two starts with manager Robin Ventura noting after Sunday's game that Sale was throwing harder than in recent outings. Sale has enjoyed pitching at U.S. Cellular Field where he is 7-2 with a 1.80 ERA this season.
SLUMPING


1. Adam Dunn, DH/1B:
With
Paul Konerko
out of the lineup due to a concussion, the White Sox need Dunn to pick up some of the slack. But he enters Monday's game batting just .130 with 11 strikeouts in 23 at-bats over the past seven days. The immediate road ahead doesn't look promising for Dunn, who is batting .091 with 11 strikeouts in 22 at-bats against the
Toronto Blue Jays
, who take on the Sox for a three-game series beginning Monday. But things get more optimistic for the Sox slugger this weekend when they face the Royals. Dunn is batting .290 with 4 home runs and 6 RBIs against Kansas City this season.


2. Matt Thornton, RP:
He lost his eighth game of the season on Saturday when he gave up a solo home run to Johnny Gomes and singles to
Yoenis Cespedes
and
Chris Carter
.
Brett Myers
relieved him and allowed a single, scoring Cespedes. Thornton helped turn a 7-6 White Sox lead into a 9-7 loss. He has a 7.84 ERA over his last 12 appearances with opponents batting .341 against him. Thornton has struggled in the second half with a 2.89 ERA before the All-Star break and a 7.15 ERA after.
June, 12, 2012
6/12/12
10:40
AM CT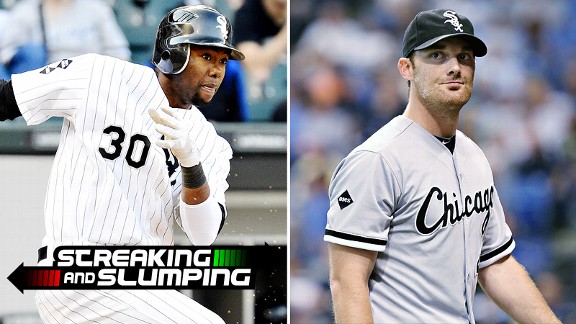 US PresswireAlejandro De Aza has been an effective tablesetter for the Sox while Phil Humber has struggled since his perfect game.
STREAKING


1. Chris Sale, P:
He has been the most dominant pitcher in baseball the past month. The young lefty has allowed just three runs in his last four starts and has won five straight outings. Sale at this point could easily be the American League's starting pitcher at the All Star Game on July 10 in Kansas City. The 23-year-old Sale makes use of four quality pitches that he is throwing for strikes. One AL scout told me that although there is concern about Sale's mechanics, he is so long and lean that changing his delivery would be a mistake. Although
Jake Peavy
is the ace of the staff, Sale is the future of the White Sox.


2. Alejandro De Aza, CF:
One of the most underrated leadoff men in baseball, De Aza has been the catalyst for the Sox offense all season. Give White Sox brass credit for putting their money on De Aza getting the job done on an everyday basis. He was 10-for-26 with an amazing 13 runs scored last week. De Aza goes into the
St. Louis Cardinals
series as the hottest player on the team (9-for-15). Defense has also been a strong aspect of a guy who gets little publicity outside the Sox clubhouse.
SLUMPING


1. Philip Humber and Gavin Floyd, SP:
This double headed trouble spot has GM Kenny Williams up at night contemplating trading for another starting pitcher. U.S. Cellular Field has been unkind to both of these fly ball pitchers who get shellacked at the home run-friendly ballpark. Both starters have picked up their strikeout ratio as of late, but have fallen into a pattern of throwing an average of less than six innings. This type of performance not only puts the team in line for a loss but wears out the bullpen. Humber and Floyd have allowed a combined 11 home runs in their last two starts (Floyd 5 and Humber 6). Both pitchers have ERAs approaching 6.00 -- a scary number for a team counting on them to throw valuable innings the last 100 games of the season. One or both could be replaced in the rotation by the All-Star break.
June, 5, 2012
6/05/12
11:59
AM CT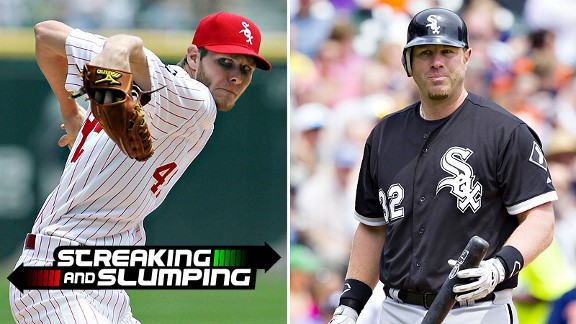 US PresswireChris Sale has been sharp in his last three starts, and Adam Dunn has cooled.
STREAKING


1. Chris Sale, P:
Not only is he the hottest pitcher but he might be the most dominant in the league right now. Sale has won his past three starts with an ERA of 1.65. The side-winding left-hander has become more difficult to hit, giving up just two runs in his last two starts while striking out 23 batters. Sale has been difficult to scout for opposing teams considering he may use a fastball or his unhittable slider as his dominant pitch from game to game. In his last victory over the Mariners on Sunday, he used his slider 48 percent of the time. In previous outings he used mostly fastballs and change-ups to set hitters up.


2. Gordon Beckham, 2B:
He makes his second appearance in the Streaking category. Beckham has had several clutch hits over the past week while hitters such as
Paul Konerko
and
Adam Dunn
have slumped. Beckham has three home runs in his past three games and is 13-for-33 in the past seven games. Beckham' s confidence is sky high, and his new approach has him pulling the ball with authority for the first time since his rookie season.
SLUMPING


1. Paul Konerko, 1B:
It's hard to believe that baseball's hottest hitter could go so cold seemingly overnight. The Sox captain is in his worst funk of the season with just two hits in his last 20 at-bats. Konerko carried the Sox for almost two months along with
A.J. Pierzynski
and Adam Dunn before other players caught up recently. Still, a .365 batting average is nothing to feel bad about.


2. Adam Dunn, DH:
Much the same as Konerko, Dunn is missing the ball more than he has hit it the last week. Dunn's only two hits in his past 22 at-bats have been monster home runs. The difference this season is that he continues to have confidence in every at-bat and is not out-thinking himself as he did in 2011. Dunn appears to be a model of consistency regardless of how he is performing on the field.
May, 22, 2012
5/22/12
10:11
AM CT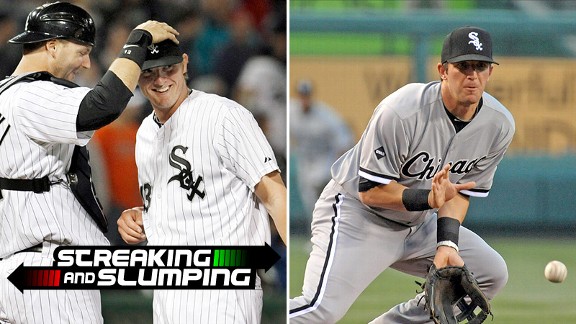 AP, US PresswireAddison Reed took control of the closer job while Brent Morel is struggling to hold on to third base.
STREAKING


1. Paul Konerko, first base:
The hottest hitter in baseball is coming off of a week that most big league players never have. Since getting hit in the face on May 18th and missing the next two games, Konerko has been on a 15-for-28 tear with four doubles three home runs and 10 RBIs in seven games. As Konerko goes, so go the Sox, who are on a hot streak as a team – having won 9 of their last 10 games. Konerko leads the American league in hitting batting .395.


2. Chris Sale, starting pitcher:
Sale has been one of the most dominant pitchers in baseball. Over his last two starts, the lefty has allowed just one run in 14 1/3 innings while striking out 21 with an .063 ERA. Sale, at the direction of pitching coach Don Cooper, has used his fast ball more often since coming up with a tender elbow two weeks ago. Sale's 15-strikeout performance was the second highest total in team history, (Jack Harshman 16 in 1954 for the team record).
SLUMPING


Gavin Floyd, starting pitcher: The wheels have come off for the inconsistent, Floyd who has had the worst week of any starting pitcher in the majors -- giving up 14 earned runs in 8 2/3 innings over two starts. Going back three starts, he has been touched up for 21 runs in less than 14 innings. Team officials and Sox fans both concur that Floyd's starts are difficult to figure out. His once unhittable slider is getting pounded all over the ballpark.
May, 14, 2012
5/14/12
11:49
AM CT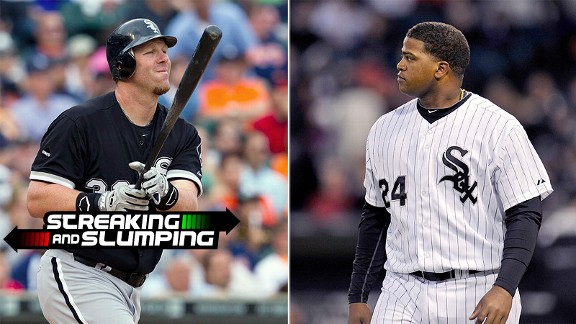 US PresswireAdam Dunn hit as many home runs last week as Dayan Viciedo has for the season.
STREAKING


1. Alejandro De Aza, OF:
He has quietly been one of the best leadoff men in the American League, batting .286 with three home runs and 12 RBIs to go along with a .364 on-base percentage. Last week he had 12 hits and six runs scored, and he is batting .354 in May along with a .436 on-base percentage. Although you won't see him on any SportsCenter highlights, the 28-year-old De Aza may be a diamond in the rough and a product of good scouting by the Sox. He has also played solid defense and has six stolen bases.


2. Adam Dunn, DH/1B:
He is just the 14th player since 1921 to equal his previous years home run total (10 or more) in the first 33 games. Dunn had another solid week with three home runs, and has six homers and 10 RBIs in his last 12 games. Dunn, who has started mostly at designated hitter, will be challenged again next weekend as manager Robin Ventura said Sunday he will play him in leftfield against the Cubs. Dunn, whose 11 home runs are tied for second in the AL, is batting .250 with 26 RBIs. He's also second in the league in walks (28) and has a .393 on-base percentage.
SLUMPING


1. Chris Sale, SP:
Through little fault of his own, Sale had a tough week with elbow soreness and a demotion to the bullpen in which he blew a save in his first appearance. After a long conversation with Sox brass, he was elevated back to the rotation and took the loss against the Royals on Saturday, giving up three earned runs in five innings. The young left-hander, who is 3-2 with a 3.08 ERA this season, seems to be on his way back after a shaky first inning on Saturday.


2. Dayan Viciedo, LF:
He has had a rough month, batting .176 with one RBI and no home runs in 12 games. He has also struck out 13 times in 34 at-bats. Viciedo went 3 for 19 in his last seven games and is batting .196 with three home runs and five RBIs this season. He may have to share time at the position with two or three others including Dunn. He is just the latest young White Sox player to struggle this season.
May, 7, 2012
5/07/12
10:40
AM CT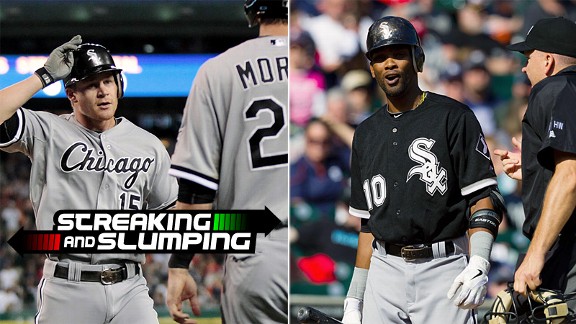 Getty Images, US PresswireTheir defense remains stellar, but Gordon Beckham and Alexei Ramirez had contrasting weeks at the plate.
STREAKING


1. Adam Dunn, DH/1B:
Game-winning home runs and big hits have been a part of the White Sox slugger's game recently. Dunn told ESPNChicago.com that getting use to a DH routine has been key to his early season return to form. In the White Sox's last seven games, Dunn is hitting .333 with 5 home runs and 9 RBIs. Dunn, who is batting .250 with nine home runs and 23 RBIs heading into Monday's games, led all major league batters in home runs last week and had a game-winning blast off Tigers closer
Jose Valverde
on Saturday.


2. Gordon Beckham, 2B:
Despite striking out with the tying and go-ahead runs on base to end Sunday's loss to Detroit, Beckham is coming off his best week of hitting this season. Beckham came out of his season long slump with eight hits, batting .350 with 2 home runs and 5 RBIs in his past seven games. Hitting coach Jeff Manto has worked with Beckham, who is batting .215 on the season, on standing more erect at the plate thus avoiding a hitch from crouching too often. Beckham's defense remains Gold Glove-caliber.
SLUMPING


1. Alexei Ramirez, SS:
Ramirez is in a funk at the plate, going 2 for his last 16, dropping him to .196 on the season. The power numbers have also disappeared for Ramirez, who has just four extra-base hits in 112 at-bats. Ramirez is next to last in baseball with a sorry .476 OPS, including a .217 on-base percentage. But like his double-play partner Beckham, Ramirez's defense is stellar.


2. Matt Thornton, RP:
A tough week for the usually dependable Sox set-up man/closer, who posted a 15.43 ERA in his last three outings and a 2.14 WHIP. Thornton's blown save and loss on Friday night against the Tigers was a product of a bullpen whose roles remain undefined with
Chris Sale
moving from the rotation to closer. Thornton is one of the top set-up men in the game, and he should remain in that role only.
April, 23, 2012
4/23/12
2:19
PM CT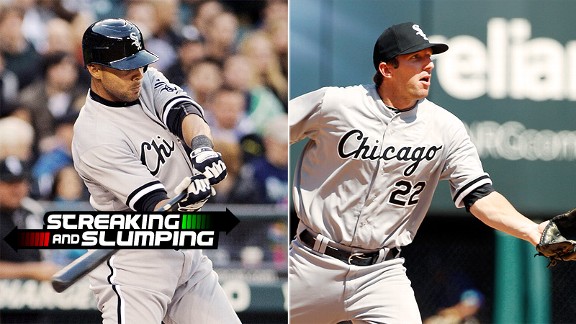 US Presswire/AP PhotoAlex Rios is comfortable in right field while Brent Morel has struggled at the plate to start the season.
STREAKING


1. Philip Humber, SP:
One of the hottest players in baseball pitches for the White Sox and who can argue with the 21st perfect game in the 136-year history of the game? The most impressive thing about Humber's feat on Saturday was the pitch count (97) and, as the fifth starter, that he had to wait over two weeks to get his second start of the season. Humber, the third overall selection in the 2004 draft by the
New York Mets
, is the latest miracle delivered by pitching coach Don Cooper, who has worked his magic again in transforming someone else's failed No. 1 pick into a White Sox success story.


2. Alex Rios, OF:
The underachieving Rios is off to his best start since 2010 when he played All-Star-caliber baseball the first three months of that season. Rios is batting .333 with a home run and 7 RBIs. He has 10 hits in his last 20 at-bats and has driven in six runs in a span of six games. Rios told ESPNChicago.com he is thrilled to be back in right field which he considers his natural position. Rios' defense has been outstanding, except for a few isolated situations.
SLUMPING


1. Dayan Viciedo, LF:
After a decent start to the season Viciedo's hitting has faded over the past week. He is stuck in a 2-for-22 slump with one RBI in the last week of play. To his credit, Viciedo's defense has continued to improve as he gets use to the new outfield position. The coaching staff still believes Viciedo, who is batting .186 with two home runs and 2 RBIs, will be a strong run producer this season.


2. Brent Morel, 3B:
Morel makes this list for the second straight week even with some improvement in the past couple of games. He is in a 3-for-25 slump, and 22 strikeouts in 51 at-bats projects to 220 whiffs in 500 at-bats. Hitting coach Jeff Manto has been working with the young infielder to help him drive the ball to right field. Defense has not been an issue, although Morel had a few rough games early on with the glove.