Chat alert: Levine talks Cubs, Sox at 12
June, 5, 2012
6/05/12
11:06
AM CT
Bruce Levine stops by Tuesday to chat about the Cubs and Sox at 12 CT.
Ask about Starlin Castro possibly being benched or about the surging Sox.
Submit questions
here
and come back for the chat.
ABOUT THIS BLOG

Doug Padilla
Doug covers the Chicago White Sox for ESPNChicago.com and ESPN Radio 1000.
50 GREATEST WHITE SOX OF ALL TIME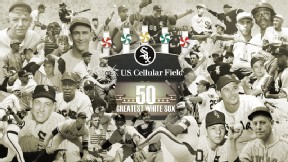 An ESPN Chicago panel of experts compiled its list of the 50 Greatest White Sox of all-time. Take a look at our list and put together a list of your own. Gallery

Rank 'em »


CHUVIJIMENEZ CHUVI JIMENEZ
Ayer 1ro de septiembre se cumplieron 2 años del debut en @LasMayores del venezolano @AvisailGarcia con Detroit http://t.co/nGaUK4blrU
about an hour ago

Tony26Montana Tony Sanchez
If you didn't know who John Holdzkom was before. You should now. FILTH
about 2 hours ago

ESPNChiSox Doug Padilla
White Sox call up 7, but not Rodon http://t.co/cq3gAxRNdd
about 9 hours ago

ESPNChiSox Doug Padilla
Rodon not on list of call-ups. Pitched Saturday. Even if he doesn't get added, perhaps he comes up to observe.
about 11 hours ago

ESPNChiSox Doug Padilla
Sox call up Bassitt, Phegley, Danks, Semien, Surkamp, Carroll & OF Taylor, who is added to 40-man.
about 11 hours ago

ESPNChiSox Doug Padilla
Series preview: White Sox at Twins http://t.co/z0MnBr2RC4
about 12 hours ago

ImDannyWilliams Danny Williams
I know where I am headed Thursday with the #crew. Where are YOU?@TheLaneMiller @JKeppinger @SarahJean50 @SelaBayMiles http://t.co/ur5yDv9A2B
about 13 hours ago

ESPNChiSox Doug Padilla
Stock Watch: Jose Abreu show continues http://t.co/DtnWwujPOf
about 15 hours ago

adamdunn_44 adam dunn
Wow!!! This is gonna be a heck of a ride. What an atmosphere! @joshreddick16#tooosweeet
1 day ago

indyindians Indianapolis Indians
Tribe's Blake Davis & Bats' Ruben Gotay are sharing a glove at first base.Game 144 of 144.Sources say it's Gotay's glove.
1 day ago

gordonbeckham Gordon Beckham
Great date night with the wife! @brittanyfletch Welcome to SoCal indeed! http://t.co/XxHKYkUe65
2 days ago

ESPNChiSox Doug Padilla
#IfMyPhoneGotHacked http://t.co/0DQVukaxo3
2 days ago

Bmorel_22 Brent Morel
Hope everyone in Chi at the Luke Bryan show goes to @countryclubchi for the after party tonight! Can't wait to check it out this weekend!!!!
2 days ago

ESPNChiSox Doug Padilla
Never used to get Kauffman as a kid: Fake turf, TV guys said it was the best. When you go there you get it. Nice to see it packed tonite.
2 days ago

ESPNChiSox Doug Padilla
Adam Dunn: the ultimate lightning rod http://t.co/pTchb7O7qe
2 days ago

ESPNChiSox Doug Padilla
Rapid Reaction: White Sox 6, Tigers 2 http://t.co/v7zFxqvm4d
2 days ago

ESPNChiSox Doug Padilla
Abreu was just hit by a pitch above the left elbow. Wasn't happy. Stays in game.
2 days ago

ESPNChiSox Doug Padilla
Dunn says, "This is probably going ot be it," as he lines up retirement while leaving to the A's. http://t.co/kOjQ5IS1Ed
2 days ago

ESPNChiSox Doug Padilla
On Dunn, why does retirement announcement mean lack of motivation? Why can't it inspire him to do well in OAK? Lookin' at you @DavidHaugh
2 days ago
BLOG ARCHIVE:
CATEGORIES:
TUESDAY 9/2 - FINAL in 10
UPCOMING GAMES
| | W-L | HM | AW | STK | L10 |
| --- | --- | --- | --- | --- | --- |
| CHW | 63-75 | 34-36 | 29-39 | W2 | |
| MIN | 60-78 | 29-38 | 31-40 | L1 | |
| | W-L | HM | AW | STK | L10 |
| --- | --- | --- | --- | --- | --- |
| CHW | 63-75 | 34-36 | 29-39 | W2 | |
| MIN | 60-78 | 29-38 | 31-40 | L1 | |
| | W-L | HM | AW | STK | L10 |
| --- | --- | --- | --- | --- | --- |
| CHW | 63-75 | 34-36 | 29-39 | W2 | |
| CLE | 70-66 | 39-27 | 31-39 | L2 | |
2014 AMERICAN LEAGUE CENTRAL STANDINGS