Sox face tough call on Quintana
June, 12, 2012
6/12/12
11:52
PM CT
Chicago White Sox rookie pitcher Jose Quintana is going to fail at some point, right?
[+] Enlarge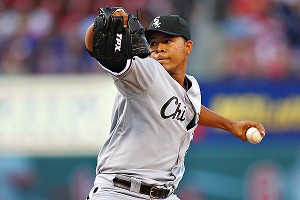 Dilip Vishwanat/Getty ImagesJose Quintana has buoyed the White Sox' rotation, and the team may keep him around.
Not that anyone hopes that for the 23-year-old Quintana, but one would have expected him to experience some sort of adversity during his first six weeks in the big leagues.
Major league baseball is supposed to be humbling, but it's yet to inflict itself on Quintana. So far, he's been better than the game.
Through six appearances this season, including four starts, Quintana has allowed six runs in 27 1/3 innings. He's 2-1 with a 1.98 ERA and a 1.13 WHIP.
Quintana's job when he was called up in late May was to fill in for injured John Danks in the rotation, and it was understood by everyone he would return to the minors when Danks was healthy. But with Quintana proving his consistency in four starts coupled by the recent struggles of Gavin Floyd and Philip Humber, Quintana's return to minor-league living isn't so certain any longer.
Quintana is putting pressure on Floyd, Humber and, most of all, White Sox manager Robin Ventura.
Less than a week ago, Ventura said he believed Quintana would likely be headed back to the minors. Ventura didn't envision Quintana taking anyone's spot in the rotation, and he thought it was counterproductive to put Quintana in the bullpen.
But after Quintana allowed one earned run in 5 1/3 innings in the White Sox's 6-1 win over the St. Louis Cardinals on Tuesday, Ventura sounded as if he was leaning more toward keeping Quintana around.
"He's getting it again," Ventura said after the game. "He's proven he can pitch up here. Again, his maturity is one of those things that shows up first for us. He has great stuff. But when he goes out and does what he's doing right now, he's making a strong case for staying around."
Quintana has lived on the edge a bit in his last two outings. He allowed 10 hits on Tuesday and nine hits in his previous start, but he's stayed away from walks (totaling one in the two games) and has been able to force opponents into double plays (four in the past two games).
Quintana's escape acts have even surprised Ventura at times.
"He finds a way to make them hit a groundball and get ahead," Ventura said. "There were some situations there they had innings that make you scratch your head and start moving people around in the bullpen, and he just finds a way to make a pitch and get out of it. He uses his defense and a very mature kid."
Quintana will start against on Sunday. After that, his future is unknown.
While that uncertainty could be a lot for a rookie to handle, Quintana has handled that just as well as he has major league hitters.
"I'm just going out there doing my job," Quintana said through a team translator. "Pretty much whenever they give me the ball, I'm just going out there and just pitch. The other stuff I'm not even concentrating on. I know I'm pitching on Sunday, so I'm just going to concentrate on that."