Will the Sox keep their ace?
June, 19, 2012
6/19/12
11:36
PM CT
CHICAGO -- At one point, it was a no-brainer.
The White Sox were in re-building mode, more or less.
Expectations for the season were, well, modest.
And Jake Peavy, it was hoped, would pitch just well enough to be tradeable.
Read the full story.
Columnist, ESPNChicago.com
Melissa Isaacson is a sportswriter and author who has covered Chicago sports for the last 22 years of her 29-year career, most recently as an award-winning columnist and feature writer for the Chicago Tribune.
ABOUT THIS BLOG

Doug Padilla
Doug covers the Chicago White Sox for ESPNChicago.com and ESPN Radio 1000.
50 GREATEST WHITE SOX OF ALL TIME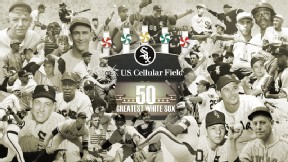 An ESPN Chicago panel of experts compiled its list of the 50 Greatest White Sox of all-time. Take a look at our list and put together a list of your own. Gallery

Rank 'em »


jose_quintana24 Jose Quintana62
RT @NestorMolina_P: Mañana es otro dia con dios y la virgen mañana sera una victoria para el equipo confianza y mente positiva seguimos en …
about 2 hours ago

AvisailGarcia Avisail Garcia
RT @Bibliaenlinea: En paz me acostaré, y asimismo dormiré; porque sólo Tú, SEÑOR me haces vivir confiado. 🙏
about 4 hours ago

ESPNChiSox Doug Padilla
White Sox, Juan Uribe linked in rumors http://t.co/jn02wpSXmG
about 6 hours ago

AvisailGarcia Avisail Garcia
RT @Bibliaenlinea: Cuando DIOS nos dice: que nada nos faltará es porque nada nos faltará. #nosvemosenelparque
about 6 hours ago

ESPNChiSox Doug Padilla
Sale chatter dominates Day 1 of meetings http://t.co/nyyeOiuVze
about 7 hours ago

ESPNChiSox Doug Padilla
White Sox power meeting in suite included Hahn, KW, Reinsdorf, Buddy Bell, Ventura. Snacks of chips and nuts not as impressive.
about 8 hours ago

ESPNChiSox Doug Padilla
Hahn: "This strikes me as a bit of a dog bites man story. We're here to listen. That's our job."
about 8 hours ago

ESPNChiSox Doug Padilla
More Hahn on Sale: "You're talking about a perennial Cy Young candidate, somebody that can be a Game 1 starter in the postseason."
about 8 hours ago

ESPNChiSox Doug Padilla
Hahn doesn't wait for a question just goes straight to Sale rumors after reports say he might be avail: "We know how important this guy is."
about 8 hours ago

ESPNChiSox Doug Padilla
Seems like old times: Kenny kicks @PWSullivan out of the White Sox suite for loitering.
about 8 hours ago

ESPNChiSox Doug Padilla
Hahn says he'll listen to those interested on Sale, but says it'll take a ton to get him. In other words: He's not getting traded.
about 8 hours ago

ESPNChiSox Doug Padilla
Magglio Ordonez elected mayor in Venezuela http://t.co/bxRQQdh9Id
about 9 hours ago

ESPNChiSox Doug Padilla
White Sox take a $2 million flier on RHP Felipe Paulino, who had UCL replacement surgery in 2012.
about 9 hours ago

jose_quintana24 Jose Quintana62
RT @MichellMontaa: Gracias a Dios por otra navidad juntos y las que nos restan te amo @jose_quintana24. #love#navidad #bendecidos#feliz htt…
about 9 hours ago

Bmorel_22 Brent Morel
RT @AdrianPeterson: So if you lose respect for me based of me voicing my opinion! That's totally fine! I still have respect for you!
about 12 hours ago

AvisailGarcia Avisail Garcia
RT @Bibliaenlinea: Si has orado, no te preocupes, si estás preocupado, ponte a orar. DIOS es más grande que tus preocupaciones. #nosvemosen…
about 17 hours ago

gordonbeckham Gordon Beckham
Great Afternoon in the stand with @rickcarone My first snow hunt!! http://t.co/U01XQfPIy9
1 day ago

ESPNChiSox Doug Padilla
White Sox rein in winter spending http://t.co/cyS0940HGA
1 day ago
BLOG ARCHIVE:
CATEGORIES:
2013 AMERICAN LEAGUE CENTRAL STANDINGS