Video: Cubs poised for sweep of Sox
June, 20, 2012
6/20/12
9:31
AM CT


Doug Padilla and Scott Powers break down the Cubs' 2-1 win on Tuesday despite another solid outing from Jake Peavy.
ABOUT THIS BLOG

Bruce Levine
Bruce Levine has covered sports in Chicago for over 31 years and hosts "Talkin' Baseball," heard Saturday mornings on ESPN 1000.

Doug Padilla
Doug covers the Chicago White Sox for ESPNChicago.com and ESPN Radio 1000.
50 GREATEST WHITE SOX OF ALL TIME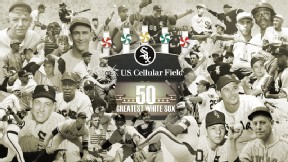 An ESPN Chicago panel of experts compiled its list of the 50 Greatest White Sox of all-time. Take a look at our list and put together a list of your own. Gallery

Rank 'em »


ESPNChiSox Doug Padilla
For $225, sit in a suite on 6/8 & celebrate the "Winning Ugly" club w/ La Russa, Hoyt, Kittle and Squires. http://t.co/nSQAC7QJGL
6 minutes ago

ESPNChiSox Doug Padilla
Unless your seats are in the dugout, you haven't jinxed a thing. RT @ENolan70: Ive already jinxed 2 perfect games this year.
19 minutes ago

jose_quintana24 Jose Quintana62
RT @TheBallBible: @jose_quintana24 ALMOST getting a no hitter last night! Good pitching though! #GoSox!
about an hour ago

jose_quintana24 Jose Quintana62
RT @EmisorAtlantico: Video cortesía @MLB del gran juego anoche del lanzador colombiano @jose_quintana24 http://t.co/O5BedYz9iT
about an hour ago

jose_quintana24 Jose Quintana62
RT @jomarenco: @RussoBilly Saludos y felicitaciones a nuestro compatriota @jose_quintana24
about 3 hours ago

jose_quintana24 Jose Quintana62
RT @elfresa39: @jose_quintana24 mi hermano rene Morelos excelente trabajo tremendo sigue ahí papa bendiciones :D
about 3 hours ago

jose_quintana24 Jose Quintana62
RT @jromerodeportes: Grande anoche nuestro lanzador José Quintana, tercera victoria de la temporada, celebramos tus victorias @jose_quintan…
about 8 hours ago

jose_quintana24 Jose Quintana62
RT @JazArizaZarate: Felicidades Bro! @jose_quintana24 Y Recuerda! Toda La Gloria Es Para Dios! Sigue Asi!
about 12 hours ago

jose_quintana24 Jose Quintana62
RT @LuiSierraC7: Colombian baseball players are impressive! @jose_quintana24 @Julio_Teheran @ernasty49 @DonovanSolano17 @JSolano23 #VivaCol…
about 12 hours ago

ESPNChiSox Doug Padilla
Team will pick up slack without Sale http://t.co/xbmZ2CUDQk
about 14 hours ago

ESPNChiSox Doug Padilla
Solid rotation gets another gem http://t.co/Q5J1curdAW
about 15 hours ago

jose_quintana24 Jose Quintana62
RT @DylanAxelrod_33: Thanks for the support everyone! Swinging the bats early was big!! Time to win a series tomorrow with @jose_quintana2…
about 15 hours ago

jose_quintana24 Jose Quintana62
RT @Dj_Adrian_info: @DylanAxelrod_33 @whitesox @jose_quintana24 Keep it up!!
about 15 hours ago

jose_quintana24 Jose Quintana62
RT @YariAllen18: Uyyy Compadre Robando Periodico Jejeje.. Espero Que Le Vaya Super Bn Hoy, Bendiciones!! @jose_quintana24 http://t.co/bbxl7…
about 15 hours ago

JakePeavy_44 Jake Peavy
Another nice win 2nite! Big job by Q & bullpen came up big as usual!! Stay dry & back at em tomoro!! #KeepUrBlackOn
about 16 hours ago

ESPNChiSox Doug Padilla
Rapid Reaction: White Sox 3, Red Sox 1 http://t.co/9DG8iOvgML
about 16 hours ago

ESPNChiSox Doug Padilla
Sprinkles are one thing, but a heavy rain cell is coming right at us. It's not terribly big, though. Two outs top 9, White Sox up 3-1.
about 16 hours ago

ESPNChiSox Doug Padilla
Reed getting job done in closer's role http://t.co/1cnz6egypt
about 17 hours ago

ESPNChiSox Doug Padilla
Sox to have three managers in three days http://t.co/TdLeEQH74W
about 17 hours ago

ESPNChiSox Doug Padilla
Rios' hitting streak now at a career-best 16 games.
about 17 hours ago
BLOG ARCHIVE:
CATEGORIES:
UPCOMING GAMES
| | W-L | HM | AW | STK | L10 |
| --- | --- | --- | --- | --- | --- |
| BOS | 27-19 | 13-10 | 14-9 | L2 | |
| CHW | 21-23 | 10-9 | 11-14 | W2 | |
| | W-L | HM | AW | STK | L10 |
| --- | --- | --- | --- | --- | --- |
| MIA | 13-33 | 7-17 | 6-16 | L1 | |
| CHW | 21-23 | 10-9 | 11-14 | W2 | |
| | W-L | HM | AW | STK | L10 |
| --- | --- | --- | --- | --- | --- |
| MIA | 13-33 | 7-17 | 6-16 | L1 | |
| CHW | 21-23 | 10-9 | 11-14 | W2 | |
2013 AMERICAN LEAGUE CENTRAL STANDINGS