Sox's strut disappears out West
July, 25, 2010
7/25/10
8:06
PM CT

By Doug Padilla
ESPNChicago.com
Archive
OAKLAND, Calif. – Things actually got better in the standings since the last time the White Sox were home, but on the field there seems to be an entirely different outlook.
That aura of invincibility the White Sox had when they started the second half and promptly beat the Twins to open the just-completed 10-game road trip is long gone now.
After the July 15 victory in Minnesota, the White Sox had lost just five times in their past 31 games and seemed poised to put some real distance between themselves and their division rivals.
[+] Enlarge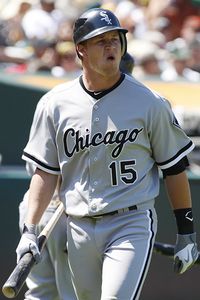 AP Photo/George NikitinGordon Beckham heads back to the dugout after his third strikeout on Sunday.
Fast forward to Sunday when the White Sox lost 6-4 to the Oakland A's, giving them six defeats on the trip alone. They were 3-for-3 in the series openers, but not much went right after that.
Despite it all, the White Sox will kick off the home portion of the second half with the same one-game lead in the American League Central that they built when they beat the Twins on July 15. That is where the team would rather place its focus.
"If you look around there was really one game where we didn't have a chance and that was [Saturday]," manager Ozzie Guillen said. "Today we came back and put the game back in position to be a close game. I'm not excited or happy about [the trip]. I thought we would play better, but in the meanwhile it was a long road trip. Hopefully we'll play better than we did on this road trip."
There are some glaring weaknesses now, though, and some embarrassing moments that wouldn't have seemed likely when the team was rolling.
Among the things the White Sox would prefer to forget:
A defeat in Minnesota on July 16 when the White Sox committed four errors.


Freddy Garcia's 1 1/3-inning start Saturday, a career low, when he gave up more runs (five) than recorded outs (four).


Closer Bobby Jenks coughing up not one, but two leads in a span of four days.


Reliever Erick Threets' wild pickoff throw in the sixth inning Sunday that allowed Oakland's Coco Crisp to score all the way from first base.

As for the causes of concern with the way the White Sox are playing:


After batting .357 (15-for-42) over the first 10 games of July, Juan Pierre was batting .138 (4-for-33) over the next eight, although he delivered an RBI single in the seventh inning Sunday.


Despite winning one game in his three starts, Daniel Hudson hasn't looked like the answer for an injured Jake Peavy. Hudson has 11 walks in his three outings since replacing Peavy in the rotation, including four more Sunday.


Trying to show that his team doesn't need the left-handed bat they continue to pursue as the non-waiver trade deadline approaches, Mark Kotsay didn't make a case for himself by going 2-for-23 over his last six games.



[+] Enlarge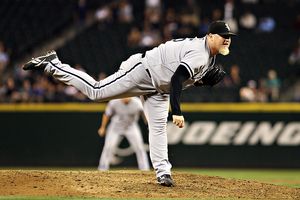 Juliann Tallino/US PresswireWhite Sox closer Bobby Jenks blew two leads in four games on the west coast trip.
Jenks finally got some tune-up action Sunday with a scoreless inning, but still hasn't pitched in a save situation since Wednesday, not that the White Sox had one at Oakland.

Jenks came on in the eighth inning with the White Sox down by two runs and said he treated the outing as if it was a save situation. He gave up a one-out single to Matt Carson, who stole second and advanced to third on a passed ball, but left the runner stranded.

"When I go out there I know what my job is and I know what I need to do," Jenks said. "I'm human. There will be days when it's not there and the results aren't going to be there, but for the most part I have always done my job and I've done it well."

When Guillen tried a similar tactic earlier this season of removing Jenks from save situations, it lasted just one outing before the big right-hander was back in his old role. Sunday's outing might have been enough for Guillen to give back Jenks' old job.

"That's what I want to see from him," Guillen said. "He got to understand our point, what we want from him. Hopefully he keeps throwing the ball like he did [Sunday]. The last two outings you couldn't hide. He got killed. When I see him talk about Mariano [Rivera] blew two games, yeah, but I never remember Mariano give up seven runs in two innings. We're not crazy what we're doing here. We know what we're doing. If Bobby keeps throwing the ball like he did [Sunday] he'll be back to his role."

BY THE NUMBERS

15: At-bats without a hit for Pierre before he delivered an RBI single in the seventh inning Sunday in the middle of a rally that fell short. Alexei Ramirez emerged from a 0-for-12 slide delivering two hits. Ramirez is still batting .337 (34-for-101) over his last 28 games.

QUOTE

"I think a little more is being made of it than it needs to be. Obviously, everybody is going to be talking about it because it's coming up. But it's just one of those things that you have to play through and whatever happens, happens. I have no control over it besides throwing strikes. That's the only thing I have control of in this game is throwing the ball over the plate and I couldn't do it [Sunday]." --Hudson, on pitching in the major leagues while his name is being included in trade talk.


LOOK AHEAD

John Danks (10-7, 3.37) will be on the mound Monday night as the White Sox gladly return home from a tough 10-game trip to open the second half. It won't be easy, though, as Danks will oppose the Seattle Mariners' Felix Hernandez (7-6, 2.75). The White Sox faced Hernandez on July 21 at Seattle and managed just two hits in eight innings.

The White Sox are 27-19 at home, compared to 26-25 on the road. Their last home game was over two weeks ago when they scored 15 runs in a victory over the Royals on July 11 and were on the tail end of a nine-game win streak.