White Sox send Heath to Triple-A
July, 8, 2012
7/08/12
5:32
PM CT

By Scott Powers
ESPNChicago.com
Archive
CHICAGO -- The
Chicago White Sox
optioned right-handed pitcher
Deunte Heath
to Triple-A Charlotte on Sunday.
Heath did not make an appearance since being recalled by the White Sox on July 4.
The White Sox will make a corresponding move prior to their next game on Friday.
Reporter
Scott Powers is the Blackhawks beat reporter for ESPNChicago.com. He is an award-winning journalist and has been reporting on preps, colleges and pros for publications throughout the Midwest since 1997.
ABOUT THIS BLOG

Doug Padilla
Doug covers the Chicago White Sox for ESPNChicago.com and ESPN Radio 1000.
50 GREATEST WHITE SOX OF ALL TIME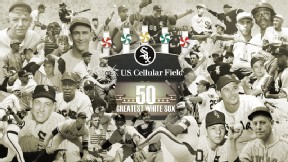 An ESPN Chicago panel of experts compiled its list of the 50 Greatest White Sox of all-time. Take a look at our list and put together a list of your own. Gallery

Rank 'em »


ESPNChiSox Doug Padilla
Family, friends, fans gather for Minoso http://t.co/Db270EAyFg
17 minutes ago

ESPNChiSox Doug Padilla
@MDGonzales Why is he laying down?
50 minutes ago

ESPNChiSox Doug Padilla
.@dogfishbeer to have its own beer garden at PPL Park, home of the Phila. Union (MLS). Road trip. #burtonbaton
about an hour ago

ESPNChiSox Doug Padilla
vs. Padres. RT @scottmerkin: Rodon: 2 IP, 1 H, 1 HP, 4 K, two fly ball outs. 31 pitches, 21 strikes (assuming he's done)
about an hour ago

ESPNChiSox Doug Padilla
@scottmerkin I was actually batting and hit the foul ball. Quentin was sending an email on my computer and refused to make the catch.
about an hour ago

ESPNChiSox Doug Padilla
@scottmerkin Correction: Stood up to catch the ball, thought better of breaking a finger to save your tail, and sat back down. Wear it.
about an hour ago

ESPNChiSox Doug Padilla
According to Sr. VP & marketing chief Brooks Boyer, the White Sox will wear a patch on their sleeve with a No. 9 in honor of Minoso.
about an hour ago

ESPNChiSox Doug Padilla
Minoso prayer card. (back) http://t.co/mycViec1FG
about 2 hours ago

ESPNChiSox Doug Padilla
Prayer card handed out to everybody that attended today's Minnie Minoso memorial. (front) http://t.co/S5BlBXwFeR
about 2 hours ago

whitesox Chicago White Sox
Don't mess with these guys. #SoxSpringTraining http://t.co/ezkzZCS6db
about 6 hours ago

whitesox Chicago White Sox
We have a special addition to today's jerseys. We miss you, Minnie. http://t.co/uakoBMsbU3
about 7 hours ago

EvoShield EvoShield
Introducing our new Performance Batting Gloves. Cop yours now! --> http://t.co/Ru2xsr2b3Q #EvoTakeover http://t.co/evWgQKbucq
about 20 hours ago

JKeppinger Jeff Keppinger
Best of luck @hunterpence with your recovery! You'll heal fast!!!
about 20 hours ago

JKeppinger Jeff Keppinger
Congrats @TheRealBubbaK on getting engaged! Can't believe I never got that walk out song you promised me Waaay back in Athens!!!! #DAWGS
1 day ago

GabeLacques Gabe Lacques
Just got a press release that refers to Adam Dunn as a "world-class athlete." Which makes it the greatest, most accurate release of all.
1 day ago

reIatable So Damn Relatable!
s/o to whoever made this👏 http://t.co/UbczUEnTj3
1 day ago

CST_soxvan Daryl Van Schouwen
Lineups. White Sox-Dodgers. http://t.co/m66vh3JJ22
1 day ago

ESPNChiSox Doug Padilla
White Sox vs. Dodgers live on MLB Network in an hour (2:05 pm CST). It's the Dodgers' broadcast. Danks vs. Kershaw.
1 day ago

OficialTigres Tigres de Aragua
@whitesox 6 - @Dodgers 4 | @AvisailGarcia (RF @whitesox) 2-2, CA, 2 2B, CI, BB, AVE 1.000 #NaciónTigrera
1 day ago

whitesox Chicago White Sox
We heard it was superfan @tyguy22's bday, so Shark, @AvisailGarcia, Alexei & @NietoJr17 signed a ball for him! http://t.co/37E9U7aTbZ
1 day ago
BLOG ARCHIVE:
CATEGORIES:
UPCOMING GAMES
| | W-L | HM | AW | STK | L10 |
| --- | --- | --- | --- | --- | --- |
| CHW | 1-1 | 0-1 | 1-0 | L1 | |
| SDG | 0-2 | 0-0 | 0-2 | L2 | |
| | W-L | HM | AW | STK | L10 |
| --- | --- | --- | --- | --- | --- |
| SEA | 2-0 | 2-0 | 0-0 | W2 | |
| CHW | 1-1 | 0-1 | 1-0 | L1 | |
| | W-L | HM | AW | STK | L10 |
| --- | --- | --- | --- | --- | --- |
| CHW | 1-1 | 0-1 | 1-0 | L1 | |
| OAK | 2-0 | 1-0 | 1-0 | W2 | |
2015 CACTUS LEAGUE STANDINGS