Video: BBTN previews Sox-Rangers
July, 27, 2012
7/27/12
8:52
AM CT


Baseball Tonight previews the weekend series between two division-leading teams in the White Sox and Rangers.
ABOUT THIS BLOG

Bruce Levine
Bruce Levine has covered sports in Chicago for over 31 years and hosts "Talkin' Baseball," heard Saturday mornings on ESPN 1000.

Doug Padilla
Doug covers the Chicago White Sox for ESPNChicago.com and ESPN Radio 1000.
50 GREATEST WHITE SOX OF ALL TIME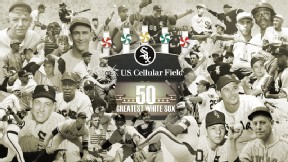 An ESPN Chicago panel of experts compiled its list of the 50 Greatest White Sox of all-time. Take a look at our list and put together a list of your own. Gallery

Rank 'em »


ESPNChiSox Doug Padilla
Unusual control issues doom Peavy http://t.co/F8MbkappEx
about 3 hours ago

ESPNChiSox Doug Padilla
Rapid Reaction: Angels 6, White Sox 2 http://t.co/JQYIWdtI2a
about 4 hours ago

jose_quintana24 Jose Quintana62
RT @keshiaespriella: Hola @jose_quintana24, Soy amiga de @jguardo y le dije q me encantaría una gorra tuya. Me regalas una firmada porfa te…
about 21 hours ago

jose_quintana24 Jose Quintana62
RT @Josimar_Soto1: @jose_quintana24 ORGULLO COLOMBIANO MI HERMANITO http://t.co/91ryO3h4zs
about 21 hours ago

JesseCrain Jesse Crain
Had a great time hanging with child hood friend @IAMACEYOUNG and his beautiful soon to be wife @DianaDeGarmo. Great people!
1 day ago

ESPNChiSox Doug Padilla
Santiago can't hold big lead in loss http://t.co/c0PmXmt1ge
1 day ago

ESPNChiSox Doug Padilla
Rapid Reaction: Angels 12, White Sox 9 http://t.co/AYPBDn3BCb
1 day ago

ESPNBruceLevine Bruce Levine
Cubs Carlos Villanueva goes to the bullpen with Garza making start on Tuesday.
1 day ago

ESPNBruceLevine Bruce Levine
Matt Garza to pitch on Tuesday against Pittsburgh.
1 day ago

ESPNChiSox Doug Padilla
Addison Reed enjoying his homecoming http://t.co/ZKo8SYwqol
1 day ago

ESPNChiSox Doug Padilla
Rapid Reaction: White Sox 3, Angels 0 http://t.co/4Ah2KvKsoB
1 day ago

JakePeavy_44 Jake Peavy
And always fun going on in studio with @jimrome! Thanks 4 having me pal! Now time to try & win another game! Come on Saler!! #GetUrBlackOn
2 days ago

JakePeavy_44 Jake Peavy
Big Thank You to Titleist for having me out today! Unreal experience by the best in the business!!! http://t.co/S8eaWTzAFC
2 days ago

jose_quintana24 Jose Quintana62
RT @CarlosSan29: "Aprende a darle tiempo al tiempo, a esperar el momento, todo llega cuando tiene que llegar."
2 days ago

jose_quintana24 Jose Quintana62
RT @Josimar_Soto1: mi hermanito @jose_quintana24 que buenn trabajo hizo usted ayer siga asi trabajando duro y pa lante y que dios lo siga b…
2 days ago

ESPNChiSox Doug Padilla
Crain's on his game, but don't tell him so http://t.co/UDDIlCasVS
2 days ago

jose_quintana24 Jose Quintana62
RT @areciocastella: @jose_quintana24 sigue trabajando de esa manera , nos enorgulleses mi hermano, Dios te bendiga
2 days ago

ESPNChiSox Doug Padilla
Rapid Reaction: White Sox 5, Angels 4 http://t.co/WPOgvnLLJH
2 days ago

ESPNChiSox Doug Padilla
You bet Tyler Flowers knows about this. Might not be a bad thing. Inspiration. http://t.co/HMU14Hu08A
2 days ago

ESPNChiSox Doug Padilla
Rancho Cucamonga's Addison Reed gets the save. #cowabunga
2 days ago
BLOG ARCHIVE:
CATEGORIES:
UPCOMING GAMES
| | W-L | HM | AW | STK | L10 |
| --- | --- | --- | --- | --- | --- |
| CHW | 19-23 | 8-9 | 11-14 | L2 | |
| LAA | 17-27 | 10-13 | 7-14 | W2 | |
| | W-L | HM | AW | STK | L10 |
| --- | --- | --- | --- | --- | --- |
| BOS | 27-17 | 13-10 | 14-7 | W5 | |
| CHW | 19-23 | 8-9 | 11-14 | L2 | |
| | W-L | HM | AW | STK | L10 |
| --- | --- | --- | --- | --- | --- |
| BOS | 27-17 | 13-10 | 14-7 | W5 | |
| CHW | 19-23 | 8-9 | 11-14 | L2 | |
2013 AMERICAN LEAGUE CENTRAL STANDINGS