Ventura unsure of Sale's next start
July, 29, 2012
7/29/12
6:46
PM CT
ARLINGTON, Texas -- Chicago White Sox manager Robin Ventura said Sunday he isn't sure when Chris Sale will get his next start as he appears to be battling fatigue.
Read the entire story.
ABOUT THIS BLOG

Bruce Levine
Bruce Levine has covered sports in Chicago for over 31 years and hosts "Talkin' Baseball," heard Saturday mornings on ESPN 1000.

Doug Padilla
Doug covers the Chicago White Sox for ESPNChicago.com and ESPN Radio 1000.
50 GREATEST WHITE SOX OF ALL TIME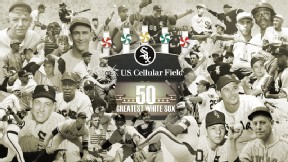 An ESPN Chicago panel of experts compiled its list of the 50 Greatest White Sox of all-time. Take a look at our list and put together a list of your own. Gallery

Rank 'em »


ESPNBruceLevine Bruce Levine
Cubs Carlos Villanueva goes to the bullpen with Garza making start on Tuesday.
about 3 hours ago

ESPNBruceLevine Bruce Levine
Matt Garza to pitch on Tuesday against Pittsburgh.
about 4 hours ago

ESPNChiSox Doug Padilla
Addison Reed enjoying his homecoming http://t.co/ZKo8SYwqol
about 12 hours ago

ESPNChiSox Doug Padilla
Rapid Reaction: White Sox 3, Angels 0 http://t.co/4Ah2KvKsoB
about 13 hours ago

JakePeavy_44 Jake Peavy
And always fun going on in studio with @jimrome! Thanks 4 having me pal! Now time to try & win another game! Come on Saler!! #GetUrBlackOn
about 18 hours ago

JakePeavy_44 Jake Peavy
Big Thank You to Titleist for having me out today! Unreal experience by the best in the business!!! http://t.co/S8eaWTzAFC
about 19 hours ago

jose_quintana24 Jose Quintana62
RT @CarlosSan29: "Aprende a darle tiempo al tiempo, a esperar el momento, todo llega cuando tiene que llegar."
about 23 hours ago

jose_quintana24 Jose Quintana62
RT @Josimar_Soto1: mi hermanito @jose_quintana24 que buenn trabajo hizo usted ayer siga asi trabajando duro y pa lante y que dios lo siga b…
1 day ago

ESPNChiSox Doug Padilla
Crain's on his game, but don't tell him so http://t.co/UDDIlCasVS
1 day ago

jose_quintana24 Jose Quintana62
RT @areciocastella: @jose_quintana24 sigue trabajando de esa manera , nos enorgulleses mi hermano, Dios te bendiga
1 day ago

ESPNChiSox Doug Padilla
Rapid Reaction: White Sox 5, Angels 4 http://t.co/WPOgvnLLJH
1 day ago

ESPNChiSox Doug Padilla
You bet Tyler Flowers knows about this. Might not be a bad thing. Inspiration. http://t.co/HMU14Hu08A
1 day ago

ESPNChiSox Doug Padilla
Rancho Cucamonga's Addison Reed gets the save. #cowabunga
1 day ago

ESPNChiSox Doug Padilla
Did the Kings score 2 goals in negative-5 seconds? Life is better with multiple TVs.
1 day ago

ESPNChiSox Doug Padilla
Keppinger's first walk in a White Sox uni Puts the Sox in the lead. This is turning into an offensive machine with #TWTW. #Hawk
1 day ago

ESPNChiSox Doug Padilla
Dunn refusing to strike out. Single ties it in the 8th. Who is this guy?
1 day ago

ESPNBruceLevine Bruce Levine
For all of you disappointed Bulls fans ,we have two hundred Chicago baseball games to offer you.
2 days ago

JakePeavy_44 Jake Peavy
"@edwarm:buddy,wait til u see this autographed guitar I got for June 23 Brantley,Justin Moore,Thomas Rhett" Unreal! Gonna b a great night!!
2 days ago

jose_quintana24 Jose Quintana62
RT @b_hinton1322: Great to see @jose_quintana24 tonight at @sidsgraphs !! Great event and an awesome guy to meet! #WhiteSox http://t.co/5Ha…
2 days ago

JakePeavy_44 Jake Peavy
"@ToddWalker12: all I see is Dunner with sunglasses on inside an airplane.#bigleaguer" 'Sun never sets on a badass...'
2 days ago
BLOG ARCHIVE:
CATEGORIES:
UPCOMING GAMES
| | W-L | HM | AW | STK | L10 |
| --- | --- | --- | --- | --- | --- |
| CHW | 19-21 | 8-9 | 11-12 | W4 | |
| LAA | 15-27 | 8-13 | 7-14 | L3 | |
| | W-L | HM | AW | STK | L10 |
| --- | --- | --- | --- | --- | --- |
| CHW | 19-21 | 8-9 | 11-12 | W4 | |
| LAA | 15-27 | 8-13 | 7-14 | L3 | |
| | W-L | HM | AW | STK | L10 |
| --- | --- | --- | --- | --- | --- |
| BOS | 25-17 | 13-10 | 12-7 | W3 | |
| CHW | 19-21 | 8-9 | 11-12 | W4 | |
2013 AMERICAN LEAGUE CENTRAL STANDINGS