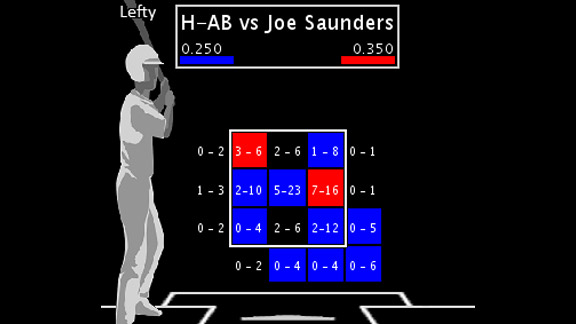 Joe Saunders has owned left-handed hitters this season.
Adam Dunn and A.J. Pierzynski will face an extra-tough challenge in Wednesday's game.
They'll have to match up with the newest Orioles lefty starter, Joe Saunders, who has been fantastic against left-handed hitters this season.
Saunders has held lefties to a .207/.232/.240 slashline (batting average, on-base percentage, slugging percentage) this season.
The .472 opponents OPS was the best for any of the 96 starters who had qualified for the ERA title.
Opposing Hitters vs Joe Saunders
2012 Season
Saunders' out pitch is a fastball that typically averages 90 miles-per-hour. He gets his outs by working in the lower-half of the strike zone and below, as the heat map above shows.
Saunders has gotten lefties to beat the ball into the ground repeatedly. His ground-ball rate against them is 64 percent, up from 56 percent in 2011.
Dunn and Pierzynski are both familiar with Saunders. Dunn is 0-for-7 against him, though with only two whiffs. Pierzynski is 3-for-10, including a bunt base hit.
Though they will be challenged by Saunders, the bigger issue in this game will be how Saunders does against what will likely be an otherwise righty-loaded lineup. His struggles against right-handed hitters can be seen in the chart on the right.