White Sox to stay in pursuit of Youkilis
November, 1, 2012
11/01/12
2:18
PM CT
By
Staff
| ESPNChicago.com
Chicago White Sox general manager Rick Hahn said Thursday his team will stay in pursuit of Kevin Youkilis, who became a free agent when the White Sox declined to pick up his option earlier this week.
Read the entire story.
ABOUT THIS BLOG

Doug Padilla
Doug covers the Chicago White Sox for ESPNChicago.com and ESPN Radio 1000.
50 GREATEST WHITE SOX OF ALL TIME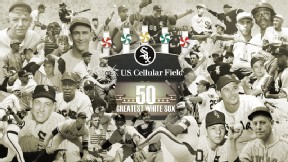 An ESPN Chicago panel of experts compiled its list of the 50 Greatest White Sox of all-time. Take a look at our list and put together a list of your own. Gallery

Rank 'em »


ESPNChiSox Doug Padilla
White Sox make three more moves http://t.co/qV8TWDRDF4
about an hour ago

ESPNChiSox Doug Padilla
LHP De Los Santos, RHP Molina, INF Sanchez optioned to Charlotte. 44 remain in big league camp.
about 2 hours ago

AvisailGarcia Avisail Garcia
RT @Chiqui_Urdaneta: @AvisailGarcia Los mejores deseos siempre, Avi!! Abrazo <3
about 14 hours ago

AvisailGarcia Avisail Garcia
RT @DaVroomer: So excited for #WhiteSox baseball I can't even handle it - Jose Abreu & @AvisailGarcia mashing, @AdamSpankyEaton swiping bag…
about 14 hours ago

AvisailGarcia Avisail Garcia
RT @RinconValeri: @AvisailGarcia & Yo <3 Mi Beisbolista Favorito <3 http://t.co/m1M2dTzUuR
about 16 hours ago

AvisailGarcia Avisail Garcia
RT @RinconValeri: fea pero con @AvisailGarcia que es lo q importa! te amo Avisail Sos Mi Beisbolista favorito #Venezuela #Beisbol RT http:…
about 16 hours ago

Bmorel_22 Brent Morel
RT @Divine_Infinite: Retweet if you play your sport for God. Let's help spread His word.
1 day ago

AvisailGarcia Avisail Garcia
RT @emilyrs23: Yay!!! Thanks for the follow Avi!!! You are the best!!! @AvisailGarcia http://t.co/Oyo1o7OnwM
1 day ago

ESPNChiSox Doug Padilla
Slam MT @JeffFletcherOCR: Santiago couldn't stay loose while Angels scored 8: "Last yr we didn't have many big innings while I was pitching"
1 day ago

ESPNChiSox Doug Padilla
@scottmerkin did you cry?
1 day ago

AvisailGarcia Avisail Garcia
RT @nayluramos: @carlosjduarte que bien me hace leer reportajes como este.. La constancia esta recogiendo frutos @AvisailGarcia dios te b…
1 day ago

AvisailGarcia Avisail Garcia
RT @simplybri_20: @AvisailGarcia is by far my favorite white sox player to look at ♡♡♡♡
1 day ago

AvisailGarcia Avisail Garcia
RT @nayluramos: @carlosjduarte @AvisailGarcia saludos colega.. Un abrazo..
1 day ago

AvisailGarcia Avisail Garcia
RT @carlosjduarte: #MLB Robin Ventura: "Avisaíl es único" http://t.co/bWZqFaiVdT @AvisailGarcia
1 day ago

ESPNChiSox Doug Padilla
Sale has fifth best Cy Young odds http://t.co/kVwp2J5Tzc
1 day ago

ESPNChiSox Doug Padilla
Bullpen moves to top of worry list http://t.co/7KMhlCiB7L
2 days ago

ESPNChiSox Doug Padilla
White Sox make eight roster moves http://t.co/jCAeSm1gdm
2 days ago

ESPNChiSox Doug Padilla
C Gonzalez, P Heath, P Poveda, P Snodgress, OF Walker also sent down. 47 remaining in major league camp.
2 days ago

ESPNChiSox Doug Padilla
Meal money day must be close. White Sox make 8 roster moves. Leesman, Mitchell, Thompson among those sent down.
2 days ago

ESPNChiSox Doug Padilla
More reaction to Anti-Hero IPA tweet than just about anything else this spring. Warms my heart. @RevBrewChicago #drinklocal
2 days ago
BLOG ARCHIVE:
CATEGORIES:
Majestic Men's Replica Chicago White Sox Alexei Ramirez #10 Home White Jersey Shop »
UPCOMING GAMES
| | W-L | HM | AW | STK | L10 |
| --- | --- | --- | --- | --- | --- |
| CLE | 12-2 | 7-2 | 5-0 | W3 | |
| CHW | 5-7 | 2-3 | 3-4 | L2 | |
| | W-L | HM | AW | STK | L10 |
| --- | --- | --- | --- | --- | --- |
| LAD | 5-8 | 3-5 | 2-3 | L2 | |
| CHW | 5-7 | 2-3 | 3-4 | L2 | |
| | W-L | HM | AW | STK | L10 |
| --- | --- | --- | --- | --- | --- |
| CHW | 5-7 | 2-3 | 3-4 | L2 | |
| TEX | 3-9 | 1-5 | 2-4 | L2 | |
2014 CACTUS LEAGUE STANDINGS