Sox brace for first meeting vs. Pierzynski
April, 29, 2013
4/29/13
4:23
PM CT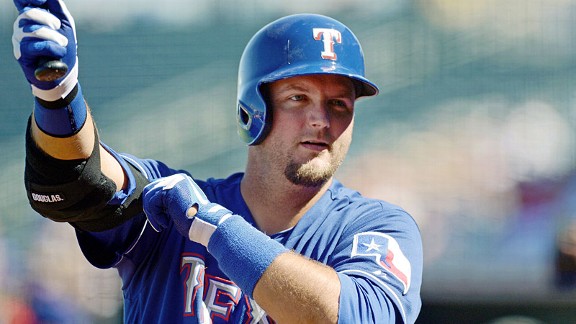 Jake Roth/USA TODAY SportsA.J. Pierzynski is batting .295 with four home runs and 11 RBIs this season.
CHICAGO -- Four weeks into the regular season with a brand new team and already things seem to be as normal as they can be on Planet Pierzynski.
Former
Chicago White Sox
catcher
A.J. Pierzynski
has been getting along swimmingly with his new
Texas Rangers
teammates. He nearly caught a perfect game during the first week of the season, he's already been back to Chicago in a series against the Cubs and recently had the occasion to torment the
Los Angeles Angels
yet again with a go-ahead home run in the ninth inning.
Next comes the most awkward stage, when he plays against the White Sox in a three-game series that begins Tuesday in Arlington, Texas.
White Sox pitcher
John Danks
seemed to regret the fact that he won't be there as he heads out to Birmingham, Ala., on a minor-league rehab assignment this week. But the injured pitcher and native Texan already got a chance to check out his former teammate play in person.
"I saw him the opening night when they were playing in Houston," Danks said. "It was weird seeing him back there. Obviously we all know A.J. and how good of a player he was. It was fun to watch him, and kinda weird to not see him in a White Sox uniform."
Not only will his former teammates get to see how that Rangers uniform looks on him, but Pierzynski will be in the unique position of being able to talk trash to the same guys he played side by side with for all those years.
After all there are two things Pierzynski does better than anybody: Torment his opponent to no end and fill the quiet space around him with constant chatter.
Whether his heart will be into barking at guys like
Paul Konerko
remains to be seen, but everybody is expecting an earful.
After all, this is the same Pierzynski who chased down a foul ball in Texas when he played for the White Sox and
nearly hit former President Gorge W. Bush
with his outstretched glove. Said Pierzynski at the time: "I just told him just because he was the President doesn't mean I won't jump on top of him."
Former First Lady Laura Bush laughed. Pierzynski might not have been joking.
So in that light, yeah, even Konerko could end up a target of Pierzynski's smack talk.
"It's been so long since I hit with him catching, because I didn't play against him in the spring," said Konerko, who was the only player to wear a White Sox uniform during all eight seasons that Pierzynski did. "I'm sure, knowing A.J., he'll say something or do something. But he might save his good material for when he comes here."
By the time the Rangers come to U.S. Cellular Field it will be for a three-game series Aug. 23-25 and the novelty of him wearing that other uniform will probably be gone. But it will give White Sox fans to show their appreciation for a player who became an unlikely fan favorite.
When he was signed before the 2005 season, the White Sox were taking a chance on a possible clubhouse distraction who had alienated his way out of San Francisco after just one season. His gritty style, though, not to mention his determination to rattle opponents from any and all angles, earned his unanimous respect from the home fans.
Yet there was always that edge about Pierzynski. It was none other than former manager Ozzie Guillen who coined what is probably the most fitting phrase regarding the veteran catcher: "If you play against him, you hate him. If you play with him, you hate him a little less."
While many White Sox players already saw Pierzynski this spring in Arizona, Tuesday's game will have a different feel to it.
"I think when you hit the regular season games, they mean more," manager Robin Ventura said. "I don't know if it makes it any less strange or anything or more strange, but you know it will be good to see him."