Role play continues at halfway point
July, 3, 2013
7/03/13
10:24
PM CT
CHICAGO -- At the halfway point of a most disappointing season, the
Chicago White Sox
continue to swap roles and step into other people's shoes essentially on a nightly basis.
The latest role swap came in the eighth inning of a tie game Wednesday night against the
Baltimore Orioles
, when
Matt Lindstrom
was asked to take over the spot usually occupied by
Jesse Crain
. Before the game, it was announced that Crain (shoulder strain) and
Paul Konerko
(back strain) were headed for the disabled list.
[+] Enlarge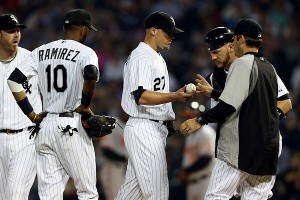 Scott Strazzante/Chicago Tribune/MCTA change in White Sox pitching roles as a result of Jesse Crain's injury left Matt Lindstrom out of sorts Wednesday against the Orioles.
Lindstrom's move to the eighth inning didn't go as planned, but, really, what has for the Sox this season?
The right-hander gave up hits to two of the three batters he faced. He then turned the ball over to left-hander
Matt Thornton
, who gave up a two-run double down the line to the red-hot
Chris Davis
and the game was no longer tied.
Just how good has Crain been this season? Two guys tried to carry his workload for a day and it proved difficult in the 4-2 defeat.
"On a normal night, Jesse's coming in [there]," Sox manager Robin Ventura said. "That's been a pretty good spot for us with him. I think anytime you lose that kind of element out of your bullpen, it's tough. It moves people around, not that they can't do the job there.
"What you're used to seeing is not there anymore. So guys are going to have to step up and fill those shoes for a while."
The White Sox know all about that. Ten different players have registered time on the disabled list, while
Chris Sale
had one of his starts skipped because of shoulder tendonitis.
If the White Sox have learned anything in the first half, it's how to wear different hats. It might not help them in the second half, though, especially when trades start happening as expected.
At the 81-game point of the season, the White Sox find themselves a disappointing 33-48, matching a season-high mark at 15 games under .500.
The bullpen had a slow start to the season, but had been relatively injury free until Crain went down. It didn't take but one game to see the effects.
"It's tough to lose Jesse," said Lindstrom, who fell to 2-3 after taking the loss. "He's been pitching awesome for us this year. Anytime one of your studs go down you try to pick each other up like that. Sometimes it works out and sometimes it doesn't.
"The Orioles have a great lineup, man. You just have to forget about this one and come back and win the series [Thursday]."
At this point next month, the White Sox figure to be looking at an entirely retooled roster built more for the future than the present. Until that happens, however, the current roster will try to focus on the short term.
"I think more, we're trying to get through the All-Star break," Ventura said when asked to assess the first half.
"When you sit here without having Paulie and Crain in there, you don't have your regular guys to turn it around and guys are going to have to step it up. We'll get to that point first before we start looking beyond that."