A lot being asked of plucky Eaton
February, 22, 2014
2/22/14
4:15
PM CT

By Doug Padilla
ESPNChicago.com
Archive
GLENDALE, Ariz. – With speed, solid defense and an ability to get on base,
Adam Eaton
is exactly what the
Chicago White Sox
needed after a disastrous 2013, all rolled into one package.
The only issue appears to be a lack of experience and a small major league sample size that shows there is still plenty of growth that needs to take place.
[+] Enlarge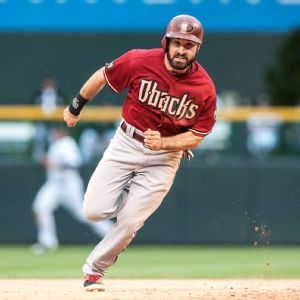 Dustin Bradford/Getty ImagesAfter coming over from the Diamondbacks, Adam Eaton is expected to give the White Sox a spark at the top of the lineup.
Paul Konerko
has already tried to speed up that learning curve by welcoming the White Sox's new leadoff hitter into his personal offseason hitting sessions. Manager Robin Ventura will take it a step further on Opening Day when he is expected to give Eaton the opportunity to lead the offense.
There is no avoiding the fact, though, that a lot will be asked from a player who has never been relied on to make such an impact at the game's highest level.
"He has a lot of positives, but it's not just on him," Ventura said Saturday. "You hate to put everything on him, it's just a piece of the puzzle for putting the lineup together early. Guys like him have been able to raise the intensity and the level of other people in the lineup, and hopefully he can do that."
Part of Eaton's appeal is his high energy, and he has already shown an engaging style in the clubhouse, developing early lines of communication with his new teammates.
Konerko has already praised the change from
Alejandro De Aza
to Eaton, essentially saying that it will be the jolt the lineup needs.
"It's definitely a step in the right direction, him coming in," Ventura said. "And he's confident. That's where you start."
It's fitting then that Eaton will be asked to make his impact from the starting spot of the lineup. His minor league track record suggests a guy who gets on base at all costs. His stolen-base totals, though, don't necessarily fit in with the scouting report that says Eaton is as fast as they come in baseball.
Case in point, White Sox prospect Micah Johnson led minor league baseball last season with a combined 84 steals over three separate levels. Eaton has never stolen more than 44 bases in a season while in the
Arizona Diamondbacks
' system. He had 38 in 2012 when he posted a whopping .456 on-base percentage.
In 380 at-bats with the Diamondbacks over the past two seasons, Eaton has just seven steals.
The White Sox know that some of the reason for the low numbers can be attributed to the Diamondbacks' more conservative base-running style that starts at the organization's highest level. Diamondbacks manager Kirk Gibson isn't as fond of the stolen base as others in his position, and strategies like that tend to trickle down to the lower levels.
Now the White Sox want to see first-hand if those low stolen-base numbers also have something to do with Eaton's technique.
"We'll find that out down here," Ventura said. "You can give a guy a little freedom to run and see what he's got. I haven't seen a ton of it. Until you play you're not going to find out, was that his style or he was shut down, or anything like that?"
Ventura talked Saturday as if Eaton still has to beat out somebody for the Opening Day center field nod. It's pretty obvious, though, that barring injury or a completely unforeseen disaster during Cactus League games, Eaton will be the first White Sox hitter to come to the plate on March 31 against the
Minnesota Twins
.
There really seems to be no question about it. The White Sox's new look depends on it. And if Eaton's steal numbers do have something to do with his approach on the bases, the White Sox seem sure it's an element their new leadoff man can learn.
"He comes in with an intensity that a lot of people don't have," Ventura said. "That's something that was given to him a long time ago that's unique to him, and that's a positive."