News and notes from White Sox camp
February, 21, 2010
2/21/10
5:33
PM CT

By BRUCE LEVINE
ESPNChicago.com
Archive
The team had a shortened practice due to rain in Glendale, Ariz., on Sunday. Meanwhile, White Sox general manager Kenny Williams downplayed Detroit's signing of outfielder Johnny Damon. Williams said that the White Sox gave their best effort, but offered that not making a move might prove out to be a better decision.




[+] Enlarge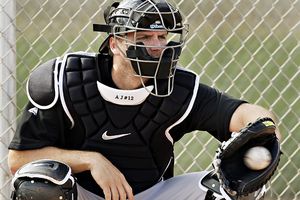 AP Photo/Mark DuncanWhite Sox catcher A.J. Pierzynski said his longtime friend Johnny Damon chose Detroit because he wanted to train near his family in Florida.

Catcher A.J. Pierzynski, on the same subject, said that everybody in the Sox family did their best to bring Damon in. He said at the end of the day, Damon chose Detroit so he could train in Florida for six weeks in order to be around his wife and kids. Pierzynski said that he hoped Damon, a longtime friend since high school, will do poorly against the White Sox.
Right-handed pitcher Jake Peavy was in full support of Mark Buehrle getting the Opening Day pitching assignment. Peavy was excited about Buehrle's chance to set a franchise record for Opening Day starts. Buehrle will be making his eighth Opening Day start against the Indians April 5 at U.S. Cellular Field. Buehrle was formerly tied with left-handed pitcher Billy Pierce for seven Opening Day assignments.

Manager Ozzie Guillen named Buehrle his No. 1 starter and Peavy his No. 2 starter, but on Sunday, he refused to say beyond that where John Danks, Gavin Floyd and Freddy Garcia would be slotted.
Williams was complimentary of closer Bobby Jenks. Williams said on Sunday that Jenks reported at 275 pounds, 25 pounds down from 2005. Jenks himself said that he was excited about J.J. Putz joining the bullpen and solidifying the spots behind Matt Thornton and Scott Linebrink in the bullpen.
Williams, talking about the White Sox venture into reality TV (this season, the White Sox will be featured on the MLB channel in their own series), said he would work out code names for other team's players when the cameras caught him and his staff talking trades. As far as the reality show goes, Guillen said he will not tone down his act for the show. Basically, Ozzie said, Ozzie has to be Ozzie, no matter what.