Cubs create new ticket level
October, 8, 2010
10/08/10
3:14
PM CT

By Bruce Levine
ESPNChicago.com
Archive
The Chicago Cubs will announce this month that ticket prices next season will stay the same as 2010 -- for the most part, but there will be discounted areas in many sections, including the bleachers.
Read the entire story.
Chicago baseball beat reporter
Bruce Levine has covered sports in Chicago for over 28 years and hosts "Talkin' Baseball," heard Saturday mornings on ESPN 1000.
ABOUT THIS BLOG

Doug Padilla
Doug covers the Chicago White Sox for ESPNChicago.com and ESPN Radio 1000.
50 GREATEST WHITE SOX OF ALL TIME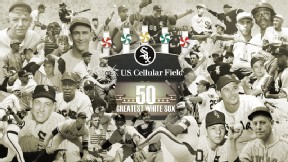 An ESPN Chicago panel of experts compiled its list of the 50 Greatest White Sox of all-time. Take a look at our list and put together a list of your own. Gallery

Rank 'em »


jose_quintana24 Jose Quintana62
Lo mejor esta aun por venir mjoyce1392 andrerienzo @luisierrac7 hjpnoesi48 @julio_teheran https://t.co/Z2DRO7lpbj
about an hour ago

ESPNChiSox Doug Padilla
Rodon shrugs. RT @ESPNLosAngeles: Kershaw K's 8 in 6 innings http://t.co/1J4CkSE6Is
about an hour ago

ExoticScenery Exotic Scenes
Hawaii Sunset http://t.co/hSG60OQLJW
about 2 hours ago

ESPNChiSox Doug Padilla
If not now, then when for Carlos Rodon? http://t.co/ESLZfXQggZ
about 6 hours ago

jose_quintana24 Jose Quintana62
Salidita mjoyce1392 https://t.co/SEi4jxCPuj
about 7 hours ago

ESPNChiSox Doug Padilla
Kershaw singles, Rollins hits HR and Daniel Webb might have released any last grasp he had on a roster spot.
about 8 hours ago

ESPNChiSox Doug Padilla
David Robertson, Jake Petricka dealing with arm soreness http://t.co/D2SMIfM8dz
about 9 hours ago

ESPNChiSox Doug Padilla
Puig crushes a HR off Penny. Why did the LA media check the replay? They were looking for a bat flip. @markasaxon
about 9 hours ago

ESPNChiSox Doug Padilla
Adam LaRoche, whose RBI double gives the W Sox a 1-0 lead, has 11 Ks in 22 career ABs vs. Kershaw.
about 9 hours ago

ESPNChiSox Doug Padilla
Abreu just buzzed Kershaw's tower with a single to CF.
about 9 hours ago

ESPNChiSox Doug Padilla
Ventura says both Robertson and Petricka going through soreness/dead arm. Robertson did throw a pen today.
about 10 hours ago

ESPNChiSox Doug Padilla
Jeff Samardzija set to put on a good show http://t.co/I68DEGbozj
about 11 hours ago

ESPNChiSox Doug Padilla
The Twitter warriors, from L to R @CST_soxvan @ChiTribKane @CSNHayes http://t.co/IFuRrCJqEA
about 11 hours ago

ESPNChiSox Doug Padilla
@jorgearangure @markasaxon Si.
about 12 hours ago

ESPNChiSox Doug Padilla
In what comes to a surprise to nobody, prankster Juan Uribe stole the golf cart key from Tommy Lasorda, says @markasaxon.
about 12 hours ago

ESPNChiSox Doug Padilla
Hawk, this morn, on the 3 people wants to be reincarnated as: "Neil Diamond, a hockey player, an eye drop salesman."
about 12 hours ago

ESPNChiSox Doug Padilla
Penny vs Kershaw lineups. http://t.co/K22zehvN9R
about 13 hours ago

Bibliaenlinea Jes\u00FAs_Nunca_Falla
De rodillas ante DIOS, de pie ante el mundo. Amen.
about 13 hours ago

Bibliaenlinea Jes\u00FAs_Nunca_Falla
Gracias SEÑOR por este nuevo día. Te pedimos nos acompañes y guíes en todo lo que realicemos. Que Tu mano esté sobre nosotros siempre. Amén.
about 13 hours ago

Bibliaenlinea Jes\u00FAs_Nunca_Falla
Nunca es demasiado tarde para comenzar de nuevo en DIOS.
about 13 hours ago
BLOG ARCHIVE:
CATEGORIES:
UPCOMING GAMES
| | W-L | HM | AW | STK | L10 |
| --- | --- | --- | --- | --- | --- |
| LAD | 13-6 | 6-3 | 7-3 | W3 | |
| CHW | 8-12 | 2-6 | 6-6 | L1 | |
| | W-L | HM | AW | STK | L10 |
| --- | --- | --- | --- | --- | --- |
| CHW | 8-12 | 2-6 | 6-6 | L1 | |
| CHC | 9-14 | 5-6 | 4-8 | L4 | |
| | W-L | HM | AW | STK | L10 |
| --- | --- | --- | --- | --- | --- |
| OAK | 15-9 | 10-2 | 5-7 | W2 | |
| CHW | 8-12 | 2-6 | 6-6 | L1 | |
2015 CACTUS LEAGUE LEAGUE STANDINGS