D-backs unlike to go after Konerko
November, 16, 2010
11/16/10
7:37
PM CT
ORLANDO -- The Arizona Diamondbacks have recently been rumored as a potential landing spot for free agent first baseman and Scottsdale, Ariz., native Paul Konerko. Arizona GM Kevin Towers, however, told ESPNChicago.com on Tuesday that scenario is probably not going to take place.
Read the full story.
ABOUT THIS BLOG

Doug Padilla
Doug covers the Chicago White Sox for ESPNChicago.com and ESPN Radio 1000.
50 GREATEST WHITE SOX OF ALL TIME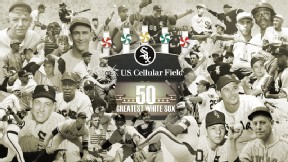 An ESPN Chicago panel of experts compiled its list of the 50 Greatest White Sox of all-time. Take a look at our list and put together a list of your own. Gallery

Rank 'em »


EvoShield EvoShield
Introducing our new Performance Batting Gloves. Cop yours now! --> http://t.co/Ru2xsr2b3Q #EvoTakeover http://t.co/evWgQKbucq
about 7 hours ago

JKeppinger Jeff Keppinger
Best of luck @hunterpence with your recovery! You'll heal fast!!!
about 8 hours ago

JKeppinger Jeff Keppinger
Congrats @TheRealBubbaK on getting engaged! Can't believe I never got that walk out song you promised me Waaay back in Athens!!!! #DAWGS
about 11 hours ago

GabeLacques Gabe Lacques
Just got a press release that refers to Adam Dunn as a "world-class athlete." Which makes it the greatest, most accurate release of all.
about 12 hours ago

reIatable So Damn Relatable!
s/o to whoever made this👏 http://t.co/UbczUEnTj3
about 13 hours ago

CST_soxvan Daryl Van Schouwen
Lineups. White Sox-Dodgers. http://t.co/m66vh3JJ22
about 14 hours ago

ESPNChiSox Doug Padilla
White Sox vs. Dodgers live on MLB Network in an hour (2:05 pm CST). It's the Dodgers' broadcast. Danks vs. Kershaw.
about 14 hours ago

OficialTigres Tigres de Aragua
@whitesox 6 - @Dodgers 4 | @AvisailGarcia (RF @whitesox) 2-2, CA, 2 2B, CI, BB, AVE 1.000 #NaciónTigrera
about 17 hours ago

whitesox Chicago White Sox
We heard it was superfan @tyguy22's bday, so Shark, @AvisailGarcia, Alexei & @NietoJr17 signed a ball for him! http://t.co/37E9U7aTbZ
about 17 hours ago

Chiqui_Urdaneta Marglenys Urdaneta
Y @AvisailGarcia conecta el primer hit (2B) de los White Sox en #SpringTraining.
about 17 hours ago

whitesox Chicago White Sox
.@AvisailGarcia doubles to right, Alexei singles to center to score him for the first Sox run of the spring. 1-0 #WhiteSox
about 17 hours ago

sheenaquinn Sheena Quinn
@AvisailGarcia batter up! @whitesox #SoxSpringTraining http://t.co/NRa6e54etw
about 17 hours ago

EnerG21 EnerG21 (XB1)
@AvisailGarcia Looked strong today! Can't wait to see this man put together a string season this year!!!
about 17 hours ago

sheenaquinn Sheena Quinn
More fun follows today from @whitesox peeps @KSullie @TimAnderson7 @HJPNoesi @AvisailGarcia & the infamous @scottmerkin #SoxSpringTraining
about 17 hours ago

MoWhiteSox76 Aaron Kiesling
Awesome to see @AdamSpankyEaton @79JoseAbreu @AvisailGarcia @gordonbeckham @jose_quintana24 @e3laroche @CHawkins10 @CarlosSan29 play 2 day!
about 17 hours ago

DebScottPelton Deb Scott Pelton
@MorningClinkers @AvisailGarcia that was a nice catch. Too bad we had to give him up.He is going to be really good
about 17 hours ago

ESPNChiSox Doug Padilla
Tough to leave this scene. Heading home for a short stretch. Returning soon. http://t.co/hPXjVXD37j
1 day ago

ESPNChiSox Doug Padilla
Aggressive approach shows up early http://t.co/OVM0f5KZiJ
1 day ago

ESPNChiSox Doug Padilla
Hellooooo! RT @BNightengale: Marcus Semien sure making nice 1st impression with #Athletics: He's 6-for-6 in spring with 2 HRs and 7 RBI.
1 day ago

ESPNChiSox Doug Padilla
I like! RT @jkrawczyk78: @ESPNChiSox Its a giant golden scorpion
1 day ago
BLOG ARCHIVE:
CATEGORIES:
UPCOMING GAMES
| | W-L | HM | AW | STK | L10 |
| --- | --- | --- | --- | --- | --- |
| CHW | 1-1 | 0-1 | 1-0 | L1 | |
| SDG | 0-2 | 0-0 | 0-2 | L2 | |
| | W-L | HM | AW | STK | L10 |
| --- | --- | --- | --- | --- | --- |
| SEA | 2-0 | 2-0 | 0-0 | W2 | |
| CHW | 1-1 | 0-1 | 1-0 | L1 | |
| | W-L | HM | AW | STK | L10 |
| --- | --- | --- | --- | --- | --- |
| CHW | 1-1 | 0-1 | 1-0 | L1 | |
| OAK | 2-0 | 1-0 | 1-0 | W2 | |
2015 CACTUS LEAGUE STANDINGS