[+] Enlarge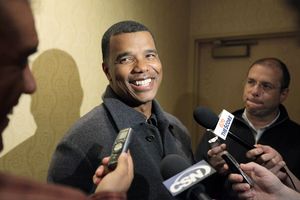 AP Photo/M. Spencer Green
White Sox GM Kenny Williams complimented the team's marketing and ticket sales departments, and hopes for good news from both.
White Sox general manager Kenny Williams is hoping to get some good news from the team's marketing and ticket sales departments.
Williams complimented those two areas of the front office on Tuesday and said that his offseason payroll will be projected through the work that those two units are able to do.
"Over the years, they've been able to step up and sometimes it's not until the end of the season where you get certain things [money for their progress]," Williams said. "We then can get an idea of ticket sales and sponsorships. We know they are working endlessly to try and get us more revenue, which then would give us more payroll to work with."
The White Sox sold 200,000 fewer tickets in 2009 than they did in 2008. At an average of $50 a ticket, that's $10 million. Ironically, that's the cost of one year of a contract for free agent infielder/outfielder Chone Figgins, or possibly designated hitter Hideki Matsui. Both are on the radar screen for the White Sox.
The White Sox have until Nov. 20 to negotiate with their own free agents exclusively before the 29 other clubs can bid on their services. It's unclear at this time whether the team can get a deal done with Scott Podsednik in the next 10 days. The South Siders' leadoff man is looking for a multiyear deal, which he deserves. The White Sox are not so sure a commitment beyond one year is a good idea at this point. The positive aspects of Podsednik's game is that he is still a force on the basepaths and hit .300 last season. The downside is his age and his history of groin injuries.
Stay tuned.