After spending close to $97 million on its 2009 payroll, the Chicago White Sox have committed $72 million to 10 players next season. According to the vibe on the South Side, corporate spending will not be any better to help the team's payroll in 2010.
[+] Enlarge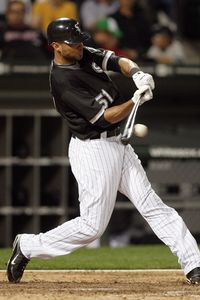 Jerry Lai/US Presswire
The disappointing Alex Rios will be the Sox's everyday center fielder next season.
Sources say the Sox payroll for next season will be $95 million. In order to have a productive club ready to overtake the Detroit Tigers and Minnesota Twins in the AL Central Division, general manager Kenny Williams and company will have to be more active in the trading market than the more costly free-agent route.
The future of closer Bobby Jenks will be a key component to offseason additions. After earning over $5 million in 2009, Jenks' automatic number if he goes to arbitration will be between $7 million-$8 million next season. That type of money may be too pricey for the White Sox as they put together the back end of their bullpen.
Team officials already believe set-up man Matt Thornton is ready to handle the physical and mental aspects of the closer's job. If indeed that's the case, Jenks could be used as trade bait for much-needed help from a set-up man.
At least two -- and possibly three -- bullpen roles must be filled if Jenks is moved. Thornton would assume the closer's role, and that would leave Tony Pena, D.J. Carrasco and Scott Linebrink to compete for the set-up job.
Looking at the season as a whole, Carrasco may have been the team's most versatile and confident pitcher in the pen. Whether he can handle a primary set-up role is up for debate.
The team has two more years committed to Linebrink for over $10 million. Linebrink had confidence issues that were a residue of his ineffectiveness in the second half of the season. Expecting a rebound from Linebrink would be an iffy proposition.
Pena has the arm and has shown flashes of being a decent set-up man. Inconsistent command has been his stumbling block.
[+] Enlarge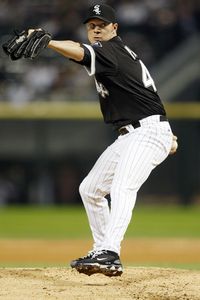 Jerry Lai/US Presswire
Jake Peavy will be part of what should be a very solid rotation next season.
Veteran Octavio Dotel will not be back next season. The free-agent pitcher told me at the end of the season that he'd like to pitch for the Cubs if the White Sox weren't interested in bringing him back. Dotel is friendly with the Cubs' Aramis Ramirez and Carlos Marmol.
The Sox rotation is set with Mark Buehrle, Jake Peavy, John Danks and Gavin Floyd. Veteran Freddy Garcia, whose contract was picked up Tuesday, will battle with rookie David Hudson for the No. 5 spot.
The infield also is locked in with Gordon Beckham, Alexei Ramirez, Chris Getz and Paul Konerko.
There's been some rumblings about Konerko possibly being traded in the offseason. However, Konerko holds a complete no-trade clause in his contract. The Los Angeles Dodgers have been mentioned as a team interested in Konerko.
The South Siders are in good shape behind the plate with returning veteran A.J. Pierzynski, backed up by youngster Tyler Flowers.
The outfield and designated hitter roles will have to be figured out by team executives.
It appears the Sox will allow outfielder Jermaine Dye to become a free agent. Dye has a $12 million player option. The team can buy him out of his 2010 deal for $1 million.
The disappointing Alex Rios will be the team's everyday center fielder next season, and Carlos Quentin -- more than likely -- will move to right field.
As for the top of the lineup, the left fielder and DH spots are the final pieces to the puzzle. Scott Podsednik did a great job solidifying the top of the batting order, batting .304 with 30 stolen bases while scoring 75 runs. His erratic baserunning and below-average defense have the White Sox wondering if they should sign him to a one-year deal with an option, or make a move toward free-agent Chone Figgins, who will be looking for a minimum of a four-year, $40 million deal.
Figgins will be a popular free agent who may get bids from upwards of 10 teams, including his current team, the Los Angeles Angels. The Cubs also would like to add Figgins if they can move some of their current contracts.
Extra men like Mark Kotsay and Jayson Nix will most likely be back, although Kotsay is a free agent. At the end of the season, the Sox made it known to Kotsay that they
would like him to return.
A left-handed power bat still is needed to help the team be more productive in runs scored and RBIs. Believe it or not, another look at free agent Jim Thome is not out of the question.
The White Sox have six arbitration-eligible players: Jenks, Danks, Carrasco, Quentin, Pena and Dewayne Wise.
Possible free agent are Jermaine Dye, Podsednik, Dotel, Kotsay and Ramon Castro.