On Monday night, two events occurred at almost the same time for the Chicago White Sox, one certainly more positive than the other.
[+] Enlarge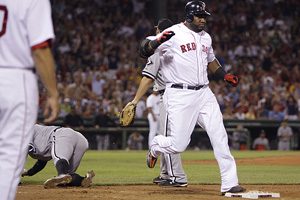 AP Photo/Charles Krupa
This error by Jose Contreras (obscured) kicked off a six-run inning for the Red Sox.
The good news occurred in Lawrenceville, Ga., where Jake Peavy made his third rehab start for the Triple-A Charlotte Knights. Peavy threw five innings against the Gwinnett Braves, allowing just four hits and striking out three without giving up a run. Even more important is that the White Sox right-hander got his pitch count up to 80.
One more solid outing in the 90-100 pitch range could mean Peavy will be ready to return to the White Sox for the Sept. 4 game against the Boston Red Sox at U.S. Cellular Field. Peavy was pleased with his outing.
"I'm close to being where I want to be," Peavy told reporters in Lawrenceville after the game. "I felt stronger out there tonight. I'm almost where I need to be."
The bad news occurred in Boston, where Jose Contreras imploded at Fenway Park. Walks, hit batters wild pitches, and one of the worst fielding plays you'll ever see put Contreras and his teammates on the wrong side of a 7-4 score in the third inning. Contreras exited after Mike Lowell's three-run homer completed the six-run Red Sox rally.
Although Peavy won't be ready for the White Sox in his next start, the team most assuredly will need a new pitcher in five days after Contreras' dreadful outing. Manager Ozzie Guillen and pitching coach Don Cooper might have to juggle the rotation a little bit to skip Contreras, who probably has lost his rotation spot for now.
One wild card general manager Ken Williams might have up his sleeve is 22-year-old right-hander Dan Hudson. The youngster has had a meteoric ascension to Triple-A, starting the season in Class A as an unknown. The White Sox could elect to bring the raw rookie to the majors if right-hander Freddy Garcia doesn't get the job done Tuesday night in Boston.
Peavy will be joining the big league club Tuesday to look over any issues that might linger from his taking a line drive off the arm in his start.
"I'll be with the team in Boston, and I'll get together with Coop, Ozzie and [trainer] Herm [Schneider]," Peavy said. "I got hit on the elbow during my start. I don't think it's too bad, but it's a little sore."