Young hurlers may start careers in bullpen
March, 2, 2012
3/02/12
5:31
PM CT
By Chris Silva
ESPNChicago.com
Archive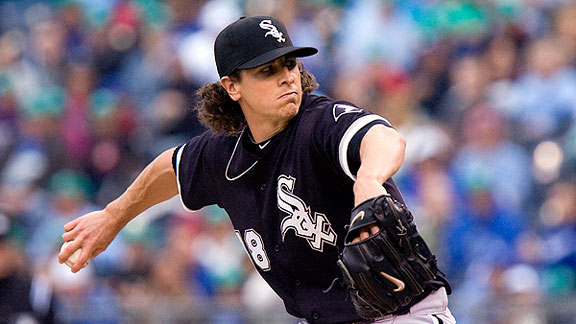 AP Photo/Chris OchsnerZach Stewart said his change-up has been solid and he's looking forward to his first start.
GLENDALE, Ariz. --
Mark Buehrle
,
Jon Garland
and most recently
Chris Sale
all began their pitching careers out of the bullpen before transitioning to the starting rotation.
How the career paths end up for the current crop of White Sox young arms remains to be seen. A lot can happen between now and the end of the season with its current starting rotation, from whether
Jake Peavy
can remain healthy to if the White Sox pick up the club option on
Gavin Floyd
.
But in dealing with the immediate future for pitchers like
Dylan Axelrod
,
Hector Santiago
,
Zach Stewart
,
Charlie Leesman
and
Nestor Molina
, all signs point to them punching their ticket to the big league first as relievers. And with three open spots in the White Sox bullpen, that's just fine with them.
"I know a lot of the time your first stint in the big leagues might happen to be something you haven't done before," Leesman said. "More likely than not it's a starter being a reliever. So what I did, I just tried to prepare myself as much as possible for that."
Looking back, Buehrle started just three of the 28 games he appeared in during his rookie season in 2000. Garland was a reliever in 19 of his 35 appearances in 2001, his second season with the White Sox. After 79 appearances from the bullpen in his first two seasons, Sale will take the mound as a starter for the first time since college.
After spending the last four seasons in the minor leagues as a starter, which included a 10-7 record and 4.03 ERA last season at Double-A Birmingham, the lefty Leesman played in Puerto Rico during the winter to get acclimated to a reliever role. Leesman, who according to Baseball America has the best change up in the organization, said it took him two appearances to settle into a bullpen role. Slotted to appear in Monday's game against the
Los Angeles Dodgers
, Leesman is ready to make a lasting impression.
"The earlier you can show it," he said, "the better."
Molina, acquired from Toronto for
Sergio Santos
, is projected to start the season in the minors while Axelrod, Santiago and Stewart are banking on what little major league experience they have, plus what they can show in the coming weeks, to make a strong enough case to break camp with the team. Axelrod started three of his four games last season while Santiago threw 5 1/2 innings of relief and Stewart started eight of his 10 games with the White Sox.
Santiago joined Leesman in Puerto Rico where he worked on his screwball, a pitch he figures can help distinguish himself in the competition for bullpen spots.
"When I first started throwing it, I just tried to throw it middle to fade away," Santiago said. "Now I try to throw it into right handers, into lefties, away to lefties, early in the count, behind in the count, just all situations."
Stewart, meanwhile, said his change-up has been better than ever this spring and is looking forward to his first appearance, presumably Wednesday against Milwaukee. As for whether he wants to one day end up a starter, Stewart gave the politically correct answer.
"I've been asked that question a lot of time and it sounds like I'm beating around the bush, but I feel like there's positives and negatives for both sides," he said. "I feel like for me I like being a starter because in a sense on that day it's your day, you control the game. But as a reliever it's a nice competitive edge to know you can get in there every day, have a part in that game and go at people. You don't have time to nibble around."