Sox name Reed team closer
May, 23, 2012
5/23/12
6:06
PM CT

By Scott Powers
ESPNChicago.com
Archive
CHICAGO -- Chicago White Sox manager Robin Ventura named Addison Reed the team's closer on Wednesday.
Read the entire story.
Reporter
Scott Powers is a general reporter for ESPNChicago.com. He is an award-winning journalist and has been reporting on preps, colleges and pros for publications throughout the Midwest since 1997.
ABOUT THIS BLOG

Doug Padilla
Doug covers the Chicago White Sox for ESPNChicago.com and ESPN Radio 1000.
50 GREATEST WHITE SOX OF ALL TIME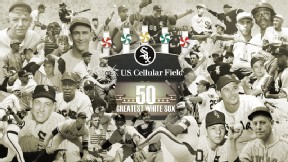 An ESPN Chicago panel of experts compiled its list of the 50 Greatest White Sox of all-time. Take a look at our list and put together a list of your own. Gallery

Rank 'em »


jorgearaujo29 JORGE LUIS ARAUJO
@AvisailGarcia oye man buen trabajo hicistes con los tigres haras mucha falta y sabemos que si fuera por ti jugaras hasta el final
about 12 hours ago

ImDannyWilliams Danny Williams
Just got schooled in the evolution of sports cars… I think I've found my new hobby, can't wait to ride! http://t.co/mgwrdA4p4B #LexusRCF
about 14 hours ago

JKeppinger Jeff Keppinger
There's ups, there's downs, highs n lows. Keep pushin forward!
1 day ago

ESPNChiSox Doug Padilla
White Sox's chemistry test begins in earnest http://t.co/RoFGB0zMZZ
2 days ago

ESPNChiSox Doug Padilla
Sox to take a look at Penny in camp http://t.co/7QJJea8x4T
2 days ago

ESPNChiSox Doug Padilla
"Latinos or no Lations, we're all just a family," Melky Cabrera, on learning a new clubhouse.
2 days ago

ESPNChiSox Doug Padilla
Shark now mentioning Tavern on Rush and Gibsons. Yes, he's still talking and yes he will be quoted plenty next season.
2 days ago

ESPNChiSox Doug Padilla
Now Samardzija ribs Pierzynski for the dropped third strike thing. Twitter isn't made for those 2 names.
2 days ago

ESPNChiSox Doug Padilla
Asked to compare Cubs and Sox fans, Samardzija hesitates and smirks, then says they're both hungry for a winner.
2 days ago

ESPNChiSox Doug Padilla
Melky promises that once spring training is done, all the new faces will have adapted to the existing squad.
2 days ago

ESPNChiSox Doug Padilla
Samardzija tweaks on @PWSullivan during the press conference. Now it's getting good.
2 days ago

ESPNChiSox Doug Padilla
After rooting for the team as a boy, Samardzija gets his White Sox unform.
2 days ago

ESPNChiSox Doug Padilla
"Jerry smelled it and wanted to get it done," Hahn, on Reinsdorf deciding to go for Cabrera.
2 days ago

ESPNChiSox Doug Padilla
Hahn says the White Sox reached out to Melky immmediately after the World Series ended, when free agency began.
2 days ago

ESPNChiSox Doug Padilla
Come get your uniforms fellas. http://t.co/TUqA6k00rM
2 days ago

ESPNChiSox Doug Padilla
Cabrera arrives with past missteps in tow http://t.co/0KlbrtmL3O
2 days ago

ESPNChiSox Doug Padilla
MT @ChrisCotillo: Brad Penny, minor league deal from #WhiteSox, per source. Has chance to compete for rotation spot in spring training.
2 days ago

ESPNChiSox Doug Padilla
Fans' embrace let White Sox add Cabrera http://t.co/XVpUdDUrZQ
2 days ago

ESPNChiSox Doug Padilla
Goes without saying that the White Sox are headed above what they expected to spend on 2015 payroll.
2 days ago

ESPNChiSox Doug Padilla
Rick Hahn says that because ticket sales were up after winter meetings moves, Reinsdorf gave approval for Cabrera contract.
2 days ago
BLOG ARCHIVE:
CATEGORIES:
2014 AMERICAN LEAGUE CENTRAL STANDINGS