Chicago White Sox:

Albert Pujols
November, 6, 2014
11/06/14
6:23
PM CT
CHICAGO -- Wherever
Jose Abreu
decides to buy a home, he would be smart to make sure it includes a rather large trophy room.
Abreu and
Chicago White Sox
teammate
Alexei Ramirez
both earned American League Silver Slugger Awards on Thursday, with the honor the latest on Abreu's ever-growing postseason list.
The first baseman's Silver Slugger Award can go alongside his Sporting News Rookie of the Year Award and his Players Choice Outstanding Rookie honor. He also is the favorite to land the Baseball Writers Association of America Jackie Robinson Rookie of the Year Award, to be announced Monday.
The Silver Slugger is given to the top hitter in each league at every position after voting by major league managers and coaches.
In hitting 36 home runs with 107 RBIs and a major league-leading .581 slugging percentage, Abreu bettered the likes of
Miguel Cabrera
,
Albert Pujols
,
Joe Mauer
,
Eric Hosmer
and
Edwin Encarnacion
for the first-base award.
The 27-year-old had 10 years of experience in his native Cuba and definitely did not play like a rookie this past season. His home run total set a White Sox rookie record, and he became the first rookie in major league history to finish in the top five in all three Triple Crown categories.
He is the first rookie to win a Silver Slugger Award since
Mike Trout
in 2012.
Ramirez's rebound season earned him his second career Silver Slugger Award; the shortstop also won the honor in 2010. The only other White Sox players to win multiple Silver Slugger Awards are Frank Thomas (four), Carlton Fisk (three) and Magglio Ordonez (two).
The 33-year-old Ramirez led all regular American League shortstops with 15 home runs, 74 RBIs and a .408 slugging percentage. His .713 OPS was second to the
Toronto Blue Jays
'
Jose Reyes
. He also posted career bests in total bases (254) and extra-base hits (52).
Ramirez, whose hot start this season led to his first All-Star Game appearance, is the only White Sox shortstop ever to win the Silver Slugger Award.
It is the fourth time a pair of White Sox teammates won Silver Slugger Awards in the same season. Joe Crede and Jermaine Dye did it in 2006, Ordonez and Thomas accomplished the feat in 2000, and Julio Franco and Thomas did it in 1994.
October, 20, 2014
10/20/14
3:42
PM CT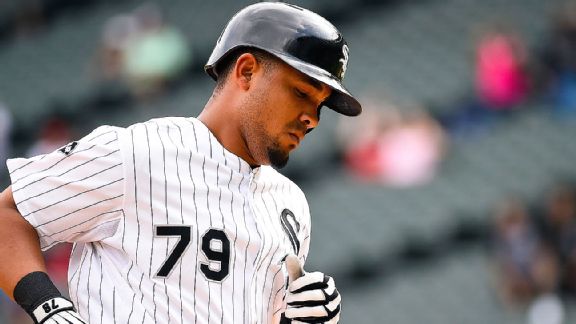 Mike DiNovo/USA TODAY SportsJose Abreu remains humble about his accomplishments as a rookie.
CHICAGO -- In a prelude to what is expected to be the result of the official American League Rookie of the Year award, the
Chicago White Sox
's
Jose Abreu
was honored Monday for his outstanding debut season.
The 27-year-old Abreu was named the Sporting News Rookie of the Year, a honor not related to the Jackie Robinson Rookie of the Year Award that is voted on by members of the Baseball Writers Association of America.
Abreu earned 149 of a possible 160 votes to win the honor in balloting conducted among major league players. The
Los Angeles Angels
'
Matt Shoemaker
earned four votes, while
New York Yankees
teammates
Dellin Betances
and
Masahiro Tanaka
each earned three votes. The final vote went to Abreu's White Sox teammate
Marcus Semien
.
"For me, it means a lot that the players who play against me recognize my efforts and my numbers," Abreu said through an interpreter Monday via conference call. "I am thankful for all of them to give me support. I don't have words to describe what I'm feeling right now."
Abreu finished the season with a major league-leading .581 slugging percentage, while also posting a .383 on-base percentage in 145 games. He was second in the American League with a .964 OPS and second in total bases with 323.
Abreu's 36 home runs not only were a White Sox rookie record, they were also third most in the AL. He was also fourth in RBIs with 107 and fourth in extra-base hits with 73.
"When spring training started, I just [wanted] to be 100 percent for the season and be able to help the team win games," Abreu said. "When the season was finished and I had the opportunity to check my numbers, I feel very comfortable. Now, I prepare for whatever is in the future. The next award for me is OK. I'm very humble for all the accomplishments I had this year."
Abreu was uncomfortable talking about personal accomplishments all season long, constantly saying he was more in tune with the team aspect of the game.
"All the numbers all the stuff during the season was for me, my family, the White Sox," he said. "I don't have words to describe how I feel about this year. I am humble for all that stuff."
Abreu's power did wane during the final two months of the season as he participated in a 162-game season for the first time in his career. In his native Cuba, Abreu never had more than 312 at-bats in a season for his Cienfuegos club. He had 556 at-bats for the White Sox this past season.
His performance suggests even better numbers moving forward if he can pace himself for the long schedule.
"I really am not a person that follows the numbers from the past; I don't like to talk about it," Abreu said. "I will prepare every year to get the numbers I got this year and make them better."
Abreu became the first rookie in major league history to rank among the top five in his league in each Triple Crown category. He also joined Hal Trosky (1934), Ted Williams (1939) and
Albert Pujols
(2001) to hit at least 30 doubles, 30 home runs and collect 100 RBIs in a rookie season.
The last White Sox player to win the Sporting News rookie honor was
Gordon Beckham
in 2009. Abreu is also the 11th White Sox player to be honored with the rookie award from the publication.
The official American League and National League Rookie of the Year awards will be announced Nov. 10.
July, 2, 2014
7/02/14
7:19
PM CT
CHICAGO -- Comparing
Jose Abreu
to
Albert Pujols
is a slippery slope, since the latter has delivered results for more than a decade while the former is just three months into a promising career.
There is little denying, however, that Abreu enjoys similarities to Pujols, and the comparisons have grown with Abreu's
White Sox
and Pujols'
Angels
facing off this week in Chicago.
[+] Enlarge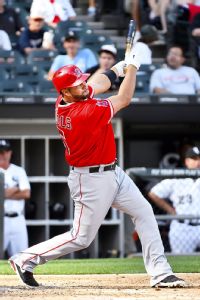 Mike DiNovo/USA TODAY Sports"Why change something that's working?" Albert Pujols said about Jose Abreu's efforts on the field. "I'm pretty sure he's a hard worker and dedicated and doesn't take anything for granted."
Pujols seemed to know what the White Sox had in Abreu way back in spring training, which is why he felt obliged to offer baseball's newest power phenom a little advice.
"He has the ability and the talent to do it," Pujols said. "This game is about making adjustments. It's the same game you play in your backyard. It's the same game you play in Little League. It's the same game you play in the minor leagues, Triple-A, and then you get into the big leagues.
"It's about being smart and making adjustments. That's one of the things I told him back in spring training: That it's no different than the game he played back in Cuba."
Abreu speaks of Pujols in reverent tones and has already expressed gratitude for the advice he received in Arizona.
Abreu has taken it from there, delivering one of the best starts to a career in major league history. His 26 home runs were the most in major league history form a player in his first 71 games, and his 67 RBIs were tied for sixth most with Wally Berger (1930) and Joe DiMaggio (1936).
But with Abreu, success never seems to be about him. He consistently mentions his faith and puts team results above all else. Yet there seems to be somebody else who inspires him to be the best baseball player and person he can be.
"Every time I hit a home run, I enjoy it, and more so because there's one person that really enjoys when I hit them, and that's my mother," Abreu said. "Every time I hit one, I know that she's happy."
Pujols has also provided inspiration. Comparing the two hitters might not be fair at this point, but it's so hard to avoid it.
"It's unfair, but it's fun," White Sox manager Robin Ventura said. "I think that's what baseball's all about: comparing people. I think that happens all the time. Is it fair to put him in there? Probably not. That's a lot of expectations to put on him. But it's fun.
"You look at guys, you see the kind of year Jose's having, and people naturally would compare those two together. But the numbers Albert's put up have been crazy in itself. You'd like Jose to look to follow along that path if it's possible."
Pujols is definitely impressed with what he's seeing, especially after Abreu hit a home run on a line to right field in the first game of Tuesday's doubleheader.
"He obviously has [a] real nice, short, compact swing," Pujols said. "He's obviously strong enough that he can use the entire field. He doesn't have to be a pull-happy guy.
"Look at that ball he hit yesterday. I mean, there aren't too many guys who can hit a ball out of the ballpark like that down the right-field line."
Pujols seems to think Abreu can be as good as he wants to be.
"It's up to him," Pujols said. "It's going to be about the more he's around the league, the more adjustment he's going to have to make. The pitchers are going to adjust to that; but as a hitter, it's our job to adjust, too.
"Myself, 14 years in the league and I still try to make adjustments every at-bat. You prepare yourself for a pitcher tonight, and sometimes, the approach is not the same you thought it would be, so you switch up during the game."
During the second game of Tuesday's doubleheader, Pujols reached first base and appeared to talk to Abreu the entire time, even though he had to turn his head to do it since Abreu wasn't holding him on at the bag.
"He's a real nice kid; I like him," Pujols said. "You don't get much time on the base to talk. In Anaheim, I had a chance to talk to him for about 10 minutes. Just talking to him, catching up and seeing how he's adjusting to everything.
"It's tough, you know, not having his whole family here and coming to the States to play the game. It can be tough, but hopefully, he can continue to do it and stay healthy."
The hardest part seems to be everything off the field. On the field, it should be easy for Abreu, according to Pujols.
"He doesn't have to change anything," Pujols said. "Why change something that's working? He's really humble. I'm pretty sure he's a hard worker and dedicated and doesn't take anything for granted."
April, 26, 2014
4/26/14
1:51
AM CT
CHICAGO -- On the night he set the rookie record for home runs in the opening month of the season, and gave the
Chicago White Sox
a dramatic 9-6 victory on a game-ending grand slam,
Jose Abreu
was offering his own congratulations.
It's been obvious after 24 games what type of hitter Abreu is, but he just might be a better person.
[+] Enlarge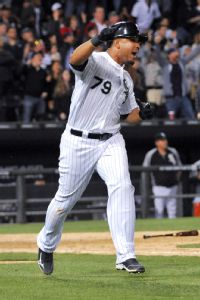 David Banks/Getty ImagesAbreu's first-month returns in the power department surpassed another slugging first baseman in Friday's multihomer game.
After mentioning that
Albert Pujols
had given him some advice this spring, Abreu took a minute to send out some well wishes all the way across the country to the
Los Angeles Angels
slugger.
"We had some great conversations," said Abreu, who also had a home run in the third inning for his third multihomer game of the young season. "We are both believers in God, and I want to take the opportunity to send Pujols congratulations for reaching 500 home runs. That's a great accomplishment, and he deserves that and a lot more."
Pujols hit his 500th career home run earlier in the week and Abreu is starting to show he just might have what it takes to get there too one day.
In fact, Abreu's second home run of Friday's game gave him nine in the opening month of the season to set a rookie record. Pujols was one of three players, along with
Carlos Delgado
and Kent Hrbek, who had shared the mark. Abreu simply caught and passed the group in one night.
And when Abreu's grand slam cleared the right-field fence off
Tampa Bay Rays
reliever
Grant Balfour
, it also allowed him to tie the rookie record for RBIs in March/April with 27. He now shares that mark with Pujols, and there are still five games remaining before the calendar flips to May.
While it might have been a bit blasphemous this spring to compare Abreu to somebody like Pujols, the similarities are becoming clearer by the week, the game and the inning.
"You can't script this, but you're talking about [a] guy [Abreu] who is very professional about what he does," manager Robin Ventura said. "He's not a normal rookie that doesn't know anything. He definitely knows what he's trying to do. I'm glad he's on our team."
April, 17, 2014
4/17/14
12:22
PM CT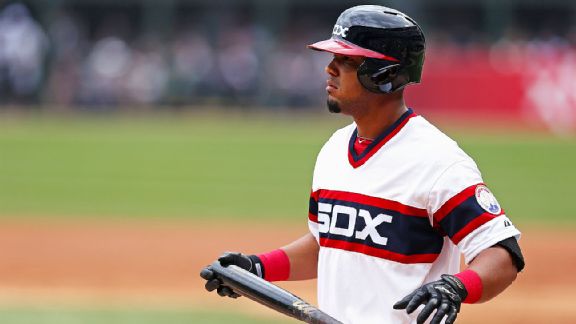 Jonathan Daniel/Getty Images
Jose Abreu is 1-for-21 since his home run against the Indians a week ago.
CHICAGO -- Lost in the madness of the
Chicago White Sox
's 14-inning affair against the
Boston Red Sox
on Wednesday night is the fact that
Jose Abreu
is scuffling at the plate.
It was not unexpected that he would have struggles as he transitions to a new league, it's just that his hot start and disciplined approach at the plate seemed to get everybody used to the idea that he would be able to handle himself just fine in the majors.
Wednesday's 0-for-6 performance, though, means that Abreu is 1-for-21 since hitting a home run in the fifth inning of Thursday's game against the
Cleveland Indians
. That homer was Abreu's second of the game.
Looking back, there were warning signs that he wasn't quite right at the plate. The night after his two-homer game he struck out twice against the Indians and three more times the following night.

May, 16, 2012
5/16/12
11:33
PM CT

By Scott Powers
ESPNChicago.com
Archive
Here's a quick look at the Los Angeles Angels' 7-2 win over the
Chicago White Sox
at Angel Stadium of Anaheim on Wednesday.


How it happened:
White Sox starter
Gavin Floyd
suffered his worst start in nearly a month. He gave up 10 hits and seven runs in six innings. He had allowed a total of four runs over his previous four outings.
Albert Pujols
may just be breaking out his slump for the Angels. A game after going 3-for-4 with two RBIs, Pujols homered and drove in three runs against the White Sox. He gave the Angels a 4-2 lead with a three-run shot in the third inning for his second homer of the season. White Sox second baseman
Gordon Beckham
snapped an 0-for-15 slump with an RBI double in the third inning.
Dayan Viciedo
had three hits, including a home run, for the White Sox.
Jerome Williams
picked up the win for the Angels.
What it means:
The White Sox's pitching has been suspect for much of the last week, and it's been a mixture of starters and relievers who have struggled. In the last five games, the White Sox have allowed 59 hits and 36 runs.
Outside the box:
Wednesday's loss guaranteed the White Sox at most a split in the two-game series with the Angels. It'll be the eighth consecutive series the White Sox have either split or lost. The last series they won came in a three-game sweep of the
Seattle Mariners
from April 20-22.
Up next:
The White Sox will face the Angels in the finale of the two-game series at 2:35 p.m. CT Thursday.
Chris Sale
(3-2, 3.08) will start for the White Sox, and the Angels will counter with
C.J. Wilson
(4-3, 3.42).
March, 14, 2012
3/14/12
10:02
PM CT

By Bruce Levine
ESPNChicago.com
Archive
If you're a young pitcher, like Chicago White Sox starter Chris Sale, you might as well shake the butterflies out by facing baseball's best hitter.


[+] Enlarge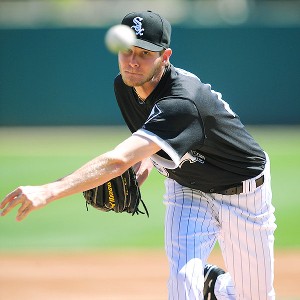 Mark J. Rebilas/US PresswireChris Sale was tested by facing baseball's best hitter on Wednesday.
Call the experience a learning curve for Sale who hit Albert Pujols in his first at bat then gave up a 480-foot homer the second time around.
"A hitter like him, he's arguably the best hitter in the game, so when you see [the catcher call for a] fastball in, you got to get it in," Sale said. "He proved a couple innings later that if you are going in, you better get it in."

Sale, attempting to make the transition from the bullpen to the rotation, has allowed eight earned runs in just 7 1/3 innings over his first two spring starts.
When told of his stat line, he responded, "what ? I've given up eight runs in eight innings that is un- acceptable on every level. I'm disappointed in what happened, but there were a lot of positives"
What, exactly, were those positives?
The Sox's left-hander went the deepest into a game of any starter this spring and was able to command his breaking pitches for the most part.
"You hopefully learn something," manager Robin Ventura said. "[Pujols is one of the best hitters to ever play in the game so it is good to see what he has got against him."
Ventura remains confident that Sale will get it together this spring.
"He still has great stuff and he is going to be in there," Ventura said.
•Ventua said reliever Jesse Crain strained a right oblique muscle in the bullpen and was scratched from appearing in today's game. Crain will be re-evaluated on Thursday.
December, 8, 2011
12/08/11
9:22
AM CT
By ESPNLosAngeles.com
ESPNChicago.com

February, 22, 2011
2/22/11
1:26
PM CT
Safe to say the Chicago White Sox won't be pursuing Albert Pujols next offseason after comments made by general manager Ken Williams on Monday.
Read the entire story.