Chicago White Sox:

Alex Rodriguez
August, 8, 2013
8/08/13
1:53
PM CT

By Doug Padilla
ESPNChicago.com
Archive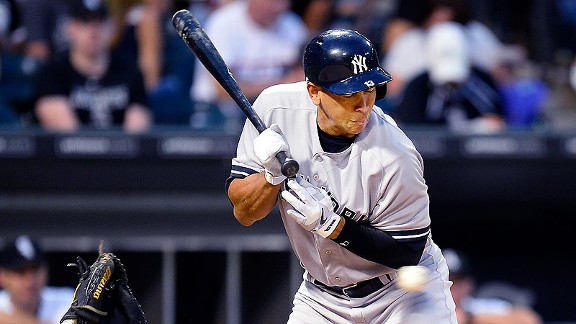 Mike DiNovo/USA TODAY SportsSome fans cheered Tuesday when Alex Rodriguez was hit by a Chris Sale pitch at the Cell.
CHICAGO --
Chicago White Sox
captain
Paul Konerko
took up the cause for South Side fans, not long after
New York Yankees
manager Joe Girardi was critical of their behavior this week.
Girardi thought it was poor form in Tuesday's White Sox-Yankees game at U.S. Cellular field when some fans cheered after
Alex Rodriguez
was grazed on the left elbow by a 93 mph
Chris Sale
fastball.
In Konerko's view, the performance-enhancing drug controversy surrounding Rodriguez opens a whole new realm not only for White Sox fans, but for all baseball fans.
"Listen, all fans in baseball are passionate and when it comes to the PED stuff and all that, they feel that's a chance for them to voice their opinion," Konerko said, when asked if fans were within their right Tuesday. "The only way to do that when you're at a game is to do that kind of stuff. It just kind of comes with the territory. As a player, when you play the game, you don't like getting hit. It doesn't feel good. It hurts. So that just adds to it when somebody cheers that you got hit."
August, 7, 2013
8/07/13
11:31
AM CT

By Doug Padilla
ESPNChicago.com
Archive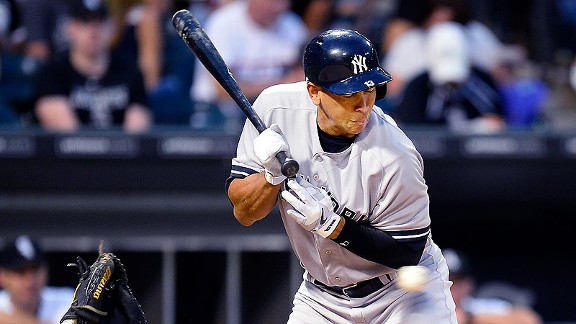 Mike DiNovo/USA TODAY SportsSome fans cheered Tuesday when Alex Rodriguez was hit by a Chris Sale pitch at the Cell.
CHICAGO – In addition to feeling that
Chicago White Sox
fans were insensitive Tuesday night,
New York Yankees
manager Joe Girardi also believed they were poor role models.

Girardi, a Peoria, Ill., native and Northwestern graduate, was asked about the cheer that went up at U.S. Cellular Field in the third inning of Tuesday's game when
Alex Rodriguez
was hit by a
Chris Sale
pitch.
"There's something wrong with that," said Girardi, a former
Chicago Cubs
catcher. "I often think that it starts from the adults. And if it was their child, would they want them to be hit? Because the kids will only repeat what the adults do."
Sale's 93 MPH fastball appeared to graze off Rodriguez's left elbow as he tried to squeeze himself out of the way.
Fans have been especially hard on Rodriguez since he made his season debut Monday after spending the entire year on the disabled list. On Monday, Major League Baseball announced that Rodriguez was suspended 211 games for his relationship with the now-defunct Biogenesis clinic and impeding MLB's investigation, but he has been allowed to play as he appeals that suspension.
August, 6, 2013
8/06/13
12:09
AM CT

By Jon Greenberg
ESPNChicago.com
Archive
CHICAGO -- As circuses go, this wasn't exactly the Big Top.
Sure, there was a bear on a unicycle, but his question to Joe Girardi was trifling at best. And I never saw that "pink elephant in the room" that
Alex Rodriguez
keeps mentioning.
We were promised a freak show for "A-Rod Monday" and all I got were a bunch of reporters standing around a clubhouse. Close enough, I guess.

For all the build-up, all the threats of lifetime bans, this is what happened Monday: An unpopular Yankee with a dumb nickname played baseball.

After the official Biogenesis suspensions from Major League Baseball came down Monday afternoon, Rodriguez took some questions, he got booed, he got a hit. I presume he went home and slept in a hotel bed, but this is A-Rod. He might hang from a ceiling in zero gravity under a centaur painting. Who knows?

In the end, a fifth-place team (White Sox) beat a fourth-place team (Yankees), 8-1.

Read the entire story.

August, 5, 2013
8/05/13
9:21
PM CT

By Jon Greenberg
ESPNChicago.com
Archive
CHICAGO -- The
Chicago White Sox
sold more than 3,200 tickets Monday. Not bad for a team that lost 10 straight coming in, and has spent most of the season in last place.
Of course, the return of
Alex Rodriguez
helped.
The pro-booing A-Rod crowd was announced at 27,948. The White Sox came into the game averaging 23,121 tickets sold per game, which is the seventh-worst average in baseball.
A White Sox official said the team usually sells a "couple hundred" tickets on game days.
August, 5, 2013
8/05/13
7:33
PM CT

By Bruce Levine
ESPNChicago.com
Archive
CHICAGO --
Chicago White Sox
slugger
Adam Dunn
called news of the suspension of 13 players, including
Alex Rodriguez
, "sad," and said the
New York Yankees
star didn't need to use performance-enhancing drugs.
"It is sad, sad that him and
Ryan Braun
, who would be really, really great players without it," Dunn said Monday. "[PEDs] is the sad part for me. They didn't need all of [the PEDs]."
June, 15, 2011
6/15/11
5:22
PM CT
As Chicago White Sox catcher A.J. Pierzynski watched the LeBron James drama unfold after the NBA Finals, he couldn't but help think of a baseball equivalent.
Read the entire story.
August, 1, 2009
8/01/09
8:07
PM CT

By Bruce Levine
ESPNChicago.com
Archive
Listen to highlights of Bruce's interview with A-Rod
Alex Rodriguez and I have been friendly since he came to the Major Leagues in 1994. The one thing that he always strived for was perfection when it came to the game itself and his image. All of that came crashing down when he admitted using steroids in an exclusive interview with ESPN's Peter Gammons last winter.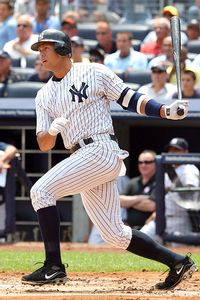 Jim McIsaac/Getty Images
It took Alex Rodriguez some time to realize he couldn't be all things to all people.
I asked Rodriguez about trying to be too perfect, too mechanical in the past.
"First of all, I agree with your assessment 100 percent," Rodriguez said. "I came up to the big leagues at 18, and actually went straight from my prom to the Major Leagues. I was a kid wet behind the ears and I made a lot of mistakes.
"I wanted a lot of people to like me, however, after a while you find out you're not going to please everyone and that ultimately, you're just a baseball player. My philosophy now is that at the end of the day, if you have a handful of friends and family that like and love you, that's enough."
Rodriguez is now 34 years old, hardly a kid anymore and much more comfortable in his own skin. He can flow between hanging with a 60-year-old reporter and flying around the world with his present girlfriend, actress Kate Hudson. I asked him about the jet-setting.
"I really don't know the world of Hollywood very much," he said. "The one world I know is the world of baseball. I play it, I study the history of the game. It's more than a passion for me. It's a huge part of who I am."
I asked what he thought when he heard the revelations about Manny Ramirez and David Ortiz testing positive for banned substances. I prefaced the question by asking what should be done with the list of 106 players who tested positive in 2003.
"I'm glad I'm not making those decisions," Rodriguez said. "Manny and David are great friends of mine. I support them and I wish them well. I do feel the game is moving in the right direction. Right now, there are 10 teams that could end up going to the World Series and winning it. Back in '94, when I started, it was one of three or four teams that could win. I think the game is in great shape."
I then asked him how his life has changed since he admitted his steroid use.
"The fact is, I was humbled by the whole situation," he said. "Afterwards, it felt like there was a gorilla lifted off of my back. I felt liberated. Now I can go out and just play baseball."
A-Rod loves Chicago and White Sox owner Jerry Reinsdorf, as well: "To me, he's the greatest guy. He loves baseball and the people in it. It seems all he cares about is that the White Sox win. Look at the move he made to let his general manager go for Jake Peavy. Chicago fans should love the guy. He's all about winning."
Rodriguez loves to hear about Michael Jordan. I spent hours just talking to him and regaling him with stories about MJ and his career. Actually, A-Rod tried at one time to pattern his professional career through Jordan's example. Rodriguez even hired Tim Grover, Jordan's trainer, after one of our conversations about Grover 10 years go.
In closing, A-Rod talked to me about White Sox third base phenom Gordon Beckham: "He looks like a wonderful player. Wow, what a natural stroke, nice and compact, just like a young Paul Molitor. I think he's going to be outstanding."