Chicago White Sox:

All-Star game
July, 11, 2013
7/11/13
5:02
PM CT
By Chuck Pleiness
Special to ESPNChicago.com
Archive
DETROIT –
Detroit Tigers
manager Jim Leyland suggested he'd like
Chicago White Sox
's skipper Robin Ventura to coach third base at the All-Star Game.
Ventura is hesitant.
"I don't know if that's a good idea," Ventura laughed. "We'll see when we get there."
Ventura doesn't want to have a "Tommy Lasorda moment."
July, 10, 2012
7/10/12
4:18
PM CT

By Bruce Levine
ESPNChicago.com
Archive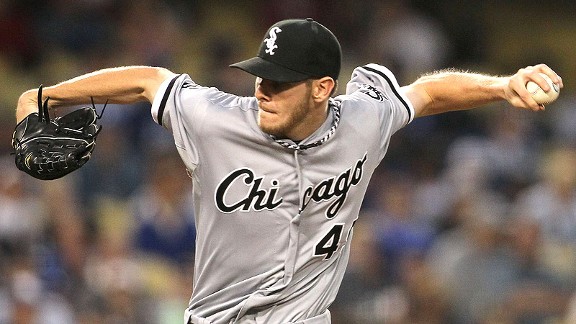 Victor Decolongon/Getty ImagesChris Sale's ability to change speeds on his fastball has kept hitters off-balance.
KANSAS CITY, Mo. -- American League All-Stars tipped their hats in the direction of
Chicago White Sox
starter
Chris Sale
and his impressive mix of fastballs.
The 23-year-old first time All-Star will pitch one inning in Tuesdays All-Star Game, and some of his teammates are looking forward to playing behind him rather than trying to hit his variety of fastballs.
"First of all Sale is all arms and legs coming at you," said Home Run Derby winner
Prince Fielder
. "You add in the fact he throws 97 miles per hour and he can change speeds on that. Then he has three great pitches. All that makes him great."
July, 6, 2012
7/06/12
10:07
PM CT

By Bruce Levine
ESPNChicago.com
Archive
CHICAGO -- The reason for Chris Sale's first-half success can be related to a factor that goes beyond his electric stuff on the mound.
After experiencing elbow tenderness and briefly moving to the bullpen as a result in early May, Sale had to increase his work load when it came to his shoulder and conditioning programs in order to get the OK to return as a starter.
"We had to make a few tweaks here and there in order to find out how I could progress," Sale said. "The shoulder program was stepped up a bit to help keep the entire arm strong. The first month or so, we were still trying to figure out what kind of a running program and how much to throw in between starts."
The caution shown by White Sox management was based on a sore elbow that flared up in late April.
"I am using a lot of long-distance running as a part of my preparation for each start," said Sale, who will appear in his first All-Star Game next week. "I do two long-distance runs -- one Day 1 and one Day 3 between starts. In between, I do sprint runs on Day 2 and 4 and some short shuttles."
All of that is just part of what the medical support staff led by Allen Thomas and trainers Herm Schneider and Brian Ball do with Sale to keep him strong and flexible.
"We use weights and all kinds of bands and throwing the ball against the trampoline. Lots of stuff like that and all of those conditioning aspects were picked up when we decided I was going to stay in the rotation," Sale said. "We do that on Day 1 and Day 3 (between starts), we do a half conditioning, just another shoulder workout before I get out there."
Sale has stayed focused on his work load, even though he will only pitch once -- at the All-Star Game -- in 12 or 13 days between starts.
"Hey you don't want to start thinking about (the All-Star Game) too soon, that would be disrespectful to my teammates and would be cheating myself," he said. "I just want to try and be a good teammate through all of this and not get too far ahead of myself."
GM Kenny Williams has said that despite all of the work Sale has put in, he will have another rest period like this two-week hiatus at least one more time this season.
July, 2, 2012
7/02/12
11:09
AM CT
By ESPNChicago.com
ESPNChicago.com

July, 5, 2011
7/05/11
11:21
AM CT
By ESPNChicago.com
ESPNChicago.com

Chicago White Sox first baseman Paul Konerko is hoping he wins the fan vote to make the American League All-Star team, but not for selfish purposes.
Read the entire story.
May, 1, 2010
5/01/10
12:23
PM CT
By Associated Press
ESPNChicago.com
Archive
NEW YORK -- Given a chance to take part in the 2011 All-Star game at Arizona, Ozzie Guillen insists he won't go.


"I wouldn't do it," the Chicago White Sox manager said Friday. "As a Latin American, it's natural that I have to support our own."


Guillen joined a growing chorus of opposition to Arizona's new law that empowers police to determine a person's immigration status. The state is home to all four major team sports, hosts half the clubs in spring training and holds top events in NASCAR, golf and tennis.


The Major League Baseball players' union issued a statement condemning the law. A congressman whose district includes Yankee Stadium wrote a letter to baseball commissioner Bud Selig urging him to pull the All-Star game from Phoenix. The World Boxing Council took a step to limit fights in Arizona.

Read the entire story.