Chicago White Sox:

Andy Wilkins

September, 13, 2014
Sep 13
5:48
PM CT
CHICAGO -- The
Chicago White Sox
opened a doubleheader Saturday against the
Minnesota Twins
with a 5-1 victory.
How it happened:
Jose Quintana
was all business, striking out a career-best 13 batters, while giving up one run over seven innings. The White Sox got on the board in the third inning on Alexei Ramirez's two-run home run, his 15th homer of the season.
Andy Wilkins
,
Marcus Semien
and
Tyler Flowers
added late RBIs.
Jose Abreu
had two doubles. The White Sox won their third consecutive home game, matching a season high.
What it means:
The White Sox's pitching staff continues to roll this month. Going back to Wednesday's game against the
Oakland Athletics
, White Sox pitchers had delivered 21 consecutive scoreless innings, a run that was snapped in the eighth inning Saturday. White Sox starters have posted a 1.89 ERA over eight games. They have delivered a quality start in every one of those games.
Outside the box:
Not necessarily known as a strikeout machine, Quintana flirted with one team strikeout record. Over the fifth and sixth innings, the left-hander struck out six consecutive batters. That was one off the team record set by Joe Cowley in 1986. After the Twins'
Kennys Vargas
grounded out to start the seventh inning, Quintana struck out the next two batters to give him a run of eight strikeouts over nine batters.
Off beat:
Amazing how even a minimal amount of runs can look like a windfall when the pitching staff is delivering. The White Sox improved to 4-1 on the homestand with the victory in the first game of the doubleheader. The success sort of hides the fact that the offense came off a series victory against the A's in which it batted .198 and was actually outscored 16-10. The five runs Saturday were exactly what the White Sox had scored combined in the final three games against the A's, when they went 2-1.
Up next:
The White Sox will send right-hander
Scott Carroll
(5-10, 4.92 ERA) to the mound Saturday night in the second game of the doubleheader. The Twins will counter with left-hander
Logan Darnell
(0-2, 8.64) in the game from U.S. Cellular Field.

August, 31, 2014
Aug 31
4:18
PM CT
CHICAGO -- The
Chicago White Sox
earned a 6-2 victory Sunday over the
Detroit Tigers
, ending the four-game series in a split.


How it happened:
Adam Eaton
,
Carlos Sanchez
,
Avisail Garcia
and
Tyler Flowers
each had two hits as the White Sox toppled the Tigers, who committed four errors. Tigers starter
Rick Porcello
wasn't horrible, but he did give up 11 hits in 6 2/3 innings while dealing with all the extra outs he had to get. Of the six runs Porcello gave up, only three were earned. White Sox starter
Jose Quintana
gave up two runs on six hits over seven innings.
What it means:
The trade of
Adam Dunn
early Sunday gave
Andy Wilkins
the chance to make his debut at first base. The MVP candidate in the International League, after hitting 30 home runs with 85 RBIs in 127 games at Charlotte, went 0-for-4 with three strikeouts in his debut. On defense, he failed to handle a throw in the dirt from shortstop
Leury Garcia
, resulting in an infield single. Wilkins, who bats left-handed, is expected to take over the Dunn role over the final month of the season.
Outside the box:
Jose Abreu
recorded his 99th RBI, moving him one short of becoming the fourth White Sox rookie to hit the 100-mark in that category. Ron Kittle was the last, collecting 100 RBIs in 1983. With 32 doubles and 33 home runs already this season, Abreu is looking to become just the fourth rookie in major league history with 30 doubles, 30 home runs and 100 RBIs in his rookie season. The others were Hal Trosky (1934), Ted Williams (1939) and
Albert Pujols
(2001).
Off beat:
It was the White Sox who had an unfamiliar defense of Wilkins at first base, Sanchez at second and Leury Garcia at shortstop, but it was the Tigers with all the fielding issues. Three of Detroit's season-high four errors were made in the first two innings, and it should have been four errors in the first two innings after left fielder J.D. Martinez dropped Adam Eaton's first-inning fly ball in left. It was scored a double. The Tigers aren't one of the best fielding teams anyway, sitting 23rd in baseball with 87 errors at the start of the day.
Up next:
The White Sox have an off day Monday and will open a brief two-game series at Minnesota on Tuesday when White Sox right-hander hector Noesi (8-9, 4.75 ERA) faces Twins left-hander
Tommy Milone
(6-4, 4.08), in a 7:10 p.m. CST start from Target Field.
August, 30, 2014
Aug 30
2:32
PM CT
CHICAGO -- The
Chicago White Sox
have not confirmed what players will be called up when rosters expand next week, but at least three have been mentioned in one form or another.
General manager Rick Hahn said earlier this month that the team's typical number of five to eight players called up would be applicable.
It is also possible that the players could arrive in waves since Triple-A Charlotte and Double-A Birmingham both finish their seasons on the first day of September. Neither team is headed to the postseason.
Here are the call-up predictions:
DEFINITE
INF
Marcus Semien
, RHP
Chris Bassitt
, RHP
Scott Carroll
When
Gordon Beckham
was traded to the
Los Angeles Angels
on Aug. 21, general manager Rick Hahn said Semien would get the call in September. When Chris Bassitt got the call to pitch in Saturday's doubleheader, manager Robin Ventura said the righty would come off the roster after the twinbill, but go right back on it when it is expanded. Carroll wasn't originally projected here, but after getting sent down to allow the White Sox to add a reliever in
Eric Surkamp
, Ventura said he would be back and likely stay in the rotation.
PROBABLE
C
Josh Phegley
, 1B/DH
Andy Wilkins
Teams almost always add a catcher when rosters are expanded, but Phegley is deserving here even if that wasn't the case with 23 home runs, 75 RBIs and a .535 slugging percentage at Charlotte. Making this a no-brainer is that he is also on the 40-man roster. Wilkins' addition is a little more complicated since the White Sox need to find a 40-man spot for him. Even with the White Sox's crowded 1B/DH landscape, Wilkins is deserving with 30 home runs, 85 RBIs and a .558 slugging percentage at Charlotte.
LIKELY
LHP Carlos Rodon, OF
Jared Mitchell
Another player who needs a 40-man spot to open, the White Sox have made it clear that they would like to see Rodon in the major leagues, even though he was only drafted this June. The No. 3 overall selection was moved quickly through the system from the Arizona Rookie League to Single-A and now Triple-A. If the White Sox weren't thinking about bringing him up, they could have just let him get in his innings and experience at Single-A until the season ended. Mitchell has largely been an underachiever in the minor leagues, but he has been hitting the ball well of late at Charlotte and he is on the 40-man. It's time to see what he can do at the level, even if it's only for a month.
PROBABLY NOT
3B
Matt Davidson
, RHP
Andre Rienzo
When the season started, it figured that if Davidson wasn't up already then September would be his time. It no longer seems that way as he hit 20 home runs with 55 RBIs at Charlotte, but has struggled to the tune of a .201 batting average and .368 slugging percentage, not to mention 160 strikeouts compared to 94 hits in 467 at-bats. Rienzo has major league experience, but the combined nine earned runs he gave up in his last three innings of relief with the White Sox in August will weigh large in this decision.
August, 20, 2014
Aug 20
7:01
PM CT
CHICAGO -- Scratch
Chicago White Sox
second base prospect
Micah Johnson
from the list of potential September roster additions.
Johnson, one of the top position player prospects in the system, will be shut down for the season with a strained left hamstring. He was batting a combined .294 between Double-A Birmingham and Triple-A Charlotte this season and had been struggling through leg pain of late.
[+] Enlarge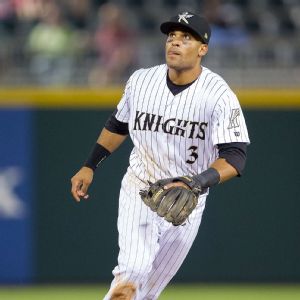 Brian Westerholt/Four Seam Images/AP ImagesMicah Johnson, one of the Sox's top position player prospects, will be shut down for the season with a strained left hamstring.
"The other day during an at-bat, he actually felt something in the front by the knee, which led to him being pulled out of the game and being brought to Chicago for evaluation," White Sox GM Rick Hahn said. "It turned out that even though the pain was from the front of the leg, it was actually related to the same hamstring strain. So we've elected to shut him down. We're going to give the strain four to six weeks to heal, and we expect he should be 100 percent and go into next season without restriction."
So who will the White Sox call up?
The team needs pitching help, especially in the bullpen, but the system is thin on major league-ready arms. First-round draft pick Carlos Rodon remains a strong possibility to see time in a White Sox uniform next month, possibly as a reliever.
Rodon made his Triple-A debut Tuesday night, and the left-hander gave up one run over three innings for Charlotte.
"There has been a lot of speculation about our plans for him in September," Hahn said. "There is nothing set in stone in terms of him coming here or not coming here. The decision is going to be made strictly based upon his development and his long-term fit for us. If we feel that he has the ability to come up here and compete, excel and learn from the experience, then it's something we need to talk about internally and make a decision."
Two likely roster additions will be infielder
Marcus Semien
and catcher
Josh Phegley
, who are both on the 40-man roster. Infielder
Carlos Sanchez
also could be recalled, and Hahn even talked about the possibility that outfielder
Jared Mitchell
comes up. Mitchell's minor league career has been marked with ups and downs, but he is currently hitting the ball well in Charlotte.
Another intriguing roster addition would be first baseman
Andy Wilkins
, who is putting on a power display at Charlotte with 29 home runs, 35 RBIs and 82 RBIs, while slugging .568. The problem with calling up Wilkins is that the White Sox would first need to add him to the 40-man roster.
While the club already has had internal talks about who to add to the roster, Hahn said nothing has been finalized.
"I don't have an answer on that yet," he said. "It's going to be more than a couple. Historically, we've been in the five-to-eight range, and we'll probably be back in that range this year."
One delicate issue with the extra bodies is that regulars will start losing playing time. Semien could be starting over
Gordon Beckham
at second base, and Phegley could be cutting into
Tyler Flowers
' playing time behind the plate.
"I'm going to talk to [Hahn] about it," White Sox manager Robin Ventura said. "When you get closer to September, if guys are going to get called up and it's going to affect them, then you start talking to them about it. I don't think we're there right now."
March, 19, 2014
Mar 19
3:41
PM CT
Roster moves are getting more significant now, although still not unexpected, as catcher
Josh Phegley
and right-hander
Andre Rienzo
were among those sent packing Wednesday from major league camp.
Phegley, Rienzo and left-hander
Eric Surkamp
all were optioned to Triple-A Charlotte, while right-handers Chris Beck and Cody Winiarski, along with infielder Andy Wilkins, were reassigned to minor league camp.
Phegley's move comes just days after manager Robin Ventura said that
Tyler Flowers
would be the Opening Day catcher. Instead of using Phegley as the backup, the White Sox want him to get everyday at-bats in the minor leagues so that he can he can be ready if needed.
"I'm going to get my opportunities down the road; I know that, I believe in that," Phegley told reporters in Arizona. "Today wasn't a complete shock (after) I heard that Flowers was named the starter. In my heart I believe I'm a starting catcher. I need to get my at-bats and keep getting better. I'm 26 so I feel I have a long career ahead of me."
March, 3, 2014
Mar 3
6:20
PM CT
The first spring start is all about shaking out the cobwebs. In that sense, the
Chicago White Sox
are more than pleased with
Jose Quintana
's Cactus League debut Monday.
The left-hander, who topped the 200-inning mark in his first full season last year, gave up two runs on two hits over two innings against the
Kansas City Royals
, while walking two with one strikeout. He allowed both of his runs to score after retiring the first two batters of the second inning.
"He was fine," White Sox manager Robin Ventura told reporters in Arizona. "He was picking around the plate a little early. I think with two outs, just picking a little bit too much and gets in trouble. Other than that, he was fine. He got through it. He was strong."
The clear-cut No. 2 starter in the White Sox's rotation will make an extremely affordable $550,000 this year. And if he can top the 200-inning mark again -- while delivering something close to his career 3.61 ERA -- the White Sox will be getting one of the better bargains in baseball.
"He's a good enough pitcher and strong enough to do it," Ventura said about Quintana again exceeding 200 innings. "I'm glad he has that kind of a goal for himself to be able to do that. He should be able to do that."
The White Sox eventually topped the Royals 9-7, thanks to a four-run sixth inning, topped by two more runs in the seventh.
Andy Wilkins,
Paul Konerko
and
Jordan Danks
each had two hits for the White Sox. Wilkins got the scoring started with a three-run home run in the first inning.
August, 28, 2013
8/28/13
8:05
PM CT
CHICAGO -– If
Paul Konerko
leaves the
Chicago White Sox
when his contract expires at the end of the season,
Adam Dunn
said he is more than ready to take over at first base.
[+] Enlarge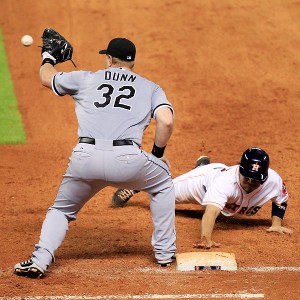 Thomas Campbell/USA TODAY SportsAdam Dunn is fine with playing first if Paul Konerko doesn't re-sign with the Sox.
"I like playing and I like being out there, but I know what I signed up for and I don't mind designated hitting either," Dunn said. "I think I have gotten used to it and have a pretty good routine going. But I do like being out there and I like running around."
Dunn has actually played the bulk of games at first base this season. He has made 68 starts at first base this year, while Konerko was making his 53rd start in the field Wednesday. The only other player to start at first base this season has been
Jeff Keppinger
(11).
Dunn, whose contract runs through the 2014 season, makes the most sense at first base, but the White Sox have not ruled out the possibility that
Dayan Viciedo
returns to the infield at some point. He could ultimately end up as the first baseman, although his ability to play defense will weigh heavily on that plan.
The best minor league option at first base is Andy Wilkins, a left-handed hitter, who was drafted in the fifth round in 2010. The 25-year-old, who was promoted to Triple-A Charlotte during the season, has a combined 17 home runs with 76 RBIs this season. He has a .278 batting average with a .793 OPS.
Neither Viciedo nor Wilkins seem to be a better option than Dunn next season.
"I'll do whatever they want me to do," Dunn said. "I'll play anywhere and do whatever they want. If you're asking me if I'll be ready, yeah, I'll be ready."
July, 17, 2013
7/17/13
11:53
AM CT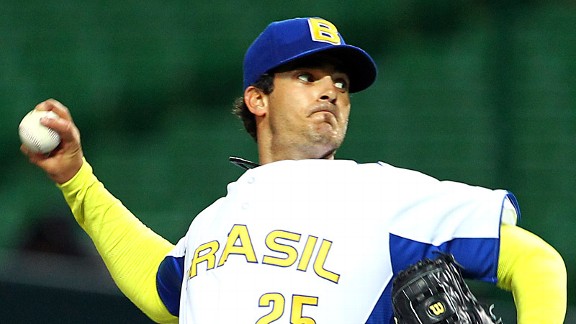 Koji Watanabe/Getty ImagesAndre Rienzo, who pitched for Brazil in the World Baseball Classic, has been dominant for Triple-A Charlotte recently..
CHICAGO -- During the final month of the 2011 season, the
Chicago White Sox
gave a 22-year-old right-hander the chance to pitch in a handful of games in order to get him a glimpse of life in the major leagues.
One year later,
Addison Reed
became the team's closer and this season he has continued to establish himself in one of baseball's key roles, all at the tender age of 24.
With trades and a retooled roster likely on the horizon, the White Sox figure to be in position to give more young prospects a chance to get their feet wet at baseball's highest level. This time, though, there could be a full two months available for the next generation of White Sox players.
Players at Triple-A Charlotte, such as
Jordan Danks
,
Tyler Greene
,
Hector Gimenez
,
Brian Omogrosso
,
Zach Stewart
and
Steve Tolleson
all have major league experience and could get the call to fill out any upcoming roster voids. But like Reed in 2011, there are a few players in the system that could possibly get their first crack at appearing in a major league game.
ANDRE RIENZO, RHP
With a rocky start to the season behind him, Rienzo looks to be headed toward a promotion to Chicago. The Futures Game participant is rolling now with a 2.05 ERA over his last 48 1/3 innings at Charlotte. In his final start of the first half before heading to New York for the Futures Game, he gave up one run on four hits in a complete game against Buffalo. The 25-year-old native of Brazil has 96 strikeouts this season in 100 2/3 innings.
ERIK JOHNSON, RHP
Heading toward the major leagues with a bullet, Johnson was slowed recently by a groin strain that landed him on the minor league disabled list. The White Sox will be careful with a rising star like this, so a little extra time to heal probably will be the preferred route. The fact that he is only in his second full minor league season is another reason not to rush the Northern California native so his realistic arrival is at least a year away.