Chicago White Sox:

Bo Jackson
March, 21, 2014
Mar 21
4:24
PM CT
CHICAGO -- Baseball Hall of Famer and former college football tight end
Frank Thomas
doesn't exactly see eye-to-eye with Bo Jackson, one of the greatest two-sport athletes of their generation.

Thomas
While Jackson said earlier this week that playing two professional sports these days would put somebody on the bench in both, Thomas wasn't so closed to the idea. The subject came up after Seattle Seahawks quarterback Russell Wilson spent a day in
Texas Rangers
camp earlier this spring.
"I heard it but I don't agree; I love Bo to death, but I don't agree," Thomas said Friday on "Lunch With a Legend" on ESPN Chicago 1000. "Russell Wilson just accomplished what he might not ever do again as a Super Bowl-winning quarterback. To have a chance at baseball, he'd probably make a lot more money with the way the salaries are going right now than as an undersized quarterback.
"It's something for his agent to weigh, and I'm sure they are doing it right now just to get his value up on the football field."
March, 21, 2014
Mar 21
3:30
PM CT
CHICAGO -- Outspoken about steroids during am extremely productive career, former
Chicago White Sox
slugger
Frank Thomas
said Friday that he won't address the topic during his Hall of Fame speech this summer.
Thomas, who was named a first-ballot Hall of Famer in January by the Baseball Writers Association of America, was the man of honor during ESPN Chicago 1000's "Lunch with a Legend" on Friday. It didn't take long for the topic of his speech and steroids to be addressed.
[+] Enlarge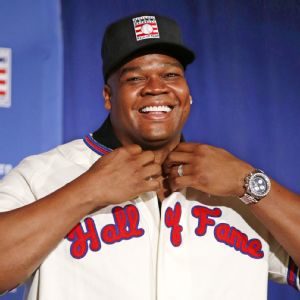 AP Photo/Kathy WillensFrank Thomas says he will focus on celebrating his career rather than chastising PED users during his Hall of Fame speech.
"I'm going to leave that alone," Thomas said.
Proud that he played the game clean of performance-enhancing substances, Thomas had plenty to say about the subject after learning he will be one of the Hall of Fame's newest members. On Friday, though, he seemed to have a level of support for two players widely believed to have taken shortcuts.
"There are two guys that (it's) very sad they aren't going to the Hall of Fame and that's
Barry Bonds
and
Roger Clemens
," Thomas said. "When I came into the game, those two guys were the standards as a hitter and a pitcher. You might not know what will happen 50 years from now, 30 years from now, but it doesn't look good right now (for induction) and I know how great those two guys were.
"You can look at their history. We kind of know when it started for those two guys. For me they were already Hall of Famers. I have much respect for those guys, but they made some bad choices at the end of their careers and they're going to have to live with it."
There is even no grudge against
Jason Giambi
, who might not have been on a level playing field when he edged Thomas for the 2000 MVP award. Long believed to have used performance-enhancing substances, Giambi admitted to USA Today in 2007, "I was wrong for doing that stuff."
"Nothing bad against Jason," Thomas said. "I live out near him in Las Vegas and we've had a lot of talks. He's a quality guy."
They might have talks, but Giambi prefers to keep it light when it comes to the 2000 MVP race.
"He said 'I still beat you,'" Thomas said with a chuckle. "That's the just the way it is. He's still a good dude. He's something else. He's a funny character. He will still look at me right now and say 'I still beat you.' No hard feelings with that but I would have loved to win that MVP."
Thomas' support of guys like Bonds and Clemens for Hall of Fame recognition isn't exactly in sync with those already recognized at Cooperstown.
"Talking to the Hall of Famers, they don't want any guys who had anything to do with PEDs in the Hall of Fame," Thomas said. "It took a lot to get in to the Hall of Fame so they don't want any of these guys to ever get in.
"For me, I was one of the biggest, strongest guys the game had ever seen besides Bo Jackson. When I came through, the first seven or eight years nothing could compare. There was nothing that big and strong and then two years later, everybody was passing me up. It happened overnight."
Part of Thomas' reluctance to address steroids could come from the fact that his Hall of Fame speech will be limited to 10 minutes. With six inductees set to speak, the program is going to be lengthy. Thomas would rather make it a celebration instead of chastising those who went a different route.
"I have a little outline going right now and a couple of people are helping me out," Thomas said. "It's tough to get everybody you want to get into that speech in 10 minutes. I'm sure I will probably leave a couple of people off and I will be upset about it. Everybody will be in my prayers and my heart because I had so many friends that helped me to get to this level. It's so overwhelming, it really is."
April, 1, 2013
4/01/13
4:10
PM CT
[+] Enlarge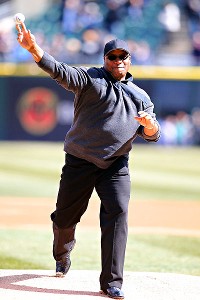 Dennis Wierzbicki/USA TODAY SportsBo Jackson throws out the first pitch on Opening Day for a game between two of his former teams, the White Sox and the Royals.
CHICAGO -- Two-sport standout Bo Jackson threw out the first pitch at U.S. Cellular Field on Monday to kick off the
Chicago White Sox
's 2013 season and other than an all-black baseball cap without logo, he claimed no allegiance to a team.
Jackson started the baseball portion of his career with the
Kansas City Royals
before moving on to the White Sox and eventually the Angels before calling it a career. The White Sox and Royals met in the opener Monday.
Jackson took the mound during Opening Day ceremonies and fired the ceremonial pitch to honorary catcher Robin Ventura. The two were teammates with the White Sox.
"I don't necessarily miss the game that much, I miss the camaraderie and if you ask any player that's been out of the game for a long time it's about missing your buddies and your good friends that you used to hang out with," Jackson said.
March, 26, 2013
3/26/13
11:45
AM CT
CHICAGO -- With the news that Bo Jackson will throw out the first pitch for the
Chicago White Sox
at Opening Day on Monday, it begs the question as to whether or not the former two-sport superstar will stay and watch the game at U.S. Cellular Field.
The White Sox made the announcement Tuesday morning that Jackson will handle first-pitch duties before the 3:10 p.m. game against the
Kansas City Royals
, while Phil, Anthony and Dan Ponce will sing the National Anthem.
Jackson reiterated as recently as three weeks ago that he no longer watches professional sports either on television or in person. In a one-on-one interview with an ESPNChicago.com reporter Feb. 28, he said as much and did so emphatically in that time-honored Jackson way.
"When I have time off, the last thing I want to do is to go back to a place where I was used to be employed," Jackson said. "That's kind of like you taking your day off and going down and sitting at the radio station."
February, 28, 2013
2/28/13
3:44
PM CT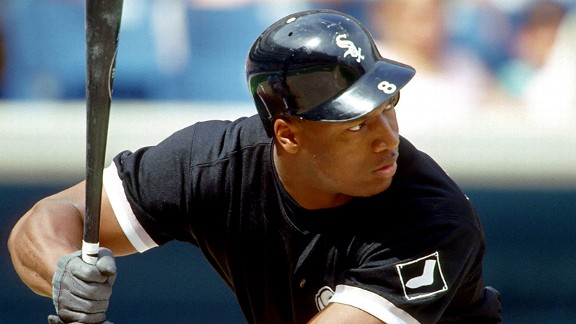 USA TODAY SportsBo Jackson wasn't surprised Ozzie Guillen became a manager, based on his personality.
CHICAGO -- The idea that Robin Ventura became the
Chicago White Sox
manager is a curious turn of events for one of his former teammates.
Bo Jackson, who played for the White Sox in 1991 and 1993, couldn't have pictured Ventura as a manager when the two were teammates. Yet it wasn't hard for Jackson to see another teammate get the same job.