Chicago White Sox:

Bobby Thigpen
April, 20, 2013
4/20/13
1:50
PM CT
CHICAGO -- Not only are the
Chicago White Sox
starting a homestand after a rough three-city road trip, they are also welcoming back pitching coach Don Cooper, who missed the past 10 games because of a bout with diverticulitis.
The digestive disorder caused Cooper to be hospitalized while the team was in Washington, D.C., to start the trip, and he didn't travel with the club to Cleveland or Toronto.
"What it amounted to for me was a bad, bad, bad stomach ache for five days," Cooper said. "There are so many people that have it so much worse, every day waking up with pain. I'm not going to beef about it."
Perhaps "beef" wasn't the best word, although Cooper said he was told by doctors that his digestive issue is likely hereditary, while being brought on by age.
Bullpen coach Bobby Thigpen assumed Cooper's duties during the road trip.
"It's good to have him back, just for the stuff he does and the normal interaction for me during the game for the pitchers," manager Robin Ventura said. "Bobby did a good job, but you kind of feel like everybody is back doing what they are supposed to be doing."
While at home recovering, Cooper still kept a close eye on the club while watching the games in Cleveland and Toronto. He even got messages to players during the games.
"I was talking to Bobby daily, and I was texting guys during their outings," Cooper said. "I was texting all the pitchers in their outings. Sometimes, it wasn't going through with some of the problems with phones in Toronto. But I texted the catchers, the pitchers when they were doing well and when they didn't, telling them what I was seeing.
"It's a different perspective and different view than what I normally get right there. There were things you get to see and say to make sure we stay on top with this that and the other things with individual guys."
Overall, the pitching staff wasn't at its best while Cooper was away, posting a 4.20 ERA on the road trip while the White Sox were outscored 41-35. But there were some positives.
"Seeing
[Jose] Quintana
pitch the way he did the last two starts, seeing
Jake Peavy
in Cleveland, seeing
Dylan [Axelrod]
up there,
Chris [Sale
on Thursday] in Toronto, and our bullpen has been great," Cooper said. "The catchers did a heck of a job."
Cooper said he grew an even deeper appreciation for his job as pitching coach while being away. And he added that he is making changes to his diet in order to not have the same issue return.
"I guess as you get older you realize you are not bulletproof anymore," he said. "But [stuff] comes your way, and you deal with it as best as you can and move on. Luckily, it was a small thing for me and so many other things are much, much more difficult to fight through."
January, 24, 2013
1/24/13
5:21
PM CT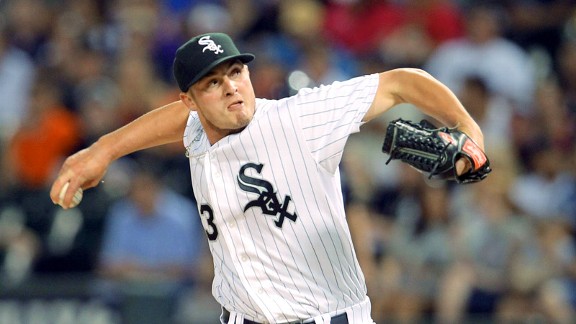 Dennis Wierzbicki/US PresswireAddison Reed believes a 40- to 45-save season is possible in 2013.
CHICAGO -- New
Chicago White Sox
bullpen coach Bobby Thigpen certainly doesn't lack confidence ... or a positive outlook.
Asked about the 2013 bullpen, he didn't mince words.
"How good can the group be?" Thigpen said. "The best in baseball."
At least the White Sox relievers know they have a coach who believes in them.
Of course Thigpen is going to heap praise to the group, especially after taking over as bullpen coach from Juan Nieves, who moved on to become the
Boston Red Sox
's pitching coach.
November, 27, 2012
11/27/12
4:19
PM CT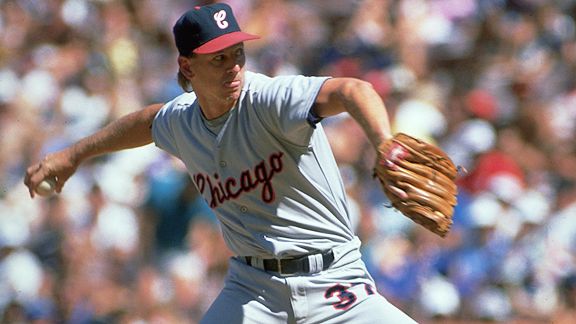 Stephen Dunn/Getty ImagesBobby Thigpen still holds the White Sox's record for career saves with 201.
The
Chicago White Sox
's all-time leader in saves has returned to their bullpen.
The team announced on Tuesday that Bobby Thigpen will take over the major league duties of bullpen coach in 2013. Thigpen had been working as a pitching coach in the Sox's system the past four seasons after two years as a minor league manager at Single-A Bristol.
The 49-year-old former Sox closer holds the franchise's all-time saves mark with 57 set in 1990. That was a major league record until the Angels'
Francisco Rodriguez
saved 62 games in 2009. Thigpen also has the most career saves in franchise history with 201.
Thigpen replaces Juan Nieves, who left the Sox to take the pitching coach job with the
Boston Red Sox
. Thigpen will work with manager Robin Ventura and pitching coach Don Cooper, handling the young bullpen pitchers to go along with veterans
Matt Thornton
and
Jesse Crain
.
November, 27, 2012
11/27/12
1:00
PM CT
CHICAGO -- The Chicago White Sox announced changes in the coaching staff Tuesday as Harold Baines was moved to a new position while Daryl Boston and Bobby Thigpen were added to the fold.
Read the entire story.
November, 14, 2011
11/14/11
3:41
PM CT
MILWAUKEE -- The
Chicago White Sox
announced a number of changes to the player development staff, including the hiring of Joel Skinner as the manager at Triple-A Charlotte.
Also announced were new assignments for former Triple-A Charlotte hitting coach Tim Laker and for former standout closer Bobby Thigpen.
Skinner, who was the bench coach for the Oakland A's last season, will take over at Charlotte for Joe McEwing, who was promoted to the White Sox's third-base coach for the upcoming season. A coach with the
Cleveland Indians
for nine seasons, Skinner also had a nine-year major-league career.
Laker, who was the hitting coach at Charlotte last season, will move to the vacant minor-league hitting instructor role. That job was last occupied by Jeff Manto, who will be the White Sox's hitting coach for the upcoming season. Andy Tomberlin will move up from Double-A and take Laker's old role.
Thigpen, who was the pitching coach at Single-A Winston Salem the past three seasons, will move up to the Double-A level and assume the same role.