Chicago White Sox:

Carlos Zambrano
May, 27, 2013
5/27/13
7:54
PM CT
CHICAGO -- Gone are the days when former
Chicago White Sox
manager Ozzie Guillen would instigate a near riot between Cubs and Sox fans before the Crosstown Classic.
The major buzz that once was a part of this 16-year-old interleague rivalry has been replaced by a more businesslike approach in this season's four-game home-and-home matchup.
"I don't think it is quite what it used to be," said White Sox setup man
Matt Thornton
, who has participated in every Crosstown Classic since 2006. "I still think it means a lot, but for whatever the reason it doesn't have the same feel to it."
July, 17, 2012
7/17/12
11:10
PM CT
CHICAGO -- Former White Sox ace Mark Buehrle returned to Chicago for the first time since signing a four-year contract with Miami last winter to begin the Marlins' three-game set at Wrigley Field on Tuesday.
[+] Enlarge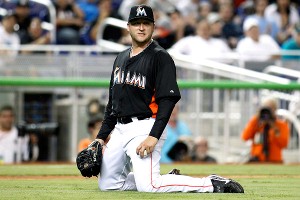 Joel Auerbach/Getty ImagesMark Buehrle is surprised by the White Sox's success this season.
The left-handed pitcher had a celebrated career with the Sox that included a perfect game, a no-hitter and a World Series championship.
"I (have) never stayed in a downtown (hotel) here before, but it was good seeing some people and hearing them say, 'We miss you in town,'" said Buehrle. "I miss a lot of guys on the team because when you play somewhere for 12 years, you get close with guys. There are a lot that you miss (and) a few that you don't miss."
Buehrle's transition to South Florida has been made easier with manager Ozzie Guillen and coach Joey Cora moving to the Marlins as well. ("He hasn't changed," Buehrle said, when asked about Guillen.)
The success of his former team has been enjoyable for him to watch from afar.
"It's really good what they are doing. It has surprised me -- like it has everyone else," Buehrle said. "I knew they had the talent, guys just hadn't played well the last couple years, and they are putting it all together right now. I am watching them and rooting them on, I send them text messages all the time, so I am still rooting them on."
Buehrle said the Sox have a good shot to win the American League Central.
"The Sox need to get (John) Danks and (Gavin) Floyd healthy," he said. "Detroit is tough and Cleveland has been playing pretty good, so it's going to be tough to win, but I think they can."
Buehrle and another Chicago transplant, former Cubs ace Carlos Zambrano, have become friendly now that they play on the same side.
"Carlos has been one of the best teammates I have ever played with," he said. "For all the stuff you have read or seen and leaving the team, I kind of had an open mind when he came in to spring training, but he has been awesome. He has been funny in the dugout, and on plane rides he hasn't had one rant or one time he looked like he was going to blow up. To me he is the complete opposite (from his Cubs days)."
Buehrle has posted a 9-8 record and 3.13 ERA with the Marlins this season.
September, 27, 2011
9/27/11
1:22
AM CT
SAN DIEGO -- Once Ozzie Guillen is announced as the manager of the
Florida Marlins
in the next couple of weeks (as a major league source says he will be), the next major step for the Marlins may be a trade that brings Cubs pitcher
Carlos Zambrano
to South Florida.
Marlins owner Jeffery Loria is opening up a brand new ballpark in 2012, with a brand new team logo and a brand new name (Miami Marlins) and the franchise will now be represented by a brand new manager.
Certainly, the buzz created by Guillen's anticipated signing will help sell plenty of tickets next season. However, that alone will not get the job done in a city that has yet to embrace major league baseball.
High-profile players will be needed and Zambrano's fiery temperament could be just the thing to keep South Beach hopping during the summer months.
Venezuelan natives Guillen and Zambrano have a close personal relationship. It was Guillen who counseled a distraught Zambrano after the pitcher's dugout fight with teammate
Derrek Lee
at U.S. Cellular Field in June of 2010. After that game, the Cubs immediately suspended Zambrano and Guillen helped him calm down over dinner at a downtown restaurant.
Guillen has told me on many occasions that if he ever got Zambrano on his team that he and his staff would help Zambrano to the best season he ever had. Zambrano has one year remaning on his original five-year, $91 million extension with the Cubs, who owe him $18 million for 2012. After Zambrano walked out on the team after allowing five home runs on Aug. 12, the Cubs would gladly eat a portion of that money to trade Zambrano if they got a decent minor league player in return.
Also, don't count out the possibility that
Aramis Ramirez
could be a candidate to end up with the Marlins as a free agent. Part of the allure of Ozzie Guillen to the Marlins is that he would attract a lot of attention from high-profile baseball players. If Guillen signs with the Marlins as expected, ownership will want to make him -- and the fan base -- happy, putting out a contending team in hopes that Miami can become a real baseball town.
August, 15, 2011
8/15/11
3:33
PM CT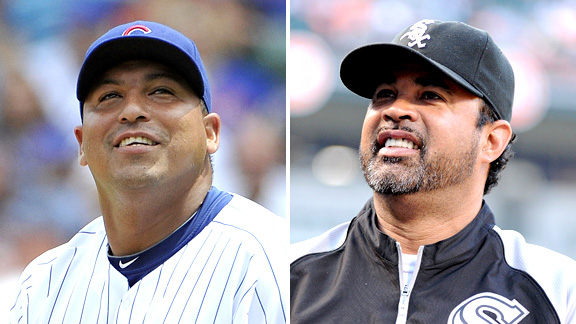 Getty ImagesCould Carlos Zambrano end up playing for Ozzie Guillen, in Chicago or elsewhere?
Carlos Zambrano
's fate will be determined by Major League Baseball, his agents and the Major League Baseball Players Association. The process may take over a few weeks. Once the MLBPA's appeal over the Cubs putting Zambrano on the disqualification list is heard, negotiations will begin in figuring out how much money Zambrano can be fined and how long the Cubs can keep him from pitching in the major leagues.
Under normal conditions, Zambrano and the players association could assert that there was a miscommunication between the pitcher and the team after he was ejected Friday night against the Braves and left Atlanta's ballpark before the game was over. The fact he told club personnel that he was quitting baseball convolutes matters, as do his numerous transgressions against teammates and team rules during his career. The Cubs were hoping his cumulative record is taken into consideration in this case.
Although Zambrano has been an average pitcher in 2011, his last 10 starts have not been very good. In that stretch he's 4-4 with a 5.50 ERA. He hasn't pitched more than six innings in a start since June 25.
A likely scenario is Zambrano's agents Barry Praver and Scott Shapiro and the Cubs work out a deal that accepts some form of suspension with pay for the rest of the season. That would allow the Cubs to separate themselves from the pitcher and try to find a suitable team to trade him to after 2011.
The Cubs owe Zambrano $23.5 million for this season and next.
As far as the possibility of trading Zambrano, an MLB source said a disqualified contract can be assigned to another team, but they assume the status involved.
A possible destination for Zambrano would be to follow his friend and countryman Ozzie Guillen to the White Sox or wherever Guillen's next managerial assignment takes him.
Zambrano has let it be known that the only other team he'd want to play for is the White Sox because of Guillen. The future of the Sox manager is up for debate. There have been rumblings that the
Florida Marlins
would hire GUillen as soon as he leaves Chicago.
With the Marlins opening a new park in 2012, Guillen and Zambrano would create a major buzz.
Guillen tried to explain Zambrano's motivation to the Chicago Sun-Times.
''He told my family he feels like he's stealing money because he's not producing," Guillen told the paper. "Maybe that's why he did it. People don't understand what he feels. He just wants to compete. The passion and love for the game come out.''
The Sox have never shied away from acquiring controversial players in the past, going back to Albert Belle in 1997,
A.J. Pierzynski
in 2005 and
Manny Ramirez
in 2010.
Zambrano is 9-7 with a 4.82 ERA in 24 starts this season.
August, 13, 2011
8/13/11
6:20
PM CT
By Sahadev Sharma
ESPNChicago.com
Archive
CHICAGO -- Chicago White Sox manager Ozzie Guillen, a close friend of embattled Cubs' pitcher Carlos Zambrano, had plenty to say on Saturday about the combustible righty's latest controversy.
"Very bad and very sad situation," Guillen said. "I can talk both ways as a manager (and) I can talk as his friend. It's tough situation with how the manager's going to handle that because he's very intense about respect, loyalty. On the other side of the problem, this kid's got a lot of pride, this kid's embarrassed. This kid wants to be good, he wants his team to be good. And I think he feel like he's not doing his job. This kid's a very emotional kid."
Zambrano was ejected from Friday night's game against the Atlanta Braves after attempting, and failing, to hit Chipper Jones twice. Zambrano had given up five home runs prior to his ejection. Zambrano then left the game early, packed up his belongings, and apparently told a clubhouse official he was contemplating retirement.
Guillen said his wife talked to Zambrano Friday night, but Guillen was too upset after his team's loss to talk to Zambrano himself. Guillen said rash decisions like wanting to quit aren't out of the ordinary, but they often don't represent the player's true feelings.
"You know how many times I want to quit?" Guillen asked. "I can't because I love this game. So does [Zambrano]. I guarantee you in two or three more days he'll be thinking 'Oh my God, what I did?' I know that. I don't know really what happened but I guarantee you he feels more embarrassed than anything else; about his performance."
Guillen is no stranger to controversy himself, and he admitted that. Although he's made many dubious statements, there was only one in particular he has grown to regret. Guillen didn't get specific, but added that winning was the only way to get past these things.
"When you [are] losing games every little thing go out there and get bigger," Guillen said. "It's emotion. Can you control your emotion? I don't know [if] you can because I can't control mine. [I'm] the last person to say he should be controlling his emotions. It is what it is."
According to Guillen, every team has these types of problems. Guillen recalled how he handled a situation in 2005 when he wasn't pleased with reliever Demaso Marte being late to numerous rehab sessions. He packed up Marte's belongings and told him to leave. Marte wasn't allowed to return until he apologized to the entire team, which eventually he did.
Of course that's how things are run on the South Side; Guillen was adamant that no player would be walking out on his team.
"Why? I know my players and I think we respect each other," Guillen said. "Like I've said in the past, hate me, love me, I don't care what you do. I really don't. But one thing about it, respect. That's all I care about with players. If you respect and respect the game, you can go out and tell your wife how much you hate me. That's part of the game, because I hate them, too. Because I did tell my wife how much I hate them. And I tell my wife how much I love them.
"But as long as they respect me and respect my coaching staff, everything is fine with me. Win games for me. Just hate me and make sure we shake hands after the game. That's all I get paid for. I don't get paid here to make friends."
What may have been most telling was how Guillen wrapped up his thoughts on Zambrano.
"The only thing about it, can you learn when you make mistakes?" Guillen asked. "If you learn from that people will forget you. But if you're going to make mistakes in and out, day in and day out some people aren't going to believe where you come from."
Being that this is hardly Zambrano's first brush with controversy, it may be difficult for the Cubs to forgive and forget. Among his numerous incidents are his 2007 fight with then-Cubs' catcher Michael Barrett and last season's dugout blowup with former teammate Derrek Lee. Friday's episode may just be Zambrano's last meltdown in a Cubs uniform.
July, 1, 2011
7/01/11
10:15
PM CT

By Melissa Isaacson
ESPNChicago.com
Archive
CHICAGO -- I'm not sure what they're doing for fun this weekend in New York and Ohio during the
New York Yankees
–
New York Mets
and
Cleveland Indians
–
Cincinnati Reds
series. My guess is that playing meaningful baseball games passes adequately for entertainment.
Here in Chicago, where the weathermen had about as solid a performance on Friday as
Randy Wells
, White Sox manager Ozzie Guillen chided the local media for being "boring"; Cubs manager Mike Quade actually bristled temporarily; and
Carlos Zambrano
and
Juan Pierre
demonstrated firsthand that playing in Chicago is the equivalent of suiting up against the lions in ancient Rome.
Read the entire column.
November, 17, 2010
11/17/10
11:07
PM CT
ORLANDO -- This has been an active general manager meetings for the
Chicago Cubs
and
Chicago White Sox
.
Cubs GM Jim Hendry met with
Carlos Zambrano
's agent Barry Praver for a 30-minute session on Wednesday.
"I can tell you that Carlos has not asked to be traded and the Cubs haven't asked us to waive his no-trade clause," Praver said after the Wednesday afternoon meeting.
The two sides did talk about Zambrano, however trading him never came up in the conversation. Part of the meeting was for Praver to talk about closer
Carlos Marmol
, whom he also represents. Marmol is eligible for salary arbitration again in 2011. Marmol made $2.1 million in his first year of arbitration and will get a hefty raise somewhere between $4 million-$5 million this time.
At some point the Cubs will want to talk to Praver about a long-term deal for Marmol, who will be eligible to become a free agent after 2012.
[+] Enlarge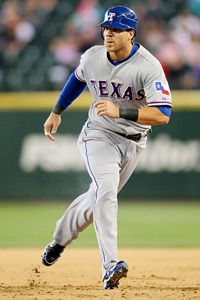 Otto Greule Jr/Getty ImagesThe Rangers' Chris Davis would be a cheap option at first base for the Cubs.
Hendry has had numerous meetings with representatives for free agents and has talked to other teams about trade possibilities. The Cubs and
Texas Rangers
were scheduled to get together to talk about possible matchups. Texas has a need for catching and the Cubs have two solid young catchers in
Welington Castillo
and Robinson Chirinos. Texas has an abundance of good hitting in their organization and they have excess at first base, a position where the Cubs have a need.
Left-handed hitting
Chris Davis
is a home-run hitter who turns 25 in March. Davis only played 45 games for the Rangers in 2010. However, in 2008 and 2009 combined he hit 37 home runs in 193 games. The Cubs could make Davis their everyday first baseman and put the money they have available this offseason toward starting pitching and the bullpen.
"This year we obviously need a first baseman for sure," Hendry said. "But there is a large group of free agents and there are trade possibilities as well. I think there is going to be more volume at that position than what people need at that position."
The Cubs have not talked to the agents for
Adam Dunn
. However, they expect to talk to them at some point soon. Dunn is still the center of attention for the Chicago White Sox. But on Wednesday the
Detroit Tigers
were said to be ready to throw big money at Dunn, whose bidding begins at three years and $40 million.
The White Sox are serious bidders in the Dunn derby. GM Kenny Williams tried to trade for Dunn before the July 31 trading deadline. The White Sox should have the resources to sign Dunn, especially if they don't bring back
Paul Konerko
and
A.J. Pierzynski
. Williams told Japanese media members in Orlando on Tuesday that the Sox are interested in
Hideki Matsui
, the former Yankee and Angel slugger.
The White Sox made a run at Matsui last year at this time before he signed with the Angels.
On Wednesday ESPN.com Jayson Stark reported the White Sox and
Philadelphia Phillies
have been talking about a trade that would send
Carlos Quentin
to Philadelphia. A White Sox source told ESPNChicago.com that the Sox are not shopping Quentin at this time.
June, 26, 2010
6/26/10
3:26
PM CT
By ESPNChicago.com
ESPNChicago.com

June, 25, 2010
6/25/10
7:54
PM CT
By Jeff Dickerson
ESPNChicago.com
Archive
[+] Enlarge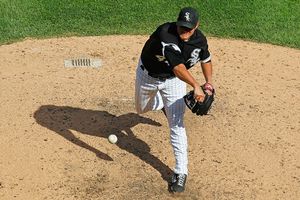 Jonathan Daniel/Getty ImagesSox starter Jake Peavy allowed three hits in seven innings Friday to get the win over the Cubs.
At least one starting pitcher kept his composure Friday.
"In a game like this, it's very easy if things don't go well on the field or off the field, you can let your emotions get the best of you," White Sox starter
Jake Peavy
said. "I know Carlos [Zambrano] had a rough day and had some stuff happen, and they'll get that resolved as a team. But I feel blessed and fortunate I was able to channel that emotion in the right way today."
Peavy cruised from the opening pitch, only allowing three hits while striking out nine in seven innings of work during the 6-0 White Sox victory. Peavy has now thrown 21 consecutive scoreless innings, two shy of a career high.
"We threw a lot of first-pitch strikes," Peavy said after his outing. "After that, just breaking balls. I probably threw about five changeups, then just varied the speed on my breaking ball. I threw a little cutter, a bigger sweeper. But I'm OK.
"Obviously, things have been a grind over the last few weeks just trying to throw bullpen [sessions] and get healthy and feel as good as you want to feel. [My shoulder] was to the point where I almost had to go on the disabled list with some tenderness. But this is just part of being a starting pitcher, part of being a ball player, you're going to have to grind through things."
The right-hander is 3-0 with a 0.90 ERA and 24 strikeouts in his last three starts.
White Sox second baseman Gordon Beckham ended a 211 at-bat homerless streak with a fifth-inning blast off Cubs relief pitcher Tom Gorzelanny. "It felt good, it's nice to get that out of the way," Beckham said. "It's been a couple months, but it's a great win. It's nice to be a part of it."


The Sox have now won 10 straight games for the first time since May 1976.


Carlos Quentin has homered in three consecutive games and is hitting .419 in his last nine games.
June, 25, 2010
6/25/10
2:25
PM CT
By Jeff Dickerson
ESPNChicago.com
Archive
[+] Enlarge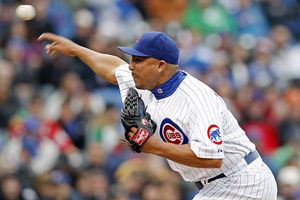 Jerry Lai/US PresswireCarlos Zambrano received encouragement from Ozzie Guillen during his stint in the bullpen.
CHICAGO -- Carlos Zambrano may pitch for the crosstown rival Chicago Cubs, but Chicago White Sox manager Ozzie Guillen made it point to counsel Zambrano about his controversial and short-lived stint in the Cubs bullpen.


"Yes, I did [talk to Zambrano], a lot," Guillen said before Friday's game at U.S. Cellular Field. "I don't want to say I'm his mentor, but he's a good friend of mine.


"I told him to hang in there and don't go crazy ... 'you will be back in the starting rotation.' I told him, 'You'll be out there, take your time, [Cubs manager] Lou [Pinella] knows what he's doing.' I think he was upset, but everyone did [think Zambrano was unhappy]. But I think he handled it very professionally. Maybe it was killing him inside, but he went out and did what the team wanted him to do, and now he's pitching well."


After making 13 appearances in the bullpen, Zambrano returned to the Cubs starting rotation on June 4. The former All-Star is 2-2 in his last four starts, and is scheduled to face Jake Peavy in the opening game of this weekend's Cubs vs. White Sox series on the South Side.


Many felt Zambrano's hefty salary should have prevented the Cubs from making the move, although Guillen made it a point to disagree.


"It doesn't matter how much money you make, you have to produce," he said. "I don't think managers think 'Oh, this guy is making $20 million, I have to continue to play him'. I don't make the line-up looking at salaries. I make the line-up [according to] who's better for my club that day."


However, money does play a small role in the Guillen-Zambrano relationship, but only when it comes to picking up the check at their postgame dinner.


"We plan to have dinner after the game, but we'll see what [happens]," Guillen said. "He's paying. He's made more money in a month than I've made in 26 years."
July, 24, 2009
7/24/09
5:03
PM CT
The probability of throwing a perfect game is one out of 10,000 games played. If you do the math, you find out there have been 18 perfect games thrown in the 133-year history of the game.
After watching Mark Buehrle's day of perfection on Thursday, another member of the no-hitter fraternity, feels he can at least match Buehrle's number of no-hitters -- two.
"What Buehrle did was a great accomplishment," Cubs pitcher Carlos Zambrano said. "Twenty-seven up, 27 down; not just a no-hitter, but a perfect game. Very amazing."
I asked Zambrano if he thought throwing another no-hitter was possible for him.
"Why not?" the Cubs' right-hander said. "All you need are dreams, wishes and performance to get it done. Besides that, I've already done that once.
"Buehrle is one of the best pitchers in baseball because he keeps the hitters off-balance with breaking balls. Everything he throws has an angle on it."
I asked Zambrano about the Dewayne Wise defensive gem in the ninth inning to save the game.
"Behind every no-hitter and every perfect game, there is always a great catch," Zambrano said. "I think that comes with the package. The pitcher throws the game, but the eight other players make it happen for you."
June, 18, 2009
6/18/09
1:56
PM CT
If the Cubs ever tire of Carlos Zambrano's act, fellow Venezuelan and White Sox manager Ozzie Guillen would jump at the chance of adding the animated Cubs pitcher to his team.
"To me he's one of the best pitchers in game," Guillen said Thursday. "I love the way he handles his stuff on the field."
"Maybe people say he's crazy and out of his mind, I love that. I like that attitude.I don't like people who fall asleep on the stinking mound. I like competition. I like that he broke the Gatorade machine. To me, when he kicked the umpire out of the game, that was the funniest thing I've seen all year."
I asked Guillen if there's a difference between Zambrano on and off the field: "When Zambrano takes his uniform of, he's a different person, a different type of human being. When he has it on, I love it. Baseball needs people like that, more enthusiasm, more competitive, more into the game. I love it.
"How many teams are there in the big leagues? Thirty? Thirty teams would love to have him."
Guillen always is ready to mix it up when he comes to Wrigley Field, as evidenced by his following quote:
"Who's more crazy, Lou [Piniella] or Carlos? Carlos has [flipped out] two or three times. Lou has been doing it for 30 years."
Zambrano has said he grew up a White Sox fan and can see himself pitching for the South Siders, but he still has three seasons remaining after 2009 on his $91 million deal. The contract has a complete no-trade clause.