Chicago White Sox:

Chris Beck
June, 4, 2014
Jun 4
1:33
PM CT
CHICAGO -- With Thursday's Major League Baseball first-year player draft fast approaching,
Chicago White Sox
executive vice president Kenny Williams tried to play it coy when it came to the club's first-round pick.
[+] Enlarge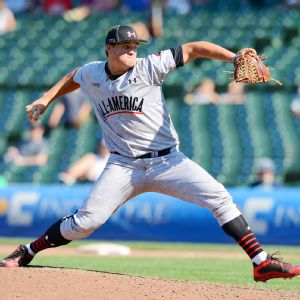 Mike Janes/Four Seam Images/AP ImagesESPN Insider Keith Law has the White Sox selecting high school pitcher Tyler Kolek with the third pick in the draft on Thursday.
Three highly regarded pitchers are available in Carlos Rondon, Brady Aiken and Tyler Kolek, so speculation is strong that the White Sox will take a pitcher with the No. 3 overall selection. Just don't expect Williams to tip his hand.
"Who said we're going to take a pitcher?" Williams said.
Shortstop Nick Gordon has plenty of intrigue. Think of his brother, Dodgers second baseman
Dee Gordon
, with a stronger build. A bat the caliber of California high schooler Alex Jackson also would be tempting. Jackson is a catcher who is expected to convert to the outfield as a professional.
White Sox director of amateur scouting Doug Laumann was a little more forthcoming when it came to the team's plans.
"I could probably sit here and say right now that more than likely we're going to probably end up with a pitcher," Laumann said. "We've got pretty much the group narrowed down to five or six guys, one of which is a position player. The other five are pitchers. So I'm fairly confident that we're going to end up with a real nice arm."
A major influence on this draft for the White Sox is the presence of slugging first baseman
Jose Abreu
, and to a lesser extent outfielder
Avisail Garcia
. In both players, the White Sox know they have the middle of the order set for some time, so drafting in that area is not the biggest priority in the first round.
The White Sox believe they could be ready to make some serious noise in the coming years, so don't be surprised to see the club use the first pick on a college pitcher who can rise quickly over a high school talent with slightly more upside.
In the minor league system, guys such as second baseman Micah Johnson, third baseman
Matt Davidson
and outfielder Courtney Hawkins are coming. Right-handed starter Chris Beck, currently with a 3.72 ERA in 12 starts at Double-A Birmingham, has major league ability written all over him.
Another right-handed starter figures to intrigue the White Sox because lefties such as
Chris Sale
and
Jose Quintana
will be around for some time. And lefty
John Danks
is locked in through 2016.
The lefty situation is expected get the White Sox to look long and hard at LSU right-hander Aaron Nola, widely believed to be the player who can rise quickest after Thursday's draft is completed.
Are the White Sox weighing college pitchers over those from high school?
"I don't know that we're leaning one way or the other," Laumann said. "You certainly look at the history. You've got a little more history in terms of their arm, whether or not they've made it through the three years of college without getting hurt and things like that. At the same time the competition level and arrival time to the big leagues certainly makes a difference.
"When you look at who might have the highest ceiling, and you look at certain kids that might be 17, 18 years old and still look like they have the ability to even get better, then it's kind of a hard weighing act to go ahead weigh one against the other. And I don't think we have a preference for one or the other."
[+] Enlarge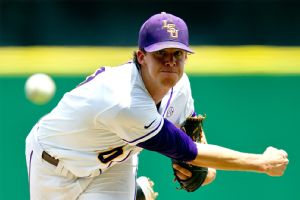 John Korduner/Icon SMILSU right-hander Aaron Nola could get to the major leagues quickly.
General manager Rick Hahn mapped out the team's plan to spend upward of $10 million for young talent in Thursday's draft and another $4 million to $4.5 million on international talent over the next two months. The minor league system will get as big of a talent influx as it has received in some time.
Despite the increased spending, though, the White Sox still intend to proceed with caution. But when it matters, they have been known to dig deeper than expected. When they drafted Sale in 2010, the club knew that his price tag was higher than they were comfortable spending, but they spent big anyway and now have a staff ace on their hands.
"Signability in every draft is a factor that you have to at least weigh, but it has not been, nor will it continue to be, a deterrent for us to make a choice when we feel it's the best guy and Chris is the perfect example of that," Hahn said.
The signing of Abreu this winter, along with trades for Garcia, Davidson and
Adam Eaton
, were the high-profile changes to the team. Thursday's additions will be no less important, they just might need some time to realize themselves.
"We're really now entering a six-to-eight-week period where conceivably we are adding $15 million of amateur talent to the organization, which will be a huge shot in the arm for the system while also moving the organization toward where we want it to be," Hahn said.
March, 19, 2014
Mar 19
3:41
PM CT
Roster moves are getting more significant now, although still not unexpected, as catcher
Josh Phegley
and right-hander
Andre Rienzo
were among those sent packing Wednesday from major league camp.
Phegley, Rienzo and left-hander
Eric Surkamp
all were optioned to Triple-A Charlotte, while right-handers Chris Beck and Cody Winiarski, along with infielder Andy Wilkins, were reassigned to minor league camp.
Phegley's move comes just days after manager Robin Ventura said that
Tyler Flowers
would be the Opening Day catcher. Instead of using Phegley as the backup, the White Sox want him to get everyday at-bats in the minor leagues so that he can he can be ready if needed.
"I'm going to get my opportunities down the road; I know that, I believe in that," Phegley told reporters in Arizona. "Today wasn't a complete shock (after) I heard that Flowers was named the starter. In my heart I believe I'm a starting catcher. I need to get my at-bats and keep getting better. I'm 26 so I feel I have a long career ahead of me."
February, 25, 2014
Feb 25
4:36
PM CT
GLENDALE, Ariz. –
Avisail Garcia
blasted a two-run home run,
Paul Konerko
had two hits and
Adam Eaton
flashed his blazing speed, but still it was somebody who is expected to start the season in the minor leagues that shined brightest during Tuesday's first intrasquad game.
Right-handed pitcher Chris Beck, who had a breakout season last year while pitching on two separate minor league levels, delivered two scoreless innings as a starter.
The second-round pick in 2012 out of Georgia Southern University gave up only an infield single to
Jose Abreu
, but he erased him on a double-play grounder to face the minimum six batters. The batters Beck faced in order over his two innings: Eaton,
Alexei Ramirez
, Garcia,
Adam Dunn
, Abreu and
Dayan Viciedo
.
"Beck looked good," manager Robin Ventura said after being asked about the pitching. "We had quite a few guys throwing strikes, throwing well. It's nice to get them out there in a situation where they have fielders behind them."
Beck posted a 3.07 ERA over 26 starts last season, starting the year at Single-A Winston-Salem before moving up to Double-A Birmingham. The 6-foot-3, 210-pounder could make a return visit to Birmingham again this year, which doesn't put him as far from Chicago as it might sound.
Erik Johnson
started the season at Birmingham last season, pitched for the White Sox in September and now is a favorite to land a rotation spot this spring.
After his solid 2013 season, Beck moved into Baseball America's top-10 list of White Sox prospects, and pitching coach Don Cooper has often included him when talking about long shot candidates for the Opening Day rotation.
Expect Beck to be sent back to minor league camp at some point after Cactus League games begin, but, in front of an audience of the team's major league and minor league coaching staffs on Tuesday, he continued to raise his profile.
February, 24, 2014
Feb 24
3:37
PM CT
GLENDALE, Ariz. -- The
Chicago White Sox
will take another step forward in their preparations for the regular season Tuesday with the first intrasquad game of spring training.
While the position players are expected to come from the major league roster, the pitchers won't necessarily be automatic Opening Day candidates. Among those scheduled to pitch are Chris Beck, Scott Snodgress,
Andre Rienzo
,
Charlie Leesman
and
Brian Omogrosso
.
"It's to see how guys are moving around," manager Robin Ventura said. "The pitchers, it's just see where they're at in all of this. Get guys in the game. You're starting to get a little more in game situations, and it's good to get that out before we start playing (Cactus League) games."
Avisail Garcia
, who missed a day last week after undergoing a procedure for an ingrown toenail, is expected to play.
Reliever
Nate Jones
, who had a gluteus muscle strain, has started to participate in bullpen sessions, and still hasn't progressed to live batting practice yet. It was doubtful he would have participated in the intrasquad game anyway.
Tuesday's game will take place on a back field at the team's Camelback Ranch facility in an area that is accessible to fans free of charge. The game is scheduled to start at 11:30 a.m. local time.
February, 21, 2014
Feb 21
3:50
PM CT
GLENDALE, Ariz. -- Considered an area of strength for the
Chicago White Sox
, the starting rotation isn't without questions as the club moves toward next week's Cactus League opener.
Chris Sale
is the undisputed ace of the staff and will no doubt take the mound on Opening Day, March 31 against the
Minnesota Twins
at U.S. Cellular Field. How the starting staff unfolds behind Sale is one of the stories left to be told in the desert over the next five weeks.
[+] Enlarge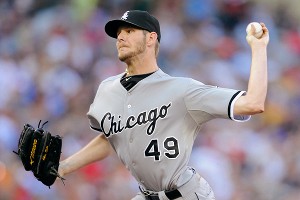 Hannah Foslien/Getty ImagesStaff ace Chris Sale had a 3.07 ERA last season and ranked fourth in the majors in strikeouts with 226.
Jose Quintana
and
John Danks
seem like rotation locks, although from there plenty of decisions are left to be made.
Felipe Paulino
and
Erik Johnson
could end up rounding out the rotation, but pitchers such as
Andre Rienzo
,
Dylan Axelrod
, Scott Snodgress and
Eric Surkamp
will all get a chance to show what they can do.
Pitching coach Don Cooper widened the debate even further this week when he mentioned Chris Beck and Omar Poveda as long shot candidates.
Even if Sale, Quintana, Danks, Paulino and Johnson make up the starting staff, there is no certainty on what order they would pitch to start the season. Sale, Quintana and Danks are all left-handed, while Paulino and Johnson throw from the right side, and surely the coaching staff will want to mix its righties and lefties as much as possible.
"Your balance becomes left-hander, right-hander, where they are at and where the other guys really fit into that," manager Robin Ventura said. "On one hand, you are really happy with the way it shapes up with (Sale and Quintana) starting out. After that, you don't know if you want to mix and match a right in there early or who is going to take hold of that."
The 30-year-old Paulino might have the most to prove this spring. He's guaranteed to make $1.75 million on the contract he signed in December, so surely the White Sox will try to get something for their investment.
But a pitcher who is coming of Tommy John surgery in 2012 and a procedure to clean out his shoulder in 2013 has a number of hurdles to cross before getting back on a major league mound.
So far, Paulino has kept up with his teammates after the first week of spring training, taking his regular turns on the mound.
January, 21, 2014
Jan 21
2:50
PM CT
CHICAGO -- With 25 days to go before pitchers and catchers report to spring training in Arizona, the
Chicago White Sox
announced 21 invitees to big league camp.
Dylan Axelrod
,
Brian Omogrosso
and
Hector Gimenez
, all of whom played for the White Sox in 2013, will return this year on minor-league contracts.
Axelrod started the season strong as a member of the starting rotation, before fading badly later in the year. He went 4-11 in 2013 with a 5.68 ERA while making 20 starts among his 30 appearances. Omogrosso made 12 appearances with an ERA over 9.00, while Gimenez had two home runs and 10 RBIs in 68 at-bats.
Other players on minor-league contracts to be invited to big-league camp were pitchers Parker Frazier, Omar Poveda,
Zach Putnam
,
David Purcey
,
Mauricio Robles
, infielder
Alex Liddi
and outfielder
Denis Phipps
.
The invite list also included 11 prospects from the White Sox's system. Pitching prospects were Chris Bassitt, Chris Beck, Cody Winiarski and Scott Snodgress. Invited infielders included Micah Johnson, Mike McDade and Andy Wilkins, along with outfielders
Blake Tekotte
and Keenyn Walker. Extra camp catchers included
Miguel Gonzalez
and Kevan Smith.
June, 5, 2012
6/05/12
1:13
PM CT

By Scott Powers
ESPNChicago.com
Archive
CHICAGO -- The
Chicago White Sox
returned to the college ranks to draft their first two players Tuesday after selecting two high school players on the opening day.
The White Sox drafted Georgia Southern junior right-handed pitcher Chris Beck in the second round with the 76th overall pick and Arizona State junior second baseman Joey DeMichele in the third round with the 108th pick on Tuesday.
The White Sox drafted high school outfielder Courtney Hawkins with the No. 13 pick and high school first baseman Keon Barnum at No. 48 on Monday.
The 6-foot-3, 235-pound Beck was 6-7 with a 3.91 ERA in 17 games, which included 16 starts, this season. He had four complete games, allowed 117 hits, 45 earned runs, 29 walks and struck out 115 batters in 103 2/3 innings. He was previously drafted by the
Cleveland Indians
.
"I'm excited about a couple of guys," White Sox amateur scouting director Doug Laumann said on Tuesday night. "Our first pick today, which was our second-round pick, Chris Beck, we had projected as potentially as a first-round and possible pick at 13 for us this year. He did not have a good year. He had a great Cape (Cod League) last summer.
"We put video up from him last year and this year, and he gained 35 pounds from last July to this March, lifting, weight room. His coaches told him, 'You need to get big, you need to get strong. The bigger you get, the stronger you get, the better you're going to be.' He just got so big and so strong and so bulky it inhibited his delivery. His athleticism kind of went backwards a little bit. … We felt like we got a chance maybe here to get a guy that's a potential first-round talent here with our pick at 76 in the second round."