Chicago White Sox:

Chris Young
July, 22, 2010
7/22/10
1:04
PM CT
By Derek Czenczelewski. ESPN Stats and Info
ESPNChicago.com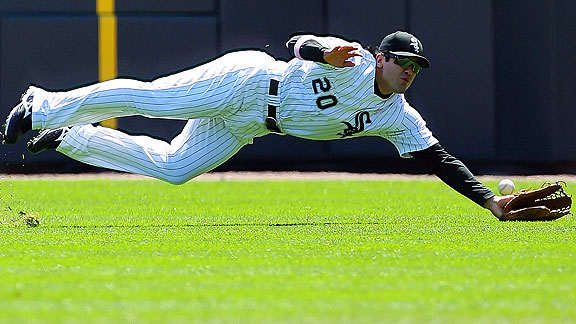 Dennis Wierzbicki/US PresswireSo far the White Sox are the overwhelming winners in the Carlos Quentin trade.
Hindsight is always 20-20 as they say, and that certainly holds true when wheeling and dealing. Trades excite fans, yet many times teams end up sacrificing their future for a shot at a proven commodity in hopes of a title run. Here is a look at how the White Sox fared in trades since 2005, using statistical analysis and the sabermetric WAR.
WAR stands for Wins Above Replacement and is a relatively complicated formula that in the end answers the question, "How much value would the team lose if a replacement player took his spot?" The calculation turns out an approximate win total the player holds.
Best trade
Dec. 3, 2007: White Sox trade Chris Carter to the Arizona Diamondbacks for Carlos Quentin. (White Sox's net WAR gain: 4.1 and rising)
This was pure highway robbery on the part of the White Sox. Carter has yet to make the big leagues, although he has put up strong numbers in the minors. In six minor-league seasons, Carter has hit 137 home runs, including 39 in the 2008 season.
He has struggled this season at Triple-A Sacramento, but he should make the big leagues in time. When that time is still remains to be seen, but at only 23 years of age, Carter still has time on his side.
As good as Carter projects to be, Quentin (4.1 WAR) has already proven his MLB-mettle with the White Sox. In 2008, his first full season in the big leagues, Quentin hit .288 with 36 home runs and 100 RBIs. An injury-shortened 2009 season proved to be a sophomore slump for Quentin. He hit just .236 with 21 home runs in 99 games. This season has been a return to form of sorts for the 27-year-old outfielder. Through 77 games, Quentin has 19 home runs and 62 RBIs. His average has still suffered, but his OBP has improved 22 points from 2009. The future is still very bright for Quentin.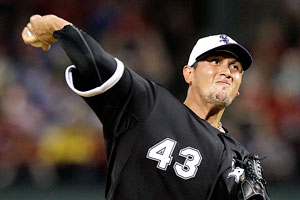 AP Photo/Tony GutierrezFreddy Garcia is thriving in his second stint with the White Sox.
Honorable mention: Dec. 6, 2006: White Sox trade Freddy Garcia to the Philadelphia Phillies for Gavin Floyd and Gio Gonzalez. (White Sox's net WAR gain: 9.7 and rising)

In the three seasons prior to this trade, Garcia compiled a 40-21 record with 383 strikeouts and a 4.24 ERA. Garcia spent one season in Philadelphia, followed by a year with the Detroit Tigers before returning to the White Sox in 2009.

In his two years away from Chicago, Garcia spent the majority of his time rehabbing from injuries and his 0.0 WAR reflected that. He started just 14 games, going 2-6 with a 5.55 ERA. Since rejoining the White Sox, Garcia has gone 12-7 with a 4.35 ERA.

What makes this "sell high, buy low" success story even better is who the White Sox acquired. Gonzalez never suited up for the White Sox, but was later used as trade bait in a deal with the Oakland A's. Floyd (9.7 WAR) has been consistent for the White Sox, although his win-loss record doesn't completely suggest that.

After a 17-win season in 2008, Floyd has gone 16-17 in the season and a half since. However, Floyd has managed to increase his strikeout totals each seasons while decreasing his walk totals. In his tenure with the White Sox, Floyd has gone 34-32 with a 4.13 ERA in 585 2/3 innings. He has struck out 452 batters while walking 184. Floyd figures to be a key part of the White Sox rotation for years to come.
Bonus honorable mention: Dec. 23, 2006: White Sox trade David Paisano and Brandon McCarthy to the Texas Rangers for Jacob Rasner, John Danks and Nick Masset. (White Sox's net WAR gain: 13.5 and rising)Danks (15.1 WAR) has gone 40-40 with the Sox with a 3.97 ERA. He has maintained a 2.5:1 K:BB ratio while solidifying the middle of the rotation. Masset (1.6 WAR) has gone on to various levels of success with the Reds, while his time with the Sox was less than spectacular.McCarthy, the big chip given up by the Sox, has gone just 13-15 with a 4.68 ERA and a 1.2 WAR with the Rangers since 2007. Overall, the White Sox easily won this deal.


Extra bonus honorable mention: Nov. 25, 2005: White Sox trade Gio Gonzalez, Daniel Haigwood, and Aaron Rowand to the Philadelphia Phillies for Jim Thome and cash. (White Sox's net WAR gain: 4.5 and stagnant)In short, Thome (10.9 WAR) had four solid seasons with the White Sox, hitting 134 home runs with 369 RBIs. Thome, along with Paul Konerko, provided veteran leadership for the White Sox all while wreaking havoc on the AL Central. Gonzalez never pitched for the Phillies while Rowand (6.5 WAR, 1.9 since 2008) has struggled mightily since his days on the South Side. It should be noted though, that Rowand was a 2007 All-Star with the Phillies and won his only Gold Glove while compiling a 4.2 WAR.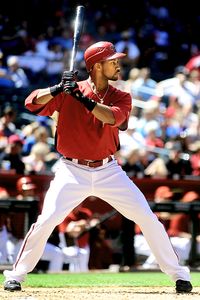 Mark J. Rebilas/US PresswireFormer White Sox prospect Chris Young made his first All-Star Game this season with the Diamondbacks.

Worst trade
Dec. 13, 2005: White Sox trade Orlando Hernandez, Luis Vizcaino, and Chris Young to the Arizona Diamondbacks for Javier Vazquez. (White Sox's net WAR gain: 4.2 and falling)

Exactly one year earlier, the White Sox made their worst trade since 2004 when they dealt Carlos Lee (14.6 WAR with team) to the Milwaukee Brewers for Travis Hinton, Scott Podsednik and Vizcaino. They followed it up in 2005 with the Javier Vazquez deal.

In his lone season with the Sox, Hernandez went 9-9 with a 5.12 ERA. Vizcaino, like Hernandez, also lasted only one season with the Sox. However, he was relatively solid going 6-5 with a 3.73 ERA in 65 relief appearances.

The real loss in this deal was Young (3.1 WAR), who made his first All-Star team this season at the age of 26. In his five seasons with the Diamondbacks, Young has shown a mixture of power and speed. He's hit 86 home runs with the Diamondbacks, but has managed just a .240 batting average and an equally unimpressive .311 OBP. He has provided solid defense though, and the ability to steal bases. His best season came in 2007 when he hit 32 home runs with 29 doubles and 27 stolen bases. Young's ceiling is still high.

Vazquez (11.6 WAR) had three fairly solid years with the White Sox, eating up 627 2/3 innings while going 38-36. His 4.40 ERA was average, but his 597 strikeouts were impressive. Had the White Sox kept Vazquez, this deal wouldn't have been so bad. But because he is no longer with the team, while Young is a 2010 All-Star, this one makes the list as the worst trade since 2005 for the White Sox.


Honorable mention: Nov. 13, 2008: White Sox trade Nick Swisher and Kanekoa Texeira to the New York Yankees for Jeffrey Marquez, Wilson Betemit, and Jhonny Nunez. (White Sox's net WAR loss: 7.1 and rising)All right, so Swisher wasn't quite working out for the White Sox, and he undoubtedly got his "groove" back due to the strong Yankees lineup. But the fact still remains that the Sox gave up a 2010 All-Star for, at this point, nothing.The stats seem to back up the fact that Swisher's lack of success may have been due to a serious case of bad luck. Swisher's line drive rate was at a career-high 21 percent, which should have given him a BABIP (batting average on balls in play) of .329. Instead, his BABIP was just .251, suggesting he was just plain unlucky. Since joining the Yankees, Swisher has a WAR of 6.6.

As for what the White Sox received, Betemit (-0.5 WAR) is no longer with the team, Nunez hasn't had success at the major league level and Marquez is still a ways away from being a contributor, if that even happens.

Best trade for both teams
July 31, 2009: White Sox trade Aaron Poreda, Clayton Richard, and Adam Russell to the San Diego Padres for Jake Peavy. (White Sox's net WAR gain: 0.6 and stagnant)

The White Sox got the staff ace they were looking for, although Peavy (2.3 WAR) hasn't made more than 17 starts in a season since 2008. After a poor start to 2010, Peavy caught fire in June going 3-2 with a 1.75 ERA in 36 innings. Peavy managed to lower his ERA from 6.23 entering June to 4.70 entering July, but was then lost for the season with a detached lat muscle.

The Padres landed Richard (1.7 WAR), who has gone 11-6 with a 3.60 ERA in 30 starts. With the Padres, Richard has averaged seven strikeouts per nine innings and is having a stellar 2010 campaign with a 6-4 record and a 3.33 ERA. He has increased his efficiency, maintaining a career-high 2:1 K:BB ratio.

Both Aaron Poreda and Adam Russell appear to have major league careers ahead of them.