Chicago White Sox:

Clayton Kershaw
August, 1, 2014
Aug 1
4:21
PM CT
CHICAGO -- They say the major leagues is extremely difficult, but
Minnesota Twins
starter
Logan Darnell
must think it's downright unforgiving at this point.
The Twins' left-hander will make his second career start (third appearance) Friday at U.S. Cellular Field and will have to face off against Chicago White Sox ace
Chris Sale
for a second consecutive time.
The first meeting went predictably enough: Sale struck out 12 over eight scoreless innings, while Darnell gave up seven runs on 11 hits over five innings in his debut. Darnell, a Tennessee native, was a sixth-round draft pick of the Twins in 2010.
Sale has two months remaining in his Cy Young award push. He will enter Friday night's game at U.S. Cellular Field with a 10-1 record and a 1.88 ERA. Sale is one of just three starters in baseball with a sub-2.00 ERA, along with the Dodgers'
Clayton Kershaw
(1.71) and the Cardinals'
Adam Wainwright
(1.92).
Sale is 5-0 with a 1.78 ERA over his last seven starts and is 5-1 with a 1.33 ERA and 7-0 strikeouts over his last eight starts at home.
The lefty is the first White Sox pitcher since
Mark Buehrle
in the 20005 championship season to open a season 10-1 for the White Sox. In addition to leading the American League in ERA and win percentage (.909), he also leads in WHIP (0.86) and opponents' batting average (.194).
HEAD TO HEAD
The White Sox's
Tyler Flowers
,
Conor Gillaspie
,
Paul Konerko
and
Alexei Ramirez
all had two hits against Darnell last Saturday. … After just seven career starts, the Twins'
Yohan Pino
has already found a team he matched up well against in the White Sox. Pino has given up a combined four runs over 13 innings in two starts against the White Sox, and the Twins won both games. … Twins starter
Kyle Gibson
has not faced the White Sox this season, but last season he held them to three runs on four hits over 5 2/3 innings of an eventual Minnesota victory. … Sale is 2-0 in two starts against the Twins this year, posting a 1.76 ERA. … In two appearances against the Twins this season (one start, one in relief) White Sox starter
Scott Carroll
has given up just one run and six hits over 9 2/3 innings. … The Twins'
Josh Willingham
is 9-for-18 with three home runs in his career against White Sox starter
Jose Quintana
, but
Oswaldo Arcia
and
Trevor Plouffe
are a combined 2-for-16 (.125) against the lefty.
NOTES
Jose Abreu
has a 20-game hitting streak and has a hit in 38 of his last 39 games. Over that 39-game stretch, he has a .365 batting average (57-for-156), a .415 on-base percentage, 14 doubles, 12 home runs and 32 RBIs. … When Konerko reached the 4,000 total bases mark Thursday at Detroit, he became the 83rd player in major league history to accomplish the feat. … Abreu and
Adam Eaton
are both coming off a game when they reached base in all five trips to the plate. Eaton is batting a robust .441 (15-for-34) during a modest seven-game hitting streak. … White Sox pitching coach Don Cooper rejoined the team Friday after missing the road trip because he had vertigo. …
Ronald Belisario
might have flamed out in his brief stint as closer, but he does have 26 scoreless appearances this season. … Twins catcher
Kurt Suzuki
was signed to a two-year contract extension Thursday for $12 million, with a vesting option for 2017. … The Twins are 4-9 since the start of the second half, while the White Sox are 8-5.
PITCHING MATCHUPS
Friday:
White Sox LHP Chris Sale (10-1, 1.88 ERA) vs. Twins LHP Logan Darnell (0-1, 7.88), 7:10 p.m. CST
Saturday:
White Sox RHP Scott Carroll (4-6, 4.29) vs. Twins RHP Yohan Pino (1-3, 4.38), 6:10 p.m. CST
Sunday:
White Sox LHP Jose Quintana (6-7, 3.15) vs. Twins RHP Kyle Gibson (9-8, 3.94), 1:10 p.m. CST
June, 12, 2014
Jun 12
6:52
PM CT
CHICAGO –
Jose Abreu
hasn't discriminated when it comes to the pitchers he has taken advantage of, from right-handed to left-handed, starter to reliever, veteran to rookie.
All pitchers, outside of those wearing a
Los Angeles Angels
uniform, have felt his wrath, including the three former Cy Young Award winners he has hit home runs against:
Clayton Kershaw
,
David Price
and
Justin Verlander
(twice).
[+] Enlarge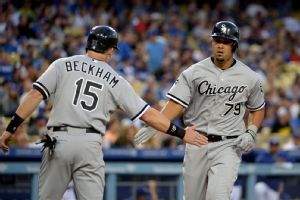 Kirby Lee/USA TODAY SportsJose Abreu has homered off some of the best pitchers in baseball. Will Max Scherzer be his next victim?
Perhaps it's no surprise that Abreu has been able to get to the best of the best, since those pitchers are more likely to operate on their terms than specifically cater their approach to deal with Abreu's weaknesses, however minimal they are.
Tell a young pitcher to pitch Abreu high and away or low and inside and that is what you expect to get. But are guys like Kershaw, Price and Verlander prone to doing things on their terms because of their track record of success?
"I wasn't a pitcher, but I'm sure there's some of it that's there," White Sox manager Robin Ventura said. "I think every guy that's a competitor has some of that in them."
Ventura has been on the other end of that concept, too.
"We have guys that like to challenge
(Miguel) Cabrera
," Ventura said. "Sometimes that doesn't work out. That's what good hitters do, good pitchers do. That's part of playing the game and guys get to match up their stuff with other guys' stuff.
"Especially with Jose being new, everybody hears about it, but until you see it you don't know where you stack up. So I'm sure there's some of that throughout the league."
Abreu gets another chance to face an ace when he goes against the Detroit Tigers'
Max Scherzer
on Thursday night. On Wednesday, Abreu tagged Verlander with his 19th home run of the season, a shot deep into the seats in left-center field.
He is 27 years old and has 10 years of experience while playing in Cuba, and the White Sox have always said they don't consider Abreu a rookie, even though he has never faced major league-caliber pitching on a daily basis before this year.
The numbers bear out the fact that Abreu is much more advanced than other guys reaching the highest level of baseball for the first time.
His 19 home runs are seven more than the next closest rookie and his .950 OPS is over 100 points higher than all other rookies. He is also one of three players so far this season with 50 RBIs and a .950 OPS.
Nelson Cruz
and
Giancarlo Stanton
are the others.
In the seventh inning or later, Abreu's .984 OPS is second only to Stanton's 1.052 mark.
In eight games against the division rival Tigers this year, Abreu is batting .344 with a .364 on-base percentage and an .844 slugging percentage. He has four home runs against the Tigers – tied with the
Cleveland Indians
for his most against one team – with seven RBIs.
"He's up there ready to hit, and he has 11 or 12 hits against us," Tigers manager
Brad Ausmus
said. "Most of them seem like they're extra-base hits, probably eight or nine extra-base hits. Honestly, I love the way the guy carries himself. He just goes about his business. He's not flashy. He does his job. He's been impressive, and certainly he's hurt us a number of times with his bat."
June, 7, 2014
Jun 7
10:00
AM CT

By David Schoenfield
ESPNChicago.com
Archive
Who is the best starting pitcher in baseball right now? I think you can make a strong case for
Chris Sale
, who maybe isn't the first guy who pops into your head, in part because he did miss a few starts with a tender elbow -- technically a strained flexor muscle -- but he's returned to the White Sox and been nearly unhittable.
In fact, he has been unhittable when facing left-handed batters: They're 0-for-32 against him on the season. In his past four outings, Sale has allowed four hits in 25 innings for a .051 batting average against.
Is he the best? Let's do a quick roll call.
Chris Sale
Sale
The case for:
5-0, 1.59 ERA in seven starts. Has allowed a .126 average against with a 52-to-8 strikeout-to-walk ratio. His slider has been known to make grown men cry. He had a 3.05 ERA in 2012 and 3.07 in 2013, while pitching in one the best home run parks in the majors. Distinctive three-quarter delivery and unusual arm angle have earned him the nickname "The Condor," which is worth bonus points. Arguably improving as strikeout rate has increased and walk rate decreased.
The case against:
Has just one 200-inning season in his career and may not get there this year. This hit rate is unsustainable. Concern about elbow. Only one of his seven starts has come against a team with an above-average offense (and that was Cleveland, which ranks seventh in the AL in runs per game).
Clayton Kershaw
Kershaw
The case for:
He's been the best pitcher in baseball the past three years and should have won three straight Cy Young Awards (he has two). He's 4-2, 3.32 and people say he's struggling even though his strikeout and walk rates are both better than last season. If God needed one pitch to get out the Devil, he just might choose Kershaw's curveball. He's averaged 232 innings the past three seasons. He's pitched in front of a shaky defense, especially with poor range from exiled center fielder
Matt Kemp
and shortstop
Hanley Ramirez
. Take away that seven-run game where he lasted 1 2/3 innings and he's been as dominant as ever.
The case against:
A 3.32 ERA is a 3.32 ERA. Missed time with a sore back, so you have to worry about that. Has actually allowed three extra-base hits, including a home run, off that curveball, which is three more extra-base hits than he allowed last year with it. Got hammered in Game 6 of the National League Championship Series by the Cardinals last year. Only one outing of more than seven innings this year.
Yu Darvish
Darvish
The case for:
If you were going to sculpt a pitcher from clay and infuse him with life, you'd want him to look like Darvish and possess his right arm. He's 5-2 with a 2.04 ERA while pitching in a hitters' park. He's leading the AL in strikeouts per nine innings for the second straight year. Darvish has allowed just three home runs this year after allowing 26 in 2013. Kershaw has allowed a lower batting average (300 innings minimum) since 2012, but Darvish doesn't get to face pitchers. He's walking fewer batters, and over his past four starts -- which included games against Toronto, Detroit and Washington, three good offensive teams -- he allowed four runs and struck out 41 in 31 2/3 innings.
The case against:
Hey, he's never thrown a complete game either. Still runs up big pitch counts, which can lead to early exits. Has missed a couple of starts with neck stiffness -- this following a nerve problem in his lower back that hampered him last September.
Masahiro Tanaka
Tanaka
The case for:
He's 9-1 with a 2.02 ERA and has 12 quality starts in 12 starts. Leads AL starters in lowest OBP allowed. He's 33-1 over the past two seasons. His splitter has been outlawed by multiple religious groups for defying the laws of nature; batters are hitting .135 against it with 48 strikeouts, two walks and one home run (by
Melky Cabrera
, on Tanaka's first pitch of the season, which means he's since thrown 315 splitters without much damage). He's rebounded from his one loss with three straight one-run starts.
The case against:
It's only 12 starts, so let's see what happens as teams see him again. The quality start stat is a little dubious since he allowed four runs in six innings in his defeat, but only three of the runs were earned. He's allowed eight home runs, so the long ball may prove to be an issue. Struck out 10-plus batters three times in his first five starts but hasn't done it since.
Max Scherzer
Scherzer
The case for:
The reigning AL Cy Young winner is 6-2 with a 3.20 ERA; his strikeout, walk and home run rates are essentially the same as last year. Few pitchers can match his four-pitch arsenal of four plus pitches. Has had four starts with no runs allowed this year. Have to admire the guts to turn down a reported $144 million contract and hit free agency after the season.
The case against:
Has never thrown a complete game in the majors. If you're talking about the best at this very moment, Scherzer has allowed 16 runs in his past three starts. Hit rate is back up this year. Had one great season but career ERA is still 3.64.
Adam Wainwright
Wainwright
The case for:
Talk about a workhouse. Led the NL in innings (and wins) in 2009 and again last season. This year, he's once again leading in innings and wins. He's 8-3 with a 2.31 ERA and holding batters to a .194 average. His curveball has been known to break knees, spirits and bank accounts. Has a 2.53 career postseason ERA and is the prototypical staff leader. He's third in the majors since 2012 in FIP (fielding independent pitching) behind only Kershaw and
Felix Hernandez
. Has had six games this season of seven-plus innings and no runs.
The case against:
His BABIP this season is .252, far below his .320 of 2012 and .311 of last season, so his hit rate may increase moving forward. Gets to pitch in the NL Central, which, let's face it, has had some pretty weak offenses in recent years, except the team Wainwright pitches for. Does have some blowup starts -- a seven-run and six-run game this year, a nine-run and six-run game last year. (Hey, we're nitpicking here.)
Felix Hernandez
Hernandez
The case for:
His FIP is second in the majors over the past three years -- 2.62 to Kershaw's 2.57, and he does that facing deeper lineups. He's 8-1 with a 2.57 ERA this year and just three home runs allowed. Has topped 200 innings in six consecutive seasons. That changeup, oh that changeup. Shakespeare would write love sonnets about it if he were alive today. Batters are hitting .143 against it with 49 strikeouts and three walks and one home run (praise you,
Matt Dominguez
). Has pitched in front of a lot of lousy defense the past couple of seasons, particularly in 2013, when the Mariners' outfield was especially atrocious. Has the best strikeout-to-walk ratio of his career and faces the pressure of often having to win with one or two runs of support nearly every start. Nicknamed "King" and nobody really has an issue with that.
The case against:
Gets to pitch half his games at Safeco Field, where fly balls go to die. Hasn't had an ERA under 3.00 since 2010 or a complete game since 2012. Hasn't had a no-run game yet this year. Can he pitch in a pennant race or big-game situation? Has never had to do that.
Hisashi Iwakuma
Iwakuma
The case for:
Since he joined the Mariners' rotation in July 2012, he has the best ERA in the AL. Led AL pitchers in Baseball-Reference WAR last season and finished third in Cy Young voting. (See above for notes about bad defense and offense.) His splitter is a thing of beauty: Over the past two seasons batters have hit .174 against it with 99 strikeouts, eight walks and four home runs. Has handed out just four walks in seven starts.
The case against:
Missed time with a finger injury this year and wasn't always the most durable pitcher back in his Japan days. No career complete games in the majors. His strikeout rate of 6.4 per nine innings is a little mediocre and he's allowed six home runs after allowing 25 last year. Isn't nicknamed "King."
Johnny Cueto
Cueto
The case for:
Leads the majors with a 1.68 ERA while pitching in that bandbox in Cincinnati. That Luis Tiant-like spin-and-twirl delivery is awesome. Has three complete games and limited batters to a .151 average. His strikeout rate has increased for the third year in a row and is up to 27 percent. With his fastball/cutter/slider/changeup arsenal, he's a four-pitch pitcher and can throw any of them at any time. Has given up more than two earned runs just once so far. One of the best right-handed pickoff moves ever means he shuts down the running game -- one stolen base allowed this year after just three the previous two years (runners were 1-for-10 off him in 2012).
The case against:
His .187 BABIP is simply unsustainable. ERA is helped by five unearned runs. Has had trouble staying healthy, making 24 starts in 2011 and 11 last year, so has reached 200 innings just once.
With apologies to:
Anibal Sanchez
,
Julio Teheran
,
Tim Hudson
,
Zack Greinke
,
Madison Bumgarner
,
David Price
,
Mark Buehrle
,
Corey Kluber
,
Jon Lester
,
Stephen Strasburg
and
Sonny Gray
, left off for reasons of space, previous track record, lack of a track record, or simply the belief that their hot start isn't sustainable.
June, 3, 2014
Jun 3
1:21
AM CT

By Christina Kahrl
ESPNChicago.com
Archive
Jose Abreu
is back in action, and not a moment too soon. The weather's warming up and so are the races, and with the White Sox previously getting back
Chris Sale
to lead the rotation and
Adam Eaton
to lead off, now is their chance to move above .500. Most of all, with all of that talent -- Abreu first and foremost -- they're fun to watch again every day of the week, not just when it is Sale's turn in the rotation.
That said, seeing Abreu homer in his return from the DL was great, not just for Sox fans, but for anybody excited about baseball. Not that anyone was worried Abreu would turn into a pumpkin like he was a latter-day
Chris Shelton
, if you remember the Tigers first baseman who busted out for 16 first-half homers in 2006 … and then didn't hit another for the rest of the year. But you wanted to see Abreu come back and not miss a beat after he ripped 15 homers in six weeks. So homering off
Clayton Kershaw
? That'll do. Oh yes, that'll do.
[+] Enlarge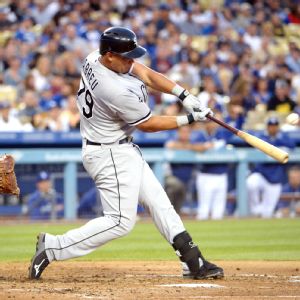 Kirby Lee/USA TODAY SportsLet the fun continue: Jose Abreu's latest big blast came off Clayton Kershaw.
As ever, there have been some performance-minded concerns about Abreu's strikeouts because he has been striking more than 26 percent of the time, among the top 10 most whiffable regular batters in the league. And he doesn't walk much, just shy of having one of the 10 lowest walk rates in the AL. And those are points well taken -- and perhaps better taken if and when he stops slugging .600 and taking some of the game's best pitchers for a ride. Can we not look a gift horse in the mouth? If you want to quibble about how he manages his at-bats or whether he should shorten up at times, in fairness, he has plated 24 percent of his baserunners, and the only guys in the American League doing better are named
Miguel Cabrera
(with an incredible 31 percent) and
Robinson Cano
(25 percent).
At this point, though, I frankly wouldn't get too hung up on any of the specifics about the numbers, because let's face it: There just aren't a lot of them, talking about a guy with less than two months of at-bats. Better we enjoy the talent that they're beginning to describe, and suggest what he's capable of. He already has homered off Kershaw and
Justin Verlander
and
David Price
. We'll see how many more active Cy Young winners he goes yard against before the season's done. Later, when we've seen a lot more of Abreu, maybe then we can start having meaningful hair-splitting conversations about what he is and what he isn't. But in the meantime, I'm down for just watching and enjoying him do this as many times as he can.
As far as the outcome in his return, well, that's less happy. It certainly didn't help when the White Sox infield started playing kick ball in the seventh inning to put the Dodgers on the board, but two runs against
Clayton Kershaw
is simultaneously a moral victory and not enough to bank on beating one of the game's best.
Just seeing Abreu back on the field provided a ready reminder that the White Sox have a chance to play meaningful baseball this season, and already are. You can say that about everyone in the AL, as long as nobody in the wild-card race gets much beyond .500. But with Abreu back, they are Chicago's contender, the team you want to watch, armed with Cuba's latest gift to the game stateside. Why worry? Wherever he takes us, just enjoy the ride.
Christina Kahrl writes about MLB for ESPN. You can follow her on Twitter.
June, 2, 2014
Jun 2
12:12
PM CT
The
Chicago White Sox
will move closer to full strength Monday night when
Jose Abreu
returns to action for the three-game series against the
Los Angeles Dodgers
at Dodger Stadium.
Abreu has missed the past 13 games with tendonitis in his left ankle, an injury that took a team-leading 15 home runs and 42 RBIs out of the lineup.
In the early part of Abreu's absence, the White Sox figured out ways to manufacture runs, but things have been much more difficult of late. The White Sox are batting just .214 combined over their past seven games and went from the fifth inning of Tuesday's game against the
Cleveland Indians
to the second inning of Sunday's game against the
San Diego Padres
between home runs.
Having Abreu return during a series at a National League park isn't ideal since the rookie will have to play in the field if he wants to get into the three games. The team won't have the designated hitter spot at their disposal until Friday when they open a three-game series across town against the
Los Angeles Angels
.
During the first month and a half of the season it was the clear that as Abreu goes, so goes the White Sox's offense. Now that he returns to a team that is getting excellent starting pitching, is it finally time for the White Sox to sync up all parts of their game?
"I mean you would like it to be that way, but I don't want to put it all on Jose, that as soon as he's back he has to do that," manager Robin Ventura said. "Competitively, the way they show up and the way the go about it, that's the promising part is they do compete."
Ventura said he would be open to playing
Adam Dunn
in left field during the series to make sure he can get another power bat in the lineup.
HEAD TO HEAD
Dunn is one of the few left-handed hitters with huge success against Dodgers lefty
Clayton Kershaw
, going 8-for-13 (.615) with four home runs and nine RBIs. ... Kershaw is 0-1 with a 5.40 ERA in two career starts against the White Sox, the highest ERA he has against any team he has started against at least twice. ... Dunn is just 2-for-18 (.111) against Dodgers right-hander
Dan Haren
, but one of those hits was a home run.
Paul Konerko
is 8-for-21 (.381) lifetime against Haren. ...
Alexei Ramirez
has the most at-bats of any White Sox player against Dodgers right-hander
Josh Beckett
, going 4-for-16 (.250). ... The Dodgers'
Andre Ethier
has struck out three times in three at-bats against White Sox lefty
Jose Quintana
. ... In three at-bats against White Sox lefty
John Danks
, the Dodgers'
Hanley Ramirez
has a double and a home run.
NOTES
Despite losing two of three to the San Diego Padres this past weekend, the White Sox have won eight of their last 13 games. ... The White Sox are just 3-6 against National League West teams this season, with three games against the Dodgers this week and four remaining against the
San Francisco Giants
later this year. ... After
Chris Sale
allowed one run over nine innings to the Padres on Sunday, White Sox starters have a 2.31 ERA over the past 12 games and have held opponents to a .201 batting average over that span. ... The Dodgers'
Yasiel Puig
had a club record 43 hits in May and has reached base safely in 33 consecutive games. ... This will be the fifth interleague series between the White Sox and Dodgers. The White Sox lead the all-time series 12-6 and have a winning record at both U.S. Cellular Field (7-2) and Dodger Stadium (5-4).
PITCHING MATCHUPS
•
Monday:
White Sox LH Jose Quintana (3-4, 3.61 ERA) vs. Dodgers LH Clayton Kershaw (3-2, 3.57), 9:10 p.m. CST
•
Tuesday:
White Sox RH
Hector Noesi
(0-3, 4.33) vs. Dodgers RH Dan Haren (5-3, 3.28), 9:10 p.m. CST
•
Wednesday:
White Sox LH John Danks (3-5, 4.66) vs. Dodgers RH Josh Beckett (3-2, 2.52), 9:10 p.m. CST
May, 30, 2014
May 30
3:17
PM CT
CHICAGO -- So much for a clash of aces next week in Los Angeles, as
Chris Sale
's next start has been moved to Sunday against the
San Diego Padres
.
Sale
Sale was in line to face off against the Dodgers'
Clayton Kershaw
in the opener of an interleague series Monday. The White Sox now say Sale will pitch opposite Padres lefty
Eric Stults
at home Sunday in the finale of the homestand.
"I know people would probably like to see that matchup, but we're thinking about it for us and him, getting back out there as quick as you can without rushing him, too," manager Robin Ventura said. "So, this makes sense for us and him, and it has nothing to do with whether it was a (marquee) matchup and how he was going to pitch in L.A."
Sale threw just 40 pitches in his previous outing Tuesday against the
Cleveland Indians
, as he was removed after a nearly two-hour rain delay.
Instead of waiting for the other four White Sox starters to take their turns in the rotation, Sale will interrupt that order, but still will be starting on a full complement of four days of rest because of Thursday's off day.
Jose Quintana
is no longer listed as the White Sox starter Sunday and is expected to pitch Monday in Los Angeles.
"Whenever they need me or my name is called, I'm going out there," Sale said. "It just so happens to be Sunday, which for me makes sense because I only threw three innings. So go out there on regular rest and get it going, try to find a groove.
Sale is 4-0 with a 1.73 ERA this season, missing five weeks because of a flexor muscle strain in his left arm. Since his return, he has given up just one hit over nine innings in starts against the
New York Yankees
and Indians.
Going back to his final start before going on the disabled list, Sale has given up one run on two hits over his last 16 innings.
May, 28, 2014
May 28
1:57
AM CT
CHICAGO -- Rain threatened to mess up the
Chicago White Sox's
pitching plans in both the present and the future, but neither ended up happening Tuesday.
Chris Sale
was able to pitch only three innings after a nearly two-hour delay interrupted his outing, but the White Sox still looked at the positives of the situation since they managed to close out a 2-1 victory over the
Cleveland Indians
.
Sale threw only 40 pitches, but manager Robin Ventura said he doesn't plan to bring back his left-hander any earlier than five days. That means a marquee matchup of Sale versus the
Los Angeles Dodgers
'
Clayton Kershaw
could still end up happening Monday at Dodger Stadium.
[+] Enlarge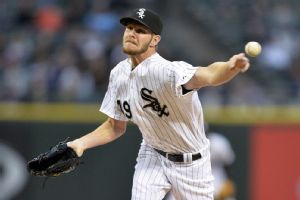 Brian Kersey/Getty ImagesDespite Tuesday's rain-shortened start, Chris Sale is still on track for a matchup with Dodgers ace Clayton Kershaw on Monday.
"He'll wait the five [games]," Ventura said. "It's at the point where he's coming back and doing what he's doing. There's no reason to [pitch any earlier]."
The bonus for the White Sox is the light workload also will help Sale continue the process of easing back from the sore arm that had him on the disabled list for five weeks.
"Physically and mentally, I feel as good as I've ever felt," Sale said. "My fastball command is as good as it's been in a long time. Throwing my changeup and slider consistently for strikes helps out a lot, too. [Catcher
Tyler Flowers
] back there, he knows me more than I know myself. He guides me through this and the whole year, I don't think I've shaken him off once. A lot of credit goes to him for knowing what I need to do more than I need to."
With Sale out,
Scott Carroll
picked up three innings of his own,
Jake Petricka
threw two innings and
Ronald Belisario
closed it out with a perfect ninth inning. Carroll tried using the long delay to his advantage.
"I treated it the way I would prepare for a start, but obviously it's not the same on a day's rest," he said. "It was a good situation, and I just tried to do the best I could. I wanted to get out there and try and help the team win as much as possible."
Sale knew what he was up against Tuesday with the elements.
"I knew the rain was coming," he said. "I just didn't want to acquiesce to the conditions or the rain or anything that affected me so, I just wanted to stay the course, go out there like it was a normal one and do my part."
March, 5, 2014
Mar 5
4:53
PM CT
There must be something in the air that is getting to ace left-handers who train at Camelback Ranch.
First the
Los Angeles Dodgers
'
Clayton Kershaw
was struggling at the Glendale, Ariz., facility, and now the
Chicago White Sox
's
Chris Sale
has stumbled in his second start Wednesday against the
San Diego Padres
.
The White Sox's expected Opening Day starter lasted just 2 2/3 innings, the same as his spring debut last week. But while he delivered a scoreless outing in his Cactus League debut, he gave up six runs on six hits against the Padres, including a home run by
Nick Hundley
.
Nobody seems too worried that Kershaw won't come around, and the same could be said for Sale, who was mixing in sliders for the first time. He threw just one in his first start, relying on fastballs and changeups in that outing.