Chicago White Sox:

Courtney Hawkins
August, 24, 2013
8/24/13
8:25
PM CT
CHICAGO -- The first pitch Saturday kicked off Major League Baseball's annual Civil Rights Game, but the event was more about the events that occurred leading up to the contest between the
Chicago White Sox
and
Texas Rangers
.
Bo Jackson and Aretha Franklin were given the MLB Beacon of Change Award before the game. Jackson was on hand to receive his, while former major leaguer Willie Horton accepted for Franklin.
There was a roundtable discussion Friday on baseball and civil rights, followed by Saturday's Beacon Awards luncheon to honor those who "embody the spirit of the civil rights movement."
Sharing in the honorary first-pitch duties Saturday were former Negro Leagues pitcher Ernie Westfield, former Negro Leagues player and White Sox legend Minnie Minoso, Sharon Robinson, who is the daughter of Jackie Robinson, and Larry Doby Jr., son of Hall of Famer Larry Doby. White Sox assistant hitting coach Harold Baines caught the first pitch.
"A lot of this is paying tribute to the guys who came before us," said Baines, one of two African-Americans on the White Sox coaching staff, along with Daryl Boston. "They should never be forgotten."
According to a White Sox release, "The Civil Rights Game will pay tribute to all those who fought on and off the field for equal rights for all Americans. The game, along with the ancillary events, allows MLB to pay tribute to all of those who have fought and continue to fight injustice."
August, 15, 2013
8/15/13
5:30
PM CT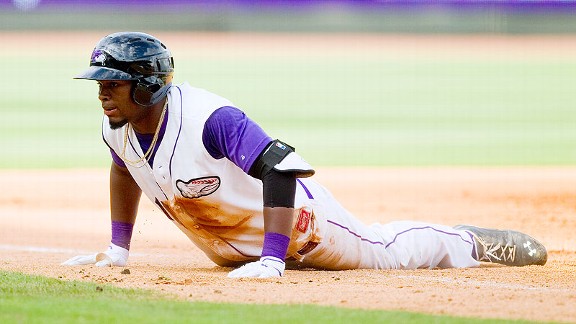 Brian Westerholt/Four Seam Images via AP ImagesCourtney Hawkins, the White Sox's first-round pick in 2012, is batting .191 with a .259 on-base percentage for Single-A Winston Salem.
CHICAGO -- The outfield was supposed to be an area of strength in the
Chicago White Sox
farm system, yet it ended up being the area the club addressed with improvements this year.
This spring, the White Sox were the envy of every club void of rising young outfield stars, boasting prospects like Jared Mitchell, Keenyn Walker, Trayce Thompson and Baseball America's No. 1 overall prospect in the organization, Courtney Hawkins.
The issues started with Mitchell and that was an alarming sign since he was supposed to lead the train of young outfielders into U.S. Cellular Field over successive seasons.
Struggles at Triple-A Charlotte, combined with an oblique injury, earned Mitchell a ticket back to Double-A Birmingham, where he has failed to get on track. In 74 games on two levels, Mitchell has batted just .172 with a .302 on-base percentage and a .268 slugging percentage. He has also struck out 100 times compared to 43 hits.
November, 27, 2012
11/27/12
3:27
PM CT
CHICAGO -- One of the Chicago White Sox's new major league coaches had a message for all the high-level outfield prospects in the system: It's your turn to get here now.
The White Sox not only named Daryl Boston the team's new first-base coach, he will also coach the outfielders. Those duties were previously held by
Harold Baines
, who will now serve as the assistant hitting coach to Jeff Manto.
June, 18, 2012
6/18/12
9:42
PM CT
CHICAGO --
Chicago White Sox
first-round draft pick Courtney Hawkins could have done a back flip after the day he had at U.S. Cellular Field on Monday.
But, of course, Hawkins' days of back flips are over per the instruction of White Sox general manager Ken Williams. Despite the one limitation, Hawkins was given open reign at the ballpark Monday in his first official day as a White Sox player.
[+] Enlarge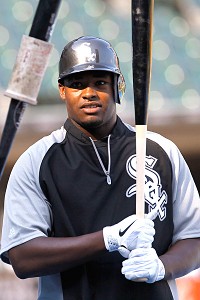 AP Photo/Charles Rex ArbogastTop White Sox draft pick Courtney Hawkins took batting practice before Monday's Cubs-Sox game.
"Oh man, it's been crazy," Hawkins said during the
Cubs
-White Sox game.
Hawkins, who was joined by his parents, began with his day with a press conference to sign his pro contract. He and Williams took questions from the media afterward.
Hawkins then went to the White Sox clubhouse, was given a uniform and had a locker for the day next to reliever
Matt Thornton
. He later stretched with the team, played catch and took batting practice, which included hitting a few balls into the bleachers.
White Sox third baseman
Orlando Hudson
messed around with Hawkins at the batting cage.
"Orlando had some words for me taking a couple extra swings, but it was fun," Hawkins said. "[He said] basically, 'You're a rookie and don't be taking my cuts.' "
Hawkins made sure to seek out
Adam Dunn
.
"I'm really close with
Brooks Kieschnick
, and he actually told me to talk to Adam Dunn because he was fun and crazy," Hawkins said. "He was right. He gave me a big hug."
Hawkins also met former White Sox star
Frank Thomas
and former Chicago Bulls star Scottie Pippen, who along with Hawkins threw out a ceremonial first pitch.
"[Pippen] basically said, 'Work hard, get here, it's a fun city,' " Hawkins said. "I'm going to do that the best I can.
"This is the ultimate goal of course. This is where every kid dreams on being. I'll just go out every day, play ball and do the best I can and be here as soon as possible."
Hawkins will fly out to Bristol, Va. on Tuesday morning and will join the Bristol White Sox for their season opener.
Hawkins said there wasn't just one moment that would stand out from Monday, but he had been especially impressed by the love he had received from White Sox fans.
"That's one thing I do have to say, White Sox fans are really loyal," Hawkins said. "They're excited to have me. That felt good to know they supported me already, and they love their White Sox."
June, 4, 2012
6/04/12
10:41
PM CT
The Chicago White Sox's choice of high school outfielder Courtney Hawkins is a departure from their most recent drafting policy of taking the best college player available. That philosophy was a part of an overall approach that put need at the major league level above player development in the most conventional of ways.
It is not a coincidence that general manager Kenny Williams' first year as the top baseball executive and the college-player draft mentality came hand-in-hand. That thought process has served the team really well in recent drafts with former No. 1 picks
Gordon Beckham
and
Chris Sale
now important pieces of the major league team after short minor-league tenures.
The Sox have not drafted a high school player since 2001 when they picked left-handed pitcher Kris Honel out of Providence Catholic High School (Illinois). Honel never made it to the major leagues -- in fact of all the White Sox's No. 1 picks that came out of high school the only impact players have been
Harold Baines
(1977), Steve Trout (1976), Carlos May (1966) and Ron Karkovice (1982).
That list includes two outfielders, one catcher and one pitcher. This gives you an idea why many major league clubs do not want to roll the dice on developing a player out of high school, due to the four- to six-year process .
One driving force for the White Sox's change of philosophy is the new draft language in the CBA. The new rules put limits on how much money the clubs can spend for the first time since the draft was instituted in 1965. If teams go over their slotted allotments they are subject to tariffs up to 100 percent on a dollar and loss of future high draft picks.
For a team like the White Sox, who have spent the least amount of money in the draft over the last three years, (under 10 million total), this was the right time to build through their farm system rather than trying to retool every season with new players.
Hawkins' makeup and raw power remind some of
Frank Thomas
, the greatest hitter in franchise history. One can only hope that Hawkins' maturation is as quick as the Big Hurt, who was drafted in June of 1989 and was in the major leagues by July of 1990.
June, 4, 2012
6/04/12
7:39
PM CT
The
Chicago White Sox
selected high school outfielder Courtney Hawkins with the No. 13 overall pick in the MLB First-Year Player Draft on Monday.
Hawkins, who is 6-2 and 210 pounds, attends Carroll High School in Corpus Christi, Tex. He was the Texas Gatorade Player of the Year. He is signed with Texas.
Read the entire story.