Chicago White Sox:

Dallas McPherson
March, 3, 2012
3/03/12
11:35
AM CT
By Chris Silva
ESPNChicago.com
Archive
January, 23, 2012
1/23/12
2:36
PM CT
CHICAGO -- The
Chicago White Sox
handed out 18 invites to major-league camp in spring training, including eight on minor-league contracts.
Right-hander
Brian Bruney
, who pitched with the White Sox last season for a short time was among those signed on minor-league contracts. Also included in that group is left-handers Leyson Septimo and
Eric Stults
, catchers Damaso Espino and
Hector Gimenez
, infielders
Dallas McPherson
and
Ray Olmedo
and outfielder
Delwyn Young
.
Among the players in the minor-league system that were invited to big-league camp, that list included: right-handers Brian Omogrosso and Jacob Petricka, catchers Michael Blanke and Josh Phegley, infielders Jim Gallagher and Tyler Kuhn and outfielders Jordan Danks, Jared Mitchell, Brandon Short and Trayce Thompson.
White Sox pitchers and catchers report to Glendale, Ariz. on Feb. 23. The cub's first full-squad workout, with position players, takes place Feb. 28.
June, 2, 2011
6/02/11
2:46
PM CT
By Doug Padila
ESPNChicago.com
Archive
Chicago White Sox
infielder
Dallas McPherson
cleared waivers Thursday and was outrighted to Triple-A Charlotte.
McPherson was designated for assignment Monday when
Brian Bruney
and
Jeff Marquez
had their contracts purchased from Charlotte to give the White Sox help in the bullpen. Only Bruney pitched in the three-game sweep at Boston.
McPherson had solid production at Charlotte earlier this season and had his contract purchased May 17 when
Mark Teahen
went on the disabled list. In his first game with the White Sox he delivered a key single in a game-winning rally.
McPherson ended up getting three starts at third base, but the sporadic playing time hurt his production. His stint with the big club ended with just two hits in 15 at-bats.
May, 18, 2011
5/18/11
6:42
PM CT
CHICAGO – The
Chicago White Sox
threw a number of changes at the
Cleveland Indians
on Wednesday, going with no less than three lineup changes.
Just because the Indians entered with a baseball-best 26-13 mark didn't mean manager Ozzie Guillen was going to shy away from using his bench. So
Omar Vizquel
was inserted at shortstop batting second,
Dallas McPherson
was at third batting seventh and
Brent Lillibridge
was in center batting eighth.
They will all be going up against Indians right-hander
Justin Masterson
, who is 5-1 this season with a 2.73 ERA.
"I try to give the most lefties that I can against this guy," manager Ozzie Guillen said. "This guy throws the ball very well. His sinker is pretty effective against righties. I just try to get the lefties out there. Hopefully we make something happen. He's very effective against right-handers right now. Hopefully it works."
The left-handed hitting McPherson had a big pinch-hit single in the eighth inning Tuesday that led to the go-ahead run scoring. But
Brent Morel
had a three-run home run earlier in the game. McPherson is getting his first start after being recalled Monday when
Mark Teahen
went on the disabled list.
The switch hitting Vizquel gets the start over
Alexei Ramirez
, who has actually been heating up with a .333 batting average (12-for-36) over his last nine games.
Lillibridge starts over
Alex Rios
, who has been much improved over the past two weeks compared to his slow start, but he is hitting just .143 (3-for-21) in his career against Masterson. Like Rios, Lillibridge bats right-handed.
Not only has Masterson's sinker been effective this season, he plays that off his slider and has used an effective changeup and fastball. Right-handed hitters are batting just .148 against him, fourth best in the American League. Also helping Masterson's cause is the fact that the Indians offense is scoring 5.4 runs for him per game.
After the White Sox had scored a combined 23 runs in the first two games of the season, Masterson beat them in the third game by giving up one run on seven hits in seven innings.
May, 17, 2011
5/17/11
10:49
PM CT
CHICAGO – Sometimes the opposite of what is expected really is the correct thing to do.
[+] Enlarge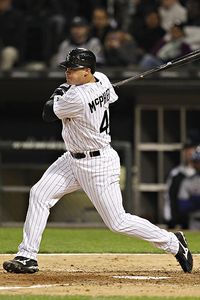 Jonathan Daniel/Getty ImagesDallas McPherson made an imediate impact after his call-up on Tuesday.
On Tuesday against the Texas Rangers the White Sox were skidding on ice and simply lifted their foot off the brake.
Rookie Brent Morel, quieter than a snowflake and powerless all season, lifted a three-run home run in the fifth inning to tie the game and the White Sox won it with a run in the ninth on a wild pitch.
But the White Sox weren't done with key offense from third baseman. It might not be a position that has offered much punch this year, but newcomer Dallas McPherson got into the mix as well with a pinch-hit single that set up the go-ahead run in the eighth.
When play began Tuesday, White Sox third basemen had driven 11 runs all season, last in the American League. They had no home runs and a .559 OPS that was better than only Seattle and Detroit.
"[Morel] needed and we needed that one, just to wake up," manager Ozzie Guillen said. "I think we were very flat because we didn't have good swings. After that home run, obviously, we came alive a little bit and things were different. It's one thing about Mo, we don't bring him here because he hit 3,000 with 30 home runs. We bring him here because he can help the club do a lot of things."
His first home run just reached the first row in left field and was just the second White Sox hit of the game off Rangers starter Matt Harrison.
"It was just the same as always," Morel said of his approach. "He [just] threw me a little slider down and in and I was trying to stay on the ball. Luckily, I got a fastball over the plate. Mistake pitch. I was fortunate to get that one."
First and foremost it tied the score 3-3, but the added benefit to Morel's home run was that it brought White Sox starter John Danks to life. Struggling on a night that he would allow six walks, Danks retired the next four batters he faced before leaving the game in the seventh after giving up a bunt single. Jesse Crain and Sergio Santos took it the rest of the way.
"That was huge, that was the turning point in the game," Danks said about Morel's home run. "At that point I told myself I get a fresh start now. I felt like I had better command as the game went on, and I was able to put more behind the pitch. He gave us a lift, no doubt."
But third basemen weren't done yet. With Gordon Beckham on first base and one out in the eighth inning, Dallas McPherson came on to pinch hit for Brent Lillibridge. In his first look in a White Sox uniform, he singled up the middle on the first pitch for his first big-league hit since 2008.
Beckham moved to third base and scored the go-ahead run on a gift wild pitch.
"Yeah, that definitely was a great moment," McPherson said. "I'm still trying to remember. It was nice to get that one out of the way. I had no idea what he had, as far as offspeed pitches and stuff. I was looking for something to hook in the four-hole [second base]. I miscalculated the sink a little bit and I kind of got lucky it went over the middle."
Of course. It wasn't what McPherson expected. But that was the theme of the night.
May, 17, 2011
5/17/11
7:54
PM CT
CHICAGO – Two back surgeries are enough to tell yourself that your chances of playing in the major leagues again could be done.

Dallas McPherson never gave into negative thinking and his perseverance was rewarded when the White Sox purchased his contract from Triple-A Charlotte on Tuesday. Mark Teahen went to the disabled list with an oblique strain.

The last time McPherson played in the major leagues was in 2008 with the Florida Marlins. Since then he has missed an entire season (2009) because of back issues and went through hamstring problems last year in the Oakland A's organization. His first back surgery forced him to miss the 2007 season.

"I knew I wanted to keep playing baseball and I felt like I still could," McPherson said. "My back was obviously gonna tell me whether I could or not. Luckily right now it's holding up. That's all I can really ask for and pray it continues that way."

As a second-round draft pick with the Angels in 2001, McPherson quickly developed into a hot-shot prospect with plenty of power potential. In 2004 he combined to hit 40 home runs with 126 RBI between Double-A and Triple-A before getting called up to the major leagues for the first time.

But injuries and a propensity to strike out (121 strikeouts in 360 at-bats with the Angels) is what ended his time in Southern California. Mostly it was the back issues, though.

He hooked up with the Marlins in 2008 and made an impressive recovery, blasting 42 home runs with 98 RBI to earn a brief 11-game stint in the major leagues. But again the back caught up with him.

He fared well with the White Sox this spring but couldn't help but think his last chance might have come and gone.

"I got to be honest, I wasn't sure I'd hear those words again but it was great to get called into the manager's office like that and find out," McPherson said of finding out about his promotion during a rain delay with Charlotte on Monday.

The toughest part about pushing yourself every day is not knowing if it will make a difference. But McPherson found the drive, batting .305 with three home runs and 18 RBI in 31 games.

"I don't think you ever really know," he said. "I kind of hoped I left a good enough impression and was seen in good enough light that if something did happen my name would at least be brought up. And I think that's all you can do is kind of hope for that and the rest is kind of out of your control."

What remains out of his control is how much playing time he will get with the White Sox. Batting from the left side he could split time with Brent Morel, but Omar Vizquel is also a left-handed hitting option at third base.

"I don't know yet," manager Ozzie Guillen said about McPherson's potential playing time. "It depends. I know he was swinging the bat OK in Triple-A but right now I'm going to stick with the guys we have here and see how we're going to play."

McPheson won't sweat it. He had a long road back to the major leagues, he had three third basemen ahead of him in Morel, Teahen and Vizquel and he still made it back. He will be ready when his number is called.

"After the springs I've had in the past and the past few years with all the injuries, I really was happy to be healthy and go out and play every day and hopefully showcase that I'm healthy and feeling good and can somehow help produce at the major league level," McPherson said.

March, 12, 2011
3/12/11
10:34
AM CT
GLENDALE, Ariz. – Dallas McPherson has been getting plenty of chances to prove himself in White Sox camp this spring, which is really all a guy can ask for after two back surgeries over the last four years.
[+] Enlarge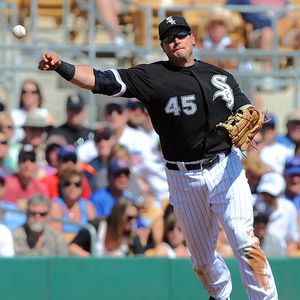 Christopher Hanewinckel/US PresswireDallas McPherson is getting ample opportunity to prove himself in spring training.
A highly touted prospect with the Angels early in his career, the third baseman's time in Southern California was finished after 117 big-league games over three seasons. He showed some power with 18 home runs and 45 RBI with the Angels over that stretch, but there were also the 121 strikeouts.
During that time is when back issues cropped up and a first surgery that required McPherson to miss the entire 2007 season. The Marlins gave him a chance in 2008, putting McPherson at Triple-A Albuquerque, and he showed his appreciation by hitting a minor-league leading 42 home runs with 98 RBIs.
But back issues cropped up again in the spring of 2009 forcing him to miss an entire season again and go through a second back surgery.
In the A's organization last year, McPherson again spent a full season at Triple-A, and while hamstring issues cut his time to 84 games, he did manage to hit 22 home runs with 75 RBIs.
The White Sox are the latest to give the 30-year-old McPherson a chance and they haven't been stingy with playing opportunities. Heading into play Saturday, McPherson's 23 Cactus League at-bats are among the most on the team, and he is making them count with a .304 batting average.
He still isn't projected to start the season any higher than Triple-A in the White Sox organization, but he's getting a chance again, and has already used it to prove to himself, and his new club, that if his back holds up, there might be plenty of quality baseball left in his 6-fooot-4, 225-pound frame.
Here's McPherson's take on his spring with the White Sox.
Are you happy with the way you are playing so far in camp?

Dallas McPherson: I can't be happier with the at-bats I'm getting and the playing time I'm getting. It's something I've wanted in a spring training for a while. It's good for me to come out and play and prove that I'm healthy, knock on wood, and get some at-bats to get ready. Any time you're in a new organization and get in front of them and show them you can play, I think it helps in the long run.
Nobody obviously owes you anything, but what has it been like to get so many chances from this staff that hardly knows you?
DM: It's been great. It's great that they have confidence to run me out there to get a look at me. They need to see you and evaluate you and they can't always do that in practice. They're running me out there and giving me opportunities.
How tough has it been over the last four years, to miss two seasons because of injury and spending the entire year at Triple-A in 2010?

DM: It's been tough, there's no doubt. I have had a string of injuries with the back issues and last year with the torn hamstring. It's definitely been tough but it is what it is. I can't change it, I can't go back. If there was anything I could do to prevent it I would have done it. It happens in this game and all I can do now is to prepare my body the best I can and hopefully be able to go out and play with confidence that nothing else will go wrong.
Former White Sox third baseman Joe Crede had back issues similar to yours. Do guys with a history of back injuries have a certain kinship?

DM: It was funny, playing first base [Thursday] night, [the Diamondbacks'] Russell Branyan got on. [Branyan suffered a herniated disc in 2009.] I don't know about them, but I always know who's having back problems in the game and follow them. I knew Joe had a problem with his. You definitely feel for other guys. For anybody who hasn't had back trouble, they don't really know the extent of what it affects.
Players don't get updates on their status during spring training from the coaching staff. By getting steady playing time, is that a sign to you that they like what you're doing so far?

DM: They haven't told me anything and I try not to worry about it. I try not to worry about it and I try not to read into things. I feel like if they're running me out there and they're playing me they either like what they're seeing or there is something they want to see. Either way it's fine with me. I'm more than willing to run out there every day for them.
Are you feeling a lot further along and have made a lot more progress now than when you opened camp as a non-roster invitee?

DM: It's hard to say. I don't know what they knew about me or what they expected. I have played against them in the big leagues a little bit when I was with the Angels. I really don't know what they expected. I can tell you from my standpoint, I think I am leaps and bounds ahead of where I was when I headed into camp last year with Oakland. I was six-months removed from a second back surgery at that point. I feel like health wise and mobility I feel so much better, my body feels so much better. Hopefully the more I can get out there and play, the more they can see something positive from me.
On defense you have been diving for balls and at the plate you've shown good bat speed. Are you 100 percent now or are you still working through health issues?

DM: I think everybody in the clubhouse is probably working through some stuff, but overall health, yeah I feel like I'm where I need to be as far as Week 2 of games during spring training. Am I in midseason form? Definitely not, at the plate. I'm still trying to hone in at the plate and get some mechanics and some timing down. But that's stuff that will take time. Sometimes it takes me longer anyhow. I've never really had a huge spring, but hopefully the more at-bats I get, the more I get out there playing, the healthier and stronger I can get to get ready for the season.
November, 17, 2010
11/17/10
6:14
PM CT

By Bruce Levine
ESPNChicago.com
Archive