Chicago White Sox:

Dave Martinez
October, 5, 2011
10/05/11
4:13
PM CT
CHICAGO – Wouldn't it be nice to go looking for a new job, and a pay raise to go along with it, all while being the person asking the questions instead of answering them?
[+] Enlarge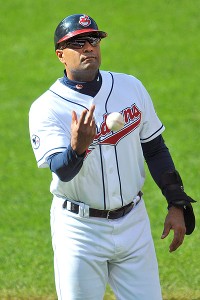 David Richard/US PresswireSandy Alomar Jr. could be a candidate in both Chicago and Boston.
For Dave Martinez and Sandy Alomar Jr., that could end up being their reality as they find themselves in the role of sought-after manager candidates.
Both Martinez and Alomar are reported to be high on the list of both the White Sox and the Boston Red Sox as the clubs look to replace long-time managers.
So instead of, say, the White Sox asking either what they have to offer, Martinez and Alomar might be able to turn the question right back at general manager Kenny Williams.
Boston has the better track record of success over the past decade, a healthier pocketbook and tons of national attention to raise your profile. But there is also the cramped quarters of Fenway Park that only raise the heat from the pressure cooker of the job.
The White Sox can't even boast about a less stressful job since they will be expecting success just as much as Boston will from its new manager. What they can offer is a division more winnable than the American League East since it's free from the likes of the New York Yankees and Tampa Bay Rays.
The White Sox also appear to have a better clubhouse culture since it was widely reported that Red Sox players splintered themselves into various cliques.
Still, given a choice, it's likely that either probably goes with the Red Sox over the White Sox simply because the club has more money to throw at its problems. The White Sox are forced to be a little more creative when it comes to putting together and retooling a roster.
None of it should worry the White Sox since they aren't expected to be too disappointed with landing their second-best candidate.
October, 4, 2011
10/04/11
6:40
PM CT
CHICAGO -- The end of the Tampa Bay Rays' season means the pace should pick up on the White Sox's manager search.
Rays bench coach Dave Martinez is believed to be one of the White Sox's top manager candidates, if not the No. 1 guy in their search following the departure of Ozzie Guillen last week.
[+] Enlarge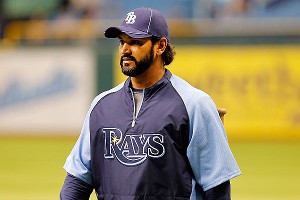 J. Meric/Getty ImagesDave Martinez fits the profile of the type of manager the White Sox have hired in the past.
Martinez just completed his fourth season as the right-hand man to Rays manager Joe Maddon. Tampa Bay made the postseason in three of those four seasons. A member of the Rays' inaugural club in 1998, Martinez played 16 seasons, including stints with the Cubs (1986-88, 2000) and White Sox (1995-97).
In his three seasons with the White Sox, Martinez batted .302 and had a career-best 19-game hitting streak in 1997.
Another top candidate is believed to be new Cleveland Indians bench coach Sandy Alomar Jr., who had been the club's first-base coach before a promotion last week that is set to go into effect in 2012.
The White Sox are also believed to have interest in former Boston Red Sox manager Terry Francona, whose contract option was not picked up after his team's September collapse prevented them from advancing to the postseason.
Other speculation has centered around the White Sox being interested in current St. Louis Cardinals manager Tony La Russa, who is a former White Sox manager and has a close relationship with chairman Jerry Reinsdorf.
But unlike Martinez and Alomar, Francona and La Russa are not of the up-and-coming manager mold the White Sox are believed to be looking for. The search could be modeled after the one Reinsdorf's Bulls used to ultimately land first-year head man Tom Thibodeau.
Like the Bulls, the White Sox are believed to want their head man to grow quickly into the position with the potential of having a lengthy tenure with the club, not unlike what happened with Guillen.
September, 29, 2011
9/29/11
9:45
AM CT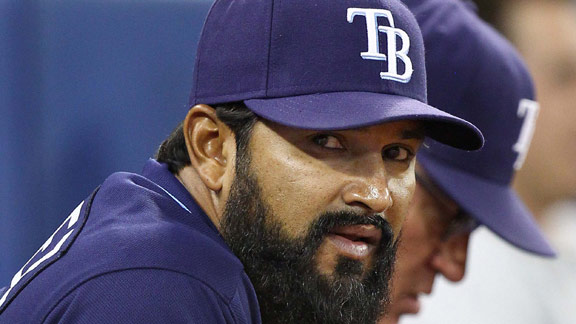 Tom Szczerbowski/US PresswireCould Dave Martinez be Jerry Reinsdorf's next Tom Thibodeau? A strong assistant whose time is right?
CHICAGO – There are some subtle clues to suggest that Tampa Bay Rays bench coach Dave Martinez could be Ken Williams' hand-pick favorite to move into Ozzie Guillen's vacated office in 2012.
Martinez, who played for the White Sox from 1995-97, batted .300 in two of his three seasons on the South Side.
Williams said he will not be able to name a manager before the playoffs start this weekend, and he said that delay could last until after the World Series depending on how things play out.
Martinez is the only one of Williams' prime managerial targets who will be involved with postseason play.
Sandy Alomar Jr. is a guy who knows what the White Sox are about and is very familar with pitching coach Don Cooper. He rates with Martinez as the top two candidates.
So with that in mind, we handicap the candidates to become the new White Sox manager, noting that Williams said that Buddy Bell was comfortable in his role as director of player development and wound not be interested in a field job.
TOP CANDIDATES
Dave Martinez, Tampa Bay Rays bench coach
: Chairman Jerry Reinsdorf had success hiring former Celtics coach Tom Thibodeau for the Bulls. Martinez is in a similar situation with the Rays under manager Joe Maddon as a coach on the rise poised for breakout success as the head man. Williams said he has one top candidate in mind. This could be the guy.
ONE STEP DOWN
Sandy Alomar Jr., Cleveland Indians bench coach:
The always positive former catcher has been through it all as a player and is destined to be a manager one day. Was promoted to bench coach Wednesday. After his White Sox days were done, he kept his Chicago residence after moving on to a new team showing his love of the city.
Joe McEwing, Triple-A Charlotte Knights manager
: His high energy and infectious style earned him the nickname "Super Joe" and there isn't a person who knows him who doesn't think it's a perfect fit. The organization is impressed with his work with the organization's young talent.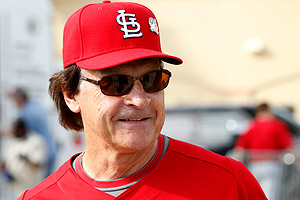 Joel Auerbach/Getty ImagesWould Tony La Russa leave St. Louis? It's a long shot, but if he does, his ties with Jerry Reinsdorf may lead him to the South Side.
Tony La Russa, St. Louis Cardinals, manager
: The former White Sox manager still has close ties to Reinsdorf and that relationship could lead to a second pairing. Indications are, though, that the veteran manager isn't ready to sever his ties with the Cardinals.
LONG SHOTS
Ryne Sandberg,Triple-A Lehigh Valley manager:
There seems to be little question he has the goods to manage. Would his hire, though, be a statement to the crosstown Cubs, who turned down one of their own to go with Mike Quade? The Angels nabbed Mike Scioscia, a favorite of the crosstown Dodgers, and the rest has been history.
Don Cooper, White Sox, pitching coach
: The club's pitching coach for nine full seasons got his chance to be the main man for the last two games and loved every minute of it. He is a high-energy guy who has the respect of the players, but the White Sox would probably prefer that he keep his focus on the pitchers.
Terry Francona, Boston Red Sox manager
: The Red Sox failed to make the playoffs, and the club could take a pass on his option for next season. Pushed all the right buttons for the Red Sox in two World Series title runs. Knows how to blend high-profile talent with emerging youngsters.