March, 26, 2013
3/26/13
3:56
PM CT
By Staff
ESPNChicago.com

The Chicago White Sox placed John Danks on the 15-day disabled list on Tuesday as the left-handed pitcher continues to recover from the left shoulder surgery he underwent in August.
Read the entire story.
ABOUT THIS BLOG

Doug Padilla
Doug covers the Chicago White Sox for ESPNChicago.com and ESPN Radio 1000.
50 GREATEST WHITE SOX OF ALL TIME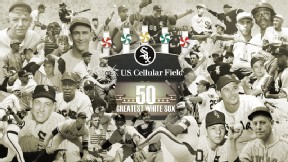 An ESPN Chicago panel of experts compiled its list of the 50 Greatest White Sox of all-time. Take a look at our list and put together a list of your own. Gallery

Rank 'em »


ESPNChiSox Doug Padilla
Here is @fangraphs applying the Kris Bryant situation to the White Sox and Carlos Rodon. http://t.co/AVWXlj6QGL
14 minutes ago

ESPNChiSox Doug Padilla
Sale to pitch in a minor league game tomorrow. Aiming for 6 innings/90 pitches. On target for 4/12.
53 minutes ago

ESPNChiSox Doug Padilla
Loading the truck for Chicago. Lotta sets of golf clubs on this hauler. Getting to be that time. http://t.co/xYFqk2FWot
about an hour ago

ESPNChiSox Doug Padilla
White Sox lineup vs Dodgers. http://t.co/MNPnkjV0e7
about an hour ago

ESPNChiSox Doug Padilla
Hahn: We'll make it tough for Samardzija to walk away http://t.co/PgOloS7zGo
about 2 hours ago

ESPNChiSox Doug Padilla
Carlos Rodon has one more start left in spring fling http://t.co/5cYmDWFI4R
about 18 hours ago

ESPNChiSox Doug Padilla
Indians 4, White Sox 1 in a tidy 2 hours, 36 minutes.
about 18 hours ago

ESPNChiSox Doug Padilla
Noesi went 5 1/3 today. 5H, 3ER, 2BB, 5K. Has a 3.68 ERA this spring and likely will start the home opener 4/10.
about 19 hours ago

ESPNChiSox Doug Padilla
Now Flowers flies out to the warning track in CF. Looks pretty locked in today. The trick is to save it for next Monday & beyond.
about 19 hours ago

ESPNChiSox Doug Padilla
Rick Hahn confirms trip to DL for Jake Petricka http://t.co/8EXD3up4EN
about 19 hours ago

ESPNChiSox Doug Padilla
'Everything's fine' as Abreu scratched from lineup http://t.co/TwJeUc76J7
about 20 hours ago

ESPNChiSox Doug Padilla
Flowers with the HR to dead CF, just over the 410 marker.
about 20 hours ago

ESPNChiSox Doug Padilla
White Sox end up making just one move http://t.co/QuElnQoG7r
about 20 hours ago

ESPNChiSox Doug Padilla
Four steals for Eaton this spring. Only had 15 all of last season. Trying to be more aggrressive, anyway.
about 20 hours ago

ESPNChiSox Doug Padilla
Eaton steals second, then gets picked off. Still a mixed bag as a base runner.
about 20 hours ago

ESPNChiSox Doug Padilla
"Not bad, but it could use sour cream," said a nearby (non VIP) burrito eater at @camelbackranch.
about 21 hours ago

ESPNChiSox Doug Padilla
Wear it. RT @CST_soxvan: Don't ask for sour cream on your burrito @camelbackranch. "Only VIPs can get that" a very important worker said.
about 21 hours ago

ESPNChiSox Doug Padilla
Dan Jennings and Matt Albers, both of whom are expected to be on the roster, pitched in a minor league game today.
about 21 hours ago

ESPNChiSox Doug Padilla
Just Beck. No others expected. RT @mscott_16: @ESPNChiSox any more moves to expect today or tomorrow?
about 22 hours ago

ESPNChiSox Doug Padilla
Personal day for Abreu. No injury concerns. Should be back in there tomorrow.
about 22 hours ago
BLOG ARCHIVE:
CATEGORIES:
UPCOMING GAMES
| | W-L | HM | AW | STK | L10 |
| --- | --- | --- | --- | --- | --- |
| CHW | 9-15 | 2-8 | 7-7 | L1 | |
| LAD | 16-8 | 7-4 | 9-4 | W1 | |
| | W-L | HM | AW | STK | L10 |
| --- | --- | --- | --- | --- | --- |
| SDG | 15-11 | 8-5 | 7-6 | W4 | |
| CHW | 9-15 | 2-8 | 7-7 | L1 | |
| | W-L | HM | AW | STK | L10 |
| --- | --- | --- | --- | --- | --- |
| CHW | 9-15 | 2-8 | 7-7 | L1 | |
| SEA | 11-15 | 9-5 | 2-10 | W1 | |
2015 CACTUS LEAGUE LEAGUE STANDINGS