Chicago White Sox:

Doug Laumann
June, 5, 2014
6/05/14
10:24
PM CT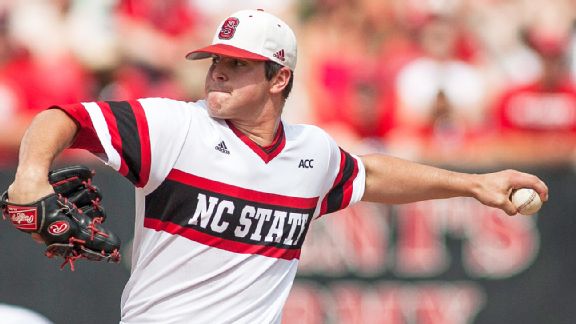 Jeremy Brevard/USA TODAY SportsSox scouting exec Doug Laumann called lefty Carlos Rodon's slider "dominant."
A left-hander who could rise quickly through the system probably wasn't the perfect fit for the
Chicago White Sox
, but the team wasn't about to turn its back on one of the best talents in Thursday's first round of the 2014 first-year player draft.
When you get a chance to land an arm like Carlos Rondon, as the White Sox did with the No. 3 overall pick, you figure out a way to fit him in the mix.
Rodon won't be rushed to the major leagues as quickly as
Chris Sale
was in 2010, but if the brass' best guess happens, he will definitely arrive sooner rather than later. It might not be out of the question to see his first full season in a White Sox uniform happen in 2016.
But it could cause a bit of an overload of left-handers if Rodon does ascend quickly. Sale has contract options that could keep him with the White Sox until 2019, while
Jose Quintana
's options can take him to the 2020 season.
John Danks
is signed through the 2016 season.
Nevertheless, this was a player the White Sox were not going to take a pass on, even if it means seeing opponents' lineups loaded with right-handed hitters. If Sale, Quintana and Danks are going strong when Rodon arrives, the White Sox will consider it one of those good problems to have.
"We were certainly going take best player or pitcher available," director of amateur scouting Doug Laumann said. "The fact that it did turn out to be college guy, and that perhaps his timeline is maybe quicker ... for sure it's quicker than perhaps a high-school kid."
Rondon's 436 strikeouts were a North Carolina State record and he finished his career with a 2.24 ERA for the Wolfpack. This past season he had a 2.01 ERA in nearly 100 innings, finishing with a 6-7 record mostly because of a lack of run support.
Rondon isn't expected to unseat Sale from the top of the rotation, but he could legitimately slide into the No. 2 spot and eventually give the White Sox an impressive one-two punch. He wasn't the hardest thrower among the top prospects available, but a mid-90s fastball is mixed with what is considered one of the best sliders among all draft-eligible players.
"It's a good one," Laumann said. "It freezes left-handed hitters. The one thing I try to look at, especially for left-handed pitcher, you would expect at times that a left-hander would have trouble with it, but when they can bury a slider on the back foot of a right-handed hitter and get it under their hands, then you know a guy has a really good one.
"It's certainly a dominant pitch -- and that's not to take anything away from his fastball and his changeup, both of which are plus pitches -- but the slider is certainly a dominant pitch for him."
If there is a concern, it is that Rodon is represented by agent Scott Boras, someone with whom the White Sox haven't dealt much in recent years. When Kenny Williams was general manager, he wasn't fond of the way Boras did business and avoided Boras clients whenever possible.
Rick Hahn, as the current GM, will get a chance to mend fences and get Rondon signed to a deal. Laumann doesn't think it will be an issue.
"It's been our goal, ever since I've been around here, whether it came from [chairman] Jerry [Reinsdorf] or Kenny or Rick, that it's our goal to get most talented, the best player available at the spot. I think Rick and Scott Boras have a fairly good relationship."
June, 5, 2014
6/05/14
12:33
PM CT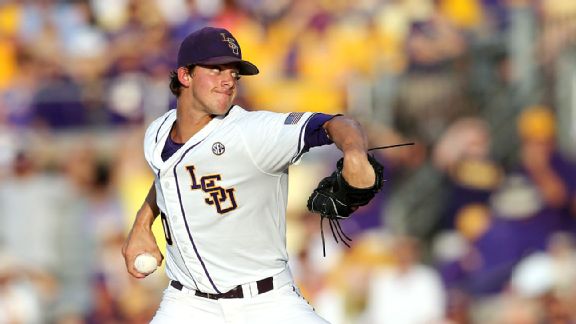 Crystal LoGiudice/USA TODAY SportsLSU right-hander Aaron Nola could be an option for the White Sox with the third pick in the draft.
Thank you for the No. 3 pick in Thursday night's draft. Hope to never see you here again.
That would be the
Chicago White Sox
's sentiment heading into Major League Baseball's First-Year Amateur Draft on Thursday night. Their high selection spot is relative to their 99-loss season from a year ago, but offseason changes have already shown that they aren't likely to select this high next year.
The White Sox weren't trying to trade a bad season for a high draft pick this year, but since they're here, was it good timing to see their won-loss record go south in 2013?
The answers to that particular query seem to contradict. While the 2014 baseball draft class seems more talented than in recent years (good), the newest collective bargaining agreement, which went into place in 2012, is believed to have watered down the college junior class this year (bad).
(Players can be drafted after high school, but for those that enroll in college, they are not eligible to be drafted again until they are juniors.)
"Since people knew the agreement was changing, you saw a lot of kids bought out of college under the last year of that old agreement," Sox general manager Rick Hahn said. "In other words, this year's (would-be) college juniors, many of them were signed as high school seniors with over slot deals. ... It's not a shock. We knew this would happen with the change in the agreement."
Changes essentially put a cap on draft spending, so high school seniors in 2011 knew they had a better chance of a bigger financial score then as opposed to now.
June, 4, 2014
6/04/14
1:33
PM CT
CHICAGO -- With Thursday's Major League Baseball first-year player draft fast approaching,
Chicago White Sox
executive vice president Kenny Williams tried to play it coy when it came to the club's first-round pick.
[+] Enlarge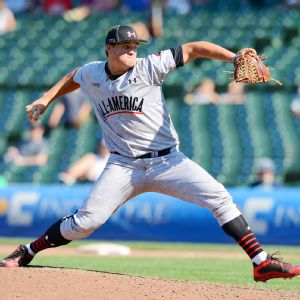 Mike Janes/Four Seam Images/AP ImagesESPN Insider Keith Law has the White Sox selecting high school pitcher Tyler Kolek with the third pick in the draft on Thursday.
Three highly regarded pitchers are available in Carlos Rondon, Brady Aiken and Tyler Kolek, so speculation is strong that the White Sox will take a pitcher with the No. 3 overall selection. Just don't expect Williams to tip his hand.
"Who said we're going to take a pitcher?" Williams said.
Shortstop Nick Gordon has plenty of intrigue. Think of his brother, Dodgers second baseman
Dee Gordon
, with a stronger build. A bat the caliber of California high schooler Alex Jackson also would be tempting. Jackson is a catcher who is expected to convert to the outfield as a professional.
White Sox director of amateur scouting Doug Laumann was a little more forthcoming when it came to the team's plans.
"I could probably sit here and say right now that more than likely we're going to probably end up with a pitcher," Laumann said. "We've got pretty much the group narrowed down to five or six guys, one of which is a position player. The other five are pitchers. So I'm fairly confident that we're going to end up with a real nice arm."
A major influence on this draft for the White Sox is the presence of slugging first baseman
Jose Abreu
, and to a lesser extent outfielder
Avisail Garcia
. In both players, the White Sox know they have the middle of the order set for some time, so drafting in that area is not the biggest priority in the first round.
The White Sox believe they could be ready to make some serious noise in the coming years, so don't be surprised to see the club use the first pick on a college pitcher who can rise quickly over a high school talent with slightly more upside.
In the minor league system, guys such as second baseman Micah Johnson, third baseman
Matt Davidson
and outfielder Courtney Hawkins are coming. Right-handed starter Chris Beck, currently with a 3.72 ERA in 12 starts at Double-A Birmingham, has major league ability written all over him.
Another right-handed starter figures to intrigue the White Sox because lefties such as
Chris Sale
and
Jose Quintana
will be around for some time. And lefty
John Danks
is locked in through 2016.
The lefty situation is expected get the White Sox to look long and hard at LSU right-hander Aaron Nola, widely believed to be the player who can rise quickest after Thursday's draft is completed.
Are the White Sox weighing college pitchers over those from high school?
"I don't know that we're leaning one way or the other," Laumann said. "You certainly look at the history. You've got a little more history in terms of their arm, whether or not they've made it through the three years of college without getting hurt and things like that. At the same time the competition level and arrival time to the big leagues certainly makes a difference.
"When you look at who might have the highest ceiling, and you look at certain kids that might be 17, 18 years old and still look like they have the ability to even get better, then it's kind of a hard weighing act to go ahead weigh one against the other. And I don't think we have a preference for one or the other."
[+] Enlarge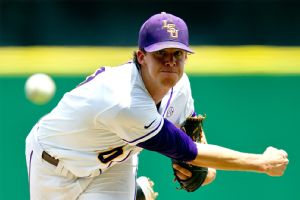 John Korduner/Icon SMILSU right-hander Aaron Nola could get to the major leagues quickly.
General manager Rick Hahn mapped out the team's plan to spend upward of $10 million for young talent in Thursday's draft and another $4 million to $4.5 million on international talent over the next two months. The minor league system will get as big of a talent influx as it has received in some time.
Despite the increased spending, though, the White Sox still intend to proceed with caution. But when it matters, they have been known to dig deeper than expected. When they drafted Sale in 2010, the club knew that his price tag was higher than they were comfortable spending, but they spent big anyway and now have a staff ace on their hands.
"Signability in every draft is a factor that you have to at least weigh, but it has not been, nor will it continue to be, a deterrent for us to make a choice when we feel it's the best guy and Chris is the perfect example of that," Hahn said.
The signing of Abreu this winter, along with trades for Garcia, Davidson and
Adam Eaton
, were the high-profile changes to the team. Thursday's additions will be no less important, they just might need some time to realize themselves.
"We're really now entering a six-to-eight-week period where conceivably we are adding $15 million of amateur talent to the organization, which will be a huge shot in the arm for the system while also moving the organization toward where we want it to be," Hahn said.
June, 2, 2012
6/02/12
3:00
PM CT

By Scott Powers
ESPNChicago.com
Archive
CHICAGO – Chicago White Sox director of amateur scouting Doug Laumann went into detail Saturday about the organization's draft philosophies heading into the first day of the 2012 draft on Monday.
[+] Enlarge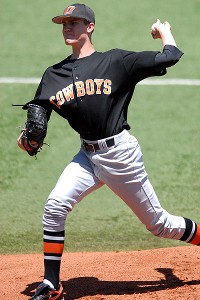 John Rivera/Icon SMIAndrew Heaney of Oklahoma State is one of the top-rated college pitchers in next week's draft.
The White Sox possess the No. 13 and No. 48 overall picks on Monday. They didn't have a first-round selection last season (they gave it up as compensation for signing Adam Dunn).
The White Sox hope to have as much as luck with their No. 13 pick this year as they did when they selected Chris Sale with the same pick in 2010. They also drafted closer Addison Reed in the third round in 2010.
Overall, Laumann didn't believe this year's draft class was a very deep one.
"Probably as thin as I've seen in a decade," said Laumann, who has been with the White Sox since 1990. "A lot of different factors I think play into it. Personally, I think one of the biggest ones is as of 2-3 years ago, I don't know if people were anticipating the CBA changing a little bit with the amount of money people are allowed to spend, but teams started spending a lot more money on high school players a couple years ago.
"I think that's kind of depleted the college ranks where a lot of the good high school players over the past few years have been signing. We're seeing it's pretty thin in the college ranks."
Laumann said the White Sox could select a high school player in the first round. They haven't done that since picking pitcher Kris Honel out of Providence in New Lenox, Ill. in 2001.
ESPN baseball draft analyst Keith Law has the White Sox taking Oklahoma State left-handed pitcher Andrew Heaney in his latest mock draft, but he also has heard they're interested in high school left-handed pitcher Matt Smoral, who is from Ohio and is signed with North Carolina.
"We probably got 20 names on that list for 13 right now," Laumann said. "There are probably 8-10 of them we know will be gone. Then we have a list of about 10 we're kind of put in order -- would we take them if they got there, wouldn't we take them.
"Then we have those philosophical discussions. 'Okay, we have a college right-handed pitcher who could probably help you pretty quickly or we got a high school left-hander who could take 3-4 years, but if he gets here this guy could be dominant. Those are the type of things we discuss."
Laumann said White Sox chairman Jerry Reinsdorf and general manager Ken Williams would meet with the scouts Saturday to discuss their first-round approach.
The White Sox have often targeted impact players.
"It's Kenny's philosophy you win championships with type-1 players, impact type of players," Laumann said. "We have good discussions, healthy discussions whether or not, 'OK, this guy can get there, he can get there quickly. He's not going to be a great player, but there's a high percentage he's going to get there versus another guy it may take him a while, but ultimately he could be that impact player.' We've always opted for that impact type of player."
The fact that White Sox are also in the first place in the American League Central rather than tanking this season is another factor Laumann said that comes into play.
"Quite frankly, I won't run from it or hide from it, we weren't sure where we were going to be at this point," Laumann said. "Through the offseason and all the naysayers, some people had us losing 100 games, 'Are we in a rebuilding mode or are we in a mode going to do this or that?'
"As we sit here today, we're in first place and we got a six-game lead on the team (Detroit Tigers) that was going to run away and hide. 'Does that change our philosophy a lit little bit?' Those kind of discussions we have. Had we been 15-30 (overall) and not where we are right now, the mode might have been, 'Hey, let's start building a little bit. Let's start taking some guys who are little bit further away versus right now maybe there's somebody out there who can contribute fairly quickly.'"