Chicago White Sox:

Doug Padilla
September, 22, 2011
9/22/11
6:07
PM CT
CLEVELAND – There was a meeting of former Cleveland Indians greats at home plate before Thursday's game.
Jim Thome brought out the lineup card for the Indians, while Omar Vizquel brought out the one for the White Sox.
Both could be on the verge of wrapping up their playing days, although neither has said they are prepared to call in quits.
The 44-year-old Vizquel said recently that he is interested in playing at least another year, although he thinks the White Sox will make changes in the offseason and he won't be asked back. He said on his Twitter account this week that he would thrilled to return to the Indians.
Thome is getting that chance now after he was traded from the Minnesota Twins on Aug. 25.
Thome and Vizquel played together in Cleveland from 1994-2002. They won six division titles together and appeared in the World Series twice.
May, 30, 2011
5/30/11
2:38
PM CT
BOSTON – It turns out that White Sox manager Ozzie Guillen got a raw deal.
Portrayed on Sunday as lashing out at White Sox's fans, a careful review of the 17-plus minute audio of his pregame session with reporters reveals fans weren't the subject of his disappointment. Instead, Guillen is clearly reacting toward the hosts of opinion shows on talk radio and television.
[+] Enlarge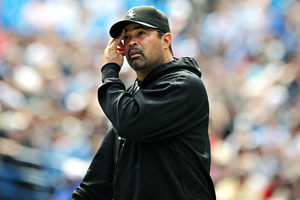 Tom Szczerbowski/US PresswireOzzie Guillen had a few choice words for his critics on Sunday.
Guillen has either listened to or been told of shows where critics have called for him or his coaches to be fired. He has also apparently heard of criticism that his strategy and desire is not worthy of the post he currently holds. In his discussion with reporters Sunday he was defending himself and his coaches.


Around the 11-minute mark of his talk with reporters Sunday, Guillen mentions TV shows and radio shows. From then on he uses words like "they" and "people" to refer to who he is talking about, never once indicating that he is talking about White Sox fans.
The following is a transcript of Guillen's interview session, starting at the 10-minute mark. And no, his English isn't the best at times, but the native of Venezuela is still a sharp communicator in two languages, which is commendable.
The White Sox sent a statement to the Associated Press on Sunday night and in it, Guillen pleaded for people to listen to the entire conversation or read a transcript and "they will see my comments were not directed as criticism of White Sox fans." Judge for yourselves (questions in parenthesis):
Ozzie Guillen:
We win three in a row, nobody says [pitching coach Don] Cooper is a great pitching coach; [hitting coach] Greg Walker is great. All of a sudden, we lose two games, and they all want to fire us. Wow. That's nice. I don't complain about that because I played. This is part of the game. When the players are good, you're good. When the players are bad, they're still good. We're the bad guys and I'll take that.
I never make an excuse when we play bad. And I never take credit when we played good. I never did. I never will. I will take responsibility when we lose. But people have to look at themselves in the mirror and say, 'Wow those guys are better than we thought. Those guys do more than we thought.' The thing is, the things that happen in the clubhouse and in the dugout and stuff, maybe you [beat reporters] know. Anybody else, TV show, radio show, they don't know what [expletive] happened here. They don't know. They read paper and say this guy should get fired because he's 0-for-40. You think Greg Walker cares about [Paul] Konerko and [Carlos] Quentin having great year? No, he doesn't care about that. He cares when they struggle. He would really care when the guys struggle. Think Cooper cares about Buehrle throw the ball good? No. He cares that Pena can't get nobody out. Yes, that where we care [about]. That's our job. But nobody gives us enough credit to say 'Those guys really care about it.' When they play good I don't even worry about it. When they play bad I really care about it. That's it. You can't do nothing.
I see a lot of people talking crap about Ozzie. I don't care what they think. We came back [Saturday], great game, but after that what happened? How about one day they say, 'Wow those coaches did everything they could to win the game.' They never think about it.
I wish every manager be like this. Tell the people how it is. I say what are they afraid about? There is a lot of thinking out there. The only reward ? Winning. That's it.
(Have there been many games where you and the coaching staff had more focus and energy than the team)
I don't say the team had no fight [Saturday]. They play 14 innings. We [coaches] weren't on the field for 4 ½ hours sweating. No we were on the bench thinking, trying to get better. Those are the little things people don't know about baseball, about coaches and managers. People don't appreciate that. They don't I keep saying that. They only care when we lose: make sure we get fired.
Coach in any sport, if you're not winning, that's the position you are in. But think about it. We are here at 8 o'clock. [Players] show up 10:30, 11. I say that because I play this game. I got managers fired. I got three, four, five, six managers fired. Any player who gets manager fired they say we should have played better for them. I am sorry we stunk for them. Next day, somebody else sitting here, [expletive] get out of here. I don't even know what his last name was. They remember you when they see you. Because I did it. It's not going to change.
Are they going to feel sorry if we're going to get fired? [Heck] no. They only remember 2005 team. In 2020 when we come here in a wheelchair, oh yeah, thank you. As soon as you leave the ballpark they don't care about you anymore. They don't. The monuments, the statues they have for you they pee on it when they are drunk. That's what they do. Oh god, thank you for coming for 30 minutes for all the suffering you did all your life day in and day out.
I wish I don't feel anything for this game. I wish I didn't care about White Sox, what the general manager, fans, media thinks. I wish I could say, [expletive] I don't give a [expletive]. I can't. I try to put it in my mind that I don't but I can't because I love baseball, I love this organization and this is a job I want to do. I'd be lying to myself. I do care about this [expletive]. I have contract for next year. I can get dressed, go home, have dinner with my wife. I care about what [chairman] Jerry [Reinsdorf], [general manager] Kenny [Williams], fans, media think. Yes I do. I 'm going to say, well get 'em tomorrow. I'd be lying to you people. I tell my wife I love her. I lie a couple times but I am not a liar.
What we got for this, you're not doing the job we get somebody else. What we do? Come here, smiling, National Anthem, ready to go because I'm ready to go. I hope my players are too. I was upset because we had chance to win and we're not in position to give games away. And we did.
February, 28, 2011
2/28/11
6:12
PM CT
GLENDALE, Ariz. -- The White Sox opened their Cactus League schedule with a 6-5 defeat to the Dodgers, in a game between the two teams that share the Camelback Ranch complex.
The good:
Gavin Floyd
pitched two scoreless innings in his spring debut, while facing just six batters.
Jeff Gray
and
Lucas Harrell
, who could end up in a battle for the final spot on the pitching staff, each pitched a scoreless inning.
Alexei Ramirez
made a highlight defensive play, going into the hole to his right and making the long throw to first in time to record the out.
The bad:
Adam Dunn
, who struck out 199 times last season, whiffed during his first two trips to the plate Monday, but did walk and score a run. After being praised by manager Ozzie Guillen for how he looked early in camp, right-hander Miguel Socolovich was roughed up for four runs on three hits and three walks in two-thirds of an inning.
Beyond the box score:
Former major-leaguer
Dallas McPherson
, whose career has been interrupted by back trouble akin to what plagued former White Sox third baseman
Joe Crede
, had a hit and made a diving stop to his left while playing third.
Up next:
Mark Buehrle
will take the mound Tuesday as the White Sox face the
Milwaukee Brewers
at Camelback Ranch. Game time is 2:05 CST.
December, 8, 2010
12/08/10
10:13
AM CT

By Bruce Levine
ESPNChicago.com
Archive
LAKE BUENA VISTA, Fla. -- The Chicago White Sox agreed to a three-year, $37.5 million deal with free agent first baseman Paul Konerko on Wednesday.
Read the entire story.
December, 7, 2010
12/07/10
4:51
PM CT
LAKE BUENA VISTA, Fla. -- Chicago White Sox general manager Ken Williams said Tuesday that negotiations with free agent Paul Konerko are at a standstill, prompting him to start seriously considering other options.
Read the entire story.