Chicago White Sox:

Eduardo Escobar
July, 28, 2012
7/28/12
11:44
PM CT
By Clint Foster
ESPNChicago.com
Archive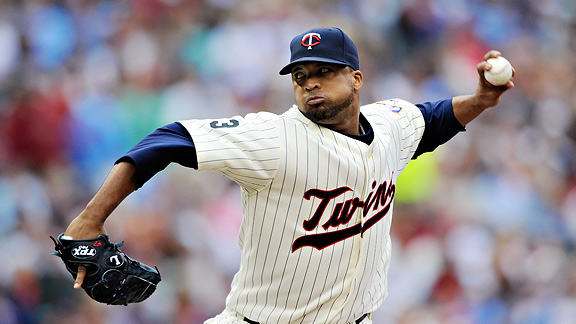 Hannah Foslien/Getty ImagesThe White Sox are counting on Francisco Liriano to revert to his once dominant form.
ARLINGTON, Texas – The mood was somber in the Chicago White Sox's clubhouse after a 5-2 road win against the Texas Rangers on Saturday night.
Eduardo Escobar had just heard the news that he had been traded to the Minnesota Twins after going 2-for-5 with two doubles in the White Sox's winning effort. He struggled to hold back tears as he hugged his teammates and said goodbye to the only professional organization he had even known.
Escobar and Triple-A pitching prospect Pedro Hernandez were included in a deal with Minnesota to send LHP Francisco Liriano to Chicago to help bolster a pitching staff that has been bitten by the injury bug -- John Danks and Gavin Floyd have made just 27 starts combined -- this season. While the 28-year-old Liriano could potentially be a great addition to the pitching staff, the White Sox admitted that it was hard to see Escobar go.
"I think it's a little tough in here after a good win like this because Escobar's a big part of what we've been doing," Robin Ventura said. "It's more than just numbers and how you play, it's the attitude he brings. It's a tough one team-wise. He's kind of like a little brother or a son to most guys. He's taking it hard. It's just part of baseball. It happens to a lot of people. It will make us better though."
The 23-year-old Escobar is hitting .207 with four doubles and three RBIs in 36 games for the White Sox this season. Teammates agreed that his contributions were much deeper and more intangible than just statistics.
"He's such a good kid," Adam Dunn said. "He's such a good part of this team. He keeps everybody loose and we really enjoyed having him. He's a lot of fun. They're going to really enjoy him over there."
"He's definitely going to be missed," Jordan Danks said. "When I first signed in '08, he and I came up together so I've played with him pretty much at every level. He's the same guy that I met whenever I first signed. He'll be sorely missed."
Liriano, an All-Star in 2006, has not lived up to expectations since receiving reconstructive elbow surgery. This year he is 3-10 with a 5.31 ERA in 22 appearances. He was demoted to the bullpen in mid-May when his ERA was 9.45. Paul Konerko hopes that a change of scenery improves Liriano's fortunes.
"You've seen him come out and pitch well. You've seen him throw a no hitter," Konerko said. "Hopefully a change of scenery will give him a shot of energy. We'll just have to wait and see. He doesn't need to throw shutouts, just come in and give us a chance to win."
White Sox pitching coach Don Cooper said he does not know where Liriano will fit in the rotation. The addition of Liriano should provide some relief for John Danks and Floyd, as both attempt to return to Chicago's rotation from the DL.
On Friday, the team said it was trying a different approach in Danks' rehab. Instead of long toss he will throw primarily off the mound every third day.
"Obviously it would be ideal if we had a longer time to build up arm strength, but we just don't have that time," Danks said of his rehab on Friday. "I'm on board and kind of willing to do anything at this point to get back. I've been assured that I can push it more than I might want to. As long as I can get to a point where I can be effective, I'm going to try it."
Adam Dunn, who saw Liriano pitch a no-hitter against his White Sox in 2011, believes that he will be able to live up to his potential in Chicago.
"I think it's a great addition for us," Dunn said. "When he's right, he can be one of the most dominant lefties in the game. Hopefully he can kind of buy into what we're doing over here and he can get back to what he's capable of doing."
If Liriano can get back to his All-Star level of play, there is little doubt that this could turn out to be one of the best sleeper trades of Kenny Williams' stint as the White Sox GM. But in the words of Konerko, we'll have to wait and see.

June, 24, 2012
6/24/12
5:09
PM CT
By Chris Silva
ESPNChicago.com
Archive
CHICAGO -- Here's a quick look at the
Chicago White Sox
's 1-0 10-inning win over the
Milwaukee Brewers
on Sunday at U.S. Cellular Field:


How it happened:
Eduardo Escobar
won the game with a pinch hit off of reliever
Manny Parra
in the 10th inning, scoring
Alejandro De Aza
from second base. Reliever
Brian Bruney
earned the win in his first relief appearance. Starting pitchers
Jose Quintana
and
Michael Fiers
were both masterful and took shutouts into the eighth, although neither of their outings amounted to a decision. Quintana threw eight innings, allowing six hits and striking out four. He's now pitched 16 consecutive scoreless innings and has faced 97 straight batters without issuing a walk, which is the longest active streak in baseball. Meanwhile, Fiers gave up five hits and struck out seven in 7 1/3 innings. Both teams had their shot late in the game to get on the scoreboard. In the eighth, both
Gordon Beckham
and
Adam Dunn
struck out with runners in scoring position. In the ninth, the Brewers failed to score with runners on second and third.
What it means:
The White Sox have now won consecutive games for the first time since their nine-game win streak from May 23 through June 1. The win also marked the Sox's first series victory since June 1-3 against Seattle.
Outside the box:
Manager Robin Ventura wouldn't commit to
Dylan Axelrod
making his second straight start on Thursday at the
New York Yankees
, saying, "I don't know. We haven't gotten to there yet. I would imagine he's the guy." Axelrod allowed five runs over 5 1/3 innings in Saturday's 8-6 win over Milwaukee.
Up next:
Right hander
Jake Peavy
(6-3) will take the mound to begin a three-game series against the
Minnesota Twins
, opposing left hander
Francisco Liriano
(1-7).Game time is 7:05 CT.
May, 18, 2012
5/18/12
12:02
PM CT

By Scott Powers
ESPNChicago.com
Archive
Chicago White Sox
third baseman
Brent Morel
has been scratched from the lineup for Friday's game against the
Chicago Cubs
with lower back soreness and will be replaced by
Eduardo Escobar
.
Morel has four hits in his last 30 at-bats and has a .177 average. Escobar has played in 12 games this season and has six hit in 34 at-bats.
Here's a look at the White Sox's entire lineup which will face Cubs starter
Jeff Samardzija
(4-1, 2.89) on Friday:
1.
Alejandro De Aza
, CF
2.
Gordon Beckham
, 2B
3.
Adam Dunn
, LF
4.
Paul Konerko
, 1B
5.
A.J. Pierzynski
, C
6.
Alex Rios
, RF
7.
Alexei Ramirez
, SS
8.
Eduardo Escobar
, 3B
9.
Philip Humber
, P
March, 31, 2012
3/31/12
3:25
PM CT
The Chicago White Sox are ready for Opening Day as the team made its final cuts on Saturday, sending six players to the minor leagues.
Chicago will start the 2012 season with four rookies on its roster and four relief pitchers with less than 70 big league innings pitched.
The White Sox's roster composition dispels the notion that a team should not decide on who makes the 25-man roster by spring training results.
"That is part of me coming in here (as manager) and seeing these guys for the first time," Robin Ventura said. "It is about going back to see what you have done in the past. I am happy with what I have."
As far as the final cuts go, infielder Eduardo Escobar beat out veteran Dan Johnson for a utility role while RHP Nate Jones and LHP Hector Santiago captured the last two bullpen spots. Brian Bruney and Dylan Axelrod where reassigned.
Ventura has yet to name his closer. The competition is between Matt Thornton and rookie Addison Reed. The manager said he would make a decision on that role before the team breaks camp Monday afternoon.
March, 27, 2012
3/27/12
5:43
PM CT
• Right-hander Zach Stewart solidified his hold on the White Sox's long-relief role, throwing 5 1/3 innings of one-run baseball against the Cleveland Indians on Tuesday. Veteran Brian Bruney is the only other pitcher under consideration for the role at this point.
• Ventura admitted that the team's priority was to put a middle infielder on the roster rather than a corner guy. The team cut vets Dan Johnson and Dallas McPherson and kept Eduardo Escobar who can play second base and shortstop.
• Don 't expect the team to name a closer next week. Ventura wants to watch relief pitcher Jesse Crain return to the mound before making his final choice. Ventura said he will make final cuts before the team leaves for Houston on April 2.
March, 27, 2012
3/27/12
12:50
PM CT
GLENDALE, Ariz. -- The
Chicago White Sox
pared down their spring roster to 31 on Tuesday, by re-assigning outfielder Jordan Danks, infielders Jim Gallagher,
Dan Johnson
and Tyler Saladino as well as catcher Josh Phegley to minor league camp.
The only battle remaining seems to be in the bullpen where the locks are
Matt Thornton
,
Jesse Crain
,
Will Ohman
,
Addison Reed
and
Hector Santiago
.
The remaining two slots in the pen will be decided between veteran
Brian Bruney
.
Josh Stewart
,
Dylan Axelrod
and
Nate Jones
. With Santiago most likely the third left-hander in the bullpen, it appears that
Eric Stults
, who has pitched well, may have the numbers working against him.
Johnson's re-assignment clears the way for 23-year-old infielder
Eduardo Escobar
to make the club as the backup to
Alexei Ramirez
and
Gordon Beckham
.
Manager Robin Ventura named his starting rotation on Monday with
John Danks
getting the Opening Day assignment against the
Texas Rangers
on April 6. Ventura will take his time in naming his closer. Crain, Thornton, Reed are the three candidates for the job.
March, 3, 2012
3/03/12
11:35
AM CT
By Chris Silva
ESPNChicago.com
Archive
November, 15, 2011
11/15/11
1:58
PM CT

By Doug Padilla
ESPNChicago.com
Archive
MILWAUKEE -- Without a solid alternative at second base beyond starter
Gordon Beckham
,
Eduardo Escobar
could get more opportunities to shine on the right side of the infield.
[+] Enlarge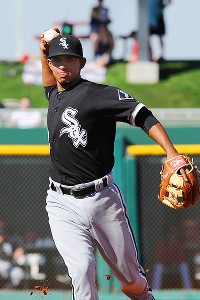 Norm Hall/Getty ImagesEduardo Escobar could give Gordon Beckham some competition at second base in 2012.
For now, Escobar is a shortstop, but his path to a big-league job with the White Sox is obviously blocked by
Alexei Ramirez
. The White Sox could end up giving Escobar more playing time this spring at second base in an effort to push Beckham and have more infield options.
When talking about White Sox players in the Venezuelan winter league and the dangers they face, general manager Kenny Williams was more than complimentary of Escobar, who is playing in his native country.
"He lives there, he is a tough kid, and he can navigate his way through," Williams said. "He's a tough kid from a tough family."
(For the record, Williams said that if any White Sox players are worried for their safety in Venezuela in the wake of the kidnapping and ultimate rescue of Nationals catcher
Wilson Ramos
, they have been given the team's blessing to return home.)
Escobar has played some second base and saw a little bit of action there after he was recalled in September. Of the five games he played in the field during the season's final month, two of those games were at second.
Last season was the first sign the White Sox were considering Escobar as an option at second base. He played 30 games there at Triple-A Charlotte. He had never played more than 12 games at second in any of his previous five minor league seasons.
The White Sox aren't trying to put negative pressure on Beckham to perform, but they need options moving forward and Escobar is one of the few middle infield possibilities they have.
Beckham batted just .230 last season, the lowest mark of his three big-league seasons. He had a .296 on-base percentage and a .337 slugging percentage, also career lows. To Beckham's credit he made massive strides defensively at second base.
September, 3, 2011
9/03/11
4:20
PM CT

By Doug Padilla
ESPNChicago.com
Archive
DETROIT --
Shane Lindsay
wasn't the only player with an interesting major-league debut on Friday night.
White Sox infielder
Eduardo Escobar
had a memory of a lifetime as well, thanks to the
Detroit Tigers
'
Miguel Cabrera
.
Escobar was a late-inning defensive replacement at shortstop for
Alexei Ramirez
and wouldn't you know it, Cabrera crushed a ground ball his way on the first pitch. Escobar plucked it off the dirt and threw the All-Star out.
What helped was that Escobar had a clue the ball might be coming his way.
"First off, I was very nervous, never been in a stadium with this many people in it, and Cabrera looked at me like he was signaling he was going to test me out," Escobar said through translator Jackson Miranda. "So of course he hit it right to me. So I was initially nervous about it but I knew what was coming."
Then came Escobar's first hit, an infield single against
Justin Verlander
that chased the Cy Young Award favorite from the game. And there was Cabrera again, tracking down the game ball for Escobar that Tigers manager Jim Leyland was holding when he pulled Verlander from the game.
As it turned out, Cabrera wasn't simply going out of way to help a young kid in his first game. The two know each other since they both hail from the same town in Venezuela.
"I talked to him at first base, and Miguel asked me if I was nervous, and I said yes," Escobar said. "Miguel said don't worry about it, it's natural."
Escobar then turned to his locker as if he was going to grab the ball to show it off. Instead, he retrieved a Detroit newspaper that had a large photo of Verlander in an angry pose. Behind him was Escobar, who had just beaten Verlander to the bag for his first hit.
"Definitely very nervous at first, Verlander's a great pitcher," Escobar said. "So I was nervous, but I listened to what Omar (Vizquel) was telling me before the game, just to relax and concentrate and pretty much take all the noise in the stands out of my head and just concentrate on the pitch."