Chicago White Sox:

Erick Threets
August, 28, 2010
8/28/10
7:32
PM CT
CHICAGO -- Rookie
Chris Sale
is now the last left-hander standing in the White Sox bullpen after
Erick Threets
was lost for the season.
Threets, who is scheduled to undergo Tommy John surgery, tore his ulnar collateral ligament during the ninth inning of Friday's game against the Yankees. He did not give up a run in 11 appearances with the White Sox.
Read the entire story.
August, 27, 2010
8/27/10
10:00
PM CT
CHICAGO – White Sox left-handed reliever Erick Threets left Friday's game against the Yankees in the ninth inning with an undisclosed injury. If it ends up being serious and he needs to return to the disabled list, it would leave the team down to rookie Chris Sale as the only left-handed arm remaining in the bullpen. Lefty Matt Thornton went on the disabled list earlier in the week.
August, 25, 2010
8/25/10
10:41
PM CT
CHICAGO – The White Sox's revamped bullpen just might have what it takes to help, they just never got a chance to prove it with the game on the line.
Mark Buehrle gave up four runs and the offense never got on track as the White Sox failed to help themselves in the American League Central chase with yet another defeat to the Baltimore Orioles, this one by a 4-2 score.
[+] Enlarge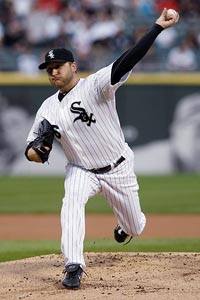 Jerry Lai/US PresswireMark Buehrle pitched seven solid innings on Wednesday night.
The White Sox have now lost four games in six tries to the last-place Orioles, all this month.
With another Minnesota Twins defeat to the Texas Rangers, the White Sox failed to pick up ground, but remained just 3 ½ games back in the division.
Left-hander Erick Threets, who was reinstated to the roster Wednesday afternoon, pitched well, though, giving the White Sox a chance to at least make things interesting in the ninth inning. Carlos Quentin's RBI triple in the final inning got the White Sox a run closer before A.J. Pierzynski struck out to end it.
Threets continues to do whatever the White Sox ask and do it well. He now has 10 outings with the team this season without giving up a run. His two innings against the Orioles give him 11 1/3 scoreless this season.
It will have to be more of the same from guys like Threets, Chris Sale, and the revived Tony Pena, who pitched seven key innings in a spot start over the weekend at Kansas City. With Matt Thornton (elbow inflammation) and J.J. Putz (right knee patella tendinitis) going on the 15-day disabled list.
Is Guillen finally ready to admit that he has more faith in Threets than he originally believed?
"At this point, I don't have [Matt Thornton] and [J.J.] Putz so yes I have to," Guillen said. "It's not because I don't believe in the kid. I said I take all the blame because I didn't give him the opportunity to pitch more often. I will continue to say that. I think because the way we were playing and the opportunities that were there, so many things went through it that I didn't give him enough time or innings to show me what he had. I will take the blame to not put him in a spot where we could see him pitch."
The bullpen certainly was on the mind of Buelrle when he took the mound against the Orioles. He gave up four runs on six hits over seven innings.
"That was the only positive that came out of tonight that I went into seven innings, got into trouble a few innings and the pitch count go up but went deep in the game," Buehrle said. "Everyone knows the bullpen is struggling and you got two of your top guys go on the DL. We've got to step up and go deeper in the games. It's about the only positive that happened."
Thornton won't be back until Sept. 2 at the earliest and Putz won't be eligible to return until six days after that. Rosters can be expanded on Sept. 1 so arms can be added to absorb innings but nobody is in waiting with the talent and experience of the two injured veterans.
By the numbers
10: Consecutive games the White Sox delivered 10 hits or more until Wednesday's game against the Orioles when they had seven. Juan Pierre's 12-game hit streak came to an end, but Gordon Beckham delivered a home run in consecutive games for the first time this season.
Quote
"[The Twins] can lose every game here on out, but if we don't play the way we should be we can't really worry about what they're doing. People ask if you watch the score. I watch scores from Day 1 till the end of the year, no matter if we're in it or out of it. I'm a baseball fan. I watch baseball. I watch what everyone is doing. Obviously you see what they're doing on the board. But if they're winning or losing, we can't go out there and say, 'They're losing out the game today so we don't have to play as hard. We can lose. We're not going to lose any ground.' We want to go out there and win every game." –Buehrle, on whether or not he does any scoreboard watching.
Look ahead
White Sox right-hander Edwin Jackson (1-0, 1.35) will make his second attempt at his fourth start for the White Sox. He threw just seven pitches Friday at Kansas City before rain halted the game. Manager Ozzie Guillen said he would have used Jackson during Saturday's doubleheader if the right-hander was completely committed to pitching that day, but when he had doubts Guillen went with Tony Pena instead.
Jackson will be opposed by Orioles right-hander Jake Arrieta (4-5, 4.90), who has never faced the White Sox in his career. Arrieta is 3-2 with a 4.38 ERA in seven road starts, but does have three quality starts over his last four outings.
August, 3, 2010
8/03/10
1:26
PM CT
DETROIT – Talk about your convenient injuries.

The White Sox announced before Tuesday's day-night doubleheader that reliever Erick Threets was going on the disabled list with "turf toe" in his left big toe. That opens up a roster spot to bring up a starter for the night portion of the doubleheader.

Carlos Torres has been recalled and was actually on the active roster for the first game of the doubleheader. He will start Game 2 opposite the Tigers' Jeremy Bonderman (5-6, 5.05 ERA).

Torres was 7-7 with a 3.41 ERA at Triple-A Charlotte this season in 22 outings (20 starts). He ranks third in the International League with 122 strikeouts and is third in innings pitched (129 1/3) He is also eighth in ERA. He has already been named International League pitcher of the week three times this season.

Torres pitched in eight games (five starts) with the White Sox last season, going 1-2, with a 6.04 ERA.

Threets did not allow a run in the 9 1/3 innings he pitched over nine outings since his contract was purchased from Charlotte on June 27.


July, 24, 2010
7/24/10
8:34
PM CT
OAKLAND, Calif. – The White Sox put to rest one of the hottest runs in franchise history Saturday with a humbling 10-2 defeat to the Athletics.
It isn't so much that that the stretch of blistering play comes to an end now because the White Sox have dropped five of nine games on their second-half opening, 10-game road trip, although it certainly would be a legitimate reason.
[+] Enlarge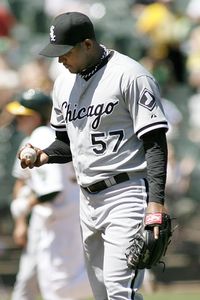 AP Photo/Dino VournasSox reliever Tony Pena reacts after the A's Jack Cust hit a fourth-inning home run.
No, the team's run of stellar play now has a period at the end of it because for the first time in well over a month the White Sox played in a game that wasn't competitive. There was no strategy for a comeback and the white flag was raised when manager Ozzie Guillen started substituting liberally in the seventh inning.
Not since June 8 against the
Cleveland Indians
have the White Sox played a game where they didn't have a chance by the late innings. Since that date, the White Sox have lost just 10 times, including Saturday.
Only twice did they lose by more than two runs in that stretch and the only other time they did, aside from Saturday, was a 7-4 defeat July 16 at Minnesota when they had the bases loaded in the ninth inning with
Paul Konerko
at the plate.
"When you play baseball it's going to happen," said
Juan Pierre
, who was 0-for-4. "Hopefully you stay hot as long as you can. But the most important thing is to try and win series. We're in position to do that [Sunday] and if we do that it will be a decent road trip. It won't be like what we hoped for but at this point you can't get too high and you can't get too low.
"It would be nice to win the rest of the games all year long but the chances of that happening are slim. You have to have amnesia when it's good and bad. That's what makes this game so tough."
The White Sox's 29-10 record since June 8 is still the best in baseball over that stretch so it isn't as if they are sliding into the abyss. It was just a rare summer day when the pitching and hitting were out to lunch at the same time.
Freddy Garcia
was horrible and it isn't likely that if
Omar Vizquel
did get to that ball he lost in the sun in the opening inning it would have made much of a difference. The A's scored three runs in the first inning and three more in the second as Garcia recorded just four outs before he was removed.
"I started with the first guy, walk, so I started with the wrong foot," Garcia said. "I didn't really have it. Normally, I have a good changeup, but today … I couldn't make the pitch I needed. I threw like, what, 50 pitches in the first inning? After that it was pretty much … I couldn't get anybody out after that."
The 1 1/3-inning outing, when he gave up five runs on six hits and three walks, was the shortest of Garcia's career. It put an end to his six-game win streak, his longest since putting together a seven-game streak early in the 2006 season. It was also the end of Garcia's five-game road win streak.
Thinking he could still salvage the game, Guillen went to the bullpen early. It didn't work and now the relievers will be short-staffed with rookie
Daniel Hudson
on the mound in Sunday's series finale.
Tony Pena
came on to give up four runs on four hits with four walks in 3 2/3 innings. Left-hander
Erick Threets
continues to prove himself, pitching two scoreless innings. He now has six scoreless outings since joining the team in late June.
"We haven't had many games like that," Guillen said. "Even when we struggled, we didn't have many games get away like that. One thing about it, no matter how you lose 1-0, 20-1, you still lose. Hopefully we bounce back, pitch better and score some runs."
BY THE NUMBERS
30: Number of defeats for the White Sox this season when scoring three runs or less. They have won eight such games. When allowing four runs or more, the White Sox are 16-32.
QUOTE
"The umpire was pretty tight man. I watched the video and felt like I threw some pretty good pitches. For me, I live in the corners. I don't throw hard. I can't just throw in the middle. If I don't have the corners I get [expletive], and that's what happened. It's one thing if you can throw a fastball away, but if I don't have the corners, I have to live with that, man." – Freddy Garcia, on the strike zone from home-plate umpire Laz Diaz on Saturday.
LOOK AHEAD
Hudson (1-0, 5.06 ERA) will make his third start of the season and just the fifth of his career when he faces Oakland. He has never started against the A's but does have an appearance against them, giving up two earned runs and five hits over a 2 1/3-inning relief appearance in September of last season. He is coming off a victory at Seattle when he gave up one earned run over 6 2/3 innings.
Hudson will be opposed by Oakland's
Dallas Braden
(4-7, 3.74) who is making his second start since coming off the disabled list because of elbow tendinitis. Braden pitched a perfect game May 9 against the
Tampa Bay Rays
.
July, 17, 2010
7/17/10
7:48
PM CT
[+] Enlarge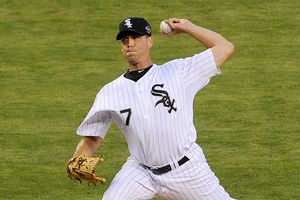 Michael Buckner/Getty ImagesSetup man Matt Thornton was named to his first All-Star Game this season.
MINNEAPOLIS -- Before Paul Konerko was named to the American League All-Star team, the lone White Sox representative for the squad came from the team's bullpen.
How fitting that the relievers were so honored since that's the group that has remained the steadiest, through the team's early-season struggles on into their red-hot run that launched them into first place.
That the honoree was not closer Bobby Jenks nor was it J.J. Putz, who has made 23 consecutive scoreless appearances, is proof of the group's depth.
Matt Thornton was the lone White Sox pitching representative, offering the baseball world a misinterpretation of what had been happening in the late innings this season when he gave up the National League's game-winning three-run double.
When the team's own fortunes are at stake, it has been much better. Not only is Putz on his scoreless run, but Jenks has rebounded from a shaky start to convert his last 15 save opportunities. It is his longest streak since saving 17 consecutive in the 2006 season.
"Obviously the start of my season didn't go as planned," Jenks said of an ERA that reached 6.35 at the end of May. "But during that time we had a lot of guys who were able to pick me up in the time being. Now that I'm back on track doing want I'm doing and throwing the ball well again, it makes it easier on those other guys just knowing what their exact roles are."
Entering play Saturday, the White Sox bullpen led the AL in strikeouts per nine innings (9.14) and save percentage (82.4). They were tied for first in saves with 28. They were fifth in ERA (3.57) and percentage of inherited runners to score (27).
The left-handed Thornton and the right-handed Putz operate as a two-headed set-up man. Sergio Santos and Scott Linebrink back them up, with Tony Pena the long man. Erick Threets gives the White Sox a second left-handed reliever.
Putz entered Saturday's game second in the AL in strikeout-to-walk ratio (6.67) and was tied for second among relievers in victories with five. Thornton was tied for first in strikeouts (50) and was second in strikeouts per nine innings (12.16).
"I think everybody is proud of the way they have pitched out of the bullpen; everybody works hard," Putz said. "We just kind of go out there whenever the phone rings and try to get quick efficient outs. I think for the most part everybody has been able to stay efficient, keep their pitch counts down and be able to bounce back the next day."
Add efficiency to the fact the White Sox's bullpen has some of the least wear and tear in the AL and it's a combination that could keep the relievers fresh deep into the second half. The White Sox bullpen is 12th in the AL in innings pitched with 239 1/3.
And with the way the offense has been producing lately, the relievers are on high alert they could be needed in a key situation every night.
"It's always nice to know you're always in games," Putz said. "Guys are showing up expecting to win now. Even when things weren't going very well, it was still a fun group of guys to be around. It's a fun clubhouse.
"There is still a long way to go but hopefully the veteran leadership we have here – it's a fairly veteran-type team and a lot of guys have been through this type of situation – will make it a fun couple of last months."
Welcome back
Carlos Quentin was back in the White Sox's lineup Saturday one day after resting a bruised right hand. Quentin was hit by a pitch in Thursday's game against the Twins.
In addition to the bruised hand, he had a sore knee last week, went through foot problems last season and broke his wrist two years ago when he slammed his own bat. Despite the history of injuries, manager Ozzie Guillen does not consider Quentin injury prone.
"When you play that hard the way he plays, you're taking a lot of risk," Guillen said. "When he dove for the ball [last week] in Chicago, I hold my breath. This kid comes out there and gives you 200 percent every time he's out there. He plays only one way and it's the only way he knows how to play.
"He got some freaky injuries, but when he hit the bat he learned from that. Every time he hits, he's on top of the plate and got a chance to get hit a lot, but that's the way he plays."
June, 27, 2010
6/27/10
11:36
AM CT
By ESPNChicago.com
ESPNChicago.com