Chicago White Sox:

Felipe Paulino
March, 11, 2014
Mar 11
6:28
PM CT
Quick, who is the highest paid player on the
Chicago White Sox
this season?
If you said
John Danks
at $15.75 million, you'd be right on the money. And if you have been asking what a pitcher 18 months removed from shoulder surgery will capable of in 2014, you wouldn't be alone.
Danks arrived in spring training boasting to anybody who would listen that his arm strength is much improved, and his Cactus League results are evidence of that.
The left-hander fired five scoreless innings at the
Texas Rangers
and now has eight scoreless over two starts this spring. His March 1 outing was rained out.
Danks even worked his way out of a fifth-inning jam after the first two batters reached base. A ground ball and a double play off the bat of top Rangers prospect
Jurickson Profar
ended the threat.
"I feel like I have a better chance (to compete)," said Danks, who had his shoulder repaired during the 2012 season. "Last year I would have had to pull a Houdini act almost and flip some slow curveballs up there and try to get some chases. I feel like I can go after guys more aggressively because I have a little better stuff. It's a little sharper. I have some movement on the fastball, the cutter's sharp and that's basically how I got out of that last inning."
March, 7, 2014
Mar 7
6:10
PM CT
By no means is
Felipe Paulino
dominating Cactus League opponents. But there are signs that he might be ready to make a contribution to the
Chicago White Sox
starting rotation.
[+] Enlarge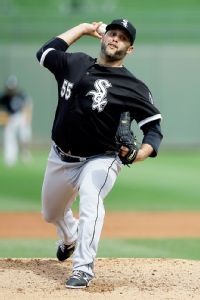 AP Photo/Tony GutierrezFelipe Paulino retired the final three batters he faced in order Friday.
The right-hander, who hasn't pitched in the major leagues since 2012 when he was a member of the
Kansas City Royals
, had an up-and-down outing Friday against the
Cincinnati Reds
and eventually went out with a flourish.
Paulino gave up a two-run home run to
Jay Bruce
in the first inning, but finished his outing with a 1-2-3 third inning that included strikeouts of
Joey Votto
and
Ryan Ludwick
. He also got back at Bruce by getting him to ground out.
"Last inning he was in there he was a little sharper," manager Robin Ventura told reporters in Arizona. "He probably threw some pitches he wants back, but down here he's working on stuff and got one up to Bruce. Early on I thought he was up in the zone, then the last inning he was a little down in the zone where he was a little more effective down there."
Paulino, who has undergone Tommy John surgery as well a shoulder cleanout since he was last in a big league game, exudes complete confidence.
"I was mixing up my spots and executing," Paulino said. "The good thing is that my four pitches are great. I need to execute at the right moments. The only way we can fix that is to pitch in games. I'm really blessed to be in games again. Just back to the games is easy for me, and I need to keep doing it and keep working out. I know everything will come together soon. We'll see what happens."
March, 5, 2014
Mar 5
2:53
PM CT
One trip through the rotation during Cactus league play and the
Chicago White Sox
revealed something about how they plan to set up their starting staff for the upcoming season.
With three left-handers and a pair of wild-card right-handers, the White Sox were always going to have to be creative when lining up their starters once April arrives.
[+] Enlarge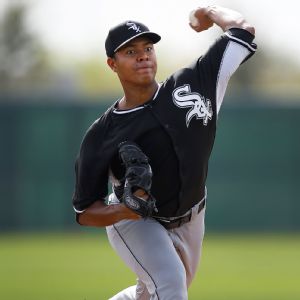 AP Photo/Paul SancyaThe White Sox will try to space out innings-eaters Jose Quintana and Chris Sale in the rotation to best preserve the bullpen.
The clear-cut top three of the pitching staff is
Chris Sale
,
Jose Quintana
and
John Danks
. But since all three pitch from the left side, lining them up in order isn't ideal because it allows opponents to settle into a right-handed hitting lineup for multiple days.
But while talking to pitching coach Don Cooper this past week, he had a bigger concern when it comes to the order of the starters.
While acknowledging that breaking up the left-handers has been given consideration, his bigger focus is how to line up the rotation in order to best preserve the bullpen.
After getting at least 200 innings from Sale and Quintana last season, Cooper knows who his most dependable arms are. Pitching them back-to-back would reduce wear and tear on the relievers for consecutive days, but Cooper believes there is a better way of handling the situation.
The veteran pitching coach would rather separate his most dependable starters to fluctuate the potential heavy work days of the relievers.
While the White Sox have not committed to any rotation order, the first five Cactus League games had Sale, Danks,
Felipe Paulino
, Quintana and
Erik Johnson
pitching in that order. By separating Sale and Quintana, while also separating the unknowns in Paulino and Johnson, the bullpen will ideally have a light day followed by a potential heavy work day.
March, 2, 2014
Mar 2
4:02
PM CT
Eager to show his new team what he can do,
Chicago White Sox
rotation candidate
Felipe Paulino
had a spring debut to forget Sunday.
The right-hander, who was signed to a one-year deal as a free agent in December, lasted just 1 2/3 innings against the
Texas Rangers
, giving up four runs on eight hits. Not only did the first four Rangers batters reach base on hits, Texas scored two runs before Paulino recorded his first out. He threw 47 pitches (31 for strikes).
It was only the White Sox's second Cactus League game after they were rained out Saturday.
There are two spots open at the back end of the White Sox's rotation and Paulino was expected to be a favorite for one of them, especially since he is guaranteed to make $1.75 million ($1.5 million for this season and a $250,000 buyout for next year).
To Paulino's credit, he was getting ahead of batters early. It's at least part of the battle for a guy that hasn't pitched in a major league game since May of 2012 with the
Kansas City Royals
. Since then, he has undergone Tommy John surgery and a shoulder cleanout.
March, 2, 2014
Mar 2
11:47
AM CT
Felipe Paulino
gets his first chance to make an impression on the coaching staff Sunday all while knowing that two starting rotation spots are up for grabs.
The right-hander, who hasn't pitched in a major league game in nearly two years, will start for the White Sox today at Surprise, Ariz., against the
Texas Rangers
. The 30-year old has a ton of questions he needs to answer following surgical procedures on both his elbow and shoulder in the last year and a half.
That still didn't scare the White Sox away from committing $1.75 million in him this year with a $4 million option for 2015 if they like what they see. What surely inspired the White Sox to take the financial gamble was Paulino's start to the 2012 season when he was a member of the
Kansas City Royals
.
After a decidedly mediocre major league run that saw him bounce from the
Houston Astros
to the
Colorado Rockies
and then to the Royals, Paulino entered 2012 with three times more defeats than victories and a career ERA over 5.00.
Something clicked in that 2012 season, though, as Paulino was 3-1 with a 1.67 ERA over seven starts. Then disaster struck when an elbow injury led to Tommy John surgery. Last season his injury rehab was aborted when shoulder discomfort required an arthroscopic procedure to resolve the issue.
February, 21, 2014
Feb 21
3:50
PM CT
GLENDALE, Ariz. -- Considered an area of strength for the
Chicago White Sox
, the starting rotation isn't without questions as the club moves toward next week's Cactus League opener.
Chris Sale
is the undisputed ace of the staff and will no doubt take the mound on Opening Day, March 31 against the
Minnesota Twins
at U.S. Cellular Field. How the starting staff unfolds behind Sale is one of the stories left to be told in the desert over the next five weeks.
[+] Enlarge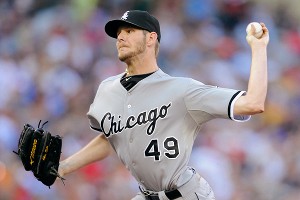 Hannah Foslien/Getty ImagesStaff ace Chris Sale had a 3.07 ERA last season and ranked fourth in the majors in strikeouts with 226.
Jose Quintana
and
John Danks
seem like rotation locks, although from there plenty of decisions are left to be made.
Felipe Paulino
and
Erik Johnson
could end up rounding out the rotation, but pitchers such as
Andre Rienzo
,
Dylan Axelrod
, Scott Snodgress and
Eric Surkamp
will all get a chance to show what they can do.
Pitching coach Don Cooper widened the debate even further this week when he mentioned Chris Beck and Omar Poveda as long shot candidates.
Even if Sale, Quintana, Danks, Paulino and Johnson make up the starting staff, there is no certainty on what order they would pitch to start the season. Sale, Quintana and Danks are all left-handed, while Paulino and Johnson throw from the right side, and surely the coaching staff will want to mix its righties and lefties as much as possible.
"Your balance becomes left-hander, right-hander, where they are at and where the other guys really fit into that," manager Robin Ventura said. "On one hand, you are really happy with the way it shapes up with (Sale and Quintana) starting out. After that, you don't know if you want to mix and match a right in there early or who is going to take hold of that."
The 30-year-old Paulino might have the most to prove this spring. He's guaranteed to make $1.75 million on the contract he signed in December, so surely the White Sox will try to get something for their investment.
But a pitcher who is coming of Tommy John surgery in 2012 and a procedure to clean out his shoulder in 2013 has a number of hurdles to cross before getting back on a major league mound.
So far, Paulino has kept up with his teammates after the first week of spring training, taking his regular turns on the mound.
February, 16, 2014
Feb 16
3:20
PM CT
GLENDALE, Ariz. --
Chicago White Sox
starting rotation candidate
Felipe Paulino
has opened spring training under no restrictions despite not pitching in the major leagues since 2012 because of elbow and shoulder surgeries.
The White Sox committed $1.75 million to Paulino for the upcoming season with a team option for 2015, making him a favorite for one of the two open rotation spots after
Chris Sale
,
Jose Quintana
and
John Danks
-- if he can prove he is healthy.
"He'll be throwing (Monday) and then he'll have a day off and throw again, day off and throw again and then two days off and we'll map out a course for him," pitching coach Don Cooper said. "I'm just kind of acquainting himself with him and see what he's doing.
"I've already looked at video of him and will look at more video. I want to see when he was right, when he was healthy more than anything. He was healthy I think in 2011 for Kansas City. I want to see what he was doing."
February, 6, 2014
Feb 6
12:00
PM CT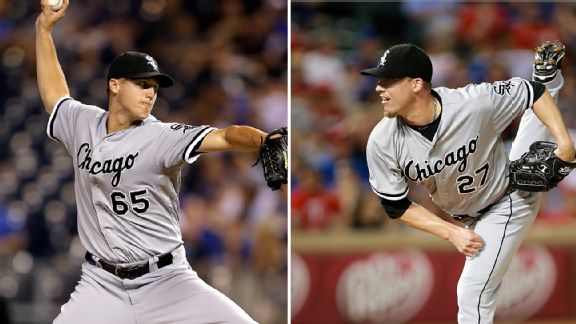 Getty ImagesEntering spring training, Nate Jones and Matt Lindstrom are the favorites to be the Sox's closer.
With Chicago White Sox spring training set to begin Feb. 15 when pitchers and catchers report in Glendale, Ariz., we're taking an early look around the diamond.
From the moment pitchers and catchers report to Glendale, Ariz., on Feb. 15 the most intriguing battle will revolve around the vacant closer role.
Addison Reed
is now a member of the
Arizona Diamondbacks
after a December trade, leaving
Nate Jones
and
Matt Lindstrom
as the favorites to win the job. Recent precedent suggests, though, that the favorite doesn't always end up with the role.

Pitching coach Don Cooper has added
Daniel Webb
to the list of candidates, although he admits that including the blossoming right-hander will raise a few eyebrows.
"He throws the ball well too but hell, if I said 'Daniel Webb,' everybody would say 'Who?'" Cooper said at SoxFest last month. "Nobody would know who he was."
Webb has just nine games of major league experience, all after rosters expanded this past September. While landing the closer role is a long shot, his chance of making the bullpen in any capacity is a good one.
Could Webb end up being the
Hector Santiago
of 2012? Reed was the young closer candidate that season while
Matt Thornton
was the veteran choice. Santiago grabbed the job out of spring training but ended up only keeping the seat warm until Reed ultimately snatched it away.
After signing a guaranteed one-year, $4-million deal at the start of the New Year,
Scott Downs
will be the late-inning left-handed option out of the bullpen. He essentially takes over the role Matt Thornton held since 2006.
December, 11, 2013
12/11/13
5:57
PM CT
LAKE BUENA VISTA, Fla. – Maybe the
Chicago White Sox
haven't owned the winter meetings, but they sure have made their mark during the first three days of the annual negotiation fest.
[+] Enlarge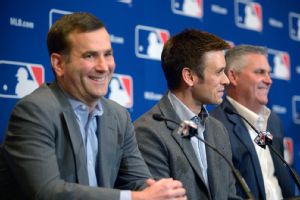 AP Photo/Phelan M. EbenhackGMs Rick Hahn (White Sox), Jerry Dipoto (Angels) and Kevin Towers (Diamondbacks) got the ball rolling at the winter meetings with their three-team trade.
Wednesday's action was tame by comparison, but Monday they signed right-handed pitcher
Felipe Paulino
and Tuesday they acquired center fielder and leadoff man
Adam Eaton
. In between, they were able to renew their love and dedication for
Chris Sale
when he inexplicably became involved in rumors that he might be available in a trade.
Add the fact that broadcaster Ken "Hawk" Harrelson was a finalist in voting for the Ford C. Frick Award (the honor went to the Texas Rangers' Eric Nadel) and there seems have been a constant South Side presence this week in the shadow of Cinderella's castle.
The curious part in all of it was a statement general manager Rick Hahn made Monday that the concept of the winter meetings was a bit outdated. Hahn's point was that in the current technological climate there no longer has to be a gathering of baseball's power brokers in one building to make business deals happen.
Not to ruin anything, but that photograph making the rounds of Hahn, Angels GM Jerry Dipoto and
Arizona Diamondbacks
GM Kevin Towers putting the finishing touches on a three-team trade was more staged than reality.
"I don't want to take away from the majesty of the photo capturing the moment the deal was consummated but I think we could have got that thing done by phone," Hahn said Wednesday. "But look, there was so much activity prior to getting here that it seems like there hasn't been as much as normal at the winter meetings, so I was happy we were able to contribute to that."
Despite the work the White Sox were able to get done, Hahn said he is still waiting for that traditional flourish toward the end of the meetings as GMs try to make deals happen before they head home. By no means have the White Sox closed up shop after acquiring Eaton and Paulino.
"There's been a lot of different ideas floating around, both direct deals and three-way possibilities as well," Hahn said. "Historically, I always felt on Wednesday of winter meetings,we got close to doing something and got excited, we all go to sleep and wake up prior to the Rule 5 draft that it all fell apart. We haven't gotten to that portion of the meetings yet, but there certainly are things we're considering."