Chicago White Sox:

Greg Walker
July, 19, 2013
7/19/13
7:44
PM CT
CHICAGO --
Atlanta Braves
hitting coach Greg Walker admitted he is having an emotional return to Chicago this week.
[+] Enlarge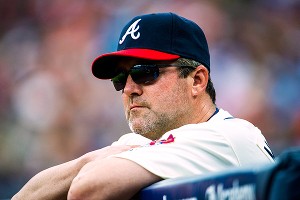 Pouya Dianat/Getty ImagesGreg Walker is at home as Braves hitting coach, but still misses Chicago.
The former White Sox hitting coach, who left his position after the 2011 season, has been in town since Tuesday to visit a city that he admits will always feel like home.
It wasn't exactly comfortable for him in 2011, though, as the White Sox's offense struggled and most of manager Ozzie Guillen's coaching staff was under fire.
"I hated to leave but it was time to go," Walker said Friday from the visiting dugout at U.S. Cellular Field. "I might have stayed too long actually, but I knew there would be a day when I would say, 'OK, I'm not the right guy for the job anymore,' and I figured it out that last year about halfway through. I talked to some of the players and the veterans and talked to (chairman) Jerry (Reinsdorf) and said that would be it."
It was a tough time for Walker, who broke down in tears on the last day of the 2011 season while talking about his pending departure. It wasn't long before an opportunity with the Braves presented itself.
"First of all, when I left here, I didn't know if I was going to do this job anymore and then the Braves' job came open and me being from Georgia it ended up being very intriguing," said Walker, who lives three hours south of Atlanta. "I grew up a Braves fan. The place that I played and team I grew up watching, I got to be the hitting coach so it's good. I like it. I ended up in a good spot."
April, 22, 2013
4/22/13
6:11
PM CT
CHICAGO -- It looks like former
Chicago White Sox
hitting coach Greg Walker will be coming to the rescue of
Gordon Beckham
.
Walker doesn't have magic healing solutions for Beckham and the broken bone in his hand, nor will he be offering hitting advice, but Walker will help his former pupil to walk down the aisle this fall. When Beckham gets married in November, Walker will be one of the groomsmen.
"Gordon called me and asked me to be a groomsman and I told him that I thought 53-year-olds were too old to be doing that but he insisted so we'll be at that wedding this winter," Walker said Saturday on ESPN Chicago 1000's "Talkin' Baseball."
May, 7, 2012
5/07/12
6:37
PM CT
Greg Walker returned to Chicago Monday for the first time since he resigned as hitting coach of the
Chicago White Sox
with no regrets as to how his nine-year run ended on the South side.
A happier, more relaxed Walker, in town to face the
Chicago Cubs
in his new role as the
Atlanta Braves
hitting coach, admitted his last two seasons with the White Sox were tough on everyone. Last season during an early-August heated exchange in the Sox clubhouse, general manager Kenny Williams briefly fired Walker, before chairman Jerry Reinsdorf got involved and smoothed things over.
[+] Enlarge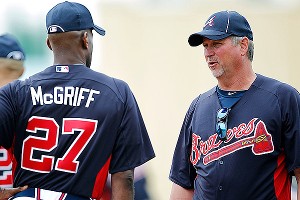 AP Photo/Julio CortezGreg Walker is in his first season as hitting coach of the Braves.
"I shook Kenny's hand when I left at the end," Walker said. "I wished him well . As long as he is working for Jerry I will be pulling for him to do a good job."
Walker then left the subject of Williams, but it is clear there is no relationship left between the two men who worked closely for nine years.
"Jerry Reinsdorf has been very special in my life and I can't begin to tell you all the great things he has done for me and my family," Walker said. "I have a lot of great friends in that organization, but right now I have moved on."
The White Sox's lost seasons of 2010 and 2011 took their toll on the 53-year-old Georgia native, who was blamed for the sputtering offense and the lack of development of young players such as
Gordon Beckham
and
Brent Morel
.
"I am human and I didn't enjoy some of the things that were said about me," Walker said. "When you are in a big market like Chicago there will be some negatives, but the positives far outweighed the down times."
Walker was asked to return as the Sox hitting coach by new manager Robin Ventura after he had quit the job last fall.
"I told him that it was time for me to move on," Walker said. "I was not the same guy over there any longer, so as much as I would have loved to work with Robin, I said no and wished him the best."
Walker didn't care to go into the fractured details of what went wrong for himself and the rest of the Sox coaching staff, but admitted it is fun again to come to the ballpark without the politics that existed in his last two seasons in Chicago. Ozzie Guillen, who also had some contentious battles with Williams, also left the Sox after last season.
"The positives I will always cherish from my time working there, but it did not end up good," Walker said. "The game is hard enough to play when everyone is pulling in the same direction and it got bad over there, and it is now well documented what happened."
The Braves have averaged nine runs over their last four games and have scored 273 runs in 2012, the second highest total in the National League. Maybe having better hitters is the key to being a successful hitting coach.
"We have a great team and they are playing well," Walker said. "I am enjoying coaching more than I have in a long time. It's a lot of fun again."
October, 21, 2011
10/21/11
12:51
PM CT
Former Chicago White Sox hitting coach Greg Walker will become the hitting coach of the Atlanta Braves, according to a major league source.
Read the entire story.
October, 10, 2011
10/10/11
12:32
PM CT
Former Chicago White Sox hitting coach Greg Walker will interview for vacancies in the same role with the Atlanta Braves and the San Diego Padres during the next week, according to a source with knowledge of the situation.
Read the entire story.
September, 28, 2011
9/28/11
1:40
PM CT
CHICAGO – Holding court in front a select few members of the media, Greg Walker held it together as long as he could before his emotions got the best of him.

Walker made it known Wednesday that he is resigning from his post as White Sox hitting coach, making that actual decision about a month ago in a discussion with chairman Jerry Reinsdorf. He said it had nothing to do with Ozzie Guillen's pending departure, but felt it was time.

Despite the years of stress, despite the sometimes volatile encounters over the years and especially despite the harsh criticism he has received, Walker still had a passion for what he did. One month after making his decision to leave, it still didn't make it any easier to talk about the path behind him and the road ahead.

"They have known ever since I've been here if they had somebody else to do this job more power to them," Walker said. "I want what's best for the White Sox. It didn't have anything to do with the recent events. I was not going to be the hitting coach. That decision was already made."

Walker's proudest moment was the 2005 World Series, as it was with everybody involved, but there was also the bigger picture that he holds his head high about.

"Yeah, that was pretty cool wasn't it?" Walker said about '05. "If you told me I was going to be a hitting coach in a major market, arguably one of the toughest things to coach in sports and have some success … "

This season might have been Walker's toughest to endure. Adam Dunn, Alex Rios and Gordon Beckham all struggled mightily and the hitting coach took much of the brunt for it. But Carlos Quentin managed to avoid his usual lengthy slumps and was an All-Star.

It was another solid season from Paul Konero, though, that showed the kind of success Walker is capable of producing when instruction meets execution. When Walker first arrived on the scene in 2003, Konerko was an admittedly confused hitter at a crossroads.

The two began the process of breaking down Konerko's swing and rebuilding it. Konerko would go on to become one of the greatest run producers in White Sox history.

"I just know when he showed up here, what I thought about hitting and where I was at as a hitter, it's not even close to what I am now as far as I go about it and how I work and what I'm able to do," Konerko said. "He's gotten me to places as a hitter and a player that I would have never gotten to without him. I think that's the best thing I can say."

Walker refused to take even a shred of the credit for Konerko's success, which is how he's always gone about things. He would rather be known as the guy that passed on the keys to hitting that were passed on to him. And along the way it was about enjoying the ride.

"We had some good times and tough times," Walker said. "There are going to be good times and tough times no matter who the hitting coach is. You just go through it. You do the job. [I enjoyed] probably the relationships with the players, people in the clubhouse the most."

Some of the rough times were more public than Walker would have wanted. His run-in with Guillen in 2008 was well documented as was his shouting match with general manager Kenny Williams this season in what was believed to be about Williams' public criticism of Beckham's approach at the plate.

Walker got through it all, mainly because he wanted to do the best job he could for Reinsdorf. Walker not only got a chance to play for Reinsdorf's White Sox team, but coach it as well. And there was Walker's life-threatening seizure in 1988 during batting practice. Reinsdorf quietly paid for much of Walker's medical bills at the time.

So as Walker talked Wednesday it was the emotions of his last day on the daily grind with his second family that got the best of him. He said he didn't know what he might do next, but hasn't ruled out returning to baseball at some point and even returning to the White Sox in some capacity.

Walker and Reinsdorf will sit down in a week and talk about the future.

After a while it all became too much for Walker and paused in mid conversation and took a seat. By putting his face in his hands it signaled that he wouldn't be able to talk any longer.

"Yeah it's been a tough few years on all of us," he said not long before breaking down. "Nobody involved in this organization the last three years has not been beat up. You have to go through tough times to make things happen."

"This organization is as relevant as it's ever been. When I first got here, there was nothing but Cubs hats on Michigan Ave. Now you walk down Michigan Ave. seeing White sox hats. My small part in that, I am very proud of it."
September, 12, 2011
9/12/11
7:00
PM CT
CHICAGO -- Hitting coach Greg Walker has said that he will once again use the early part of the offseason to decide whether or not he wants to return to the
Chicago White Sox
.
Walker did the same last season and ended up agreeing to another one-year deal to return for the 2011 season.
The odds of him coming back would seem to be less this time around. Not only was it reported that Walker and general manager Kenny Williams had a heated argument just outside the clubhouse last month, there is also the uncertainty of the status of manager Ozzie Guillen.
Walker often comes under fire from White Sox fans disappointed with the club's offense, and this season has been no exception. Guillen, though, continues to stand up for his coach.
"Greg Walker is a better person than me because he loves the White Sox, he loves the owner, loves the players," Guillen said. "Greg Walker is the only thing I can ask for. He did it; he's doing it. He takes the kids out to practice. He takes guys to hit. He tries to help the best he can. He comes here every day without missing one day, trying to help the ballclub. At the end of the day, they not perform."
Guillen continues to point out that while
Adam Dunn
,
Alex Rios
and
Gordon Beckham
have underachieved, the White Sox had two players --
Paul Konerko
and
Carlos Quentin
-- make the All-Star Game because of their offense.
Alexei Ramirez
also won a Silver Slugger Award last season.
"The thing that gets me, it's Greg Walker's fault because he's the hitting coach, but nobody say how much he help Konerko, how much he help Ramirez," Guillen said. "He's got more hitters than that but he doesn't get any credit for that one. But that's why we coach. That's why we take the heat because when everything goes wrong in baseball, football, they're going to blame the coaches and the manager."
Time and time again, White Sox hitters compliment the work Walker does. And Walker himself will say that he might not have been a Hall of Fame hitter, but he passed on the keys to hitting that were passed on through the system from Charley Lau and Walt Hriniak.
"There's one thing [Walker] should worry about, and that's what his players are going to say about him," Guillen said. "I think our hitters respect him and like him because he gave every minute this year from spring training to the last pitch to help those guys."
April, 24, 2011
4/24/11
4:22
PM CT
DETROIT – On Saturday afternoon, White Sox hitting coach Greg Walker defended his charges saying the negative reaction to the team's poor offense has been an overreaction.
[+] Enlarge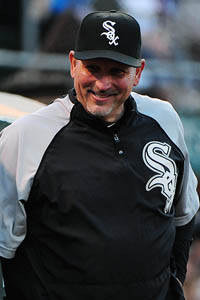 Kyle Terada/US PresswireWhite Sox hitting coach Greg Walker has been a frequent target of criticism when the team struggles offensively.
Since he spoke those words, the White Sox have gone scoreless for 18 consecutive innings (20 overall) while facing Tigers starters
Brad Penny
and
Max Scherzer
.
It's become an annual event to assess Walker's place on the hot seat, which could have been a reason the longtime member of the organization said he needed some time away from the game this past offseason to decide if he would return for 2011.
Things haven't changed and manager Ozzie Guillen addressed the subject after Sunday's defeat.
"That's going to happen," Guillen said. "The worst thing about coaching or managing in baseball is that your job is always related to what people do. In basketball you can get people in or out and in football you can control offense or defense. In baseball you put nine guys in and they play.
"When people play well we're the best coaches. When we're not [playing well] everybody wants our heads. We went through it before and I'm not surprised it's happening again. All we can do is to keep working to try to help those guys do the best they can and hopefully they come out of it."
April, 23, 2011
4/23/11
2:09
PM CT
DETROIT -- Typically mild-mannered, White Sox hitting coach Greg Walker showed some fire in his belly when the subject turned to the team's hitting on Saturday.
Asked about
Carlos Quentin
emerging from the team's collective hitting struggles, Walker apparently only heard the word "struggles" and let loose with his opinion of the state of the offense.
"Actually, I think our scuffles are way overblown," Walker said, as his voice started to rise. "We're averaging five runs a game. We're fourth in the league in runs scored. We got a couple high-profile guys who haven't got going yet. One of them got operated on a week ago [
Adam Dunn
on April 6].
"I'm not worried. We're good. We're averaging five runs a game and we got two of our big boys not even started. I'm just sort of sick of the negative [expletive], I really am. We're not that bad."
Yes, the team's overall run production is good. They actually entered Saturday's game with the fourth most runs scored in the American League. But that included one game where they scored 15 runs, one with 10, another with eight and one with nine. That's 42 of their 94 runs (46 percent) in just four of their 20 games.
Over the last 11 games before Saturday, the White Sox had a .201 team batting average with just 32 runs scored. Over the first nine games, the White Sox batted .307 with 62 runs scored.
Dunn's production has all but dried up since his appendectomy and he has dropped two spots in the lineup to fifth, where he will continue to operate as long as Quentin stays red hot in the No. 3 hole.
"Hey, the guy was a dominant force until he had an appendectomy," Walker said about Dunn. "He's had, what, six, seven, eight days back? Sit around and watch. He'll be fine."
Dunn's timing is off though and pitchers have been able to expose him with off-speed stuff because he is cheating on fastballs.
"When he starts hitting fastballs, watch out, because a lot of people are going to pay," Walker said.
The talent is certainly there and the White Sox have faced some talented pitchers, so the sense is that the White Sox's results will only get better.
"We're good; we're doing good," Walker said. "We've scored more runs off these tough guys than anyone else is doing off any of them. We have a tough stretch against tough pitching. We scored some runs off them. We're battling. We're not giving them away.
"There's been one game where I was disappointed in our focus and effort. That was the second game against Anaheim [on April 16]. Other than that, our guys have been there battling. We've got a couple of high-profile guys scuffling a bit, but overall, we're scoring runs. We're doing fine."
The trick now is to get Dunn,
Gordon Beckham
and
Alex Rios
going while others continue to produce.
"Very seldom during a season do you have nine guys swing the bat well," Walker said. "We don't have nine guys swinging the bat well. In the big picture, we're scoring five runs a game. OK, so we score 15 in one. Guess what? We needed all 15, didn't we? So you just fight the fight.
"The most important thing for an offensive team is wins. We're not winning games. Hey, we got to get better. But overall, I don't look at this as being a negative situation as it's been portrayed. I don't see it that way."
April, 2, 2011
4/02/11
4:29
PM CT
CLEVELAND – Like hot sauce, that simultaneously pleases as it burns, the White Sox offense has been lighting up the scoreboard while pummeling Indians pitching.
Unlike hot sauce, this stuff can't be bottled up and taken back home.
[+] Enlarge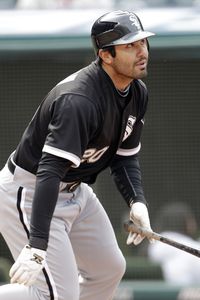 AP Photo/Tony DejakCarlos Quentin is one of several White Sox hitters to start the season at a torrid pace.
A day after scoring 15 runs in their first game of the season, the White Sox dialed it back some Saturday in an 8-3 victory over the Indians. That's 23 runs in two games to start the 2011 season, or 11.5 per contest.
"Everybody's swinging the bat pretty good and they feel comfortable," manager Ozzie Guillen said. "The main thing about baseball is to try to keep it as long as you can when you're hitting well. Make sure you stay on the same path and make sure you don't change anything."
Saying it is a whole lot easier than doing it, though, and probably nobody knows that better than Carlos Quentin. There is an extremely long way to go, but after two games anyway, he has resembled the hitter that was on an MVP run in 2008 until a self-inflicted injury ended his season with a month to go.
Batting out of the No. 6 hole has seemed to agree with Quentin, who is 5-for-8 (.625) in the early going with four extra-base hits (three doubles and a home run).
"In '08 Carlos ran it from the first day to the last day; he's capable of doing it," hitting coach Greg Walker said. "Obviously he's not going to hit .800, but when he's right he's one of the most dynamic players in the game. There are not many better than him when he's swinging it good."
For the Indians, the good news was that nobody was here to see it. The crowd of 9,853 was the lowest in Jacobs Field/Progressive Field history. Indians starters have been shelled to the tune of a 15.83 ERA after two games.
After the way the White Sox wrapped up spring training struggling to score runs, an offensive show like this wasn't anticipated.
"It felt we just kind of lost focus a little bit and guys were tired and ready to get out of there," Walker said. "Then we went to Winston Salem and had that game [a 3-0 shutout against their Single-A affiliate]. You start to be a little bit concerned but you just looked back and say 'We know we're a good offensive team and five days ago everybody on the team was hot.' I felt good coming into the season."
Part of the reason everybody was confident in the club's offensive potential was Guillen's plan to have the Opening Day lineup play together for the last 10 days of the spring.
"I liked the way we went about it," Walker said. "There are some times when you ask veteran players to play a lot in spring training and they might not like it but there was no complaints. They all prepared and we just have a long way to go to keep it up."
Memo to future free agents: The White Sox will probably be doing this in spring trainings to come, as long as Guillen is the manager, so if that isn't your speed you'd probably be best to go somewhere else.
Perhaps more than anything, nobody seems overanxious at the plate.
"I think right now, nobody's trying to pull the ball," Guillen said. "Everybody's staying in the middle of the field and I don't think anybody's trying to do too much with the ball. This team is going to strike out a lot. The hitters we have there, they're a heavy strikeout team. But I think right now, they're not helping the pitchers by swinging at bad pitches. They're making them throw the ball over the plate and I think that's why we're seeing the ball so well."
For guys like Mark Buehrle and Edwin Jackson, the run support increases their margin for error and both have sued that to win their first starts of the season.
"Definitely you take advantage of it, while it's here," Jackson said. "It's always hard for the offense to continue to be productive the whole season like that. Who wouldn't mind it? You are getting early runs and you have a chance to establish yourself and get comfortable early in the game."
November, 8, 2010
11/08/10
8:43
PM CT
With a source confirming that Greg Walker will indeed be back for his eighth full season as the White Sox hitting coach, the entire staff is set to return.
Bench coach Joey Cora recently finished second for the vacant
Milwaukee Brewers
manager opening.
[+] Enlarge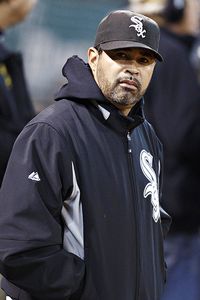 Jason O. Watson/US PresswireOzzie Guillen is returning to manage the White Sox in 2011. But will that be his last season with the club?
While coaching stability exists for now, the situation might not be so stable a year from now. Heck, it wasn't all that stable just over a month ago when manager Ozzie Guillen was trying to figure out where he stood in the eyes of organization decision-makers Kenny Williams and Jerry Reinsdorf.
The focus will continue to be on Guillen's situation again in the upcoming season. His contract is up after 2011 with a team option available for 2012.
The
Florida Marlins
manager job figures to remain a possibility. The Marlins were reportedly granted permission to talk to Guillen this past season and their interest figures to remain high despite hiring Edwin Rodriguez, who spent the last two years as the organization's Triple-A manager. The Marlins are set to open a new ballpark in 2012.
If Guillen goes, it is expected that his right-hand man Cora would likely go as well. The possibility remains, though, that Cora could take over the White Sox if Guillen departs. Cora could also be up for other manager openings after the season.
Then there is Walker. He already needed time this offseason to ponder his future. Although he didn't complain about it, the thankless nature of his job is well known. It's how it goes for just about all hitting coaches really. Whenever an offense that appears to have talent starts to struggle, the hitting coach is put into question. When the offense is on track it's merely a respite before the criticism comes again.
How long Walker is willing to endure the rigors of a major-league season remain to be seen.
It looks like anything short of an American League Central title in 2011 and solid showing in the postseason will create rumors of coaching departures and replacements. That's just how it works for a staff that has been in place for some time and has been to the playoffs only once in the past four seasons.
October, 23, 2010
10/23/10
1:12
PM CT
We're finally done with the daily breakdown of each position, including the bench and the bullpen, we now move on to the White Sox's decision-makers, starting with those in the dugout.
Managers and coaches
[+] Enlarge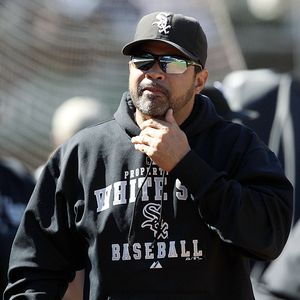 AP Photo/Jeff ChiuNext season is the final year of Ozzie Guillen's contract.
Looking back to 2010:
During spring training, manager Ozzie Guillen was so confident in his squad that he said the team would be fine as long as he didn't get in the way. Well, the failure to make the playoffs wasn't all manager influenced. While there was extreme concern over the team's slow start, there was no panic, allowing the team to turn around its fortunes. Sustaining second-half succeess for the White Sox proved unattainable. Looking back, though, had the White Sox been about a week or two later with their revival, the team might have shed talent and payroll at the trade deadline. The club could have done without the season-long feud between Guillen and general manager Kenny Williams. The biggest criticism, though, comes with how the coaches (and Williams for that matter) handled the
Jake Peavy
situation. The workhorse starter insisted on pitchining through shoulder issues, even after fluid buildup was found, and just before the All-Star break he was done with a detached latissmus dorsi. Bowing to the player's wishes of working through such obvious warning signs was an expensive learning lesson that figures to not be repeated again. After a slow offensive start, the heat was on hitting coach Greg Walker one more time and staying true to his form, he believed in the plan, stayed with the approach and helped the hitters emerge from their funk. Pitching coach Don Cooper added another notch to his belt as
Edwin Jackson
came to the White Sox in the midst of a disappointing season and posted a 3.24 ERA in 11 starts down the stretch, success that came mainly from making a simple adjustment.
Looking ahead to 2011: Guillen and Williams finally put aside their differences during the last week of the season and the reconciliation sounded sincere. You can't help but think, though, that if they have more issues, especially early in the year, it could mean serious trouble. Guillen is in the final year of his contract, but a team option remains for 2012. Not only that, but that option gets triggered automatically if the White Sox win the division. Walker has contemplated starting a new chapter in his life, but the consensus is that his return still seems very likely. Cooper has a lot to work with next year, especially if Peavy is healthy, as all of the starters return. The bullpen will pretty much have to be rebuilt, though. Bench coach Joey Cora, after hearing nothing from teams searching for a new manager early in the offseason, has interviewed with the Brewers and has talked to the Blue Jays about their vacancy. The logical fit, though, was the Mariners' opening (he played in Seattle during Ken Griffey Jr.'s heyday), but he wasn't even considered a candidate. Cora isn't considered the top candidate for either the Brewers or Blue Jays job, though, so it is likely that he returns as well. Getting the team on the same page early in the season, to avoid the slow start of 2010, figures to be the theme of spring training.
Key stat: On the final day of the 2010 season the White Sox's victory over the Indians gave Guillen his 600th career win in seven seasons. Guillen's five seasons with a winning record as White Sox manager trails only Al Lopez, who had nine. Guillen's five are tied with Jimmy Dykes.
Quote: "I don't have any doubt we can put this thing back in place. We're grown men. I think our friendship got better the last couple of weeks. I think that helped. I think all that stuff outside helped to see what kind of people we are and we really care about each other. I think it was good. Even if people think it was bad I think it was good to see what kind of person we are, we are professional and we are good human beings. We talked and everything was good. I think the best thing about this situation between the organization, myself and Kenny and Jerry [Reinsdorf] is that the fans know exactly what we want." –Guillen, on repairing his relationship with Williams and how everybody continues to have the same strategy for success in the future.

Sunday: Upper management
April, 19, 2010
4/19/10
8:52
PM CT

By Melissa Isaacson
ESPNChicago.com
Archive
[+] Enlarge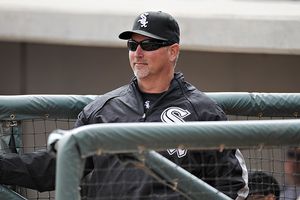 Ron Vesely/Getty ImagesGreg Walker worked harder this offseason than in any other, but the results aren't there yet.
CHICAGO -- Standing outside the home locker room following the Blackhawks' playoff victory Sunday night, a contingent of White Sox players sure looked like a contented bunch. They had come directly from the airport, where they had flown in after a 7-4 loss to Cleveland and a weekend sweep by the Indians. But Gordon Beckham, Paul Konerko, A.J. Pierzynski (a combined 1-for-13 with one walk Sunday) and their teammates were smiling and appeared relaxed, not one of them having to be talked out of doing a swan dive off the balcony of their United Center suite.
Perhaps they were just relieved they scored four runs earlier in the day. More than likely, however, they were not exhibiting outward signs of panic because there is nothing to panic about.
The same, of course, cannot be said of many Sox fans who, in no particular order, would like to A) abolish Ozzie ball; B) abolish Ozzie and C) erect bronze statues of Jermaine Dye and Jim Thome for Champions Plaza.
Click here to read the entire story.